List of Top Email Clients & Mail Server Software (Free/Paid) for Windows, Mac or Linux
This guide will give you a list of all the top Email Clients & Mail Server programs. You can run all these applications on Mac, Windows, or Linux OS. These applications are available as Free or Paid versions.
Emails play a very crucial role for the business to connect with their clients & customers. It is the most reliable & fastest medium of communication. But, have you been eager to know how these emails are sent/received.
You need some resources to properly send/receive emails i.e., Email Account, Email Client/Webmail/Mail Server, & Proper Internet Connection.
Email Clients or Mail Server plays a very crucial role here. It is responsible to connect your email account with MTA (Mail Transfer Agent) using SMTP/IMAP/POP3. These email clients also have a job to check the emails with Spam Filters.
List of Most Popular Email Client Software:
Microsoft Outlook enables businesses to work efficiently including emails, address books, calendars, etc. in a centralized application. It is a paid email client which you can run on both Mac & Windows OS.
Thunderbird is open-source & free to use email clients. It is compatible with all Operating Systems including Mac OS, Windows OS & Linux.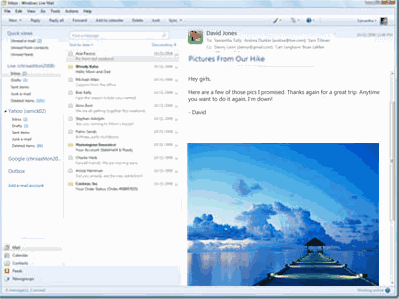 Windows Live Mail is free-to-use email client software that supports all major email protocols. The security feature of Windows Live Mail is quite excellent & protects your mailboxes from Spams.
The default email client for Mac users, Apple Mail serves as a very powerful email client software. It makes management of your emails very easy with a single ad-free Inbox.
IncrediMail is one of the favorite email client applications with many attractive features like animations, emojis, voice messages, etc. Unfortunately, IncrediMail is no more supported by the developers.
Mailbird is a dedicated Windows-based email client software to manage all your emails & contacts. Users can manage contacts of more than one account using this tool.
eM Client is a very user-friendly & easy to use email client for Windows 10 users. One can manage emails, contacts, calendars, tasks, etc.
Zimbra Desktop email client is a dedicated Desktop-based email client for the management of emails, calendars & address books. It also has a Briefcase folder to keep your confidential documents in full secrecy.
The postbox email client will help the users to add dynamic fields to emails & templates. It is a Windows-dedicated email client with 25+ design signature templates.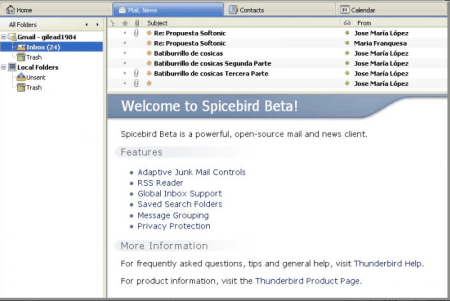 Spicebird is a free-to-use email client that is only available for Windows OS users. It will enable the users to manage & access various email accounts on a centralized platform.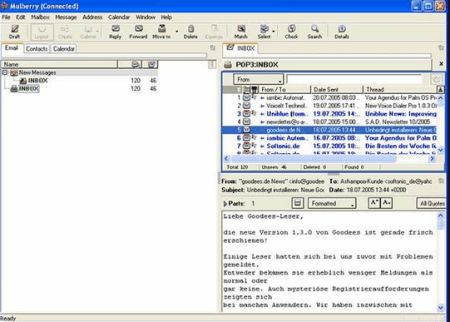 Mulberry is a Windows dedicated email client only for Windows users. This email client supports all email protocols including IMAP/POP3/SMTP.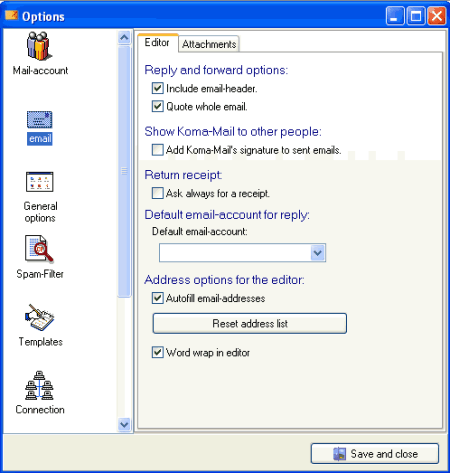 Koma Mail is a highly portable & lightweight application to manage emails on Windows OS. It is a free-to-use email client without requiring any money.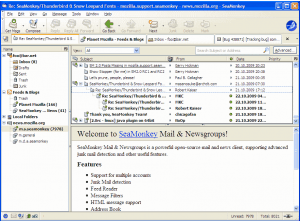 SeaMonkey is a free-to-use email client software with an HTML editor, feed reader, browser support. A user can view emails in a tabbed interface.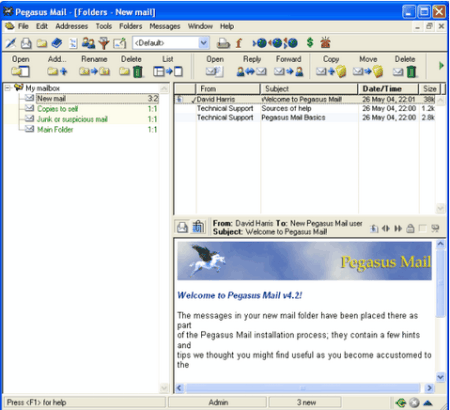 Pegasus Mail is a very powerful & safest email client that supports LDAP, POP3, PH, IMAP, & SMTP protocols. Users can preview attachment files directly through its panel.
Opera Mail is a faster, hassle-free email & news client software. It is a Windows OS dedicated email client that supports the easy listing of attachments & mailing lists.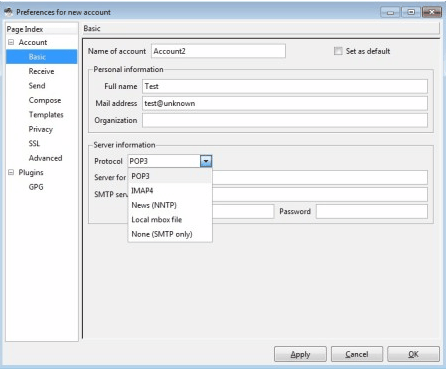 Claws Mail is a highly lightweight & versatile email client that runs on both Windows & UNIX-based OS. It stores emails in MH mailbox format. It protects any user's information with its SSL, GPG & anti-phishing encryption technologies.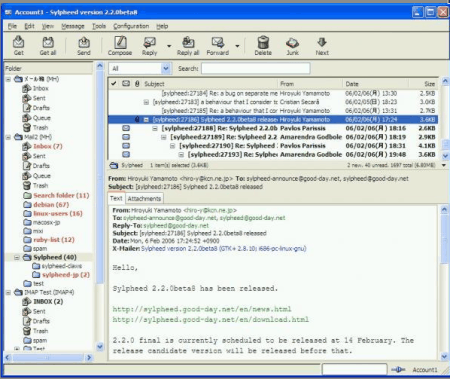 Sylpheed is free to use email client software that supports all the protocols like IMAP/POP3 & SMTP. It has an inbuilt search engine, advanced spam filters, & encryptions like TLSV1/SSL.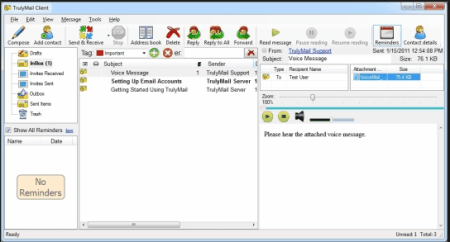 If you want to use one of the highly secured email clients, then you should consider TrulyMail. It is a free-to-use email client that encrypts your email while sending it to the recipient.

AOL Mail has an inbuilt feature to configure email accounts of AOL Mail, Gmail, Yahoo Mail, iCloud, or other IMAP services. It is also a free-to-use email client. It provides users an option to directly log in to your desired email service.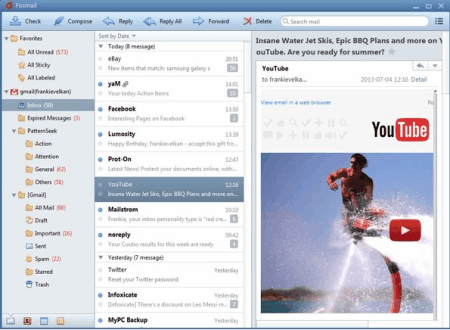 Foxmail has an inbuilt advanced email editor that will help users easily compose their emails. It is also a free-to-use email client while supporting all IMAP services.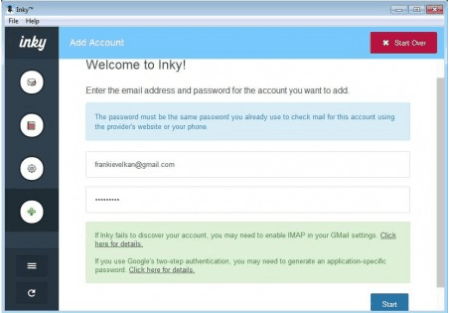 Inky email client also provides users a direct option to configure Hotmail, iCloud, or Gmail accounts. It is a widely used free email aggregator program.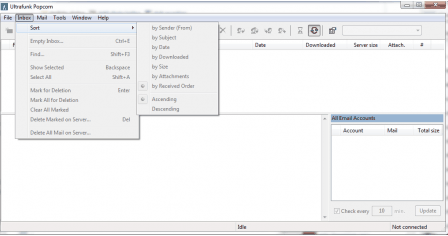 Popcorn email client is a must choice for the users who receive a large number of emails regularly. It has advanced options to organize the bulk emails. Thankfully, it is also a free-to-use email client.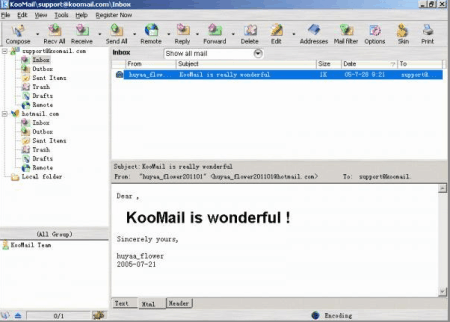 KooMail email client saves the time of users from login into different sites to open & view their emails. It lets the users configure multiple accounts in a single place & access all these emails without any issue.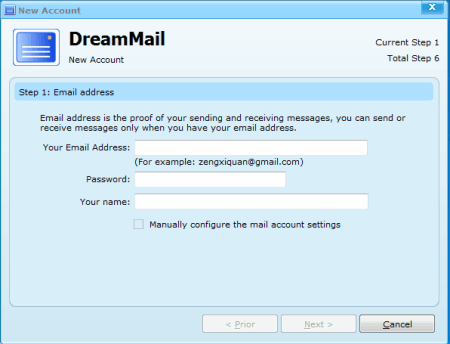 If you want any email client with a very powerful spam filter then DreamMail is best for you. DreamMail is also a free-to-use email application that supports POP3/IMAP/SMTP & ESMTP protocols.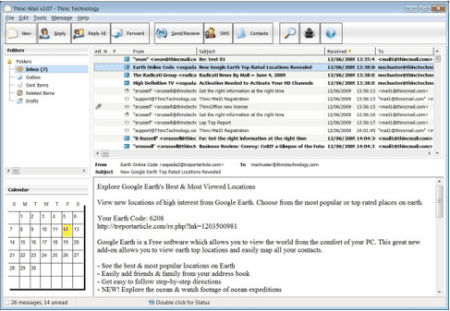 There was a time when many organizations are considering Thinc Mail as an alternative to Microsoft Outlook. However, it is a free-to-use email client, it didn't get that fame which it deserves.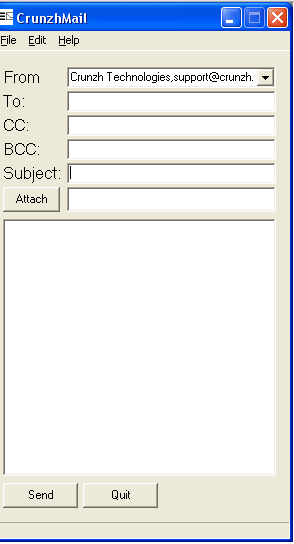 If you want a simple email client without any spell checker or calendar, then you must consider switching to CrunzhMail. It saves a user slot of time & effort in composing short emails.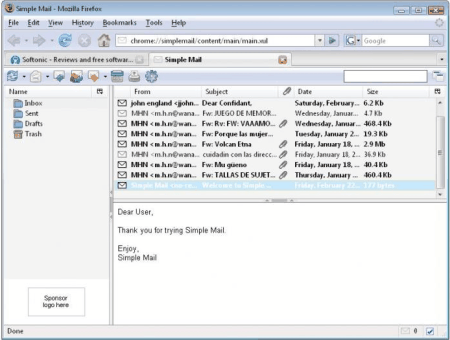 Simple Mail is an email client extension of the Mozilla Firefox browser. It lets the users access their emails through IMAP/POP3/SMTP for free.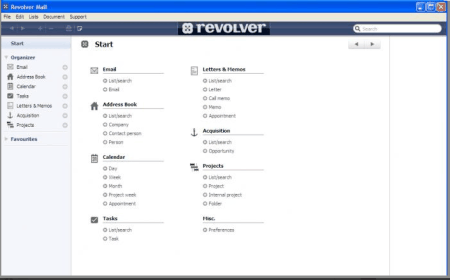 If you are dedicated to a POP3 email account, then Revolver Mail is for you. It has no support for Microsoft Exchange Server or IMAP accounts. This free tool is only designed to preview & access POP mail accounts.
Blue Mail gives users the functionality to manage unlimited emails from a single account. It is a smart application that automatically supports group emailing. Blue mail client lets the users personalize their email clients directly through it.
Mailspring is an open-source email client for Linux OS, Mac OS, & Windows OS. If you had sent any email without intensity, then you can revert this action using its Undo feature.
Spike email clients can merge multiple email accounts into a single Inbox. A user can also search emails within the Inbox using its advanced search functionality.
If you want to manage emails of Outlook.com or Office 365 locally, then Hiri is at your service. You can send only the actionable emails to your team using this email client. A user can keep track of their emails with Hiri email client.
TypeApp email client is sponsored by IBM, which is best known for providing maximum layers of security to their user's data. Users can discover IBM Servers to keep control of their data security more efficiently.
List of Powerful Mail Server Software (MTA)
Microsoft Exchange Server is a very powerful, most useful & highly in-demand mail server. It provides options to manage any organization's emails, contacts, calendars on a Phone, Computer through web login.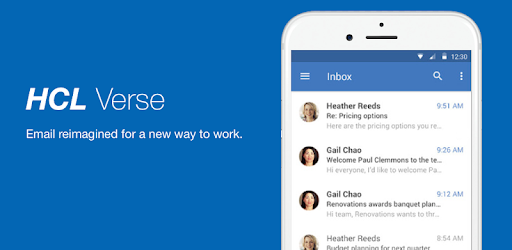 HCL Verse formerly IBM Verse provides business email integration with advanced analytics & collaboration features. The HCL Verse will bring all the actionable emails, meetings that organizations needed to focus on priority.
Zoho Mail provides a secured email hosting & mailbox management service on the cloud. Organizations can create unique usernames for their companies according to their domain name using Zoho Mail. It has a guaranteed 99.9% server uptime.
ProtonMail provides the maximum level of encryption to serve millions of users worldwide. It protects your mailboxes from modern-day cyber-attacks using its advanced security patches.
MDaemon mail server was first introduced to challenge the hegemony of the Microsoft Exchange Server. It is an easy-to-use, secure & reliable email server, that does not require highly technical administrators to manage the users' mailboxes.
Kerio Mail Server helps businesses to collaborate their user's emails around the globe at a centralized platform. It provides many collaborative features including email integration, users mapping, etc.
MailEnable is another highly secured Mail Server that provides complex collaborative services to its users. It helps users in bringing all their users' mailboxes to a single place.
SmarterMail is specifically designed to target small businesses & organizations. With low cost & advanced security features, SmarterMail successfully becomes the favorite choice for many businesses in no time.
Exim Mail Server is a UNIX-based MTA to diverse & handle a large number of requests generated. It provides the best options to its users when it comes to customization & configuration functionality.
Postfix is an open-source Mail Server that includes a robust set of features. It allows database support, log management, junk email control, etc. It uses top-notch encryption technology to protects its users from potential threats like Spambots or Malwares.
Zimbra Collaboration Suite or ZCS is an open-source Mail Server that provides a robust set of features. Users can Group calendars, safely share documents, or drag-&-drop items using interactive UI. It offers its users real-time support for the backup of mailboxes.
IceWarp is a top-niche Mail Server that meets all types of business requirements including small, medium, or large enterprises. It has a comprehensive collaborative messaging suite that helps businesses to reach their customers more effectively.
IMail Server is a complete package for configuring users' mailboxes & accessing the emails. It is particularly designed for Small & mid-sized organizations.
hMailServer is a free-to-use email server for Microsoft Windows OS. It has many advanced administrative tools. You can easily set up & configure users with hMailServer.
A user can manage the business users with a customized email address. It is a very secure, simple, & affordable email hosting service. With a very reasonable pricing, many businesses choose IONOS 1&1 Email & Office Mail Server.
GroupWise is a full collaboration suite to manage emails, schedules, instant messages, task managers, contact managers, or document management. It has proxy access to get group mailbox or other user accounts.
Kolab Groupware is an open-source collaboration suite that includes many web utilities. This Mail Server gives users efficient features with support to SMTP, POP3, IMAP, etc. It has an exceptional service to integrate with Mail Delivery System, Directory Service, etc.
Apache James is a very useful Linux-based Mail Server that allows users to assemble their mail server using ready-made components. It has native support to all major protocols like LMTP, SMTP, ManageSieve, JMAP, IMAP, or POP3.
The Courier-Mail Server offers separate services for ESMTP, SMAP, webmail, or mailing lists. It runs on all POSIX-compliant platforms including Linux, Unix, Mac, BSD, Solaris, etc. It has many standard databases to store mailbox items using MySQL, PostgreSQL, or Berkeley DB.
Zentyal Mail Server is a groupware application entirely based on UNIX, Linux OS. It is introduced as a full-fledged network management system. The Zentyal Mail Server supports both community & propriety editions to match the demands of small & medium-sized organizations.
Open-Xchange Mail is a paid Mail Server for Linux users. However, users can check its working through the community edition. It has secure webmail, an advanced contact management system, calendar scheduling, and above all supports all mailing protocols.
The Axigen Mail Server is an on-premise Server. It means that organizations can run it on Private/Public Cloud or Bare Metal Servers. Axigen comes up with a convenient Address Book manager, providing options for the users to import/export contacts.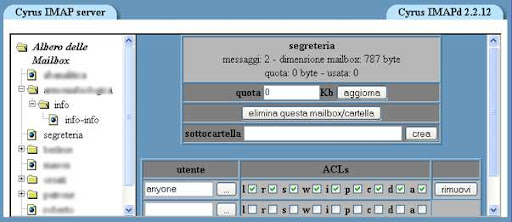 Cyrus was one of the earliest developed Mail Server programs likely in the early 80s. It is now available as an open-source mail server & hence anyone can modify or change its features according to their email requirements. It has the support of multiple email protocols, mail filters, read/write connections.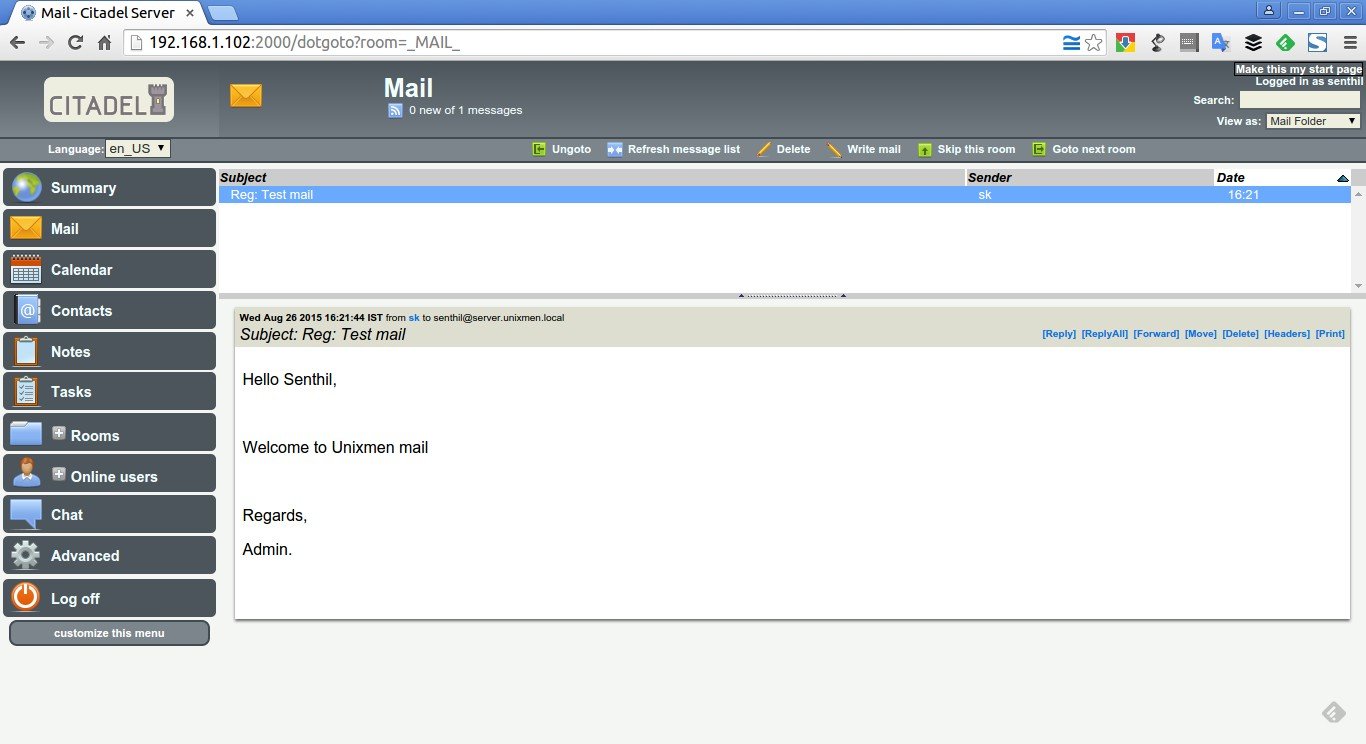 Citadel is no doubt one of the best Mail Server available as open-source. It has many flexible features & runs on Linux & Unix distributions. It has its own implementation of standard server protocols i.e., IMAP, Sieve, GroupDAV, or XMPP.
Sendmail, which is also known as Proofpoint is a widely used mail server on the Linux/Unix OS. It features customization licensing. So, Sendmail is a very reliable application & make sure that all the emails reach their destination. It is a very lightweight Mail server & can even work in very low bandwidth.
Qmail was first introduced as an alternative to Sendmail. It offers more efficient features in comparison to Sendmail including anti-spam filters, set up mailing lists, etc. It is also available as an open-source mail server for Linux/Unix, Mac, Solaris & BSD distribution.
iRedMail is an excellent Mail Server & a highly secured, reliable, simple & trustworthy Mail Transfer agent. iRedMail is best known for providing a high level of security to its user's mailboxes. It configured mailboxes with POP3/IMAP/SMTP over TLS & webmail with HTTPS. Some common encryption techniques used by iRedMail are BCRYPT or SSHA512.
Conclusion:
The above article gives a detailed list of top Email Clients & Mail Server. These email clients & Mail servers are supported on Linux / UNIX / Mac OS / or Windows OS. However, some of them are open-source & free to use while others require a paid license to manage user accounts.