RecoveryTools
iMail Migrator
Best Ipswitch iMail Server Migration Toolkit to Import iMail Emails Along with attachments and other data items.
Bulk Migrate Emails from Ipswitch iMail Server to Multiple Formats
Dual Options to Load iMail mailboxes by choosing Add Files / Folders
Supports to migrate the data into 20+ Email Clients & Platforms
Selectively migrate the required number of files or folders
Export Ipswitch iMail Server v12.5, v11.03, v10.02, v9.2, v8.0
Data Integrity will be maintained throughout iMail Migration
Easy to Use iMail Server Migration Tool with Simplified Interface
Exports iMail contacts, calendars and other data items
Migrate Ipswitch iMail to Exchange 2016, 2013, 2010, 2007
Windows Compatible Utility Runs on Win 11, 10, 8.1, 8, 7
No Ipswitch Mail Server Installation is Required to Export Data
Download for Windows 100% Safe & Secure Download for Mac 100% Safe & Secure Buy Now 30 Money-Back Guarantee*
Free Live Demo

- iMail Server Migration Tool Fully Secured Download Version
Safe & Secure Virus Total Safety Score: 100%
WHY IPSWITCH IMAIL MIGRATION TOOL ?
Use this All-in-one Ipswitch IMail Migration tool which will enable the users to migrate iMail Mailbox data to various Email clients & file formats. If you also want to switch from iMail to Exchange Server account then one can easily do it with the help of our amazing software. This highly professional tool has been developed by RecoveryTools team experts that has multiple inherited features present in it.
RATED AS THE BEST IMAIL MIGRATOR SOFTWARE
This iMail Mail Server Migrator has been properly tested and developed after receiving mutliple number of queries and needs of the users. RecoveryTools Experts had given this tool to most of the their respective clients to use it and tell if their is some issues occur while using the tool.
But after using this tool, they said that this is one of the best utility that allows users to carry out the migration within few minutes and it will not impose any kind of size limitations. Also, it runs according to the needs and requirements of the users.
RecoveryTools iMail Migrator is one of the powerful solution that allows users to export iMail Mail Server data into other multiple email platforms and email clients. This software has the ability to handle the large amount of the data and will take care of the entire data with proper safety and security. Migrates the data such as export iMail emails to Office 365, export iMail emails to Exchange Server, migrate iMail emails to Outlook, export iMail emails to PDF, migrate iMail to Gmail, and selectively export multiple iMail mailbox users.
Demo Limitations
Demo Edition will allows you to only export 25 items from every folder.
Meet following minimum System Requirement for the working.
Program Name: iMail Mail Server Migrator
Version: 6.6
System Requirement: Pentium IV Processor, 256 MB RAM, Minimum 100 MB Space
Operating System: Windows 10, 8.1, 8, 7, Windows Server 2019, 2016, 2013, etc
iMail Server Migration Tool Video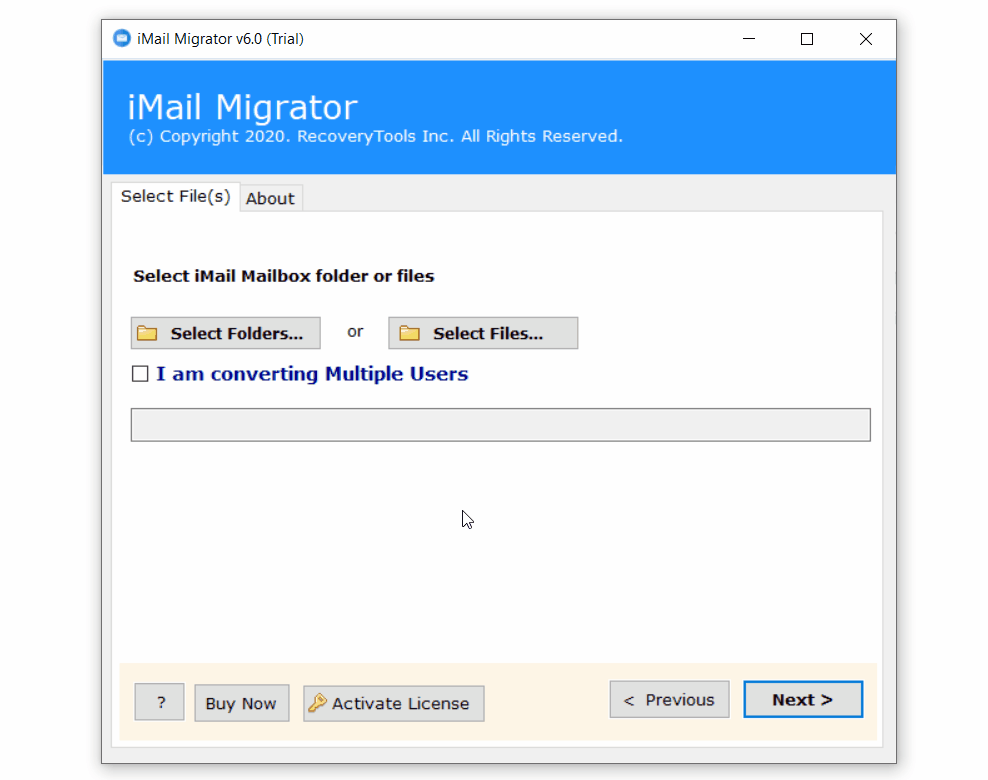 Frequently Asked Questions
Step 1: Run the iMail Mail Server Migration Tool.
Step 2: Load the iMail Server files using appropriate option.
Step 3: Select the required mailbox data.
Step 4: From the Export option, select file format.
Step 5: Go to destination and see migrated data
Yes, the software never offers any file size limitation to export IMail Mail Server to Exchange account.
No, the utility is only designed for Microsoft Windows users. If you want to export IMail Mail Server data then it is a necessary condition to have Microsoft Windows compatible system.
What Customers Are Saying
I need to migrate from Ipswitch IMail to Exchange 2010. I need to have Exchange 2010 accept all inbound email and route mail to the IMail users that have not yet been moved over to Exchange 2010. This process will take several months to complete. But then one of my friends suggest me this amazing toolkit which allows me to export IMail to Exchange 2010 account without facing any problem.
I like to day thanks to the developers of this amazing toolkit for the migration of IMail Mailbox data. The best thing which makes all these things simple is the Live Chat Support. The support team was very friendly in behavior with me. I like to say that after discussing with the support team I instantly purchase the license of this software & then migrate the data from Ipswitch IMail account.
Thanks to the development team of Recovery Tools for developing this perfect iMail Migrator that allows users to export iMail Mail Server data in bulk quantity. The tool is one of the perfect solution that works according to the needs and the requirements of the users. Even, whenever I face some issues, the technical team is also there to assist me.
❮
❯