IncrediMail not Working with Gmail – How to Fix It
Karen Chard
~ Modified: 02-06-2022 ~ IncrediMail ~ 4 Minutes Reading
Learn how to fix IncrediMail not Working with Gmail. I faced a major problem while working with the IncrediMail email client. So, I decided to find the best solution for it. Thankfully, I got the solution. So if you had also faced a similar issue, then don't worry. Here I am explaining the complete procedure of how to fix it easily.
There are many users who want to fix the problem, 'IncrediMail not Working with Gmail'. They regularly posted their queries in our live chat system. Let's analyze one of these queries:
IncrediMail is unable to sign up for my Gmail account. I was using my Gmail account in the IncrediMail email client. But, due to some security reasons, I need to change my Gmail account Password.

So, I decided to reconfigure my Gmail account in IncrediMail. Unfortunately, now IncrediMail not working with Gmail. I checked all my Gmail email settings including IMAP/SMTP. But, still unable to fix the issue.

Whenever I tried to do so, I got this message.

Couldn't sign you in. You need to try a completely different Web Browser or just refresh the screen to try again.

What can be the possible reason for this problem? Can you help me resolve it?
I also had the same problem & tries to fix it by following all the steps mentioned by them. I also changed all less secure apps also. But all this process is so frustrating. Whenever I tried to set up IncrediMail with Gmail, the wizard does not allow me to add my own.
Possible Reasons for IncrediMail Not Working with Gmail:
Here is an official statement from team IncrediMail.
IncrediMail will stop its services from March 20, 2020, and the IncrediMail desktop application will no longer be available.
What a user can expect?
It is not possible to send, receive or view e-mails or communication programs using IncrediMail. In some cases, you can continue to use these features, but their reliability is so low that IncrediMail cannot provide customer service or support.
IncrediMail Images, Graphics, Electronic Graphics, Graphics, Sound, Sound, Media, Skin, and other services (e.g. Gold Image Library, IncrediMail Plus, Storage, and more).
Our first step is to make the change as easy as possible. Then contact your email provider to make sure all emails (emails, apps, contacts, etc.) are secure.
Your IncrediMail email Contact us with your time
We apologize for any inconvenience.
From the above statement, you can easily understand why now IncrediMail is not Working with Gmail.
How to Fix IncrediMail Not Working with Gmail Issue?
A user can fix the IncrediMail not working with the Gmail issue by following these practices.
Step 1: Choose a Proper Alternative of IncrediMail Email Client
The best way to do it is by switching to other IncrediMail Alternatives. Here is a list of all the important alternatives of the IncrediMail email client.
Step 2: Transfer All IncrediMail Files & Folders
Once you plan to switch from IncrediMail to a new email client or application, you need to transfer all your files & folders. You can do it easily with the help of a powerful application i.e., RecoveryTools IncrediMail Migrator tool.
You can free download its setup from the below button:
This tool will provide users a direct option to migrate into any specific email client, webmail service, or user-readable file formats as shown in the image.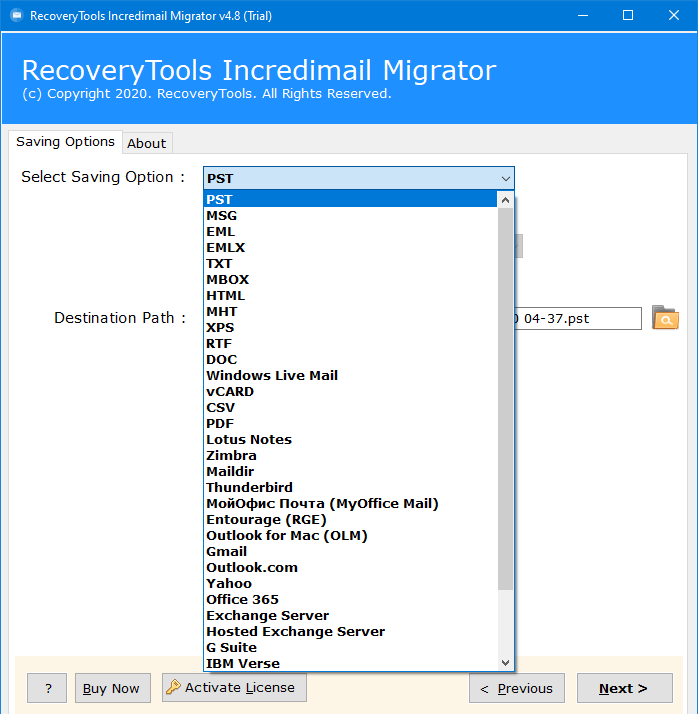 From above a user can easily choose any of his desired solutions.
Conclusion:
This article explains to the user how to fix IncrediMail not working with Gmail. Many users faced the same problem; hence it becomes very important to provide the best possible solution to fix it.