How to Import IncrediMail Emails to Exchange Server (Hosted & On-Premises) ?
Karen Chard
~ Modified: 02-06-2022 ~ IncrediMail ~ 6 Minutes Reading
Overview: Do you want to migrate Incredimail to Exchange Online, but don't know how ? Are you looking for a reliable solution for moving IncrediMail to Exchange Server ? If yes, then stay with us. Because we will show you how to complete this migration in few simple steps. Here, we use a unique solution to migrate IncrediMail emails to Exchange Server directly. Read the article to know more.
Most of the people who used IncrediMail had their data transferred to another location. Because IncrediMail stopped working. But it is one of the best email programs that allow us to customize the email experience with great features.
Microsoft Exchange Server is one of the most amazing solutions for sending messages, oversee schedules, contacts, and so forth. It is generally advantageous for medium-measured organizations since it gives upgraded dependability and further developed execution.
"I'm the proprietor of a medium organization that developed android applications. Here my group is utilizing the IncrediMail email program for email and communication management. At present time I need to develop my business by recruiting new representatives. I have chosen to migrate from IncrediMail to Exchange Server. If it's not too much trouble, recommend me a magnificent procedure."
As Exchange Server is becoming more popular, and most people are switching from IncrediMail to Exchange Server. At the same time are forced to import their IncrediMail files into Exchange server. In light of this requirement, this article discusses the best approaches to implementing. Stop wasting more time and continue with Incredimail to Exchange data transfer techniques.
A Unique Solution – IncrediMail to Exchange Migration Tool
RecoveryTools IncrediMail Migrator is one of the great toolkits which provides a simple and easy-to-use platform for all users. It offers a UI that allows you to directly move emails from IncrediMail to Exchange Server. The solution allows you to transfer IncrediMail emails to Exchange Online or Hosted and Exchange On-Premises Server easily. You can use this solution on your all Windows Server and workstations easily. Get the solution on your computer by the below buttons.
Download Now:
Note: The free trial version of this solution allows users to export 25 Incredimail items and other data in an effortless way. However, many users want to easily transfer all emails and attachments from the Incredimail mailbox to the Exchange folder. For this, you need to purchase the solution.
Steps to Migrate IncrediMail Email to Exchange Server
Download the solution on your computer.
Select IncrediMail mailboxes with auto and manual modes.
Choose the mailbox data or email folders from the list.
Select the Exchange Server option and enter details.
Start the process of Migrating IncrediMail emails to Exchange Server.
How to Transfer Emails from IncrediMail to Exchange Server ?
Start by downloading and running IncrediMail to Exchange migration tool on your system.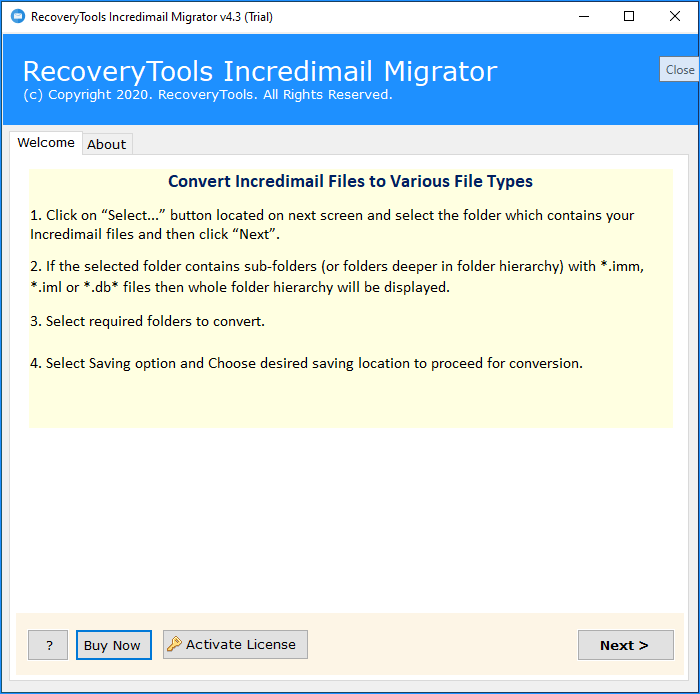 Now, to convert multiple Incredimail files to Exchange mailbox, you need to choose "Select Folder" option. If not, you can select File option.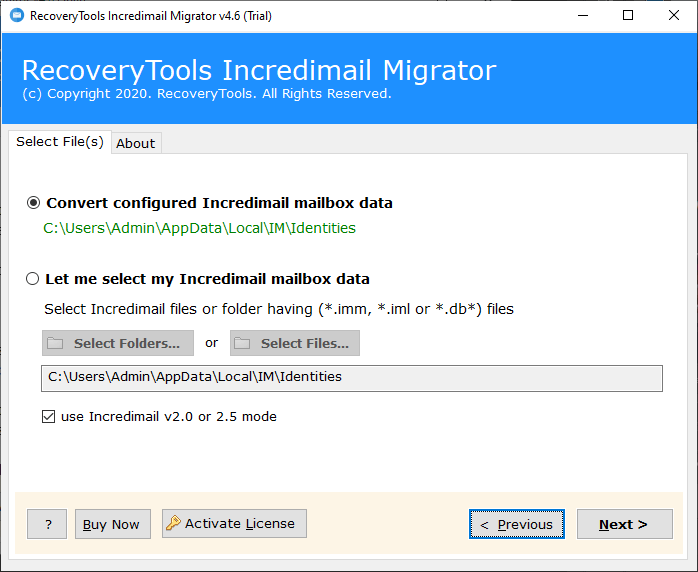 Next, select the desired folder and convert Incredimail file to Exchange folder >> Hit the Next button to import Incredimail into your Exchange profile.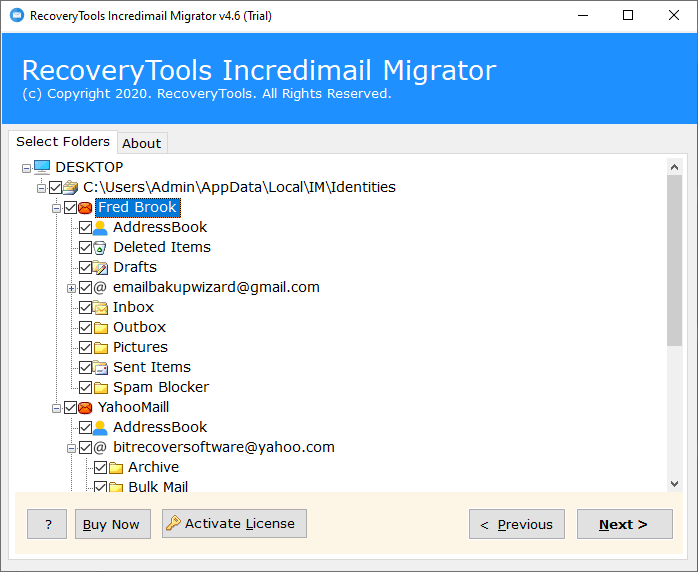 In the list of saving format, select Exchange Server as a backup option to export Incredimail messages to Exchange account.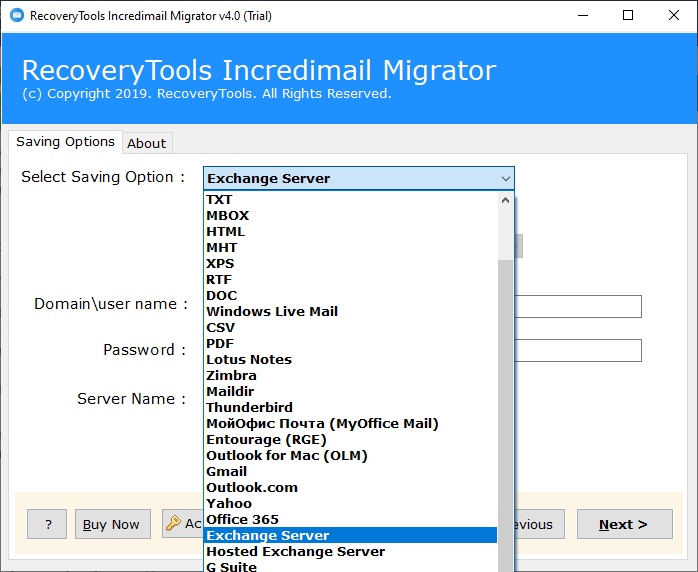 The software also provides the various languages so user can choose any of one as featured into the tool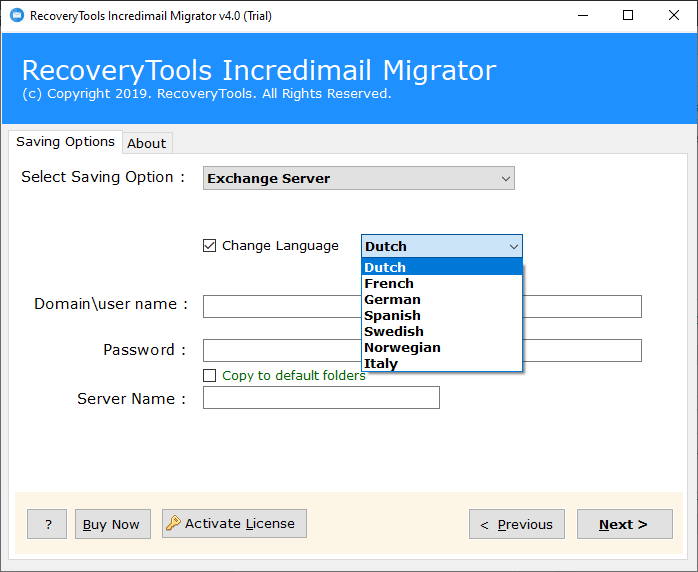 Here you add your Exchange account credentials and start switching from Incredimail to the Exchange profile processs.
After completing the above process, here you get your resultant data items.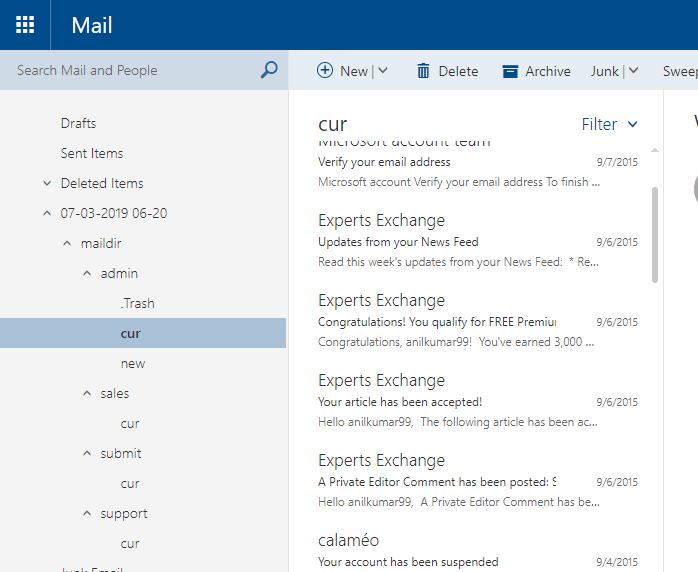 Highlighted Features of Tool to Convert IncrediMail to Exchange
Incredimail to Exchange Converter exports all emails from Incredimail files to an Exchange Online account. Do this directly in the registered form, providing a direct way to request credentials to log into the account with username, password, and server name. Some of the main benefits currently available are listed below:
Batch Export of Multiple Incredimail Data:
You need to understand one of the most important things at the moment. To solve this problem, the program can bulk transfer Incredimail files to an Exchange Server account. Select all the emails you need to import into Exchange and switch to batch mode correctly.
Import Incredimail to Exchange Host Server:
This toolkit also allows users to move Incredimail mail to an account on the Exchange host server. Supports moving Incredimail on Exchange Server and importing Incredimail files into an Exchange Server mailbox that resides in a single application.
Independent Incredimail to Exchange Migration Tool:
The software of Incredimail to Exchange Migration is a completely independent application that does not require Exchange Server configuration. There is no need to install Exchange Server on the system.
Convert Unlimited Incredimail to Exchange Items:
You can use the Incredimail to Exchange Converter to migrate Incredimail files to Exchange Online accounts. This software is designed to transfer emails stored as Incredimail files to Live Online Exchange environments in an unlimited and accurate manner. It has a clear user interface that allows users to simplify the entire migration process.
Compatible with latest or Older Windows:
Incredimail to Exchange Migrator software uses advanced algorithms to perform Incredimail data files conversion in Exchange on Premise Server. The users can run this toolkit on Microsoft Windows operating systems such as Windows 10, Windows 8.1, Windows 8, Windows 7, Windows XP, and Windows Vista. For 32-bit and 64-bit versions of the operating system.
Versions of Import IncrediMail to Exchange Software
The Incredimail to Exchange file conversion software is available in two versions: a demo version and licensed version. As per the requirement, the user can choose between two versions.
Demo Version: This version is free, but you can convert 25 emails from each IncrediMail folder. Users can download the trial version and check the working of the tool.
Licensed Version: This is paid version that can only be used after purchase. By purchasing the tool to Import IncrediMail in Exchange, by using the full version users can continue to convert IncrediMail email to Exchange account.
Note: The applications recommended above have been thoroughly tested by our team of experts and also are free of viruses and malware. If the software cannot convert IncrediMail into Exchange mailbox, download a free demo version of this tool and upgrade to the professional licensed version if you are willing to provide a 30-day money-back guarantee.
At Last Words
In this digital post, we get to know about how can a user import IncrediMail files to Exchange Server Live or on-Premise account. It is the most important task among the users to perform IncrediMail to Exchange migration. This write-up mentions here one of the best Incredimail to Exchange Migration software which will provide a direct option for the users to perform the conversion. The users only needed to provide the login credentials of the destination Exchange Server account. One of the best features of this product is also that it is compatible with the latest Windows operating systems and offers a 30-day money-back guarantee in the event of a software failure.