How to Transfer All IncrediMail Folders and Files to Popular Services?
Karen Chard
~ Modified: 14-10-2022 ~ IncrediMail ~ 8 Minutes Reading
!!Alert!!
IncrediMail is going to shut down. What are you waiting for? Transfer all IncrediMail folders and files to secure your data from a big loss. After 20 March 2020, you can't access your important IncrediMail data anymore. So, don't waste your time take the immediate action & save your IncrediMail mailbox data
Are you curious about how to transfer files & folders from IncrediMail to various email clients & services? Then read this blog. After the recent news about IncrediMail, every user is scared about losing their IncrediMail email data. Are you one among them? Then don't worry, we will help you.
In the coming section, we are going to introduce an expert solution known as RecoveryTools IncrediMail Migrator. It will help you to transfer all IncrediMail files and folders to your desired email service. Also, we will help you by giving information about the best IncrediMail alternative available in the market. Then let's get started!!!
Note: Before starting to transfer IncrediMail email files find the free trial version of the migrator software from here. It will help you to try software features with a limitation of 25 emails per folder. The software is fully compatible with all the versions of Windows OS. Also, it has an expert feature to auto-detect the mailbox data of the configured IncrediMail account.
How to Transfer All IncrediMail Folders and Files ? Step by Step
Follow the simple step by step procedure to transfer email files & folders from IncrediMail.
1. Install & run IncrediMail migrator on your system.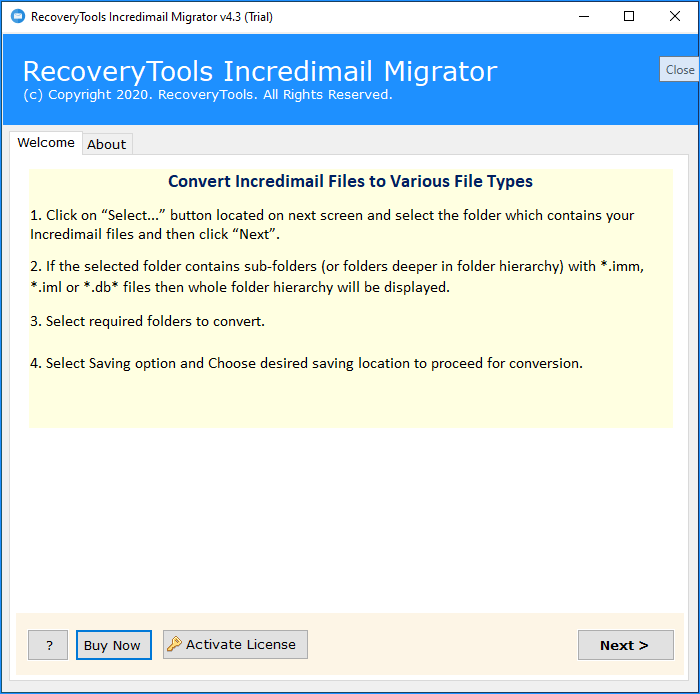 2. After that, add the IncrediMail email through automatic or manual option.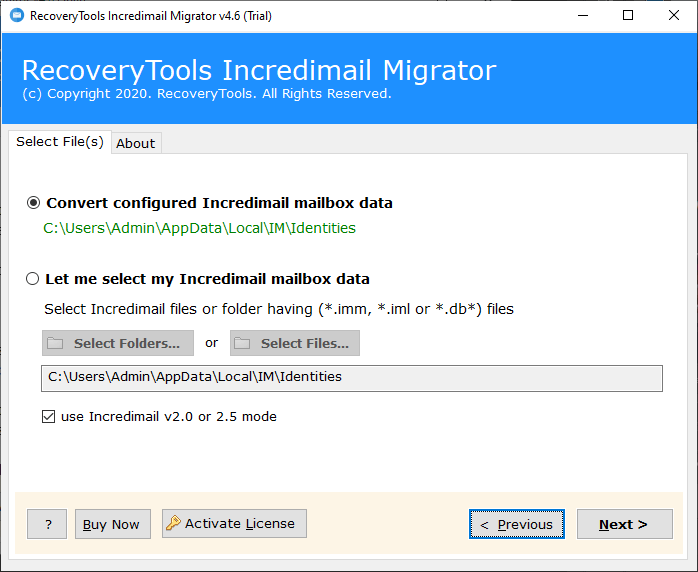 3. Select all required email folders from the list & hit Next button.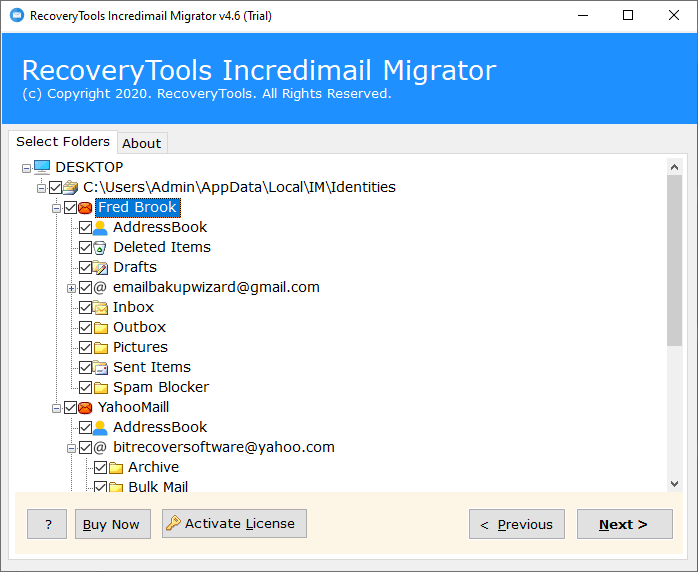 4. Then, choose desired email option or file format as saving option.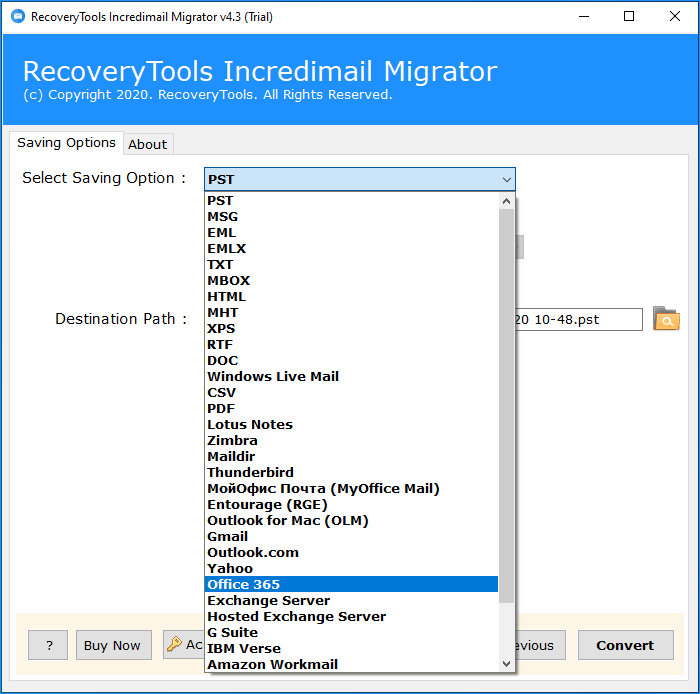 5. After that, enter all required information in the respective fields.
6. Finally, click on Convert transfer all IncrediMail folders & files.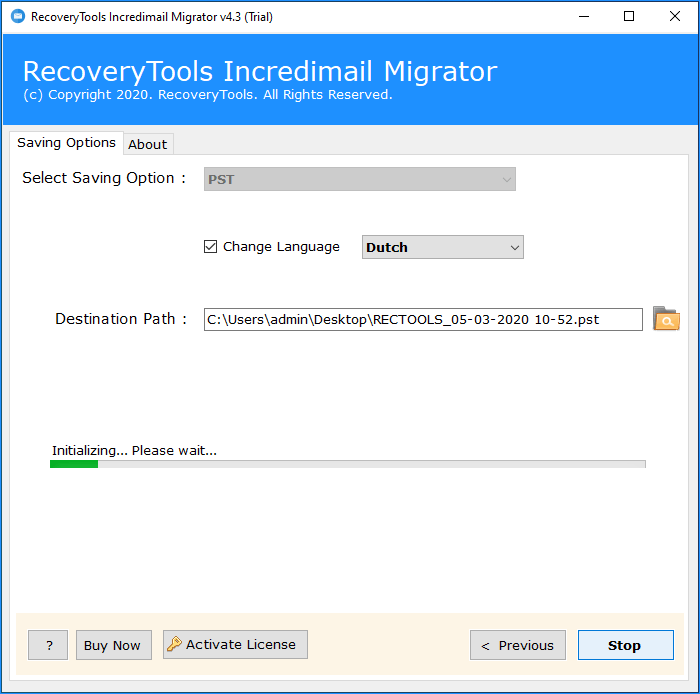 Expert Solution to

IncrediMail Email Files and Folders
If you are reading this blog means probably you heard that IncrediMail is going to stop its services. Are you in search of the best solution to transfer your IncrediMail files? Are you worried about the security of your email data? Then go with the IncrediMail Migrator solution. It will help you to directly transfer IncrediMail emails to your desired email service securely. The software provides various email clients & services as saving option. So the user can choose the destination email service according to their requirements & preference. Also, the utility support all format of IncrediMail mailbox file (IMM, IML, DB, CAB), that enables the users to transfer all their IncrediMail email data without any tension.
Transfer IncrediMail Email Files to Free Email Clients
When decide to transfer all files and folders from IncrediMail the first option that comes in user mind will be the free Email clients so in this section we are going to provide few best free IncrediMail email clients. Also, the above given automated solution is capable of transferring all IncrediMail files & folders to different email clients directly.
1. Mozilla Thunderbird
While considering free desktop-based email clients Thunderbird having the first position. It is the most popular open source email client which 100% free of cost. Also, it helps the users to easily manage their email even in offline mode. Make use of the IncrediMail to Thunderbird converter to transfer IncrediMail IMM or IML files to Thunderbird.
Advantages of Thunderbird
Free open source email client.
Also, user-friendly interface.
Address book option for contacts.
Also, advanced spam filters.
Offline management of emails.
Also, allow to customize according to user.
Provides cross-platform support
2. eM client
eM client is another desktop-based email client which is popular for its clean interface. It enables the efficient management of email messages, contacts, calendars & notes. The well organized look makes eM client stand different from other email clients. It saves the email data in EML file format. Go with the efficient IncrediMail to EML converter save your IncrediMail data in eM client.
Notable Advantages of eM Client
Support all major email services.
Well organized email interface.
Superfast email searching feature.
Centralized application management.
Offers an integrated chatting option.
Inbuilt translator of email messages.
3. Zimbra
Zimbra is a desktop-based email client that provides offline & online access to your mailbox data. It is a cross platform email application that can run over Windows, Mac, Linux OS. User can easily transfer all IncrediMail folders and files to Zimbra by converting to Zimbra TGZ file format.
Benefits of Zimbra
Free & open source email client.
Offers expert spam filter.
Cross platform email client.
Email, contact, calendar management.
Provides offline access to the data.
Transfer All Your Files from IncrediMail to Web-based Email Service
Are you thinking about transfer your IncrediMail data to Web email? Then don't worry the above mentioned software efficiently transfer files & folders from IncrediMail 2.0 & 2.5 to your desired email services. Refer the below section to find some of the popular free email services.
1. Gmail
Gmail is one of the most popular email services all over the world. It allows to manage emails, contacts, calendars, etc. in efficient and secure manner. Also, Gmail provides the free cloud storage to save user data. It helps email users to save their drive space. Also, it enables email access from anywhere from the world. Perform IncrediMail to Gmail migration with the help of above mention software solution.
Advantages of Gmail
Cloud based email service
Can access from anywhere, at any time.
Easily configurable on any email application.
Offers free cloud storage space.
High security to user's mailbox data.
2. Yahoo Mail
Yahoo Mail is another well known free email service. It offers four different plans to access email services according to user requirements. It provides option to custom background theme & advance email search. Yahoo mail is an efficient choice for the users who need to send & receive attachments through emails frequently. You can make use of the IncrediMail migrator for the direct transfer of emails from IncrediMail to Yahoo.
Notable Benefits
Provides free cloud space
Having four different plans.
Enable chat through Yahoo Messenger.
Provide free access Yahoo Interface library.
Provide free calendar functionality.
Scan email for the virus.
Transfer IncrediMail IMM or IML files to Paid Email Application & Services
In the above section, we discussed about various free email applications & services which you can depend on to transfer IncrediMail emails. In the coming section, we are going to see some of the best paid email services. Use the Automated solution to securely transfer IncrediMail folders and files to Paid services.
1. Microsoft Outlook
While considering cloud-based email services or desktop-based email applications MS Outlook is the first choice of the organizations. It provides various inbuilt features for the secure management of emails, contacts, calendars, tasks & more. Outlook uses PST file to save and transfer the mailbox data. Go with IncrediMail migrator to export IncrediMail to Outlook PST file format.
Advantages of Outlook
Simple & user-friendly interface.
Also, support SVG & give real image experience.
Active directory authentication extendable to Exchange.
Also, provides both desktop & cloud-based email service.
Microsoft Exchange Play integration.
Follow the traditional folder structure.
2. G Suite
G Suite is a collaboration suite that includes various services like Gmail, Calendar, Hangout, Doc, Sheet, etc. Mainly G Suite is used by organization & enterprise-level users to manage their data. In addition, it provides Cloud storage & services according to user plans. G Suite is formally known as Google Apps. The automated tool provides the direct conversion of IncrediMail to G Suite mailbox.
Benefits of G Suite
Offers unlimited storage space.
Team collaboration feature.
Enhanced data security.
Provide professional version of Gmail.
3. Exchange Server
Exchange server is the first choice of the enterprise-level users for the email servers. The exchange server is the Microsoft email server. Also, it provides a better workflow for large organizations. If you are looking for an email server alternate for IncrediMail. Then, Exchange is the best choice for you. Go with the converter tool to perform direct IncrediMail to Exchange migration.
Benefits of Exchange Server
Centralized email management in an efficient way.
Highly advanced mailbox data security.
Also, pay only for what you are using.
Easily accessible anywhere from the world.
Also, it offers automated feature updation.
Shared calendar between different users.
Multi-layered anti-spam filtering
How to Transfer Data from

IncrediMail XE, 2. 0 & 2.5

? FAQ
Find the most commonly asked user questions & answers from her:
1. How to transfer all IncrediMail files & folders to PST format?
Follow the simple steps to transfer IncrediMail emails to Outlook PST?
1. Run the utility on your Windows Machine.
2. Add IncrediMail mailbox data to the tool.
3. Now, choose only the required email folders.
4. Select PST as saving option & enter destination.
5. Finally, click on Convert to initiate the conversion.
2. Can I transfer IncrediMail IMM or IML files using this tool?
Yes, The software supports all the file formats of IncrediMail which include IMM, IML, DB, CAB.
3. Does this tool need the IncrediMail installation to transfer files from IncrediMail?
No, the utility offers the option to manually add the IncrediMail data. Therefore you can use that option to add emails. Also, it provides the option to automatically access the data from the configured account.
Closing Words
Through this write up we introduce one of the best solutions to transfer all IncrediMail folders and files to your desired email service. Also, we explained about few of the popular email solution which can be used as a better alternative. The software provides various advance features that enable direct & secure transfer of IncrediMail emails.