How to Export & Migrate Incredimail to EML Files without losing a Single bit of Data ?
Karen Chard
~ Modified: 25-06-2021 ~ IncrediMail ~ 4 Minutes Reading
Did you ever face issues when you have to Convert Incredimail to EML format ?
If, YES, then do not need to worry! Here are the complete steps to know how to convert Incredimail emails files into EML mailbox, which can further be accessed in various desktop mail clients including Windows Mail, Window Live Mail, and Outlook Express.
Free Download IncrediMail to EML Converter Tool
Trial Version: The user can use its free DEMO version to understand the complete functionality of Incredimail Converter software. Then, they easily buy the full version of tool for exporting bulk of Incredimail data into EML format.
Convert IncrediMail to EML Format in Few Easy Steps
Select Incredimail file / folder by choosing [Select File] or [Select Folder] option. Select Folder option is to convert multiple Incredimail emails to EML format. Otherwise, you can use the Select file option.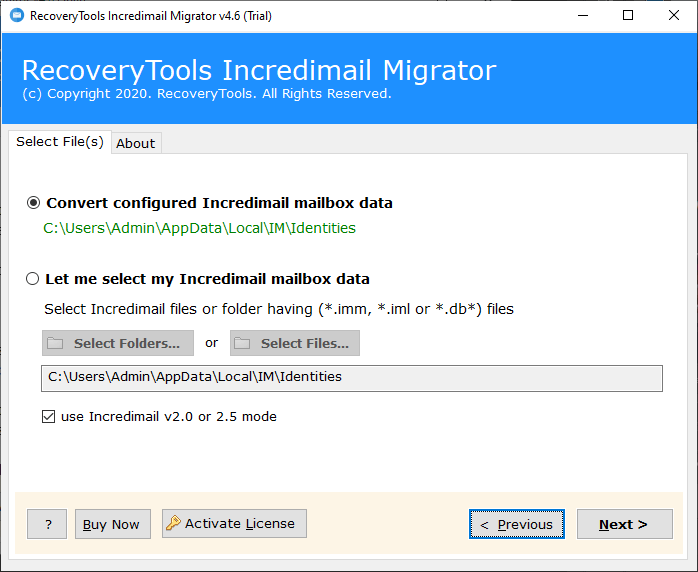 Tick all items to be transferred to EML file format and click the [Next] button.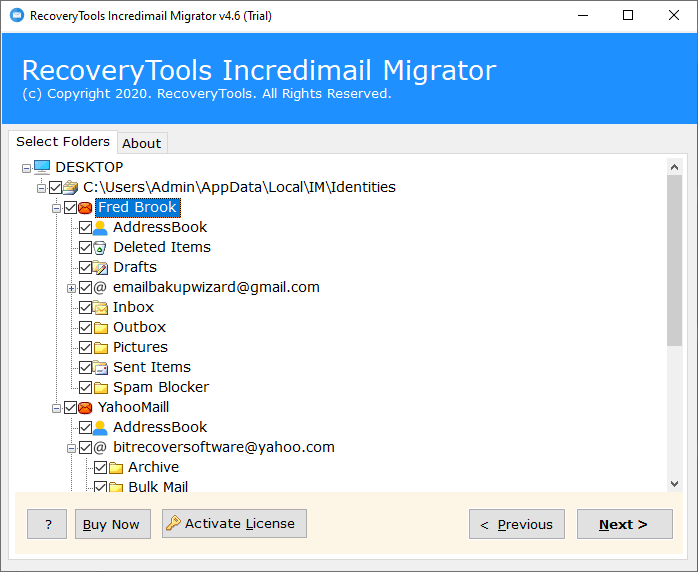 In the specified list, select EML as saving option for exporting Incredimail files in EML format.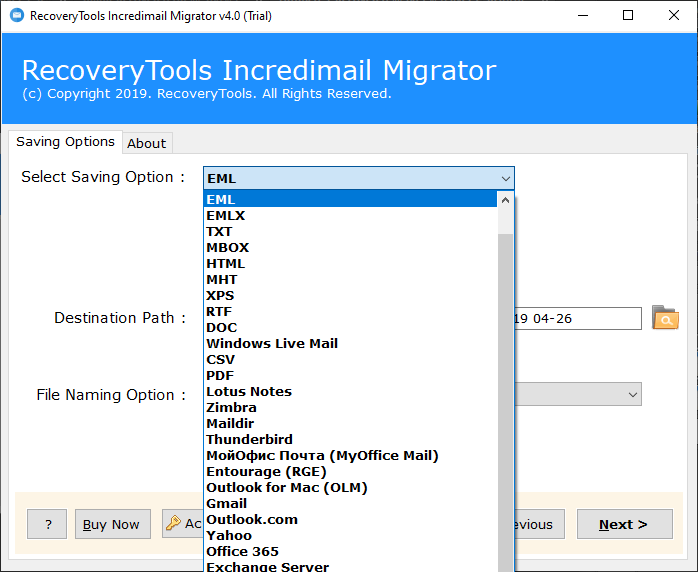 Select destination path and pick file naming option to save your converted data items. Click the Next button to convert Incredimail to EML.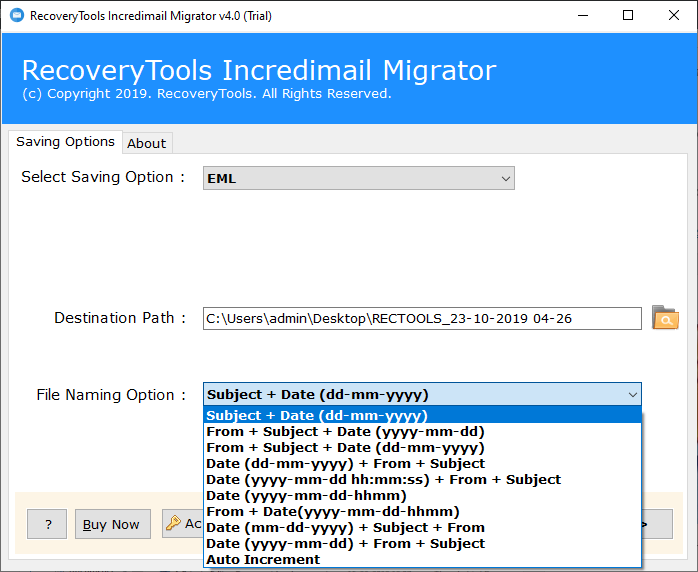 Wait for completion in a few seconds. Then a final message appears on the screen.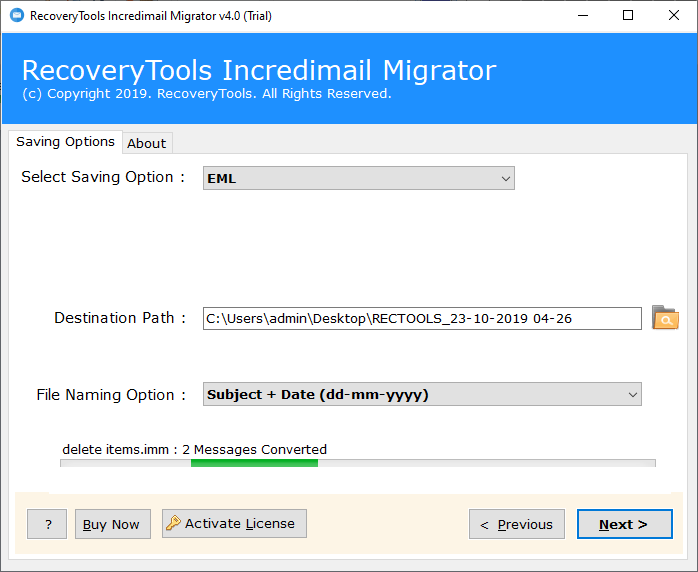 When the migration is complete, the Incredimail to EML converter tool will automatically open the target folder and receive the resulting data file.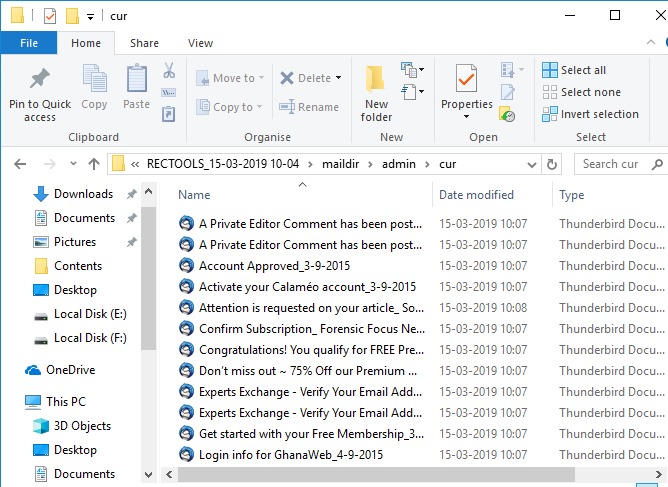 In this way, you can transfer or migrate all your Incredimail file to EML Mailbox easily. Before coming to the ending part, let us have a look over the software also.
Best Solution to Transfer IncrediMail Emails to EML Mailbox
Try IncrediMail to EML Converter software, it allow the users to move IncrediMail mail directly to their EML mailbox.One can transfer IncrediMail emails, contacts, and calendars items from *.IMM, *.IML, *.imb, *.ima, *.imf, *.ime, *.imh, *.imi, *.imn, *.imr, & *.db files to EML file format. There are a lot of advantages that are provides with this amazing software as some of them are listed below:
Software Features to Export IncrediMail to EML
This utility creates widely supported EML files that can be effortlessly imported into any application.
The software manages all the properties and attributes of IncrediMail email, including attachments, email, date, subject, notes.
The IncrediMail to EML Converter tool allows users to batch conversion of IncrediMail files to EML file format.
It will give a freedom to choose the path to save the received EML file in the default folder.
IncrediMail to EML Converter application provides several naming conventions.
Why Do We need to Migrate IncrediMail to EML ?
If users are looking for a quick solution to export IncrediMail emails in EML format, there are several reasons. The main reasons for migrating IncrediMail data files to EML are:
Helps you analyze important forensic discussions by email.
Users can easily access email from anywhere using a laptop, mobile phone, or tablet browser.
Easily share IncrediMail as separate files for each user.
After converting an IncrediMail file to EML, users can send the data as an attachment to an email and transfer it to any number of users.
Advantages of EML format
The EML file format has a universal file extension.
EML file format supports main Windows mail client applications including Linux, Outlook, Thunderbird, etc.
EML is a universal file format that can be used for both personal and professional use.
EML files can store multiple values or items such as emails, contacts, messages, notes, journals.
What Client's Says about Product ?
"The best thing I liked about this utility is the interface. Each step of the conversion procedure is explained so simply that no technical guides are needed to work with this tool. Being a normal computer user, I was able to convert IncrediMail to EML format for personal purposes. The developers' efforts are reflected in this software and I really appreciate the teamwork that created this IncrediMail to EML conversion tool. Well done guys! "
"This software is an easy to use program that quickly converts IncrediMail emails into EML format. Initially, I tried the free versions from 5 to 6 products and, among all, I found this RecoveryTools reliable for my needs. I activated the edition with software license and I also recommend it to my other work friends, thank you all for this independent approach!"
Final Words
In the article, we learn how a user can export IncrediMail to EML format. There are thousands of people who want to learn how to convert emails from IncrediMail to EML file format quickly and successfully. There is no size limitation between users to perform the migration. To solve this problem, we must have the help of a professional software IncrediMail to EML converter by RecoveryTools.