Is IncrediMail Safe Enough to Use ? Know Expert Suggestions
Is IncrediMail safe to use? This is the most searching question after the announcement of IncrediMail shout down. Are you curious about the same? Then, read complete blog.
On 20 March 2020 IncrediMail is going to retire. After that IncrediMail server & desktop application will no longer available. That means it is not safe to use IncrediMail to manage your email data. It is the time to change. So don't waste your time to test your luck.
Important: RecoveryTools IncrediMail migrator is the most recommended software solution by the technical expert. If you are scared about losing your IncrediMail data. Then go with the tool, it provides direct conversion of IncrediMail emails into different email services in few clicks. Also, try the free trial version to test various advance software features.
These 5 step procedure will help you to keep your IncrediMail data safe:
Open the software on your Windows system.
Add IncrediMail mailbox to the tool.
Select only the required email folders.
Choose the saving option & other options.
Click on Convert & start to transfer emails.
What Does It Mean by IncrediMail is Going to Close ?
The IncrediMail development & support team announced that after the retirement of IncrediMail you can send, receive & view email, attachments, contacts, etc through IncrediMail. Because they are going to close both the server & desktop application. Even if you are able to use the email functionality that will be less reliable & IncrediMail will not provide any customer support. So at this moment if you think is IncrediMail safe to use, the answer is a big NO.
Also, all the IncrediMail graphics, animations, letters, eCards, emoticons, sounds, notifiers, skins & any other additional services will also lose after the closing date.
Are you concern about your IncrediMail data? Then, the only existing way to save your mailbox data is, backup or transfer all IncrediMail folders and files to any similar email clients. Therefore, In the coming section, we are going to provide you one of the best solutions to secure your IncrediMail email data from loss.
Expert Solution to Secure IncrediMail Mailbox Data
RecoveryTools IncrediMail migrator is a reliable solution to save you emails from IncrediMail. The utility allows to export & save IncrediMail data into various IncrediMail alternatives. The direct conversion of the email data helps the user to save time & effort. Also, the software offers the automatic pitching of IncrediMail mailbox data from the configured account. This feature helps the users who don't know where does IncrediMail stores emails. The different saving options offered by the software allow the users to export IncrediMail data into their desired email services.
If you are still in the confusion is IncrediMail safe to use. How ever, don't risk your important data. Go with the export solution & keep a copy of your IncrediMail data in a secure place.
Prominent Software Features
Direct conversion of IncrediMail emails.
Also, transfer all emails with attachments.
Maintain all the associated properties.
Upload mailbox data from configured account.
Dual email adding option for manual method.
Also, it provides different saving options.
Language option for efficient data management.
Also, compatible with all the versions of Windows.
Multiple mailbox data conversion in batch.
Secure IncrediMail contacts & calendar.
Allow to save the resultant files in desired location.
Support IncrediMail 2.0 & 2.5 data.
Steps to Keep IncrediMail Mailbox Data in Safe
Follow the simple step by step procedure to secure IncrediMail data in various formats.
1. Install & run IncrediMail migration tool on your Windows Machine.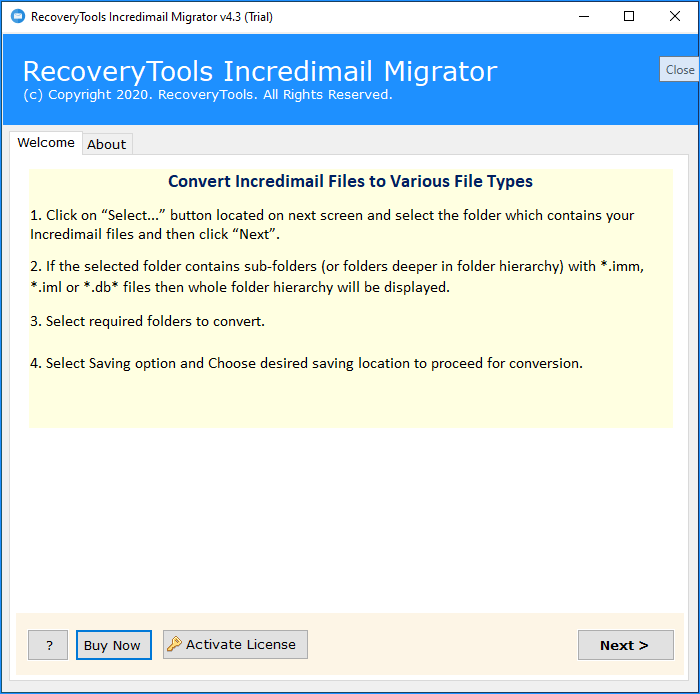 2. Now, automatically or manually add IncrediMail mailbox into the software & click on the Next.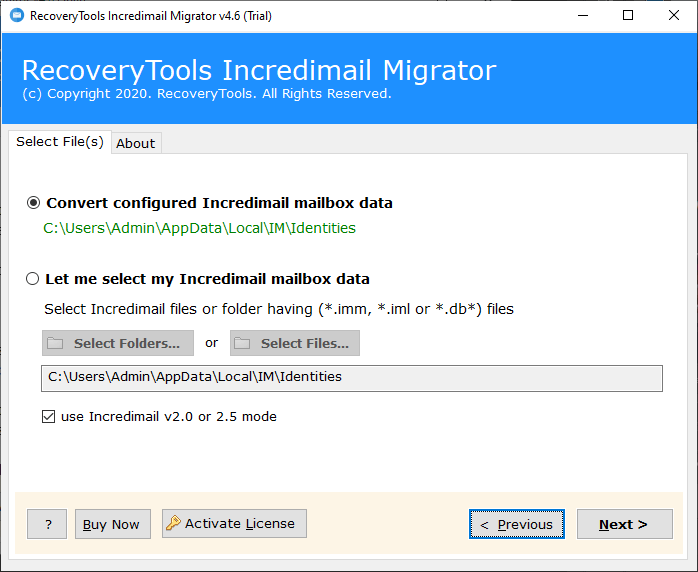 3. After that, choose the required mailbox folders from the given list & hit the Next button.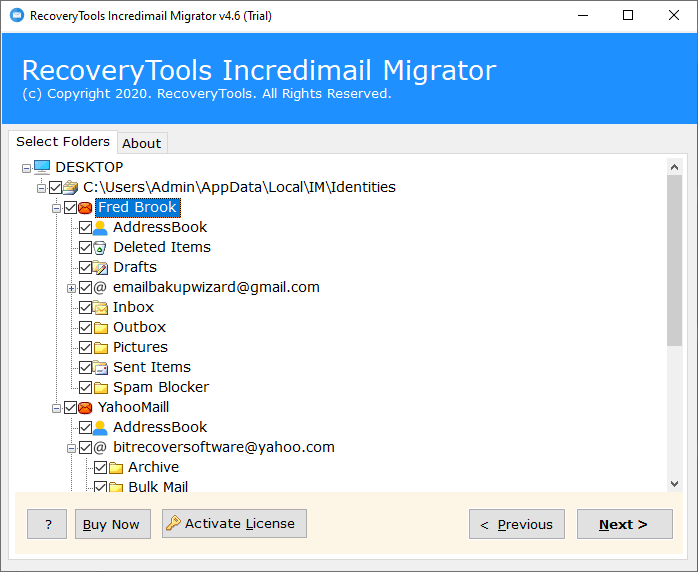 4. Then, select the desired saving option & setup conversion options according to your choice.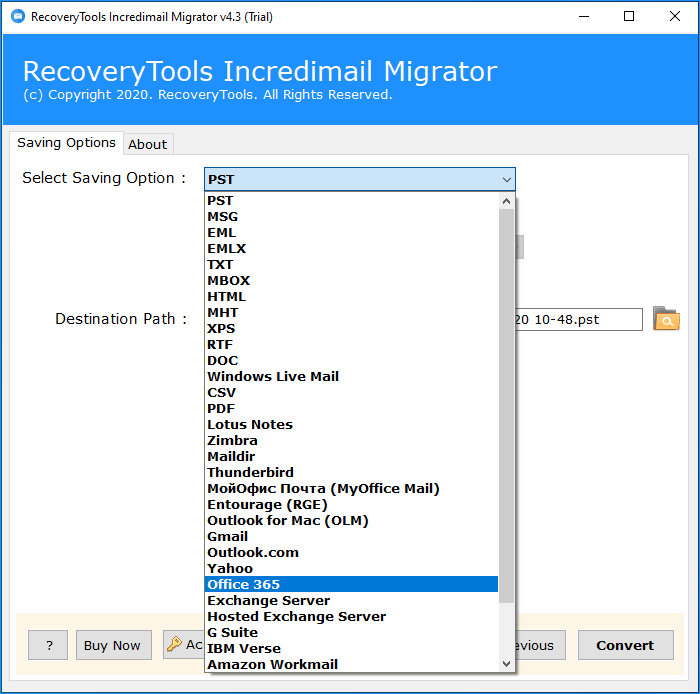 5. Finally, click on the Convert button to start IncrediMail data migration & analyze the process.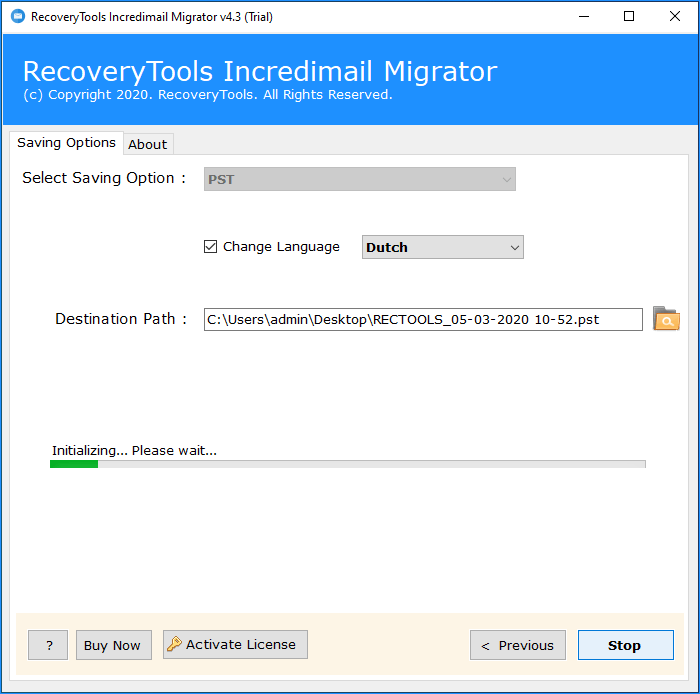 Concluding Thoughts
Are you still in doubt " is IncrediMail safe to use"? At this last moment, it is better to go with any other similar email services to secure your email data from a data loss situation. However, through this blog, we introduced a secure software solution to save your IncrediMail files & folders.