How to Import IncrediMail Emails to Gmail / Google Account ?
Karen Chard
~ Modified: 18-06-2022 ~ IncrediMail ~ 5 Minutes Reading
Overview: Are you wondering about a solution to transfer IncrediMail emails to Gmail account ? Or want to know how to convert IncrediMail IMM, IML, or DB files to Gmail account ? If yes, then your hunt is to end here. In this post, you will get to know about the complete process of importing IncrediMail emails to Google Mail account using IncrediMail to Gmail Migration process.
IncrediMail is a very popular & interactive email client for the management of Personal Information Management. It is a free Desktop-based email client providing options for the users to compose messages with advanced formatting & animations.
But, a large number of users realize that IncrediMail has shut its email client and its server from twentieth March 2020. Presently, this is probably the main reason to transfer IncrediMail messages to Gmail account. Since nobody can get their email mailbox inside the IncrediMail program after March 2020.
On another side, Gmail is the best email service access around the globe. It offers many features which are not present in the IncrediMail email client. One of the great advantages of Gmail is can access from anywhere any time with an internet connection.
IncrediMail to Gmail Migration Tool | Free Download : –
Free Download IncrediMail Migrator Software which will enable the users to export IncrediMail mailbox items & files (*.imm, *.iml & *.db) to Gmail account quickly. Also, the software will provide a direct option to import IncrediMail to Gmail accounts. The utility can be easily run on all latest Microsoft Windows OS devices & hence proves to be a great choice among the users.
IncrediMail to Gmail Converter software is designed in such a manner that its overall working is very easy & simplified. All types of user's details like Username & Password of Gmail account will remain safe & secured as the application will not store any of this information in its database. Also, the overall working of the utility is very easy & simplified as anyone can understand it just by following these simple steps:
Download the Solution:
Process to Transfer IncrediMail to Gmail Account
Follow the given process to understand the process:
Launch the solution on your computer.
Now, get IncrediMail mailbox with auto & manual options.
Choose the required folders from the given list.
Now, select the Gmail option and enter all the details.
Click on the next to transfer IncrediMail to Gmail account.
Professional Toolkit Working Steps
Install & Run IncrediMail to Google Mail Migration tool & Read all Important Instructions.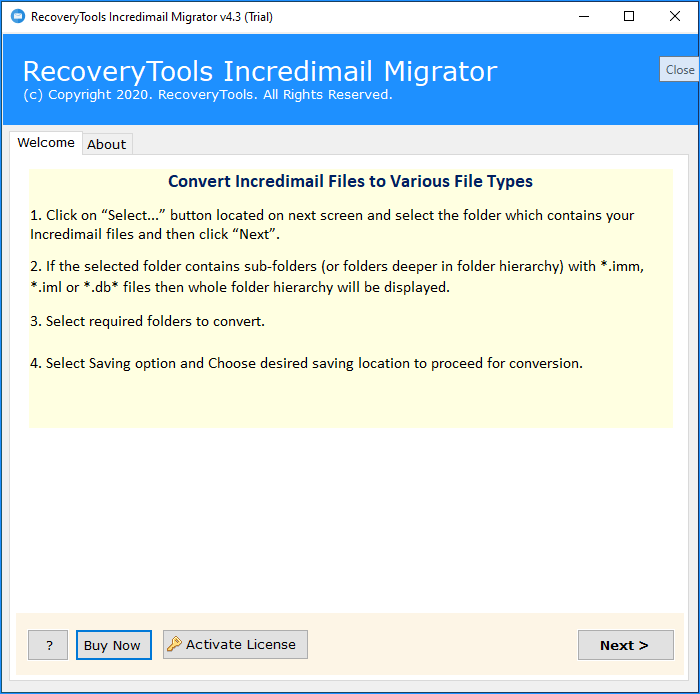 Now, load IncrediMail Mailboxes in software panel in dual ways i.e. Select Files or Select Folders. Users can also automatically detect the default IncrediMail Mailbox Profile location & can load data directly from there only if you have an IncrediMail email client installed on your PC.
The utility will display all IncrediMail emails in the software panel. Of which users can select any of them according to requirements.
Now choose the Gmail option from the list of 30+ Saving formats.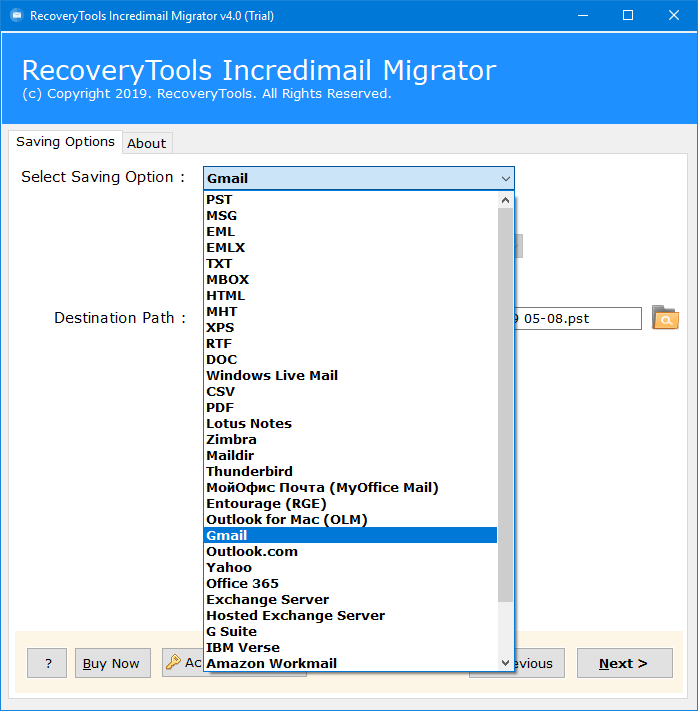 It will ask the users to provide the required Gmail account login credentials.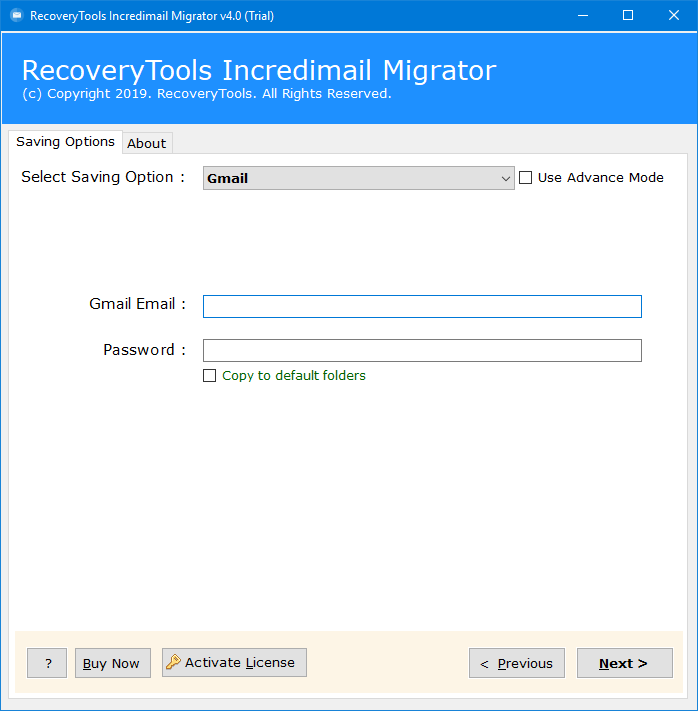 Now, enter Gmail account login credentials in software panel i.e. Username & Password.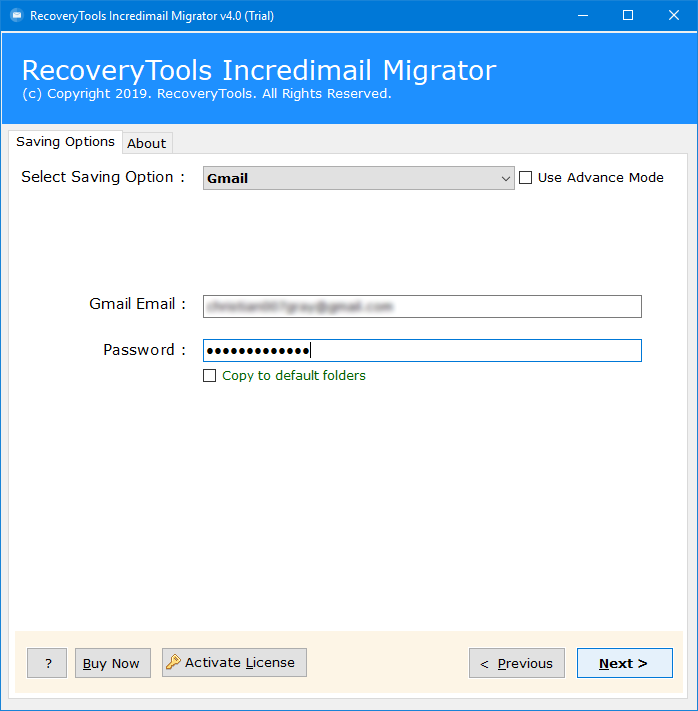 Note: If the software fails to authenticate your Gmail account. So, please check again your account credentials. If all is correct, then your need to create APP Password.
Click on the Next button & Analyze the live conversion process directly in the software panel.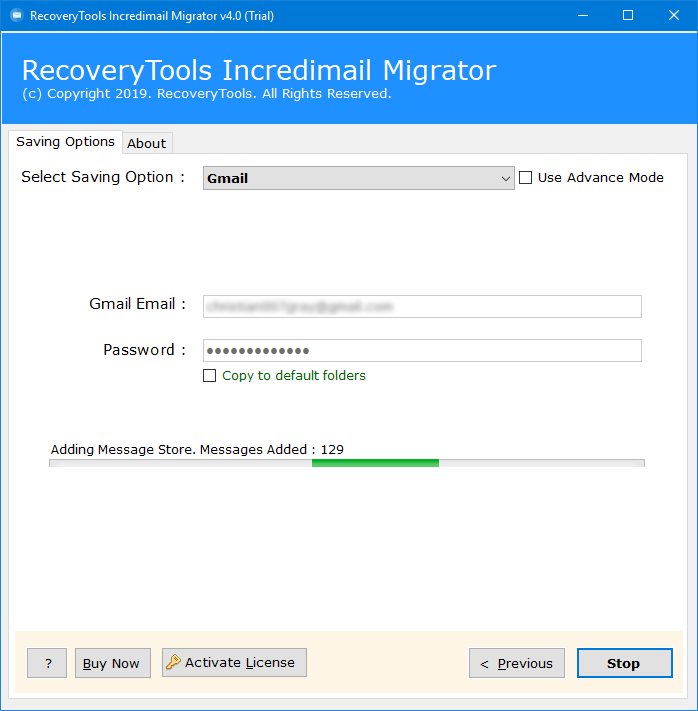 Now, once the conversion process is finished successfully click on the OK button to Confirm & Exit from here.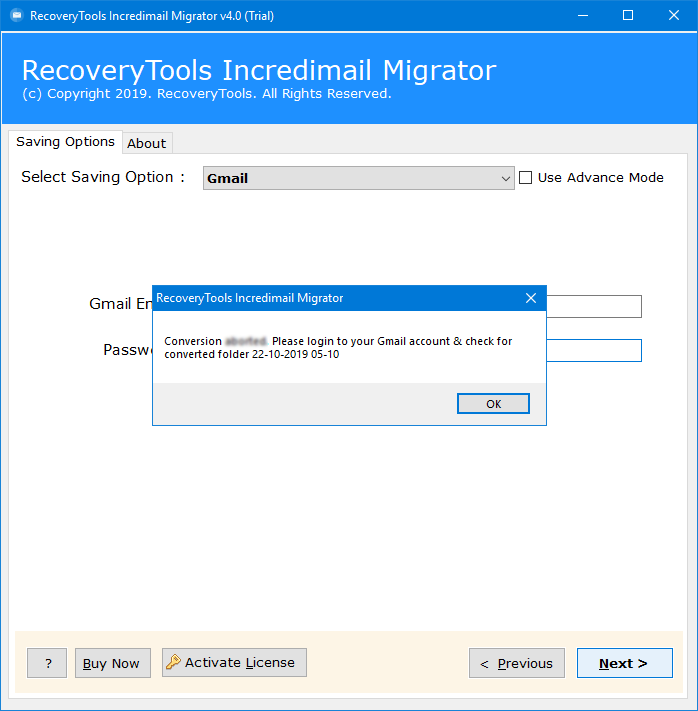 The software will generate a SavingLog report which will include all important information regarding the conversion.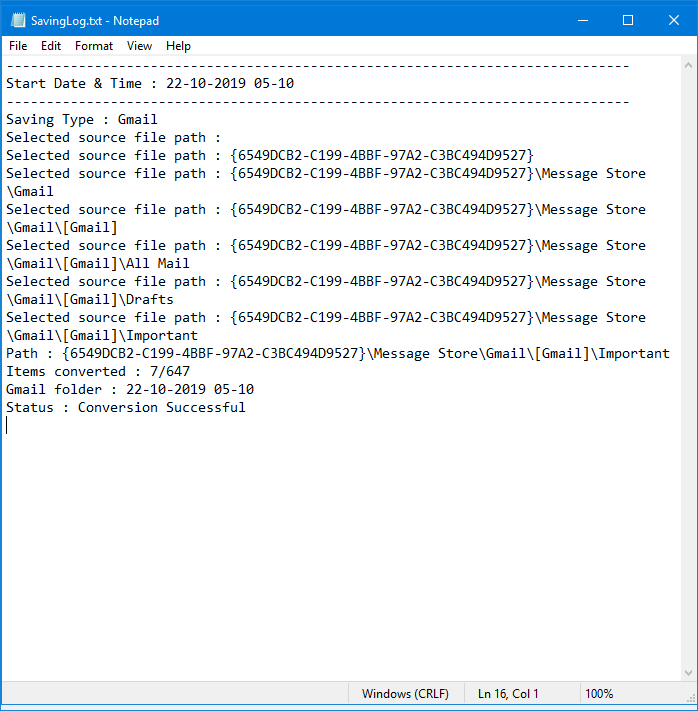 As from above, you can clearly understand that it is one of the finest toolkits available at present time to move IncrediMail to Gmail account. The overall working of the IncrediMail to Google Mail Converter software is very easy & hence non-technical users can choose this software for its working. Also, the software supports and works with all Microsoft Windows i.e. Windows 10 which is the latest one.
Qualitative Features of IncrediMail to Gmail Migration Utility :
Try IncrediMail to Gmail Converter software will enable the users to directly move IncrediMail emails to Gmail account. One can export IncrediMail emails, contacts, & calendars items from *.IMM, *.IML, *.imb, *.ima, *.imf, *.ime, *.imh, *.imi, *.imn, *.imr, & *.db files to Gmail account. Also, there is a large number of advantages that are provided with this amazing software as some of them are listed below:
Performs the quickest conversion of IncrediMail emails to Gmail account seamlessly.
Also, convert unlimited IncrediMail files & emails to Gmail account without facing any problem.
Preserves all Metadata Properties & Internal System Folder Hierarchy of mailboxes during the migration process.
Comes up with a very interactive & simplified user interface to accomplish IncrediMail to Gmail Migration.
Also, the software supports bulk conversion of multiple IncrediMail mailboxes to Gmail account in batch mode GroupWise.
One can also migrate IncrediMail to Google Mail account also with this amazing. Toolkit.
Also, it supports direct conversion of IncrediMail to Gmail account. One only needed to provide Username & Password of Gmail account.
It is a completely safe & secured IncrediMail to Gmail migration software without making any changes in its original content. It will not store your Gmail account login credentials in its databases.
The Verge:
In the article, we get to learn about how can a user export IncrediMail to Gmail. Account. There are thousands who want to learn about how to transfer emails from IncrediMail to Google Mail account in a quick & successful manner. There is no size limitation imposed among the users to accomplish the migration. To deal with this issue. Also. We have to take the help of a professional IncrediMail to Gmail Migration software.