How to Export Emails from IncrediMail to Outlook 2021, 2019, 2016, 2013 ?
Karen Chard
~ Modified: 08-11-2021 ~ IncrediMail ~ 5 Minutes Reading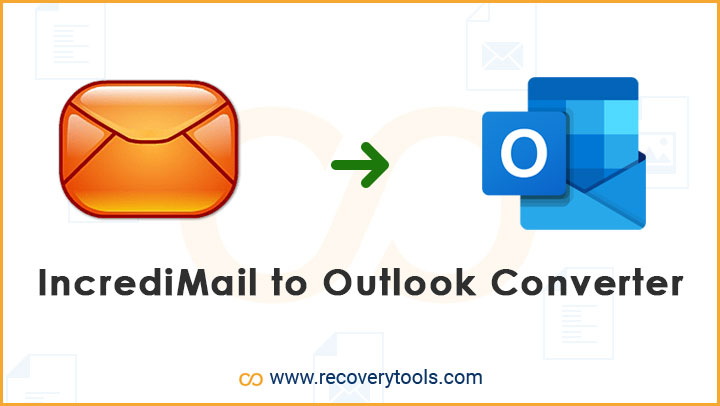 Analysis: Are you interested in a procedure to convert IncrediMail to Outlook format ? Or want to know how to import Emails, Address Book, Contacts to Outlook editions. Then, at that point, you are on the right stage. In this blog, we will explain how to export email from IncrediMail to Outlook email client in detail. Here, we use a professional solution to solve all the issues. So, learn the process with us.
Each conversion or data transfer begins with the definition of the source data location. In some cases, this is a simple and straightforward task. That is either the data is stored in the program installation folder or in a database that is easy to identify and open while exporting from IncrediMail data to Outlook.
But things do not always happen as we want. Sometimes the software developers for email clients create complex or intentional data structures, decentralization of data stores. That may create difficulty in the collection of source files. However, IncrediMail has now stopped working. A lot of users are worried about their data being stuck in this email client.
Default IncrediMail Mailbox Location
We recommended going with the manual method to add the email folders only when the auto mailbox pitching function fails. However, before starting to export email into Outlook, it is important for the users to know where the IncrediMail mailbox items are stored.
The Default Folder and Data Files is:

C:\Users\ [Username]\AppData\Local\IM\Identities\ [Identity_ID]\Message Store\

Attachments are stored in a Subfolder:

C:\Users\ [Username]\AppData\Local\IM\Identities\ [Identity_ID]\Message Store\Attachments\
In this write-up, you will learn the procedure to import IncrediMail emails to Outlook clients easily. Here, we also explain the DB, IML, or IMM to Outlook conversion process. So keep reading the post.
Best IncrediMail to Outlook Converter Utility
One can choose professional RecoveryTools IncrediMail Migrator software which will enable the users to convert emails to Outlook files format. It also permits the user to import IncrediMail Files to Outlook 2021, Outlook 2019, Outlook 2016, Outlook 2013, Outlook 2010, Outlook 2007, Outlook 2003, etc. for both 32-bit & 64-bit OS editions.
The solution can also load the mailbox items from the Configured Profile location. The best thing about the tool is it doesn't need the installation of an Outlook email client on your system to export IncrediMail to Outlook file. 
Download the Best Solution:
Note: The trial version of this solution will permit the users to export only the first 25 emails from every folder.
Steps to Convert IncrediMail to Outlook Client
Follow the simple steps to transfer IncrediMail mailbox to Outlook:
Open the solution on Windows PC.

Autoload or manually add the IncrediMail data.

Check the required email folders from the list.

Choose PST option & enter the destination system location.

Click on the Convert button to export from IncrediMail to Outlook.
How to Export Email from IncrediMail to Outlook ?
After going through the below given step-by-step procedure you can understand how to export IncrediMail to PST file format simply. The overall working of the software is very easy & simplified as any non-technical user can easily understand just by following these simple steps:
1. Install & Run the software & Read all Important Instructions.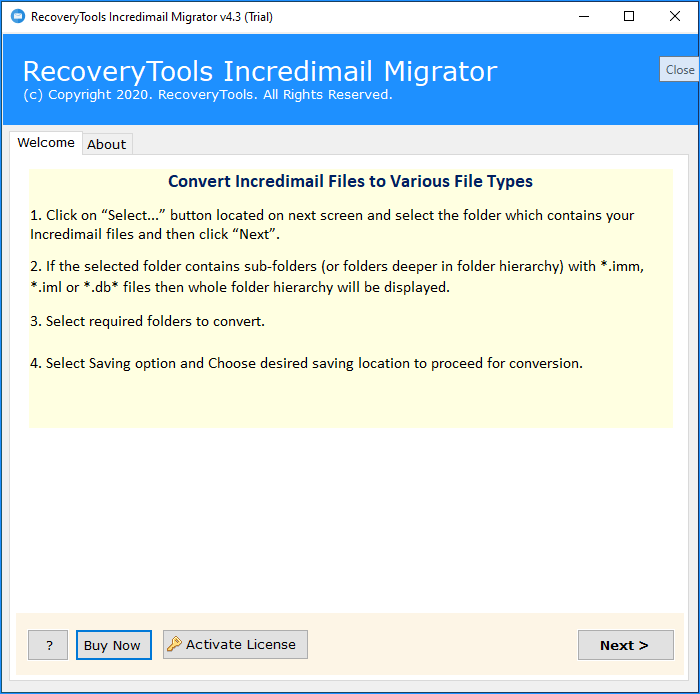 2. Then, load IncrediMail mailbox items in the software panel in dual ways i.e. Select Files or Select Folders. There is no need to have knowledge of your mailboxes as the software will automatically detect mailbox Profile location.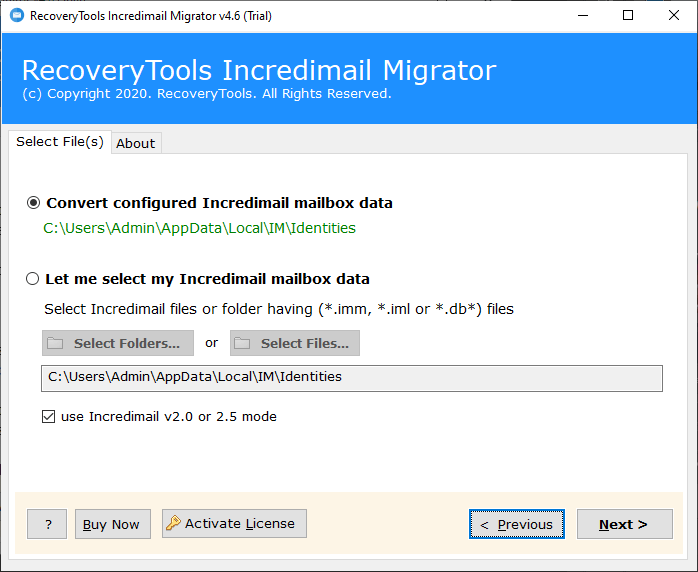 3. After that, from the listed mailbox items & choose only the required files and folders to import into Outlook.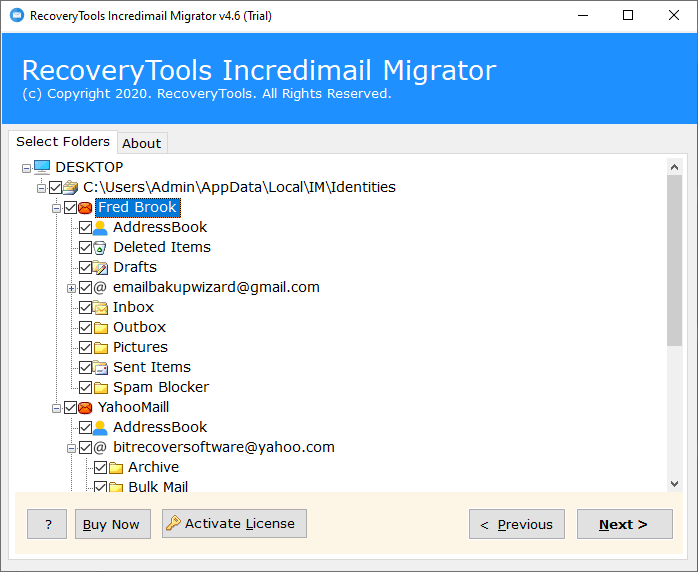 4. Then, choose Outlook PST from the list of Saving options. Then, set up Destination location according to user choice & can also check for the language Mapping folder.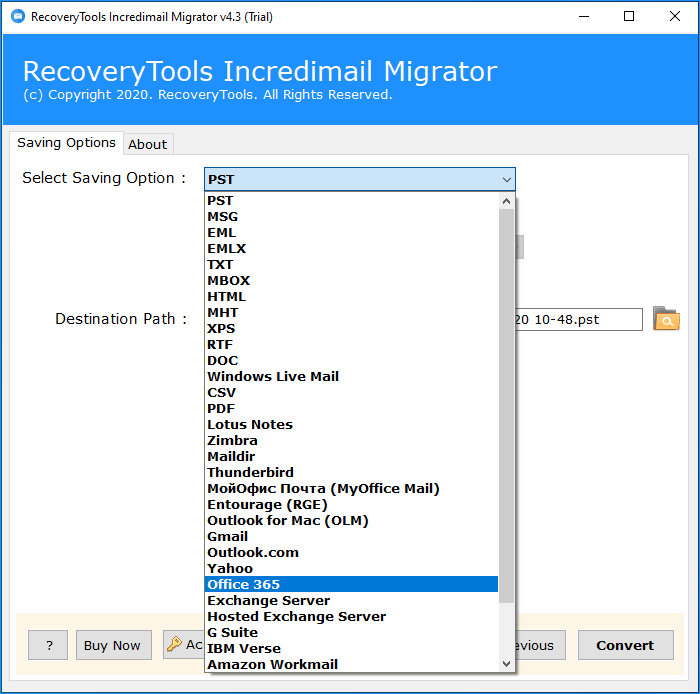 5. After completing the Setup process, click on the Next button to export emails into Outlook.
6. Then, Analyze the whole process of converting mailbox emails to Outlook through the software panel.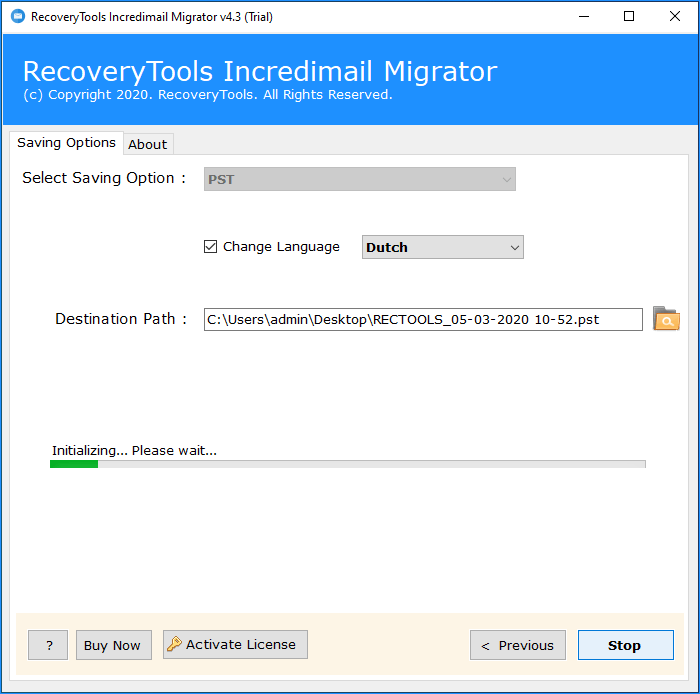 7. Once the conversion process is completed successfully click on the OK button to confirm & exit from here.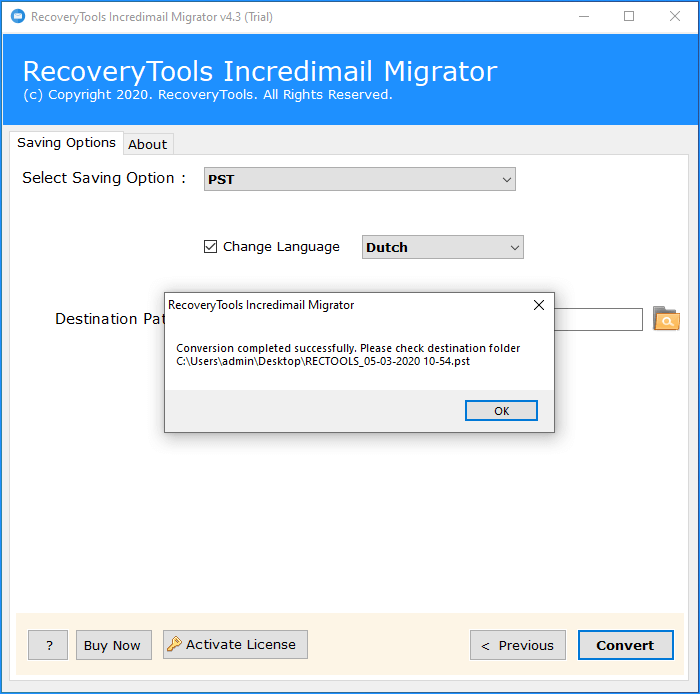 8. After that, the software will generate a SavingLog report which will include all the important information regarding the IncrediMail to Outlook migration.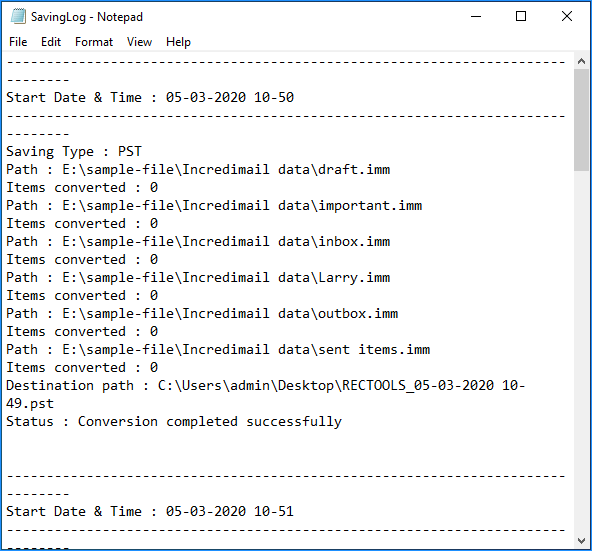 After going through the above procedure. You will clearly understand that it is the best possible solution available at the present time to move emails into Outlook account.
Powerful Features of IncrediMail to Outlook Converter Software :
The tool supports all editions of IncrediMail e-mail clients such as 2.0, 2.5 without any errors.
Offers a very simple graphical interface that enables the user to easily export emails into Outlook
After selecting the profile data, the IMM converter in Outlook displays all e-mail folders in the software user interface so that users can select specific e-mail folders for conversion.
Ability to export email from IncrediMail to Outlook file with all attachments.
This utility allows users to create individual Outlook files for all IMM, IML, and CAB files.
The tool can view all e-mails, including attachments, date, date, content, etc. before switching.
The software displays the live status conversion report while exporting emails from IncrediMail to MS Outlook.
IMM to Outlook exporter successfully supports all editions of the Outlook application, including Outlook 2019, 2016, 2013, 2010, 2007, and 2003.
Run the IMM to Outlook Migration software easily on all latest versions of Microsoft Windows i.e. Windows 10, Win 8.1, Win 8, Win 7, Win XP, Win Vista, etc. for both 32-bit & 64-bit OS editions.
The Verge
In this article, you will learn about a perfect solution of how to export email from IncrediMail to Outlook in an easy & simplified manner. Once the user has understood and considered the problems, you can convert IncrediMail data to Outlook file. We have provided the best and most reliable solution. With this application, users can easily export IncrediMail to Outlook 2019, 2016, 2013, 2010, 2007, and other versions. Use this app to get unlimited migration seamlessly. For more, you can also contact us via email or live chat.