IncrediMail Closing Down Permanently Announcement – Read Now
Karen Chard
~ Modified: 25-03-2023 ~ IncrediMail ~ 4 Minutes Reading
Yes, it is true that IncrediMail closing down permanently.
Undoubtedly, this move is unexpected. How do we know this?
IncrediMail announced a few days ago that it will close its desktop applications and server services by 20th March 2020. This means that the user cannot send and receive emails after the indicated date.
But, you don't need to worry. IncrediMail migrator software is a one-stop solution to directly transfers complete IncrediMail data to popular email solutions. Also, the best thing is that the user can try the program for free.
First, let's have a look at IncrediMail closing down permanently announcement.
IncrediMail Closing Down Warning!
Hello IncrediMail users,
As of March 20, 2020, we will shut down our servers and the IncrediMail desktop application will no longer be available. Sending, receiving and viewing your emails, contacts and attachments will not be available through IncrediMail.
Read about the More Reliable, Simple and Fast Solution
It is easy and fun to convert IncrediMail folders and files to popular email solution. One can accomplish this with the mentioned software. Also, it auto-detect folders from the configured profile to continue the process. The tool directly moves IncrediMail folder to a popular email solution with attachments. There is no chance of data loss. The program also maintains the IncrediMail folder hierarchy. Also, it has +20 options to save IncrediMail emails and contacts on Windows OS.
Now, let's have a look at the working of the program.
Steps to Transfer IncrediMail data to Popular Email Solution
IncrediMail Closing Down in March 2020. So, it is better to transfer IncrediMail data to popular email solutions such as IncrediMail to Thunderbird, IncrediMail to Outlook, IncrediMail to Gmail, IncrediMail to Maildir and many more.
So, follow the simple steps to export emails from IncrediMail to multiple email solutions.
Download the software on your machine.


The program auto-detect folders and files from configured profile and click Next.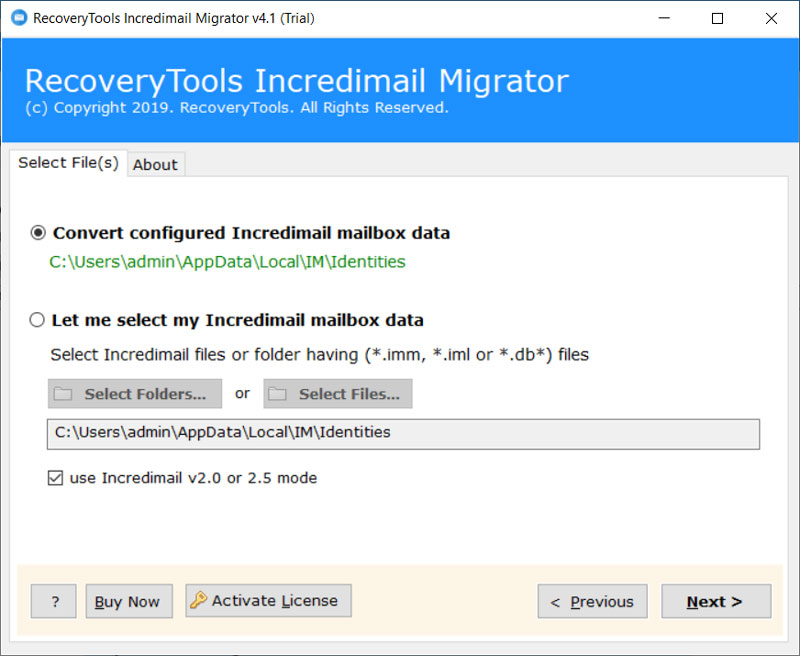 So, choose the necessary folder.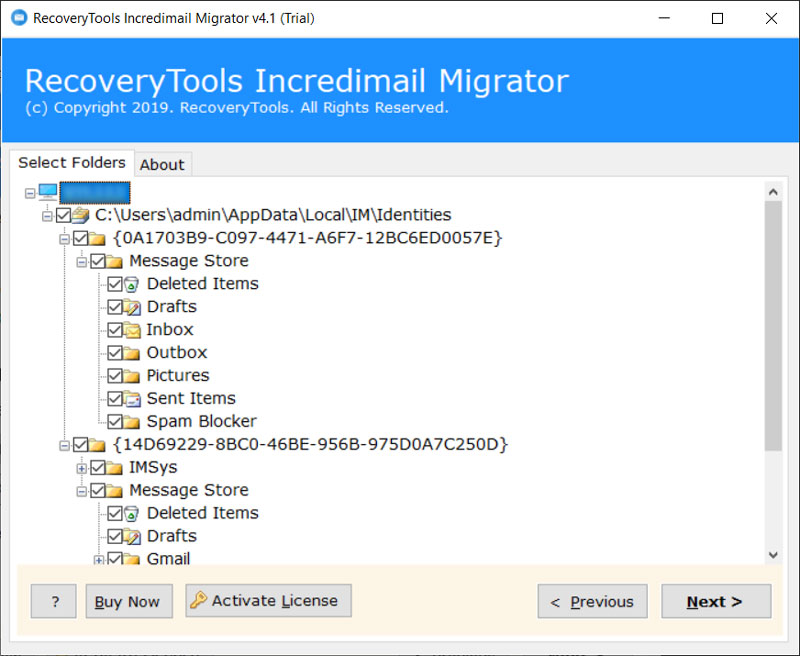 Now, pick any of the saving options from the list to save IncrediMail data.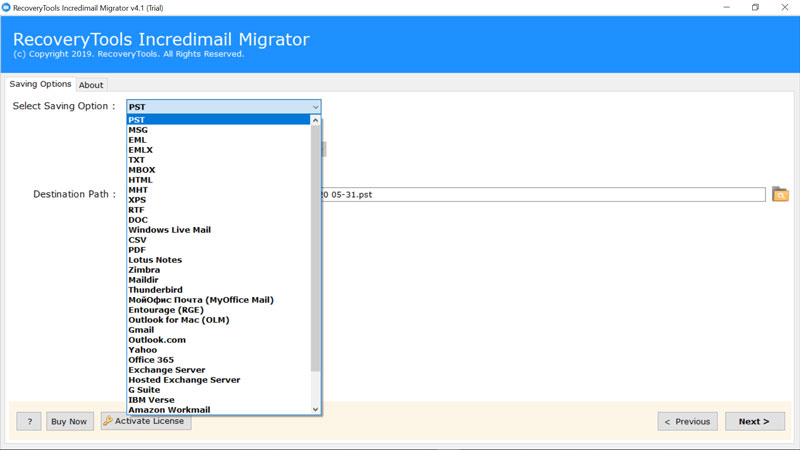 At last, enter the final location. press the Next tab.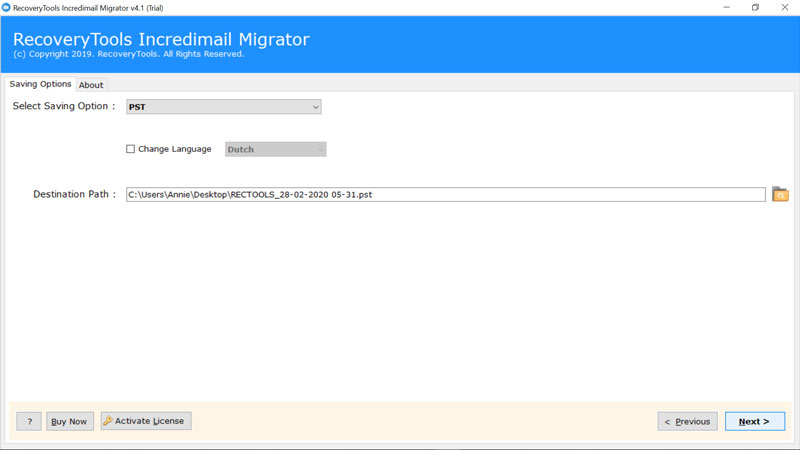 Yippee! It's done. If you are using the free trial version of the tool, then know that it converts 25 emails or contacts from IncrediMail to required email platform. So, once you are satisfied, you can upgrade to the license editions.
IncrediMail Closing Down – What to Do ? Watch it Now
Remarkable features of Mentioned Software
100% Safe: The solution is tested and completely free from an error. Also, it is a smart application for converting IncrediMail data to popular email solutions.
Maintains Folder Hierarchy: It is one of the best quality of the software that it preserves the original folder hierarchy during the task. It gives 100% accurate results.
Unbeatable Efficiency: This program is capable to transfer emails, contacts, attachments from IncrediMail email client to other email programs.
Auto-Detect Mode: The tool provides a dual option to add IncrediMail data. Also, if you have an IncrediMail account configured on the machine, it automatically detects the data. Otherwise, upload files and folders.
Flexibility: The program extract data from IncrediMail version 2.0 and 2.5 both. Also, it supports IncrediMail files such as IMM, IML, CAB and more.
Simple and Intuitive GUI: The product comes with an interactive and intuitive interface. It is very easy-to-understand. Also, there is no need for any technical skills.
Windows OS Compatible: The brand designed this application for only Windows machine users. Also, one can download and run it on all the available Windows edition.
Frequently Asked Questions & Answers from Expert
1. When and why IncrediMail closing accounts?
Ans. IncrediMail decided that they are closing down desktop and server services on 20th March 2020. The reason behind this move is not very much cleared as of now.
2. Is IncrediMail closing down permanently in March?
Ans. Yes, IncrediMail is closing down desktop application and server services in this March 2020.
3. What is a good solution to IncrediMail closing down soon?
Ans. The best solution to IncrediMail closing down is to use the mentioned software. It is capable of converting IncrediMail account to popular email programs.
4. Does this software is capable of converting IncrediMail data.cab files to Thunderbird?
Ans. Yes, the tool is efficient to convert IncrediMail data.cab files to Thunderbird account.
Wrapping Up
IncrediMail closing down in a few days. You can't access IncrediMail desktop application or server services after March 20, 2020. So, as a good user, simply convert IncrediMail data into popular email programs to access IncrediMail data, even when it get close. So, it is possible with the mentioned software. Also, it automatically locate IncrediMail files or folders and export to multiple email solutions accurately.