How to Convert Incredimail to Yahoo Mail with Attachments ?
Are you one of those, who are looking for a reliable IncrediMail to yahoo converter solution? If your answer is YES, then don't worry. You hit the right place. In this article, we will help you to find one of the best and reasonable solutions to migrate IncrediMail files to Yahoo Mail.
In the following section, we are going to introduce RecoveryTools Incredimail Migrator. It includes more than 30 saving options. This tool is available in this digital world with advanced and excellent features. Read the complete write-up to clearly understand how to export emails from IncrediMail to Yahoo mailbox.
Versatile Solution to Import IncrediMail to Yahoo
Recently most IncrediMail users are searching for a solution to move emails from IncrediMail to various email clients. Yahoo Mail is one of the popular email clients among them. If you are also seeking for the same. The IncrediMail to Yahoo converter is the right choice for you. It is known as the best IncrediMail to Yahoo conversion tool due to its direct exporting option. The tool permits to import of multiple IncrediMail mailboxes without any size limitations.
It is fully compatible with all the versions of Windows OS. The dual option allows the users to add single as well as multiple Mailbox files at one shot. Also, the utility converts Incredible email messages with all attachments in their original format. Go through the following section to find the step the solution to perform IncrediMail to Yahoo migration.
Quick Solution – IncrediMail to Yahoo Migration Tool
Download RecoveryTools IncrediMail Migrator free demo version to test the software features before spending your money on the tool. It provides the direct conversion of the mailbox data from IncrediMail to Yahoo. Find the free trial from here:
How to Migrate IncrediMail to Yahoo Mail Account
Go through the simple steps to find how to move IncrediMail mailboxes to Yahoo:
Open IncrediMail to Yahoo converter on Windows PC.
Load the IncrediMail files from a configured account or through the dual option.
Check the required email folders from the software.
Choose Yahoo option from the list & enter the respective login credentials.
Click on the Convert button to migrate IncrediMail to Yahoo.
How to Import IncrediMail Emails to Yahoo Mail ?
Run IncrediMail to Yahoo import software, you can upload IncrediMail data files from the default storage location of the computer. The tool also provides an option to add IncrediMail files or folders manually from the computer.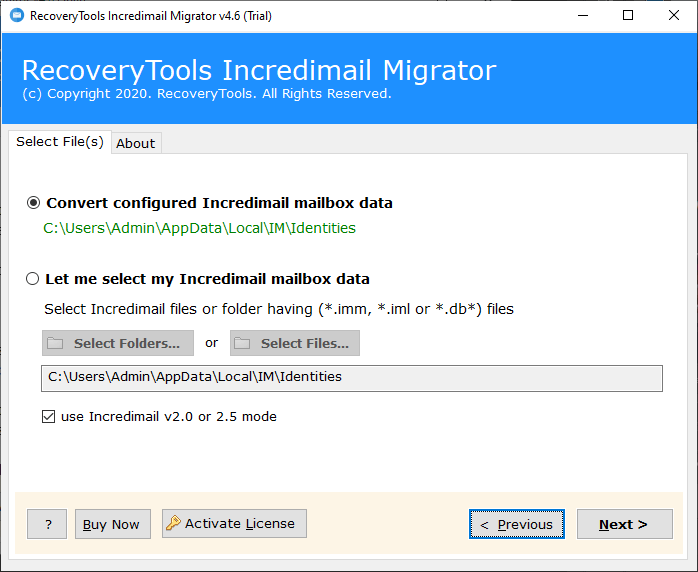 The tool allows you to preview IncrediMail folders in the software panel. Users can choose all or specific folders to export into Yahoo Mail.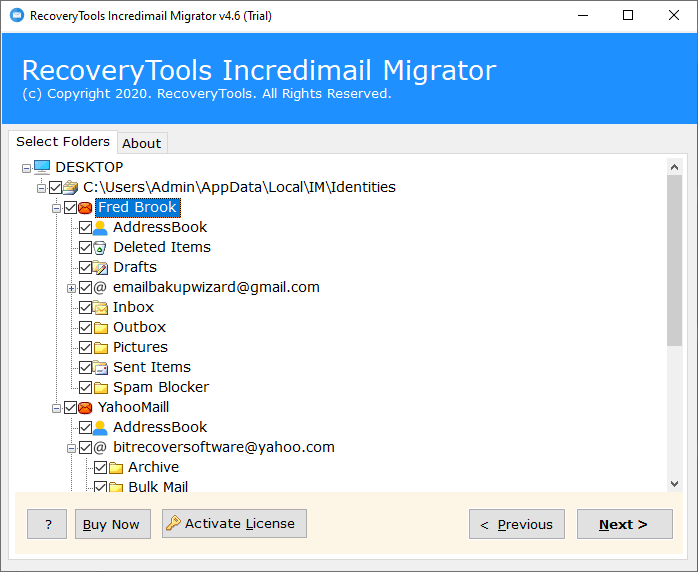 Then, choose Yahoo as shown in the screenshot. This application offers more than 30 saving formats.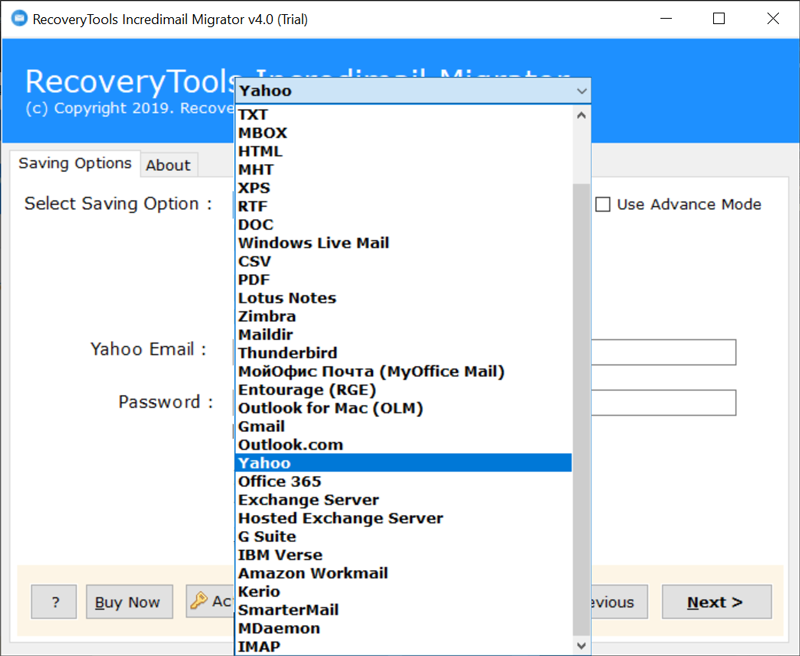 After that, Enter the credentials of Yahoo Mail account and press the Next button to continue.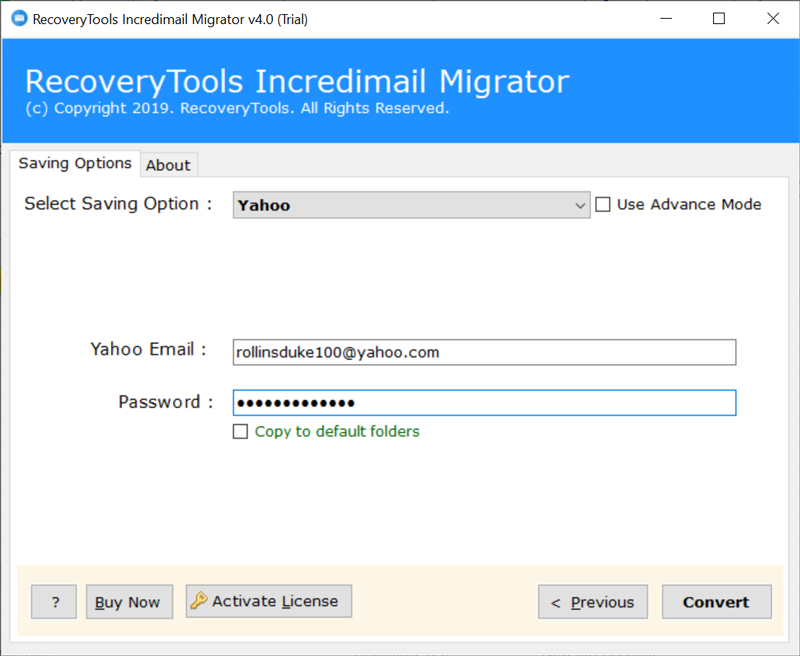 Import IncrediMail files to Yahoo Mail showing a live progressive conversion report.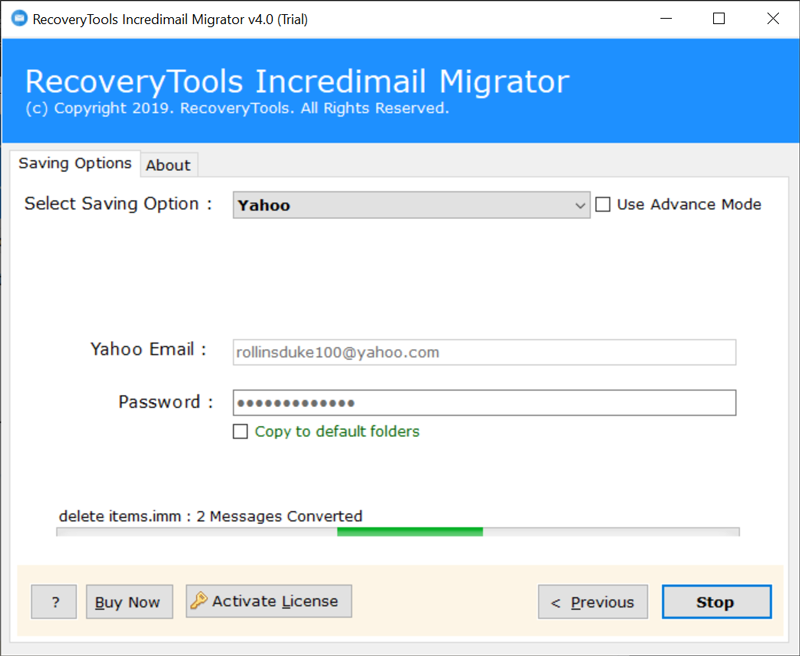 The IncrediMail file is exported into Yahoo Mail and the tool displays a message indicating that it is finished.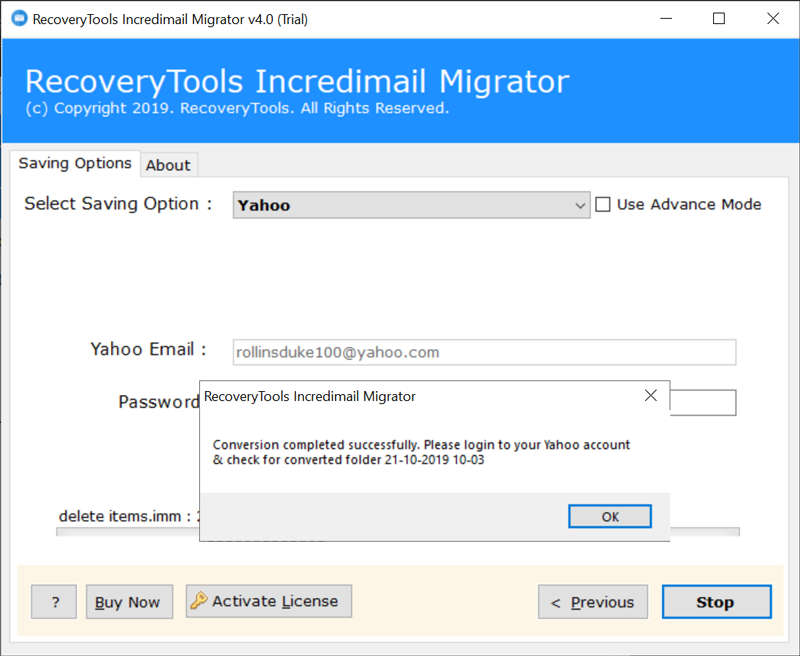 Finally, log in to your Yahoo Mail account, now you can access your IncrediMail data items in Yahoo Mail. Query resolved now!
IncrediMail to Yahoo Migration Tool – Features and Its Benefits
The tool gives the freedom to transfer IncrediMail data with attachments into Yahoo Mail.
It's a 100% fast & secure technique to move IncrediMail files to Yahoo Mail.
The IncrediMail to Yahoo converter software allows you to migrate large IncrediMail files into a Yahoo account.
This is a fully automated application that only requests Yahoo Mail credentials to complete the task.
Users can migrate selected folders from IncrediMail to Yahoo Mail profile.
The IncrediMail file to Yahoo conversion tool easily batches export the IncrediMail items without displaying an error message.
When the above process is done, a log report will automatically be created with detailed information about the imported data.
The IncrediMail to Yahoo tool comes with a free trial and supports Windows 10, 8.1, 8, 7, Vista, XP, Win Server 2019, 2016, 2012, 2008, 2003, etc.
The application stores attachments, subject, CC, Bcc, signature, folder structure, etc. E-mail while completing the task.
Advantages of Yahoo Mail
When we go through the above sections the first question that comes to our mind is why we choose Yahoo's messaging service, while there are many other email clients. Below are some of the reasons why Yahoo Mail is different from other email service providers.
This is a cloud-based email service that you can easily access anytime, anywhere by entering your account login information.
Runs on multiple devices mobile, computer, laptop, tablet, etc., and operating system Windows operating system, Mac, Android, etc.
Users can save a lot of space. For example, Yahoo Mail stores message that Yahoo Mail offers for free in the cloud.
Yahoo Mail is 100% free and many users still prefer to use a free email service.
FAQS on IncrediMail File to Yahoo Conversion
Q: How can I convert IncrediMail to Yahoo file ?
A: Follow these simple steps to transfer IncrediMail file in Yahoo format.
Run RecoveryTools IncrediMail to Yahoo Wizard and add IncrediMail file / folder in the software interface.
Select IncrediMail folder into application panel and select Yahoo as saving format.
Enter your Yahoo Mail credentials and click on Next to move further.
After that, you get a completion message, log in to your Yahoo account.
Q: Does this tool export IncrediMail files with all attachments in Y Mail ?
A: Yes, our team of experts designed this utility to convert IncrediMail data items to Yahoo and create another folder to save email attachments during the conversion process.
Q: Can I migrate multiple IncrediMail file messages to Yahoo format at the same time ?
A: Yes, this applications convert IncrediMail to Yahoo has two modes of conversion options. With this utility, you can add folders and transfer multiple email items to Yahoo at the same time.
Q: There are lots of IncrediMail messages and I just want to convert a specific message to my Yahoo account. Does this software support the same thing ?
A: Yes, IncrediMail to Yahoo migration tool lets you move selected IncrediMail messages along with everything in your Yahoo account.
Ending Note
Users can freely download RecoveryTools IncrediMail to Yahoo Converter, which comes with a free demo version. The trial edition is particularly useful for checking the effectiveness of the software by importing 25 emails from each IncrediMail folder in Yahoo Mail. Once the user is completely satisfied, they can purchase a license key at an affordable price to avoid software limitations.