Best IncrediMail Alternative for Saving Email Data from IncrediMail Shut Down
Karen Chard
~ Modified: 25-03-2023 ~ IncrediMail ~ 6 Minutes Reading
Are you here in search of the best IncrediMail alternative ?
Then no more worries you are in the right place.
I am sure you are all heard the announcement related to IncrediMail server shut down.
Yes, it is true, after 20 March 2020 you can't access IncrediMail application & your mailbox data.
In this existing scenario, there have been growing reports of IncrediMail migration. If you are also planning to do the same, then this blog will be a helpful guide for you.
Through this write up we are going to discuss the best email alternative for IncrediMail. Also in the coming section, we are going to provide you one of the best-automated software solutions that helps you to directly transfer your IncrediMail data to alternative email clients then get started!!!
Best Alternatives to IncrediMail
15 best replacements for IncrediMail email application are listed below:
Windows Live Mail
Zimbra
Entourage
Yahoo
Office 365
WorkMail
SmarterMail
Kerio
Outlook.com
Lotus Notes
Export Choice: Closing of IncrediMail email client is very bad news for IncrediMail users. Other than this the worst thing is, the file format used by IncrediMail (IMM, IML) to store mailbox data is not accessible through any other email client. so now it is a must condition for the IncrediMail users to transfer their data to any other IncrediMail alternative email service.
If you are also in a similar situation, the RecoveryTools IncrediMail Migrator is the right choice for you. It is the most recommend fast & secure software solution by the technical experts. The utility provides the direct conversion IncrediMail to email services according to your choice.
This software can convert your IncrediMail data into various email clients (Outlook, Mozilla Thunderbird, Windows Live Mail, Lotus Notes, Gmail, Office 365, Exchange Server, Hosted Exchange Server, Outlook.com, G Suite, IBM Verse, Zimbra, Entourage (RGE), Outlook for Mac (OLM), MDaemon, Kerio, Amazon Workmail, IMAP, Yahoo, and SmarterMail).

Free demo version allows trying software features with the limitation of 25 emails per folder.
The tool automatically adds the mailbox data from the configured IncrediMail account. It helps users who don't know where does IncrediMail store emails. Also, it maintains all meta-properties & metadata associated with the IncrediMail emails.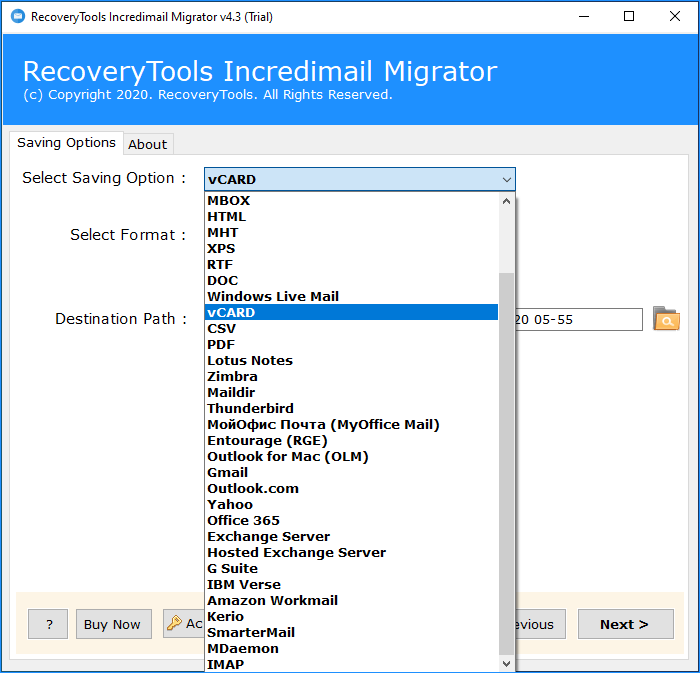 Desktop Based IncrediMail Alternative for Windows
There are a lot of email client alternative for IncrediMail is available in the market. After the long research by our technical experts. We are going to selectively give the popular & best IncrediMail alternative program. From those, you can choose any email alternative to IncrediMail according to your requirements & priority.
1. Mozilla Thunderbird
When we considering the alternative email client for any of the email service Thunderbird is the first option comes in everyone's mind. Mozilla Thunderbird is one of the most famous free alternative for IncrediMail. Also, It is an open-source email solution that is 100 % free of cost. If you are looking for an instant solution then IncrediMail to Thunderbird Converter is the best choice for you.
Benefits of Thunderbird Application
Open source email application.
Also, software available for 100% free of cost.
Very simple & user-friendly graphical interface.
Best for both personal & professional use.
Also, address book option for contact management.
Various spam filter for email messages.
Also, provide cross-platform support.
Various privacy & security options.
Support for multiple client chat.
2. Microsoft Outlook
While you think about the IncrediMail alternative, I am sure Outlook will be the next option that comes in your mind. The outlook is one of the most popular desktop-based email clients with multiple inbuilt features that assist in professional uses. Also, with the help of the above mentioned alternative solution, you can export IncrediMail to Outlook PST in few clicks.
Advantages of MS Outlook
Support the SVG (Scalar Vector Graphics) for real image experience.
Provide efficient management of emails, contacts, calendars, notes, etc.
Also, the tool having a very familiar & user-friendly software interface.
Easily configure your email accounts through POP3 & IMAP protocols.
It comes with an inbuilt import & export feature for the efficient handling of emails.
Also, the application can be connected without a Microsoft Exchange server.
3. eM Client
eM client is another desktop-based email service that provides the efficient manage management email data together with calendar, contacts & note. Its efficient inbuilt features make the eM client as the best choice for IncrediMail alternative. Also, eM client is a Windows & Mac OS based email service for sending & receiving email messages. Go with the IncrediMail to EML converter to effectively manage your mailbox data in eM client.
Benefits eM Client
Provides email, contact, calendar & note services.
Also, provide support for all major email services.
Also having an integrated Chatting feature.
Also, superfast searching for email contacts & attachment.
It provides easy contact merging service.
Also, inbuilt translator for incoming & outgoing messages.
Centralized desktop application management for companies.
Cloud-Based Email Alternative to IncrediMail Program
In the above section, we saw some of the desktop base email alternatives similar to IncrediMail. So, in this section, we are going to see some of the most commonly using cloud-based email services that can be the best alternative for IncrediMail.
1. Gmail/ G Suite
Gmail or G Suite is the most famous cloud-based email service which offers the free cloud space for the users. If you are looking for an IncrediMail alternative to manage your personal data, then it is the best option. Also, it helps to efficiently manage emails, contacts & other information. Gmail/ G Suite is used for both personal as well as professional use.
Benefits of Gmail or G Suite
Gmail is a cloud-based email service that is free of cost.
Also, provides free cloud space to store & manage email data.
Offers 2 variants as Gmail & G Suite for personal & professional use,
Also, provide import & export feature.
Gmail/ G Suite account can easily be configured in any desktop email client.
2. MS Exchange Server
Microsoft Exchange Server is the first option for enterprise-level users. It is compatible with the Windows server. If you are looking for a server IncrediMail alternative then this will be a better choice for you. Also, the above-mentioned solution will help you with direct IncrediMail to Exchange migration.
Advantages of Exchange Server
The best option for enterprise-level users for email management.
Centralized email management provides efficient backup.
Also, advanced security options to secure from all types of threats.
Scalability – Pay only for what you are using.
Also, provide accessibility from anywhere in the world.
Allow managing emails contacts, calendars, journals, etc.
Final Words
In the above blog, we explained the best IncrediMail alternative email services with its benefits. In the current situation of IncrediMail shut down it is very necessary to find the best email alternative to IncrediMail. So after going through this blog, you will get to know about a few important alternative emails similar to IncrediMail. Then choose the most suitable one according to your requirements & secure your Incredibility mailbox data.