Why is My IncrediMail Not Working after Windows 10 Update?
Karen Chard
~ Modified: 02-06-2022 ~ IncrediMail ~ 4 Minutes Reading
Hi, my IncrediMail not working after Windows 10 update. Whenever I tried to open it, a Windows crash message, 'IncrediMail program has stopped working'. The whole problem arises after the recent Windows update.

When I searched about its solution on the web, I noticed that many others are also facing the same problem.
If you'd also faced the same problem then don't worry. The IncrediMail stopped working in Windows 10, 8.1, 8, 7, XP, Vista, etc. I can also see IncrediMail has also included in the list of the affected programs in the Windows update history.
Prime Factors for IncrediMail Not Working on Windows 10:
There are many factors that affect the working of IncrediMail on Windows 10. Here are a few of them:
IncrediMail may have a compatible issue with your Windows OS.
The damaged Windows registry also fails to run IncrediMail on Windows.
IncrediMail program needs specific system configuration, if your system failed to do so, then IncrediMail may not work on your Windows 10.
You may incorrectly install or configured the IncrediMail program on your machine.
These are only a few reasons due to which IncrediMail stopped working on Windows 10 after the update.
How to Fix IncrediMail Not Working on Windows after Update?
A user can fix IncrediMail not Working after Windows update by taking the following measures.
Meet IncrediMail System Requirements: A user must make sure to meet the IncrediMail System Requirements to run it on your Windows 10. You need to properly install & launch the application on your OS.
Update IncrediMail to Latest Version: A user needs to update the IncrediMail program to its latest edition i.e., IncrediMail v2.2. It is necessary to install the updated IncrediMail version to get maximum security.
Reinstall & configure an account in IncrediMail: If your IncrediMail program is still unable to open on your computer, then the last option is that you must reinstall the IncrediMail program on your Windows OS. Make sure to properly reconfigure the email account with accurate email settings.
By taking these measures, a user can successfully fix IncrediMail working on Windows 10.
Ways to Use IncrediMail Data on Other Programs on Windows
So, if you are facing a problem after this date, then you need to switch to other alternatives of the IncrediMail program. Here is a list of Major alternatives of the IncrediMail email client.
Once you choose the desired email client, then you need to transfer all of your data from IncrediMail to the new program. You can do it easily with the help of RecoveryTools IncrediMail Migrator Software.
Free download its setup from the below button:
It is a state-of-the-art application, that will allow the users to successfully transfer IncrediMail files & folders. A user can transfer the IncrediMail data to 30+ file formats as listed in the below button.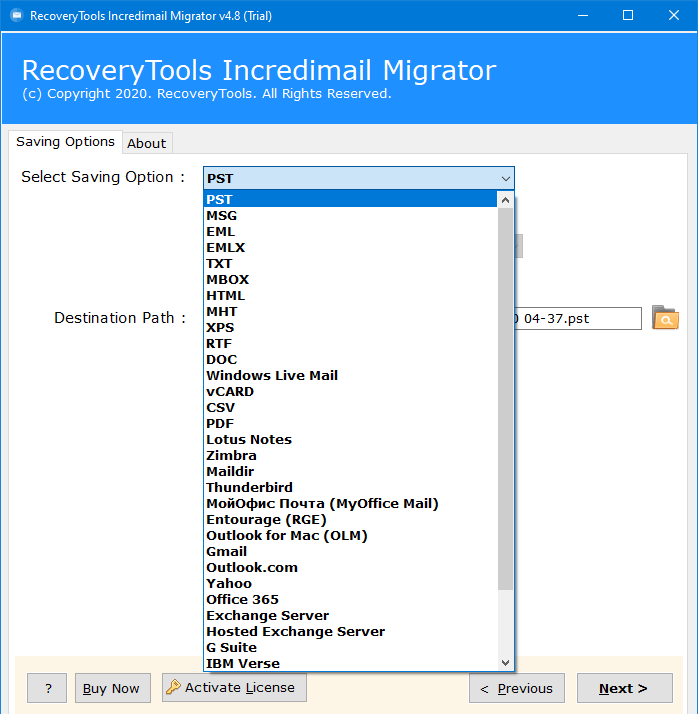 From above you can easily select the ways to run IncrediMail on Windows 10 OS effectively.
Final Words:
This article provides a detailed description of how can a user fix IncrediMail not working on Windows 10 OS. It mainly happens after the recent Windows update. So, if you had also faced the same issue earlier then don't worry, just read this story that will give you a detailed description of it.