IncrediMail Going to Shut Down – Migrate IncrediMail Data to Outlook, Thunderbird
Karen Chard
~ Modified: 25-03-2023 ~ IncrediMail ~ 6 Minutes Reading
Did you hear that IncrediMail is going to shut down soon ? The team has announced that IncrediMail is shutting down their services on 20th March 2020 and the IncrediMail desktop application will no longer be available.
Incredimail will retire in a few days, and people are looking for a replacement for the IncrediMail application. Therefore, you can move IncrediMail mailboxes to desktop email applications or Webmail email services easily. The process is very simple. Read the blog further!!
Are you an active IncrediMail user looking for an IncrediMail replacement ? If so, you are in the right place.
In this blog, we will help you with all possible solutions to convert IncrediMail data with attachments. But be sure to do it before March 20, 2020.
IncrediMail Going to Shut Down | IncrediMail File Converter to Migrate Data
It's strongly recommended, the current users of Incredimail should migrate mailboxes to other email services before IncrediMail shuts down. The best way available is to consider IncrediMail Migrator. It is a perfect migration software designed with modern features and complete data security.
Exact Solution to Save Data When IncrediMail Shutting Down
Step 1: Download IncrediMail Migrator and open software
Step 2: Auto-detect Incredimail Files / Folders for configured accounts
Step 3: Preview of Incredimail mailbox items
Step 4: Choose Saving option and migrate Incredible mail data
This IncrediMail Conversion utility helps to convert Emails and Address books from all the available versions such as IncrediMail 2.0 & 2.5. It works on all Windows OS machines regardless of its edition. Now, let see how to install the IncrediMail Email Converter in your machine to move data before IncrediMail is shutting down.
How to Convert IncrediMail Data Files and Folders Locally?
Yes, IncrediMail is going to shut down. So converting IncrediMail data to Desktop or Webmail email clients becomes a necessity now. You can follow the steps given below:
Download IncrediMail Backup Tool on your Windows machine. (The demo edition allows you to convert 25 data items. For unlimited conversion, go with the licensed edition of the tool.)
The tool offers two modes to add IncrediMail data. Check the first option to upload data from the configured IncrediMail. The second option helps to Add folders or Add Files from IncrediMail email client. Also, check the IncrediMail version mode and hit Next.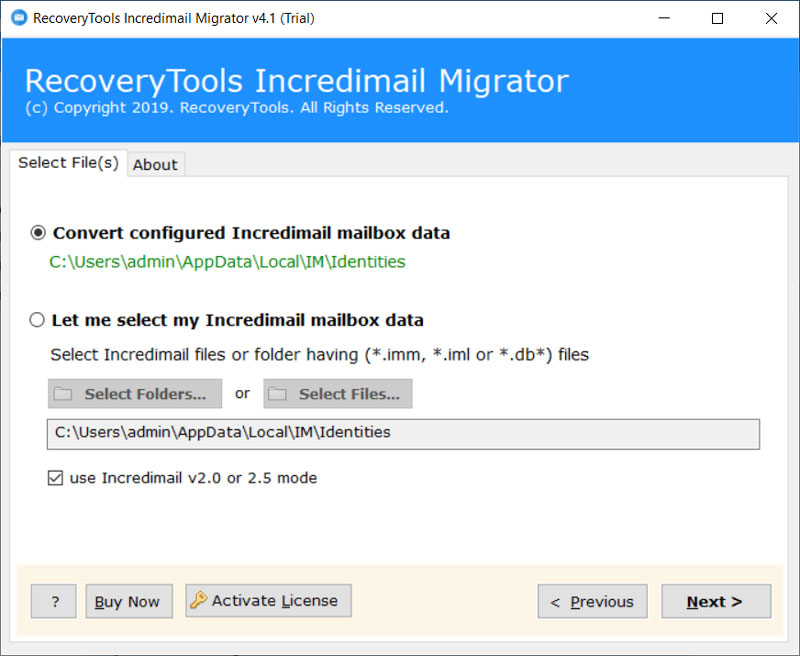 Now, the tool list all the mailboxes from IncrediMail retiring soon. Please select your required mailbox and press the Next button.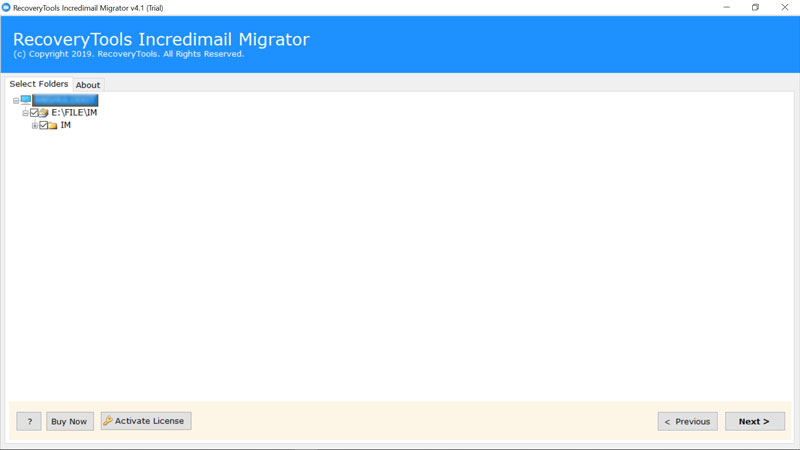 Here, you will a Saving option list containing all the file formats, email clients, and webmail. We are choosing Thunderbird to convert IncrediMail to Mozilla Thunderbird. The user can select the file saving option as per the need.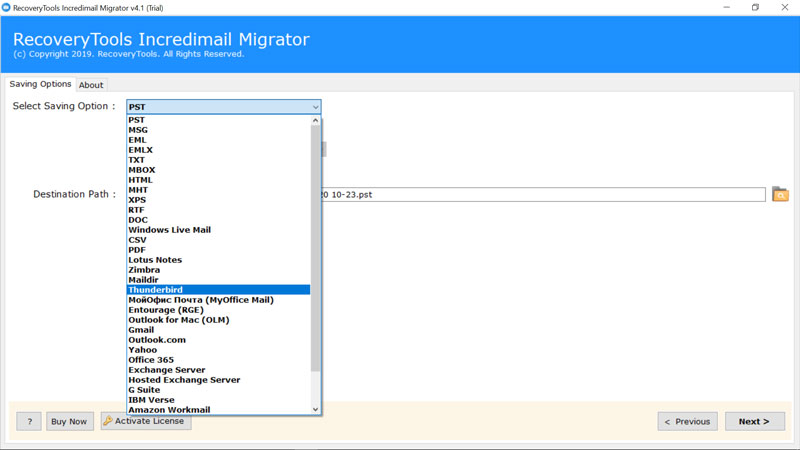 If you want to convert IncrediMail to PST, the software provides the option to change the language that means your simple email text from IncrediMail gets changed into another language such as shown in the screenshot.
In this step, one has to enter the final location for saving the final results. At last, click on the Next to start the IncrediMail to Thunderbird conversion process. One can also analyze the process in the software interface itself.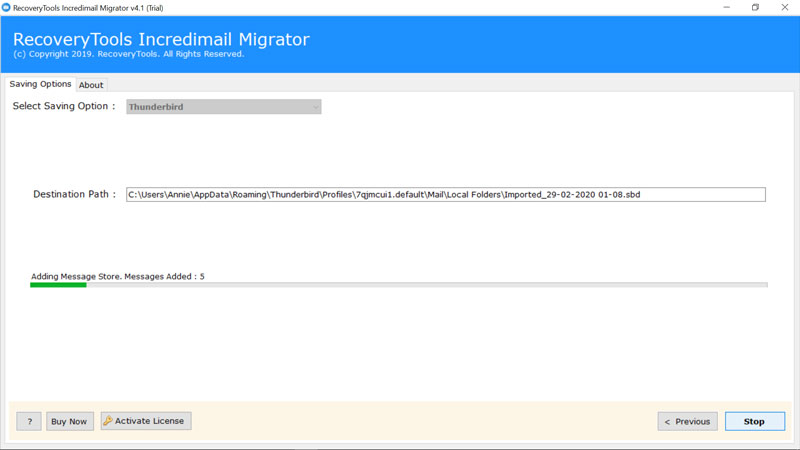 Finally, you'll get a log report and complete conversion message stating your IncrediMail data is converted.
Now you can view your converted IncrediMail data from the destination location as you have provided. Your email messages and contacts are safe now. There is nothing to worry about the news: IncrediMail going to shut down soon.
Read More
The above explained software is the best. It provides the best migration options. You can convert IncrediMail to PST, TXT, MBOX, HTML, MHT, XPS, RTF, DOC, to CSV, PDF, Windows Live Mail, Lotus Notes, Zimbra, Maildir, Entourage (RGE), Outlook for Mac (OLM), MDaemon, Kerio, and IncrediMail to Thunderbird.
The user can also migrate mailboxes from IncrediMail to Gmail, Office 365, Exchange Server, Hosted Exchange Server, Outlook.com, G Suite, IBM Verse, Amazon Workmail, IMAP, Yahoo, and SmarterMail.
Watch the Tutorial to Learn the Easy Steps: 
Is there any Demo Version that I can use?
Yes, the IncrediMail migration tool comes with a free trial version that can be downloaded to any Windows OS. The demo editions allow the user to convert 25 emails from IncrediMail to email clients with attachments. Once you get satisfied, activate the license key.
What are Special Features of IncrediMail Converter Toolkit?
100% Accuracy: The tool provides complete accuracy during the IncrediMail conversion process. None of the user information is saved by the software while converting IncrediMail data.
Maintains Data Integrity: The best software to backup IncrediMail data before services get shutdown is reliable and user-friendly. It preserves email properties & data integrity throughout the conversion process.
Batch conversion: The IncrediMail toolkit is the finest method to convert bulk IncrediMail mailboxes to Outlook, Thunderbird, Gmail and more. This way users can save time & effort.
Migrate All data from IncrediMail: It's not that the user can migrate emails from IncrediMail, they can also move attachments, contacts, address book from IncrediMail server to a desirable email client.
read more
Work without Supportive App: The user need not install any external application with IncrediMail migrator utility. It means you can import IncrediMail files and folder if the application is not install on your system.
Consistent GUI: This IncrediMail conversion utility has an intuitive & an interactive interface that all users can access to perform IncrediMail migration process.
Windows OS Supportive: The application to convert IncrediMail to PDF, PST, HTML, MBOX, RTF, DOC and more only works with Windows supportive machine. It means one can 't download the software on Mac OS editions.
24*7 Active Support team: In case of any doubts about IncrediMail setup, license activation, or any other query, one can directly contact to our technical support team working around the clock.
Read the Expert Note
Someone has rightly said that it is better late than never. So, if you haven't thought about IncrediMail migration or conversion, hurry up! You have time until March 20, 2020 – IncrediMail going to shutdown & you are going to lose your IncrediMail data. Otherwise, you would empty-hand. We have explained one of the best solutions to make a complete backup of IncrediMail data before IncrediMail gets shut down. The user can also try the IncrediMail converter tool kit for free.