How to Transfer Contacts/Emails from Exchange to Gmail Account ?
Karen Chard
~ Published: 20-01-2022 ~ How To ~ 5 Minutes Reading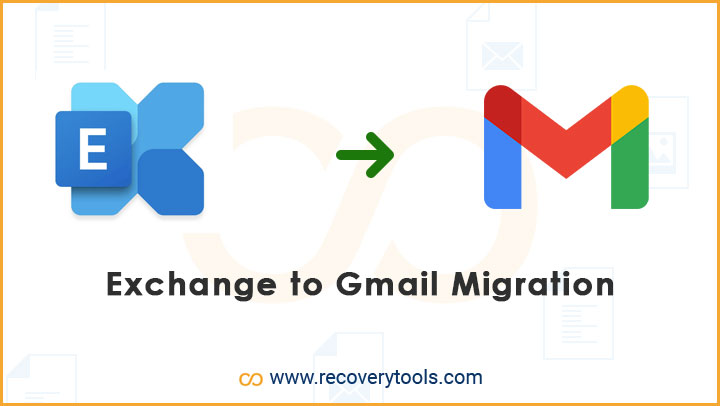 Summary: Find out how to transfer emails from Exchange to Gmail or Google Mail Account ? You can easily understand the way to move Exchange user mailboxes to Gmail which is very useful in a professional environment. If you are also finding a similar problem solution, then you need to read this post to understand the complete method.
There is no doubt that Exchange Server is an extraordinarily valuable Microsoft Mail Server that has been used by organizations. With a single Exchange Server one can easily manage different Outlook profiles on different servers. Exchange Server is the ideal way to view messages, contacts, schedules, and other personal data in an exceptionally fine-grained way.
MS Exchange comes in many forms such as On-Premises Exchange Server (local Exchange which stores in your local machines.) And Hosted Exchange Server (which can be easily accessed by any machine with internet). The Local Exchange Server comes in many different editions such as Exchange 2019, 2016, 2013, 2010, and many more.
On the other hand, Gmail is a webmail service by Google Inc. It can be accessed only through web-based or internet. Gmail is a free service from Google but you can upgrade with many plans such as G Suite, Storage, and many more. It provides all the basic features which are helpful in daily business life.
Due to the popularity of Gmail, there are many reasons when you need to migrate Exchange to Gmail account. As we know, both the platforms are quite different, but if you want to move smoothly from on-premises Exchange to Gmail.
Recommended Solution: Exchange to Gmail Migration Tool
"Hi, we are using Exchange 2016 on-premises version and now I want to transfer some user mailboxes to Gmail account. I needed to access these emails from another location. That's why we need to separate these emails into a Google mail account. Does anyone know how to switch from Exchange to Gmail account? please help me!!!!"

– Anu Ranjan, Abu Dhabi
As we can see from above it has become a trend for users to switch from Exchange to Gmail accounts. That's why we need the best solution. RecoveryTools Exchange Migration Tool is one of the best solutions in the market. It offers many saving options including Gmail or G Suite. You can also move your Exchange emails to Google Workspace account using this solution.
Download the Solution Now:
Download for Windows Download for Mac
Note: The free edition only import a few emails from Exchange to Gmail for testing purposes. After that, you can easily purchase the solution for lifetime use.
Steps to Use Exchange to Gmail Migration Tool

Launch the program on your machine.
Select Exchange version and enter account details.
Choose files or email folders from mailboxes.
Select Gmail option and give your credentials.
Start Exchange to Gmail migration process.
How to Import Exchange Emails to Gmail Account ?
First you need to download the solution on your computer.

Choose the Exchange version from the list.

Put all the information require by the solution such as user name, password, and server or port no.

Select only required user mailbox data from the list.

Mark on the Gmail option in the file saving options.

Put your Gmail Account details in the user interface panel.

You can also select the Additional filter options in the list.

Press the next button to proceed with the task.

When Exchange to Gmail migration process is done, press the ok button.

Exchange to Gmail Migration – Tool Features Explained
Directly Migrate Exchange to Gmail Account:
There is no need to transfer email from Exchange to the local machine or any other format anymore. This application gives a direct way to transfer your email from Exchange to Gmail account. It only needs the credentials of both your account and you can easily map your email without any loss.
Map Exchange User Mailboxes:
The program allows you to migrate multiple Exchange user mailboxes to Gmail account. You just need to log in with your admin account and map your mailboxes data to move only required emails. Or if you need extra mapping facilities, then download the RecoveryTools Email Backup Wizard application.
Advance Option to Move only Required Emails:
The utility offers different Advanced Filters Settings to play out the particular transformation of Exchange to Google Workspace. One can apply these channels based on the beneficiary email address, Date Range, Subject of the message, or Sender's email address. The product additionally requests that the clients Request for More Features.
Keep Original Properties:
This astounding utility keeps up with the on-circle System Folder Structure Hierarchy of Exchange Server Webmail emails things such as Inbox, Journals, Drafts, Junk Emails, Deleted Items, Sent Items, Calendars, Contacts during the Exchange Server to Gmail Migration process.
A Complete Report After Process:
The Exchange Server to Gmail Migration tool produces a SavingLog report which will incorporate all the significant data such as Start Date and Time, Saving Type, Selected Source, Folder Path, Items Converted, Destination Path and the Status of the interaction.
Simple and Windows or Mac Compatible:
The solution provides an Easy to Use & simplified User Interface. You can easily use this application on your Windows and Mac machines. Including all the latest editions and older versions of machines.
Conclusion
In this article, we are going to explain the complete method to move from Exchange to Gmail account. If you want to know the procedure, you need to read this article completely. This Exchange Server Backup Software is very simple with the help of the free online tool. If you face any difficulty or have any queries regarding this topic, you can leave a comment below and our experts will revert back to you soon.