How to Migrate Emails from Thunderbird to Office 365 Account ?
Karen Chard
~ Modified: 07-01-2022 ~ How To ~ 5 Minutes Reading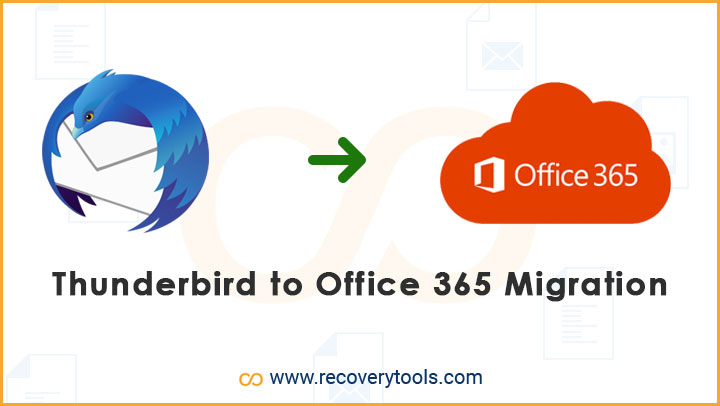 Overview: Are you looking a method to migrate emails from Thunderbird to Office 365 Account? If Yes, read this article to know more. If you want to know how to migrate Thunderbird Emails to O365 directly without requiring Technical knowledge. Then read this article completely.
Thunderbird supports the Internet Standard Access Methods (POP3 & IMAP), but it failed to support Microsoft proprietary protocols (MAPI) to access Exchange Server & Office 365. If the administrator does not allow IMAP access, connecting Thunderbird with Office 365 does not work.
As in the present time, a trend of the switch from desktop-based service to cloud-based has increased. So, in the same context, a large number of users are looking for a way to import email from Thunderbird to Office 365.
"When I started my business, we used the Thunderbird application for communication, and it's also an open-source email client. After a few years, our company worked on a big scale. Therefore, we are moving to an intuitive and feature-rich email application that is capable of addressing the problems encountered in the Thunderbird program. Office 365 is the perfect suite to match our expertise. But I don't know how to migrate Thunderbird email to O365 directly. Please suggest to me the best solution to migrate Thunderbird to MS Office 365 without facing any kind of data loss"
Source: https://support.mozilla.org/
There are various reasons that make using Outlook Web Access (OWA) a preferred choice for the users. Office 365 is a versatile service of Microsoft that runs on almost all Browsers just having a suitable Internet connection and Web device. On the contrary, Thunderbird is a desktop-based application having support for lots of Webmail and email hosting services compatibility.
A Professional Way – Thunderbird to Office 365 Migration
To counter the situation, it becomes the users necessary to upload Thunderbird emails & contacts to Office 365 using other ways. Also, one such method is the use of Thunderbird to Office 365 Migration tool that allows to directly upload data like emails, contacts, calendars from configured Thunderbird Mailbox location to Office 365. RecoveryTools Thunderbird Migrator is the perfect choice for the users to do so as it allows to export Thunderbird to Office 365 as well Outlook.com both.
Free Download Thunderbird emails to Office 365 Migration Tool:
Download for Windows Download for Mac
Complete Steps of the Software
The working of the utility is very easy and simplified. Just download the software from above & then Install it in your Windows PC. Follow these simple steps to further process the same:
Firstly, Run the software & read all instructions.

Secondly, select the Thunderbird Mailbox items manually or from the configured location.

Next, choose folders which you want to Outlook.

From 20+ Saving lists choose Office 365 or Outlook.com.

Enter account login credentials for the conversion.

Click on the Convert button & analyze the live Thunderbird to O365 Export process.
Major Features & Benefits of the Software
A user is facilitated with various advantages while using this application to migrate Thunderbird emails to Office 365 account. The software only requires the account login credentials of the resultant Office 365 account. Some of the major advantages that come along with the application are listed below:
Direct Option to Import Thunderbird into Office 365:
The software allows the users to perform Thunderbird emails to Outlook.com account directly. There is no technical knowledge required for the migration of emails, contacts, and calendars from Thunderbird to Office 365. There is no need for extraction of Thunderbird mailbox items.
Export Unlimited Amount of Thunderbird Mailbox:
The software allows us to import emails of Thunderbird mailbox items into an Office 365 account. It also provides users the option to autoload Thunderbird emails, contacts from the default profile location.
Easy & Effortless Thunderbird to O365 Migration:
The software is one of the simplest solutions to perform mailbox migration from Thunderbird to Office 365. The software autoloads mailbox items from the default Thunderbird profile location and then directly imports them into the OWA account.
Maintains Metadata Properties & Attachments:
The software is designed with advanced algorithms to maintain Thunderbird emails Metadata & properties. All the emails Metadata attributes like To, Cc, Bcc, etc. will be kept original. The attachments inserted with the emails will also be converted during the conversion.
Windows Compatible Solution:
The Thunderbird to O365 Migration software is compatible with all the latest Windows editions. Users can run this software on Windows 11, 10, 8.1, 8, 7, XP, Vista, etc. for both 32 & 64-bit OS.
How to Migrate Thunderbird to Office 365 for Web – Video Tutorial
The Verge
In conclusion, we get to know the best way to know how to Migrate Emails from Thunderbird to Office 365 account. You can also contact the technical support team if you have any other issues. Using this utility one can easily solve the following queries:
Can I use Thunderbird with Office 365?
How do I Export Emails from Thunderbird to Office 365?
How to Migrate Thunderbird Emails to Office 365 or Exchange Online?