How to Import MBOX to Office 365 Mailbox – Step by Step Guide
Karen Chard
~ Modified: 25-03-2023 ~ MBOX ~ 7 Minutes Reading
The process of importing MBOX to Office 365 mailbox has many roadblocks. From understanding the requirements to choosing the appropriate method to get the job done, there are many things to take care of. After all, upgrading to the Office 365 environment from desktop-based products naturally boosts productivity but if the migration is shabby, it will result in data loss. Thus no productive results for the organization.
Through this how-to guide, we will explain step-by-step instructions that can help you import your MBOX file into Office 365 mailbox. As long as the steps are carried out systematically, MBOX to Office 365 migration will be free from errors and costs.
But before that, let us answer an important question – What kind of MBOX files can be migrated over? Is it limited to certain email clients, OS, or other things or are there no restrictions?
Table of Contents:
What Types of MBOX File Can Be Migrated?
Truthfully, there are no restrictions on the type of MBOX file for migration. As long as the MBOX file is not corrupted, then whether it comes from email clients (Mozilla Thunderbird, Apple Mail, etc.) or is downloaded from email services (Gmail, Backupify, etc.), all the data can be migrated over to Office 365 account.
In technical terms, you can import MBOX without extension, .mbox, .mbx, .mbs files regardless of their origins.
Two Methods to Import MBOX to Office 365
Here are the two methods that you can use to move all your MBOX emails to the Microsoft 365 account.
Free Method: Here, we use a desktop email client that supports MBOX to connect with Office 365 account.
Professional Method: Here, we opt for a tried and tested professional software for error-free migration.
Free Method to Import MBOX file to Office 365
You can follow the step-by-step instructions given in the two stages below and import all your MBOX files conveniently.
Do note that the MBOX email client we chose here is Mozilla Thunderbird, since its free, open source, and works seamlessly with MBOX file format.
Stage 1: Connect Office 365 mailbox to MBOX client (Mozilla Thunderbird)
Run Mozilla Thunderbird on your computer. Download and install if not installed.
For first-time runners, you will choose to set up an existing email address.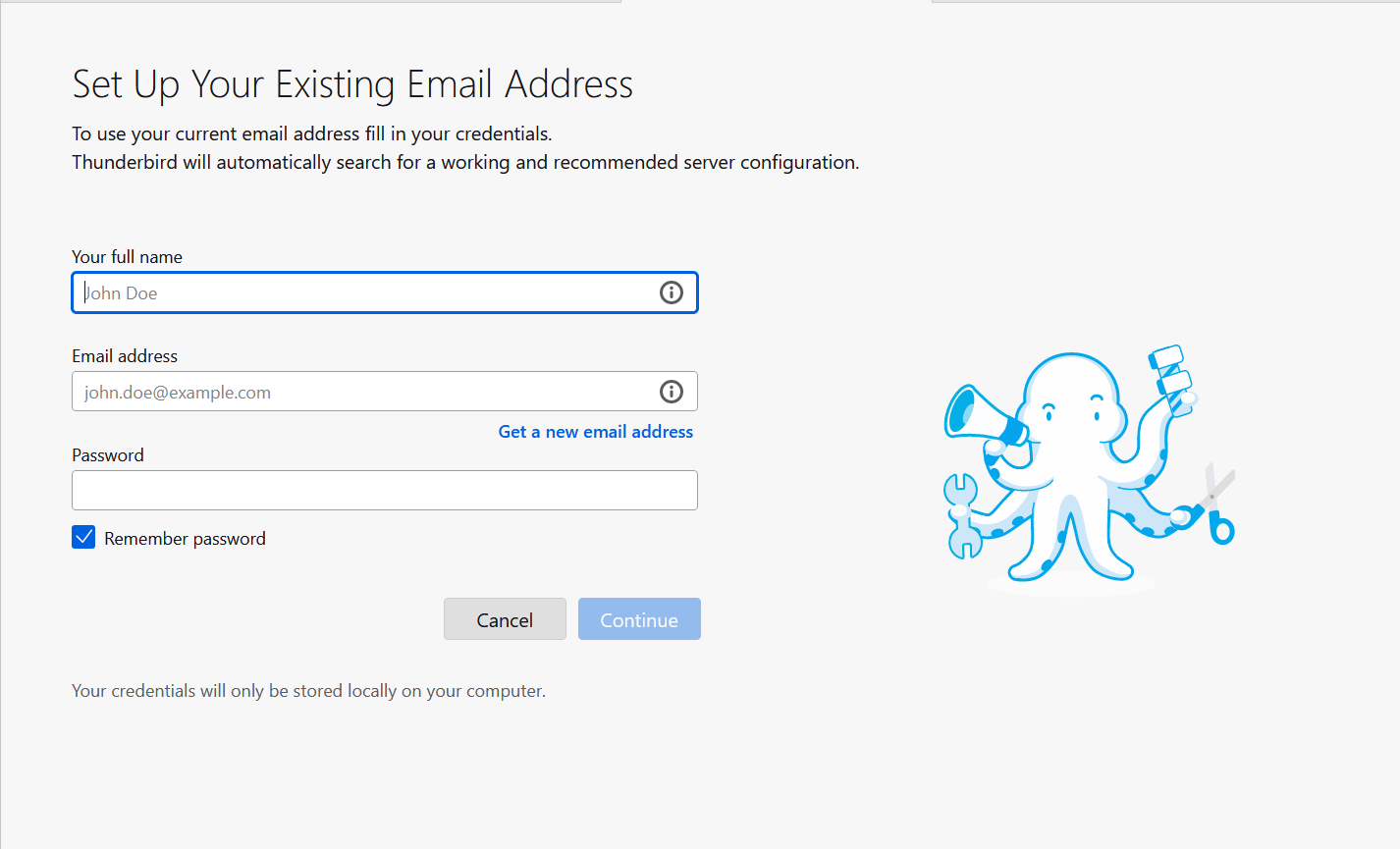 For old Thunderbird users, go to Tools >> Account Settings and select Add Mail Account from the Account Actions.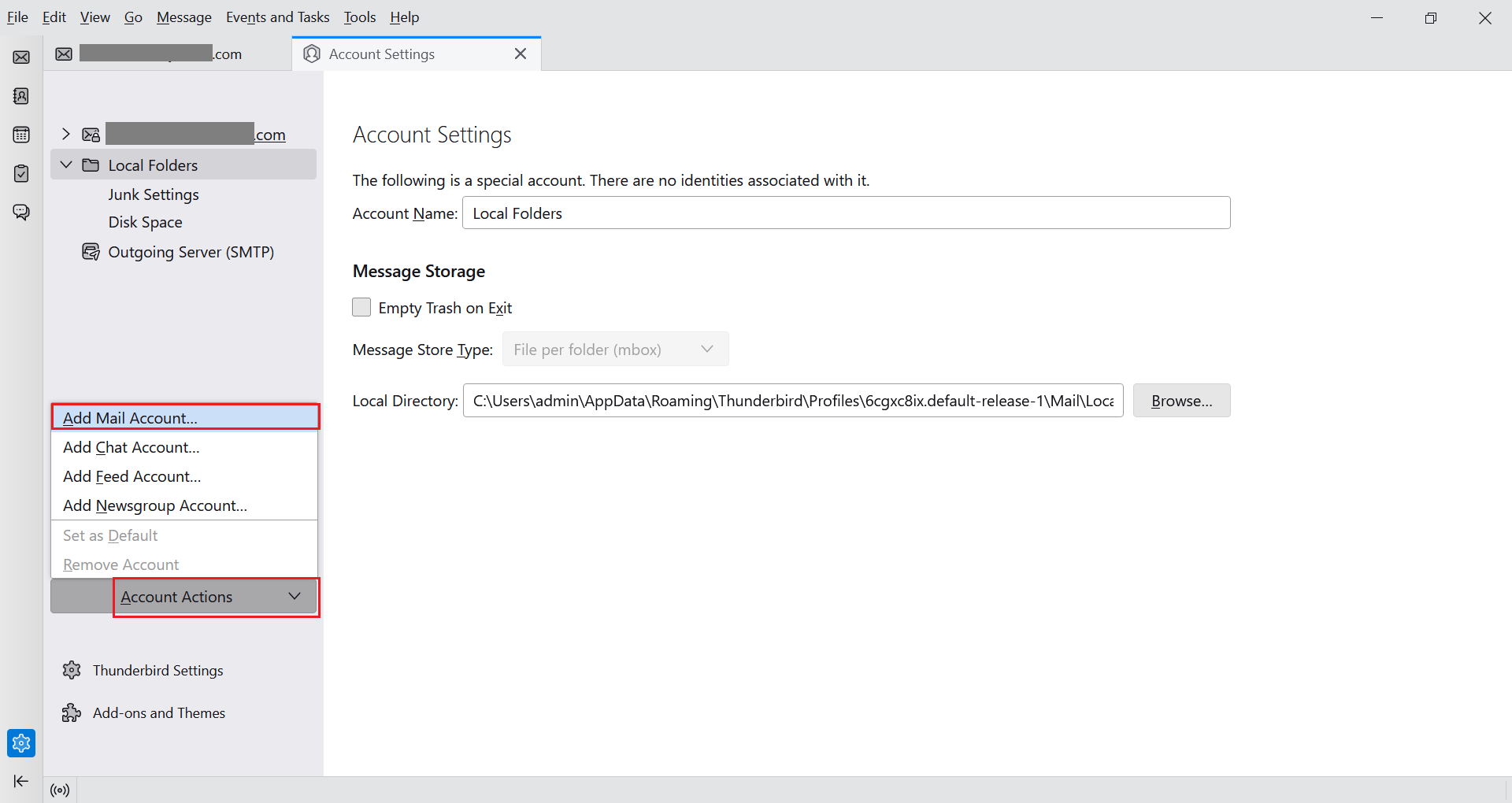 Once you have the following screen, enter your name, email address (Office 365), and password for the email address. Once done, hit on Continue.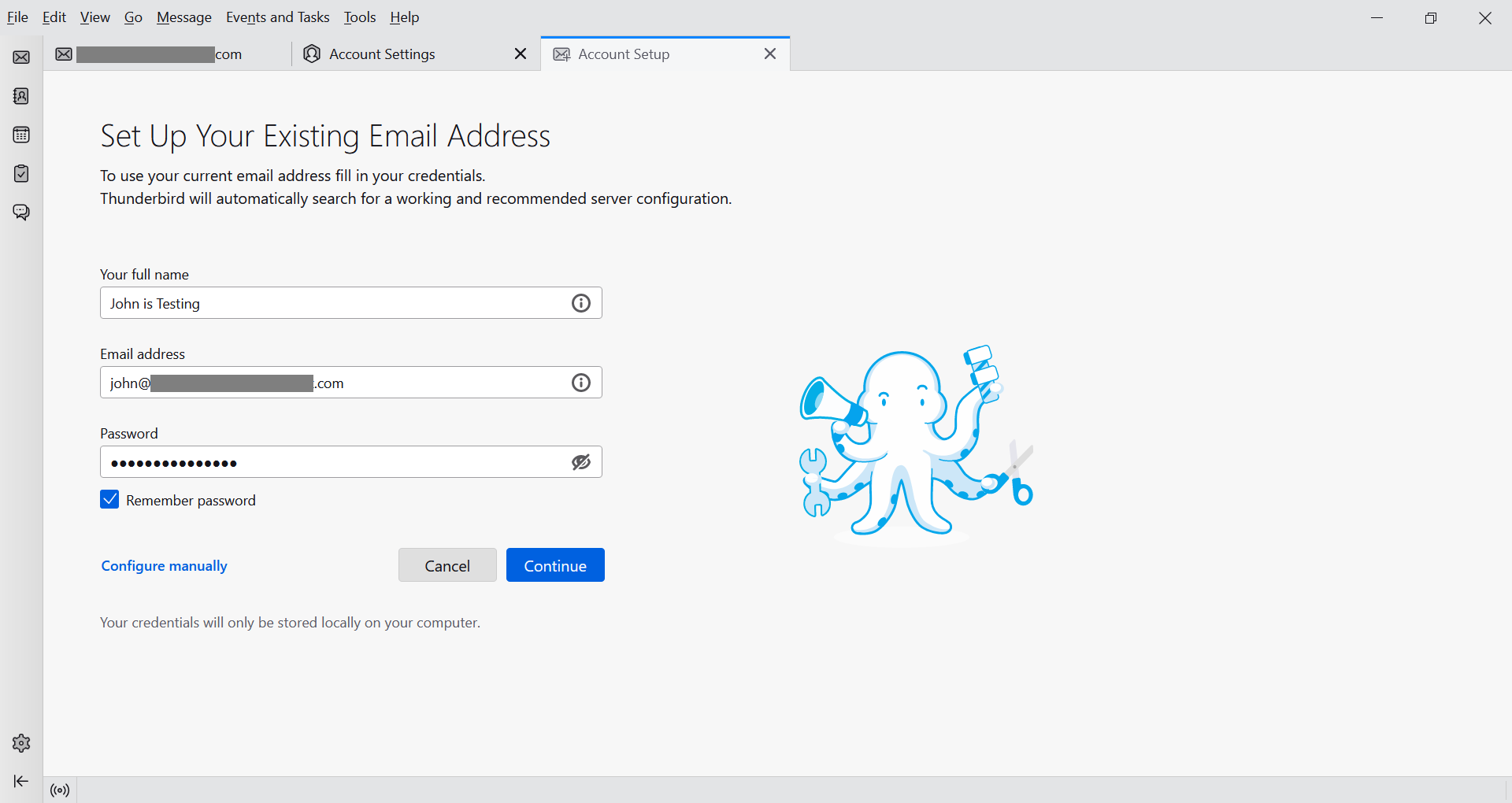 The new screen shows default settings for IMAP and POP configuration. Here, choose the IMAP radio button. After that, click on Done.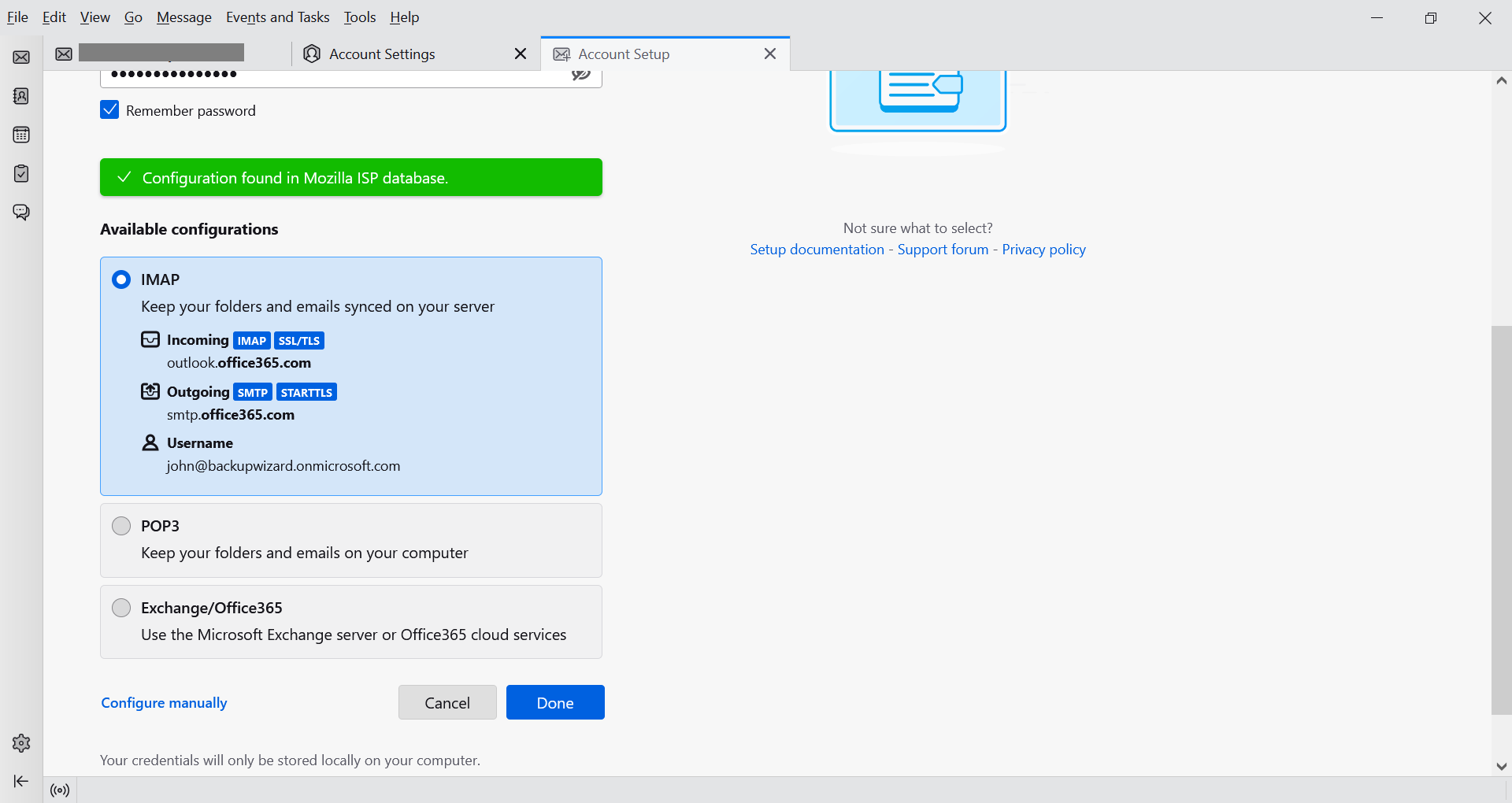 A new window will appear for confirmation. Here, type the password and click on Sign in.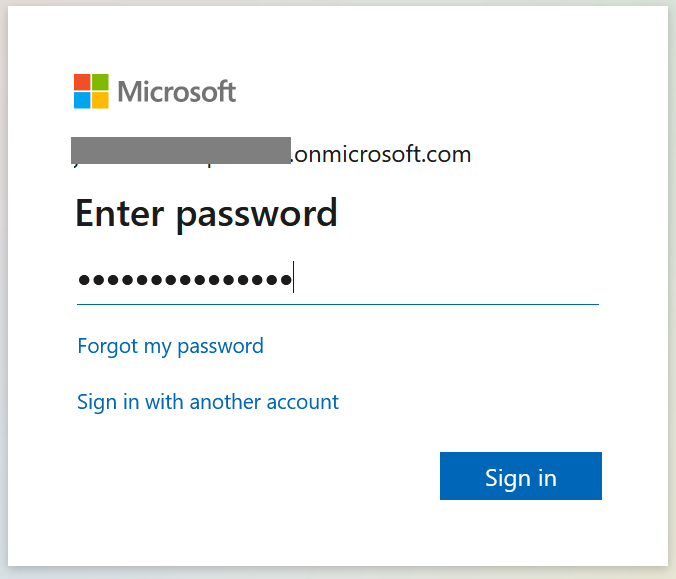 If the read and write access are not provided for IMAP configuration, the application may require you to request access from the Office 365 admin. Approve it if you have the Office 365 admin id or notify the person if it's with someone else.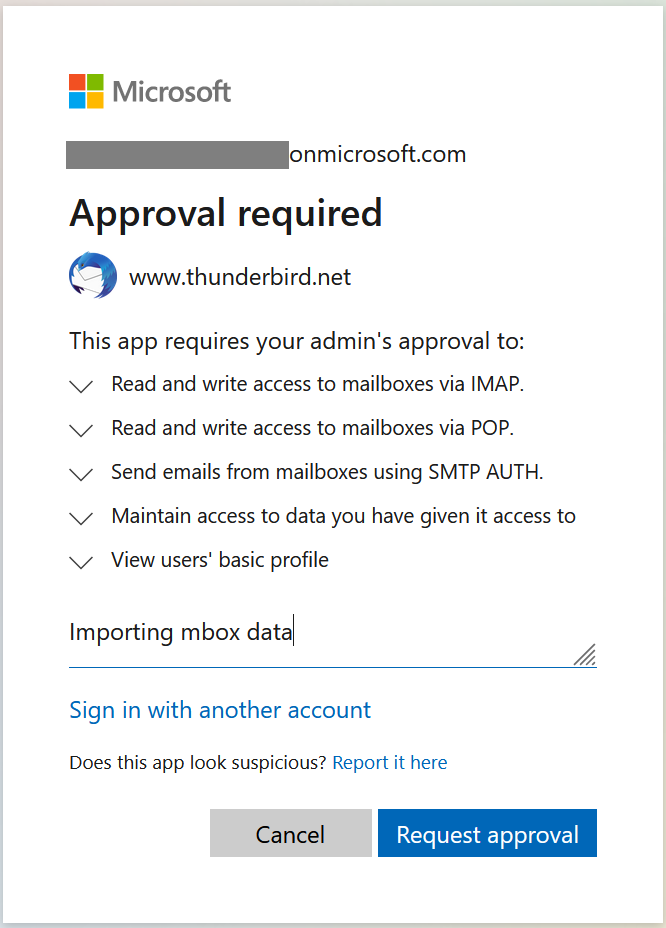 Upon successful configuration of the Office 365 account, all its emails will start appearing on the Thunderbird page.
Stage 1 is completed.
Stage 2: Import MBOX File to Office 365 Mailbox
Firstly, go to the Tools menu and click on Add-ons and Themes from the list of available options.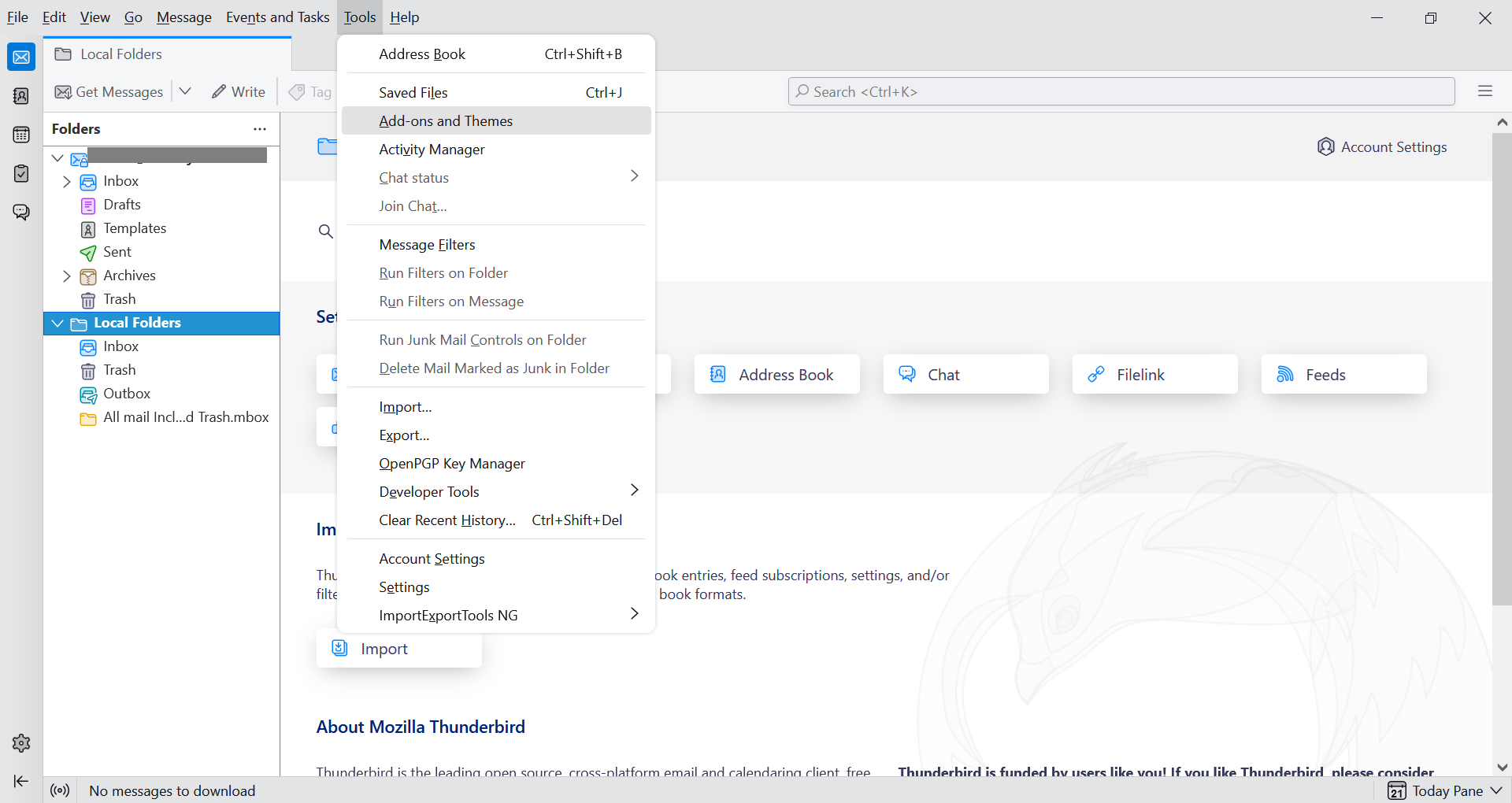 Then type importexport and click on the Search icon in the Search bar.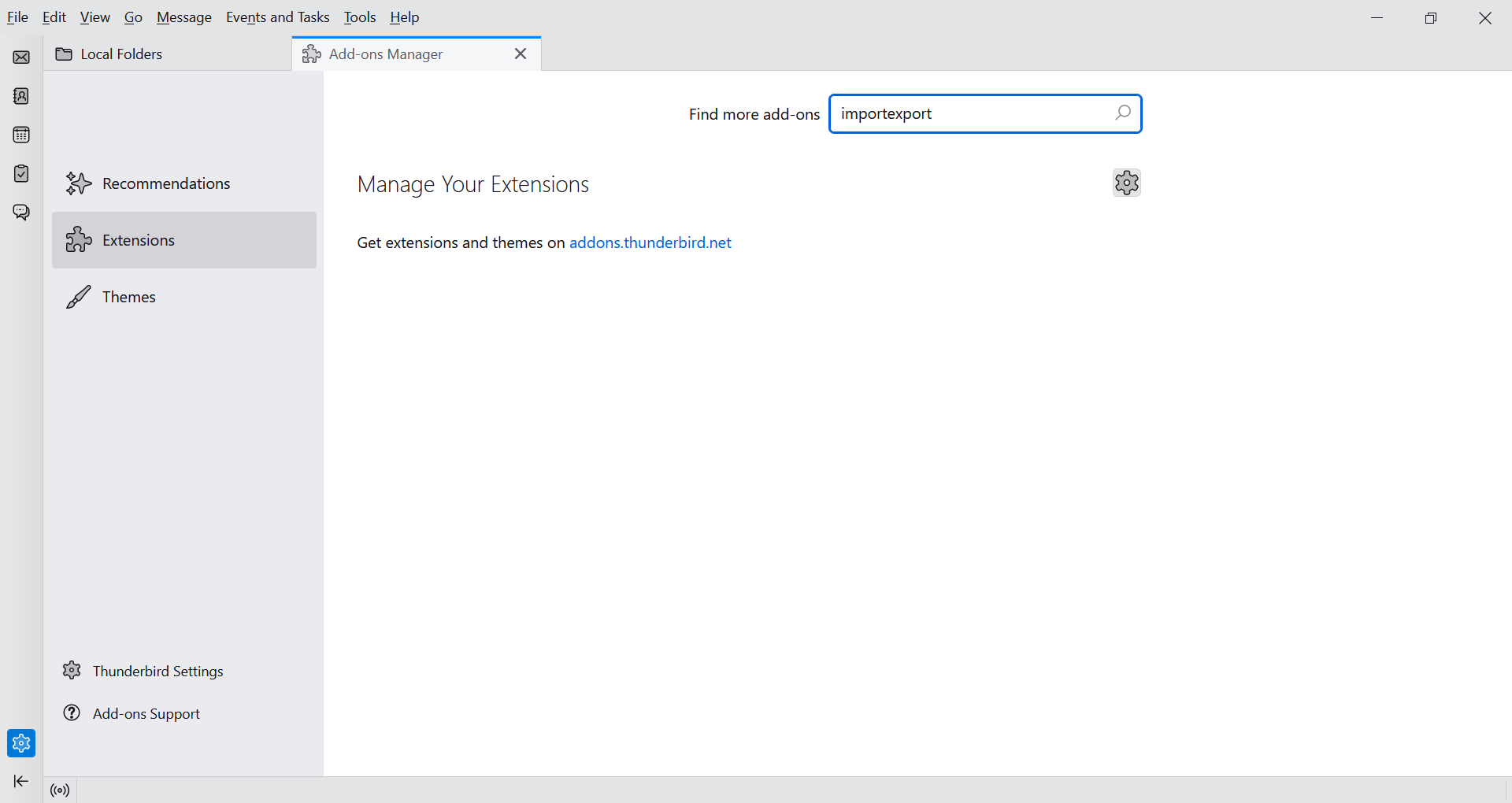 In the new window, hit the Add to Thunderbird button corresponding to the relevant add-on.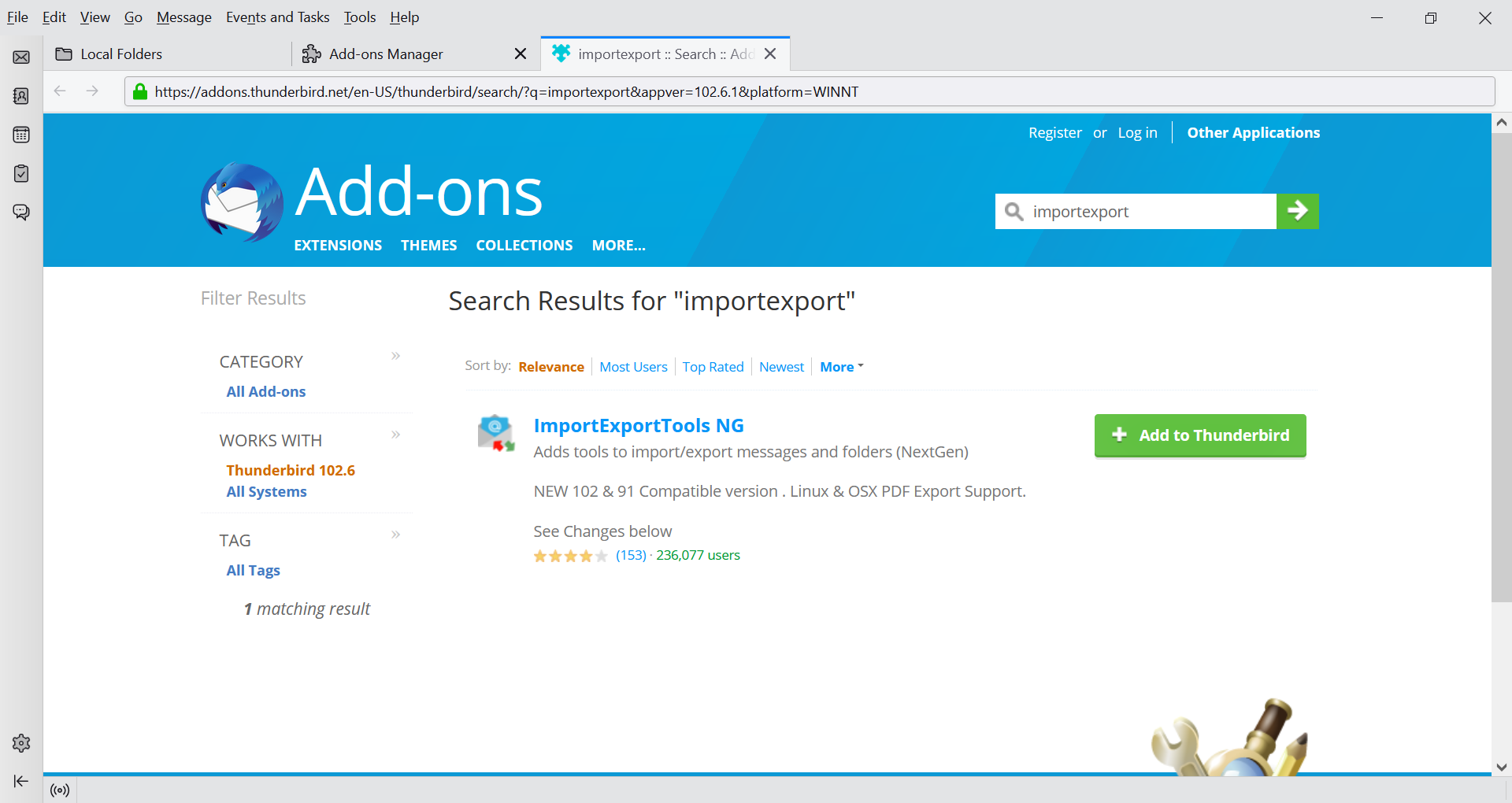 After that, click the Add button to finalize the add-on installation.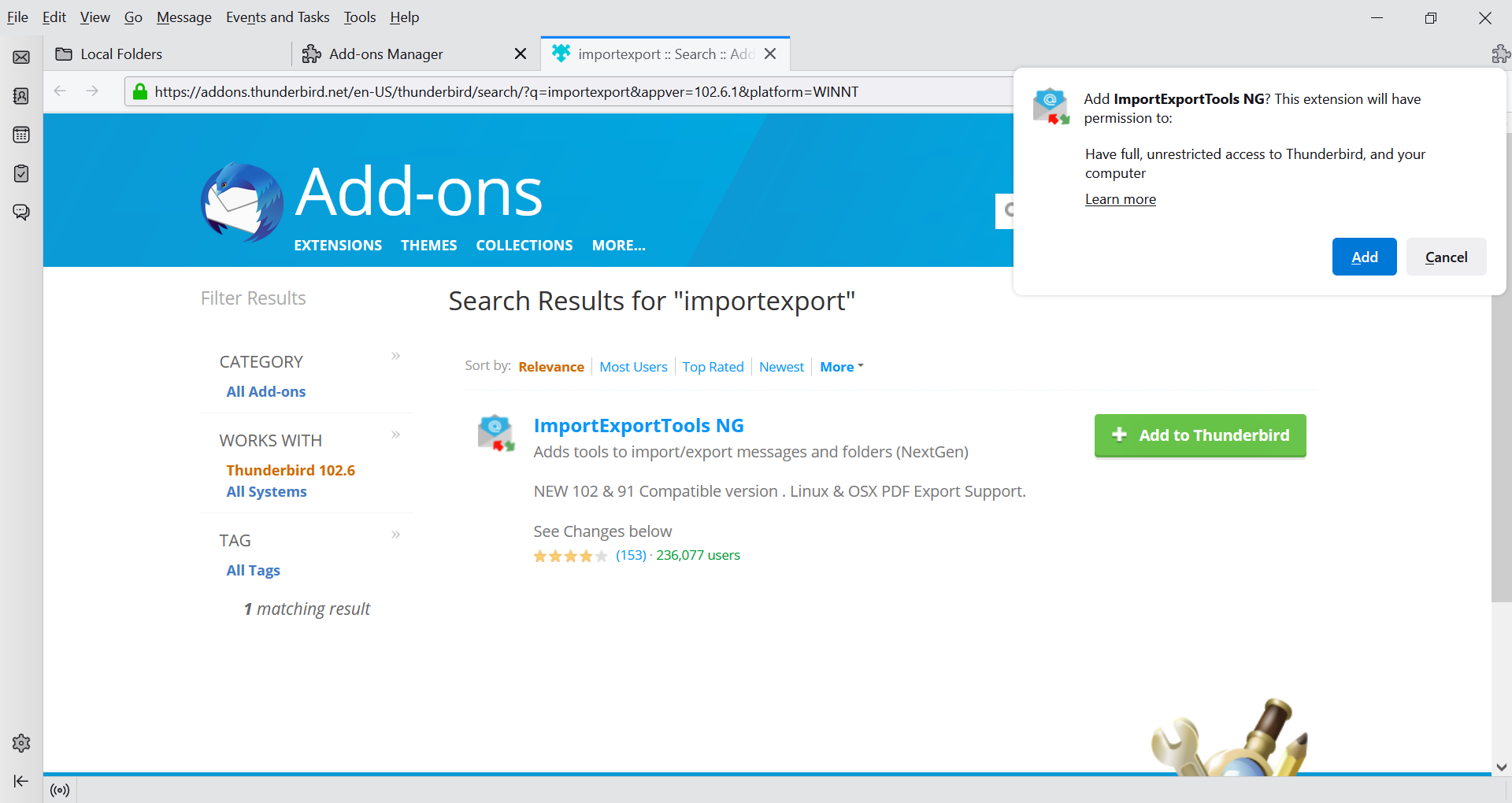 Now, close and restart Thunderbird email client.
Afterward, look for Local Folders mailbox on the Thunderbird screen and right-click on it.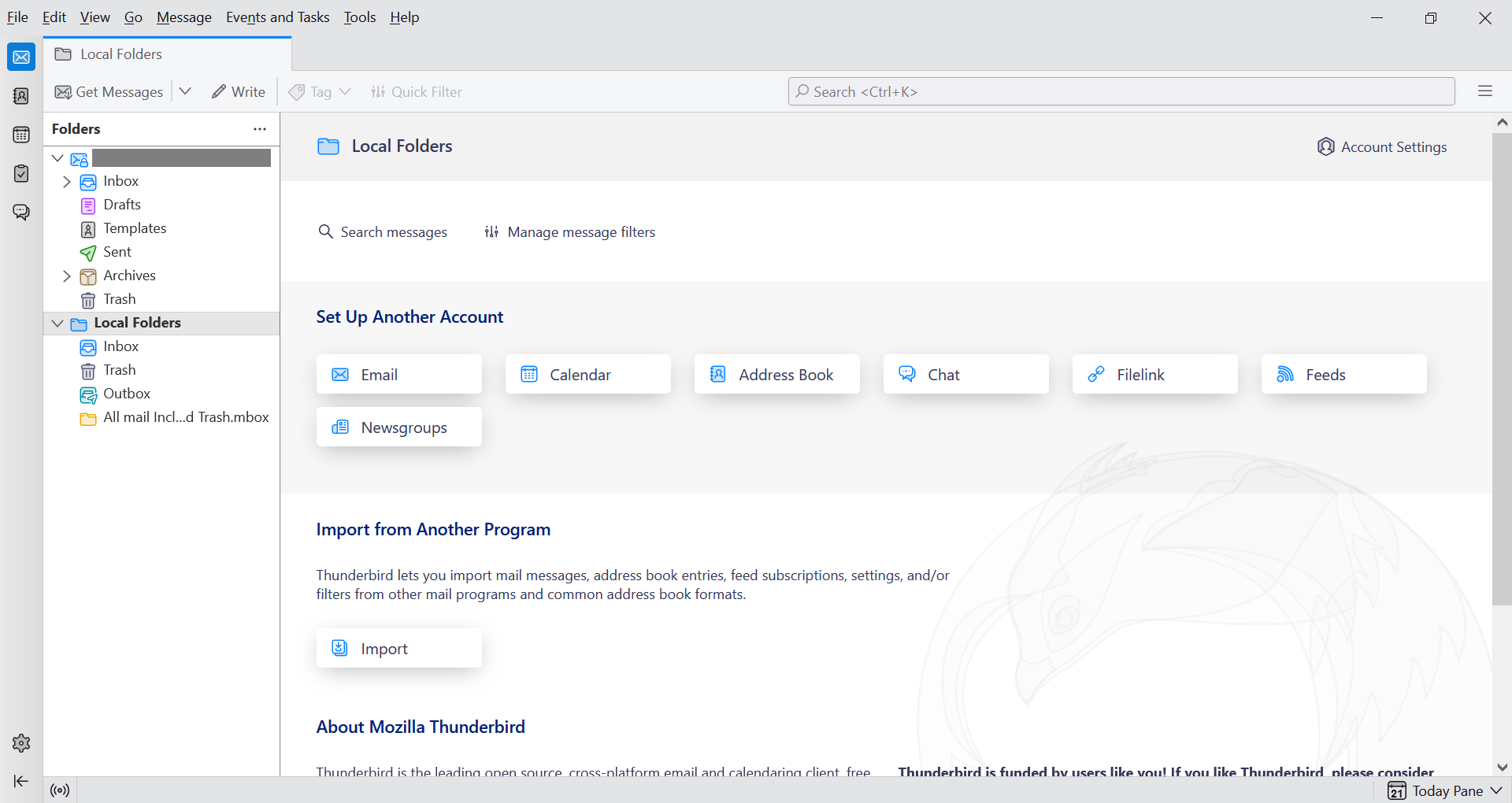 Then select ImportExportTools NG >> import mbox file to open up the MBOX import window.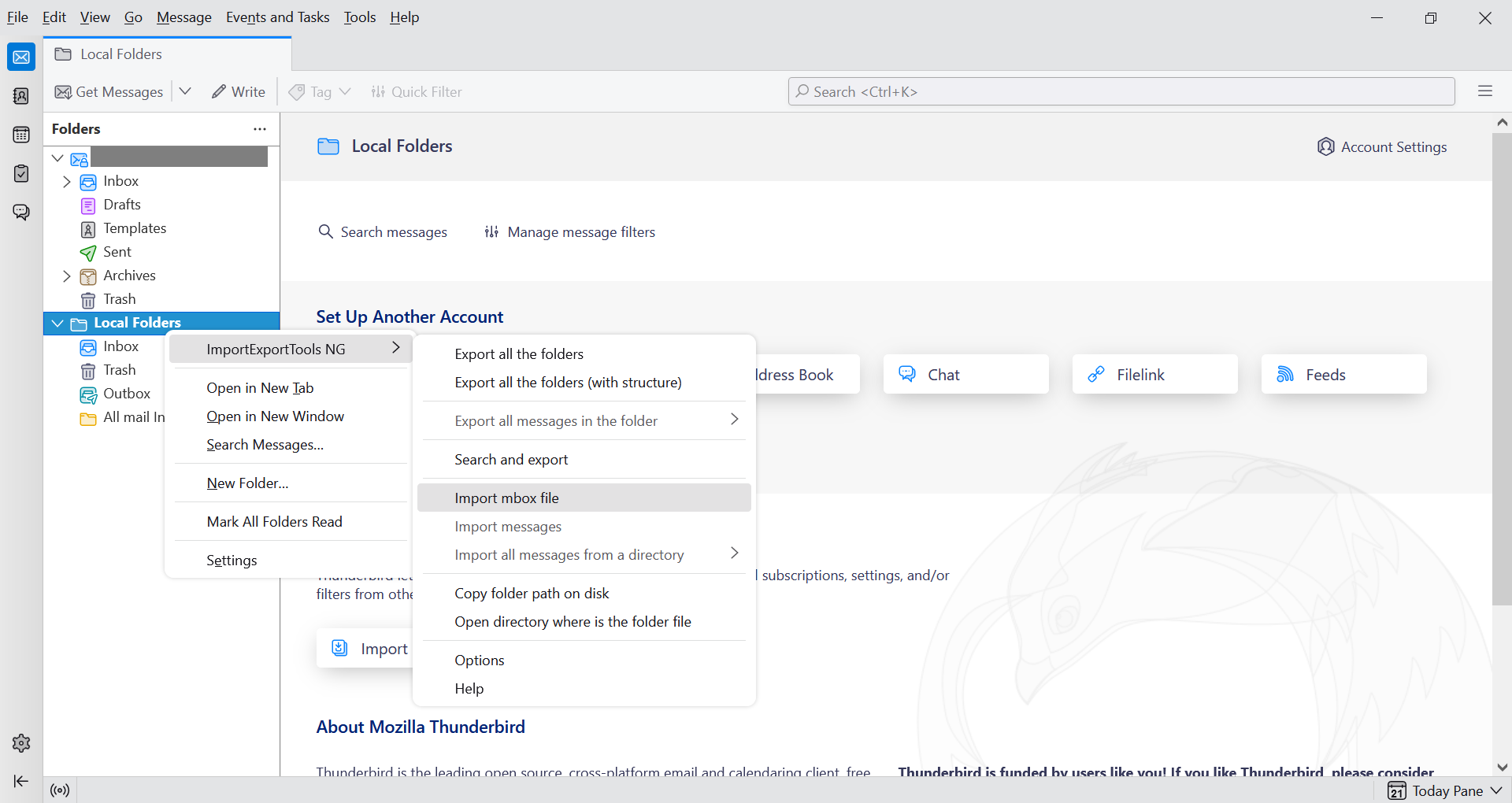 After that, choose the first option and click on OK.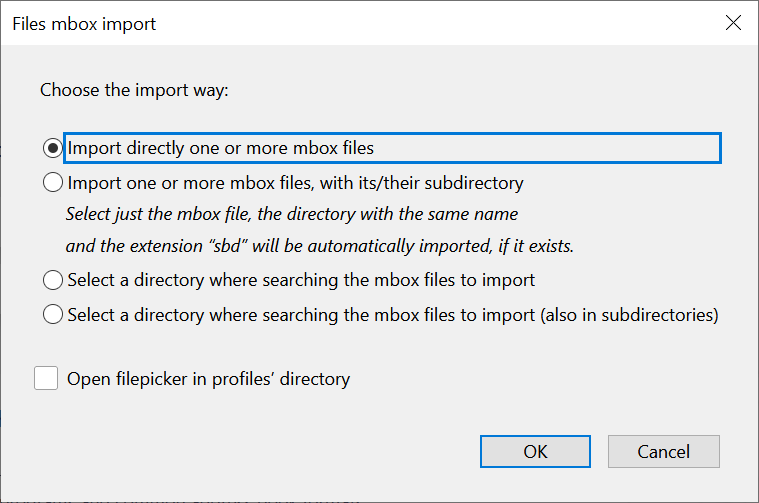 In the window that appears, select the MBOX file(s) that you want to import to Office 365. After that, click on Open.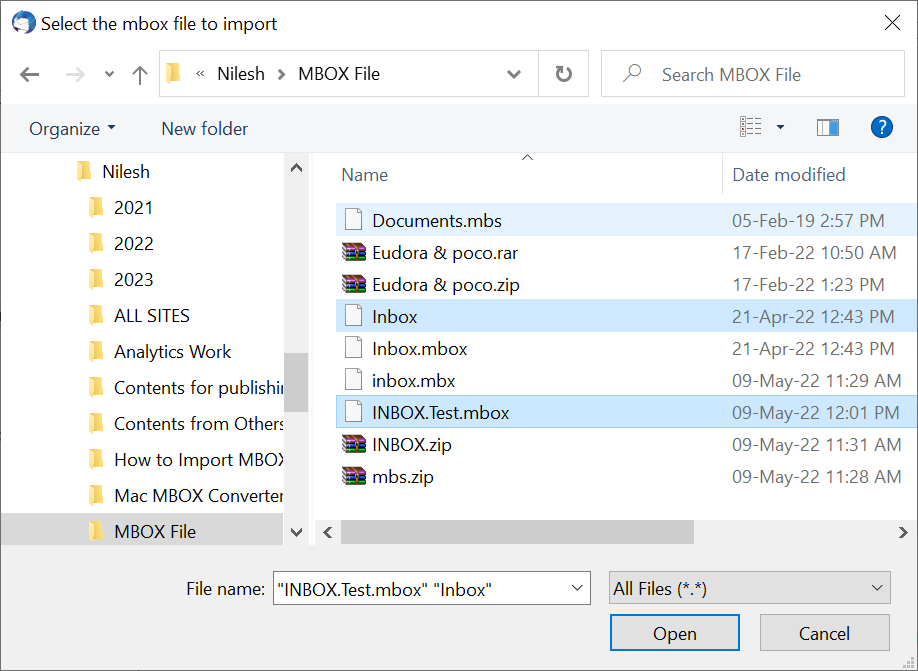 The files be imported under the Local Folder section. Now, open the folder, and select all the emails.
Then, right-click and bring your cursor on Copy to >> [your Office 365 account] and proceed to select the folder in which you want to import your MBOX emails.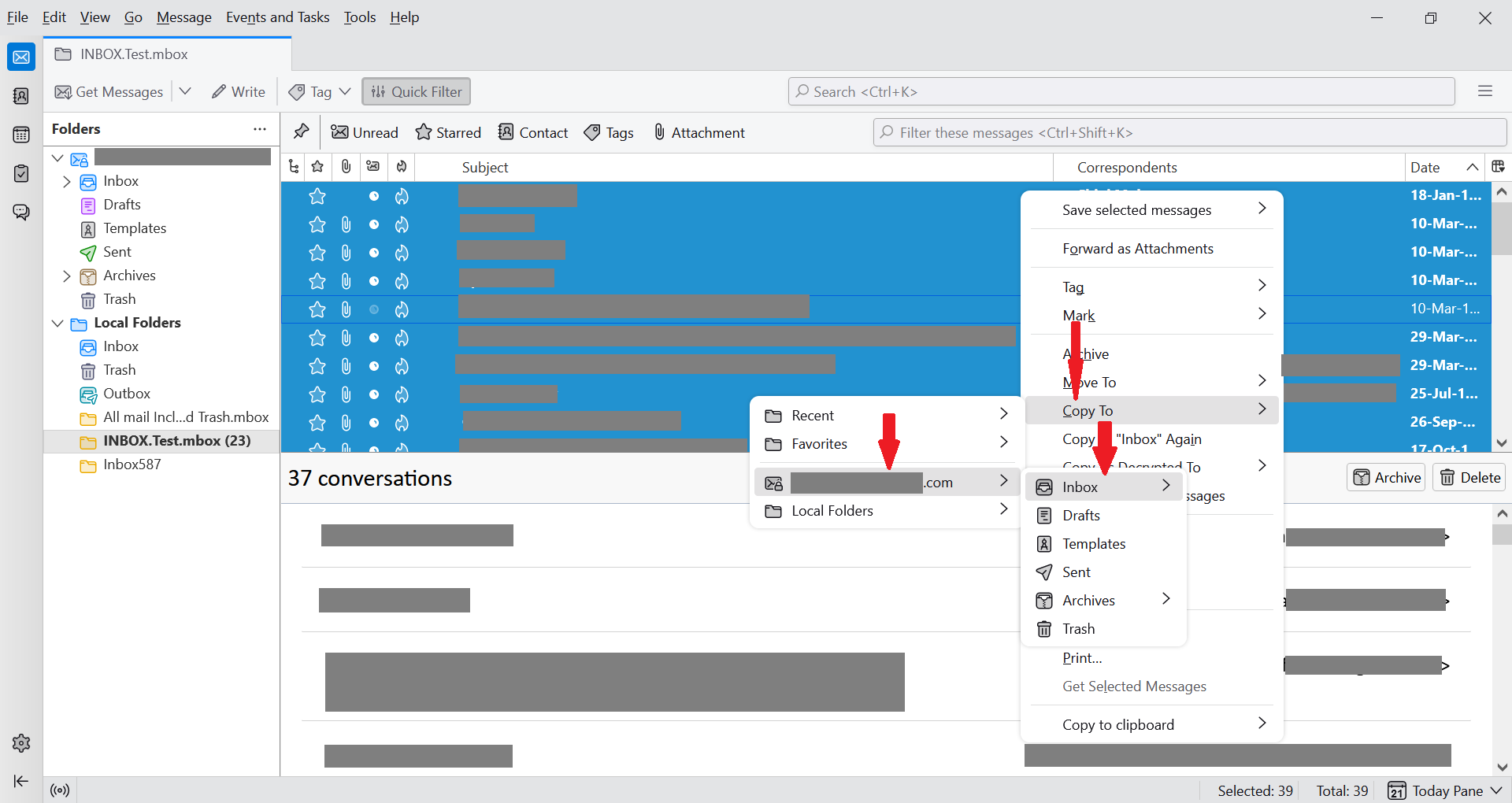 Finally, all the data is successfully migrated.
Stage 2 is now complete.
With this, the free method to migrate MBOX to Office 365 is successfully done. Although the process is easy, it lacks any sort of filter. The various drawbacks that users often face when using this method are given below:
Drawbacks of the Free Method
Lack of filters to weed out unwanted emails.
Cannot import MBOX files to different Office 365 accounts at once.
You cannot connect the account if the access is not provided by the admin.
The emails are copied and not directly imported, so there may arise discrepancies in the metadata.
It is better to opt for a tried and tested approach like RecoveryTools MBOX to Office 365 migrator.
An Automated Method to Import MBOX to Office 365 Account
RecoveryTools MBOX Migrator is by far the best tool to get the job done in a hassle-free manner. It can easily import MBOX files to Office 365 accounts with a variety of features:
The tool allows you to browse multiple MBOX files at once.
You can choose to migrate all MBOX files in a single account or import multiple MBOX files to different accounts by mapping them beforehand.
You can choose to copy the MBOX data into default folders or create a new folder having the same name as the MBOX file within the Microsoft 365 account.
The software also generates a saving log after import MBOX files to Office 365 with all the migration details like the number of emails imported, source file name, destination mailbox address, etc.
You can rest assured that the email properties are maintained throughout the process.
Important Tip: Make sure to install the free demo version of the software and test the entire migration beforehand. The demo only allows 25 emails per MBOX file to be migrated.
Free Download From Here:
Download for Windows Download for Mac
Steps to Import MBOX to Office 365 Mailbox:
Step 1: Open MBOX to Office 365 migrator tool.
Step 2: Add MBOX files to import from your system.
Step 3: Select Office 365 and log in using your credentials.
Step 4: Map the MBOX files with Office 365 accounts.
Step 5: Start the import process and view log report.
Complete Working of the Software Along with Prerequisites:
If you have any queries whatsoever regarding the product working, talk to our Technical Experts now.
Final Thoughts
It's not easy to migrate email clients' databases over to a SaaS solution like Office 365. Fortunately for MBOX users, there is RecoveryTools MBOX to Office 365 migrator to get the job done. Whether it's convenience or accuracy, this professional solution stands way above the free methods. All you need to do is to take note of the instructions provided in the video to easily import MBOX to Office 365.