2 Instant Tips – How to Import Thunderbird to Gmail?
Karen Chard
~ Modified: 28-06-2022 ~ Thunderbird ~ 7 Minutes Reading
Read this write-up, and get the complete solution to import Thunderbird to Gmail with all mailbox items. Just stay with us till the end, and get the complete solution for your query.
With the increase in technology and trends, it is quite better for users to continue with the latest innovations. Moreover, nowadays, a lot of email services, servers, and multiple other email platforms are available with different features and functionalities. The two most common email services are Thunderbird and Gmail that is free of cost and do not require any kind of subscription.
A lot of Thunderbird users are finding a solution to migrate to a Gmail account, all because it possesses multiple advanced features. It stores the data properly in a well-organized manner. Also, it can be easily used on any device and has the access to cloud storage with proper flexibility, and versatility. It is also possible to properly store emails and attachments to iPhone, Android, tablets, pc, and other devices without facing any issues.
Even, after getting multiple queries, we have finally come up with the perspective approach to import Thunderbird to the Gmail account directly along with including all other data items.
Reasons to Import Thunderbird to Gmail Account
Gmail gives users a huge advantage with large cloud storage, advanced search capabilities, and universal access anytime, anywhere.
Because Thunderbird is a free desktop email client, it does not have all of the above features. The user can implement all of these features by simply importing emails from Thunderbird into their Gmail account in minutes to make inbox items more accessible, and searchable side-by-side using secure storage.
I've been using Thunderbird for years, and now I'd like to migrate all my folders to a Gmail account.
All the tips I've seen tell me about creating a Gmail account in Thunderbird and that mail folders will have subfolders in my Gmail account. From what I can see, these are already subfolders of my Gmail account, but these folders never appeared in my Gmail browser.
Is there a way to import these mail folders and related files to appear in my Gmail account (browser)? If not, then please tell how to migrate."
Also Read:

Export Thunderbird to Foxmail
Thunderbird to MSG Converter
Thunderbird Export to Excel CSV File
How to Migrate Thunderbird to Gmail Account?
One such software is RecoveryTools Thunderbird Migrator, which gives users a direct option to import emails to a Gmail account. This software is self-capable to detect the default Thunderbird profile location. Users only need to provide resultant Gmail account login credentials in the application panel. Moreover, this software is easy to use and provides advanced features to carry out the results respectively.
Download the free trial of Thunderbird to Gmail Migration Tool from the below button:
Download for Windows Download for Mac
Trial Limitation: The free trial of the migration tool will allow the users to import only the first 25 emails from each folder. However, if you want to migrate unlimited Thunderbird emails, then you need to continue with the Licensed version.
Steps to Import Email From Thunderbird to Gmail

Install & Run the mentioned tool.
Load Thunderbird mailbox items.
Choose the required data items.
Click Next & analyze the live conversion process.
Check Gmail mailboxes after the process finished.
Features of Thunderbird to Gmail Migration Tool:
Automatically detect and load mailbox items from configured Thunderbird Profile location.
The software is completely standalone to do the migration without requiring Google Apps Migration Tool
And also, migrate Thunderbird to your Gmail Account including all email properties and embedded attachments.
Provides Batch Mode option to import unlimited data and other mailbox items directly to the Gmail account.
Dual Mode to upload Thunderbird files and folders directly on the software panel.
Selective migrate required files and folders from the list of the data.
Also, the utility is available in various international languages and can meet the needs of multiple users.
The software is fully compatible with all the latest Windows OS including Win 10, 8.1, 8, 7, XP, Vista, etc. for both 32 & 64-bit.
Works independently and does not need any kind of extra installation to continue with the migration process.
How to Import Thunderbird Emails to Gmail? – Complete Steps
Firstly, Install & run the application & read the instructions on the home screen.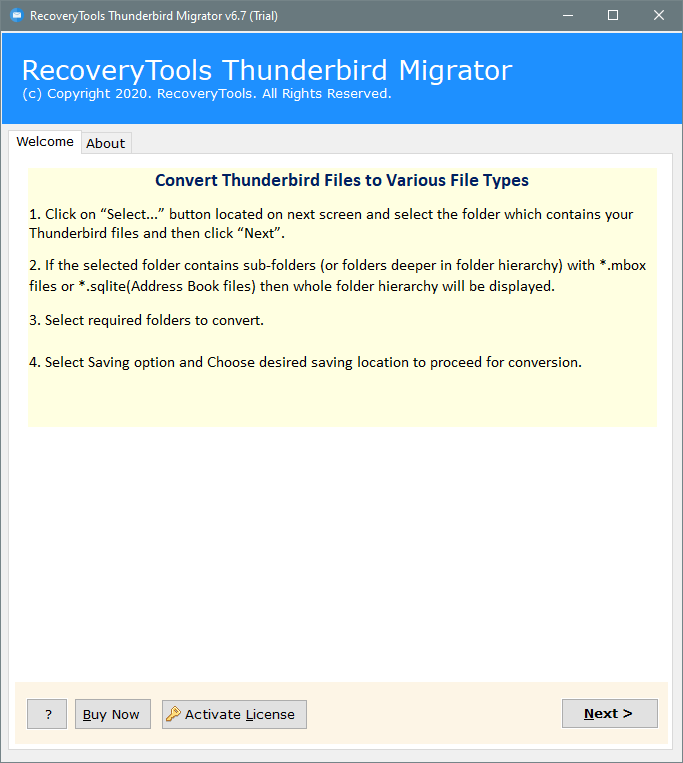 In the next step, it gives users the option to Convert Thunderbird Emails or to convert Thunderbird contacts and Calendars. Choose Convert Emails.
It gives various options to load Thunderbird Mailbox items. However, the tool will automatically detect configured Mailbox data or users can select Profile or Files manually.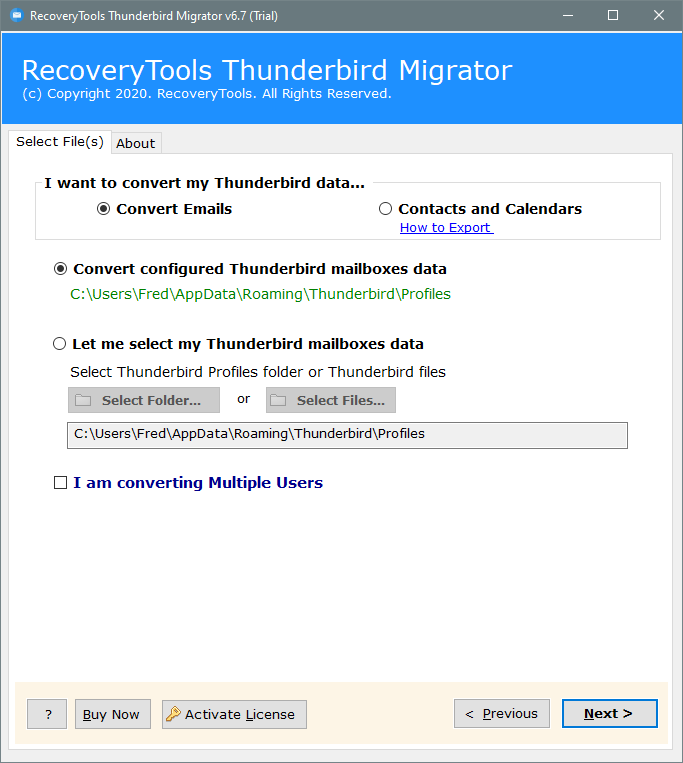 Select only the required mailbox items or Thunderbird Folder data.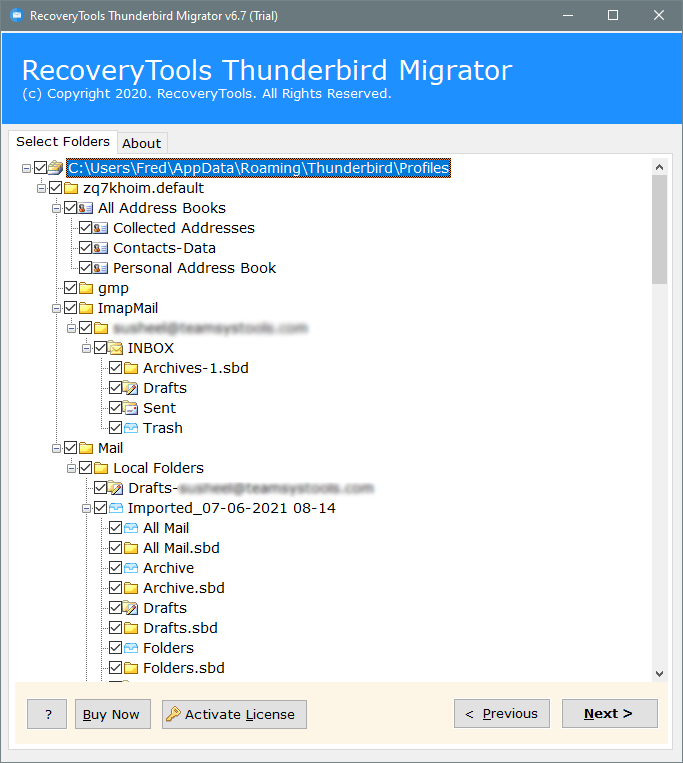 Now, Choose the Gmail option from the list of File Saving Options.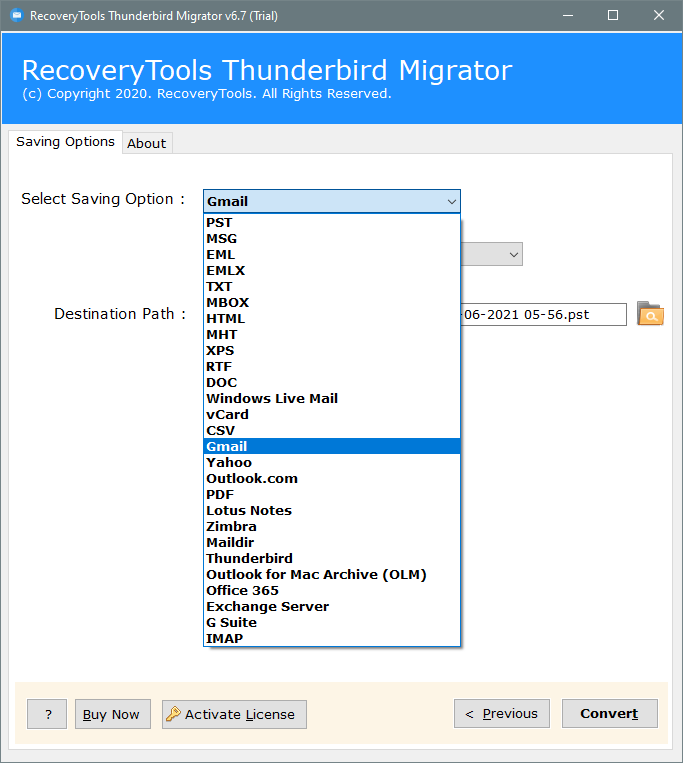 Setup import options like change language, copy to the default folder, etc.
Enter Gmail Account Login Credentials of the resultant account in the application panel.
Lastly, Click on the Convert button & analyze the live migration process in the utility panel.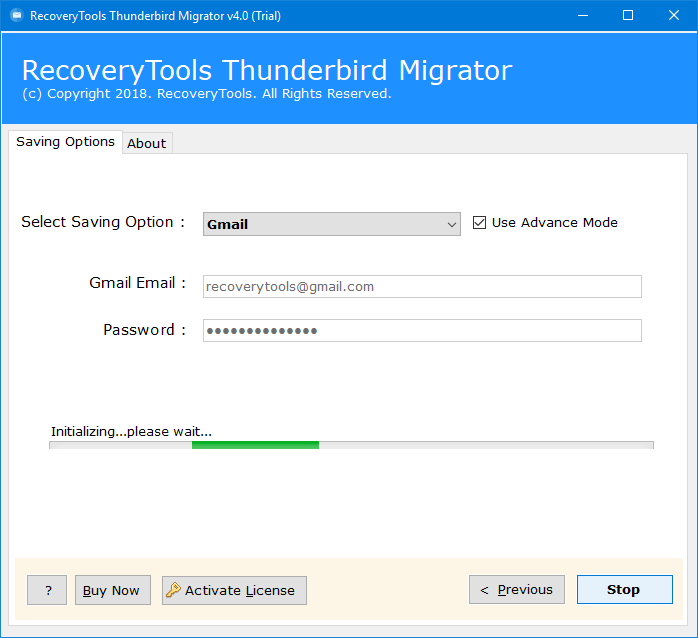 In the end, the migration finished successfully, log in to your Gmail account & access the resultant messages in the Gmail mailbox.
Manual Steps For Thunderbird to Gmail Migration
Login to your Gmail Account, and from the Gear icon at the right, choose Settings.
Then, choose the 'Forwarding and POP/IMAP' tab, & 'Enable IMAP' from 'IMAP Access'
Click on the Save Changes button & then open Thunderbird on your computer.
From the Tools menu, select Account Settings.
In the Account Actions drop-down menu, click on Add Mail Account option.
Set up a Gmail account in Thunderbird by providing your Name, Email ID & Password.
And then, Click on the Continue button, select the IMAP option & then Done to populate Thunderbird all Gmail Folders and Emails.
Copy/Paste Thunderbird emails to any folder or you can create a new folder. Your Gmail account will instantly get updated with the new emails.
Why this method is not convenient?
As we can see that forwarding Thunderbird emails to Google Mail are not a wise choice for the users. So, to overcome its limitations, we will use third-party software which allows users a direct option to migrate Thunderbird emails to Google Apps.
In case when the user chooses to forward messages it will not help as a fully functional solution. The emails will lose the original senders and sent emails won't appear. And also, Users will not use the Conversation View of Gmail which groups emails on the same topic. Basically, the method is not suitable for non-technical users as it is not easy to perform the whole process.
The Conclusion:
Finally, In this article, we go through various queries of users and try to find out their possible solutions. So, a large number of users are looking for a way to solve these problems so that they can instantly migrate their mailbox items to Gmail on the cloud. Manually, that was a very difficult task to import Thunderbird to Gmail, hence we will use a professional utility that allows you to carry out the desired results as soon as possible.