How to Import MBOX to Outlook Versions in Few Easy Steps ?
Karen Chard
~ Modified: 23-06-2021 ~ How To ~ 6 Minutes Reading
Ready to import MBOX to Outlook versions but don't have any idea where to start from ? Don't worry. In this write-up, we have explained the most proficient technique to import MBOX files to Outlook 2019, 2016, 2013, 2010 and prior versions.
Nowadays, Email is an essential medium for communication with business people, friends, or anyone. There are plenty of individuals who uses MBOX email client services but after some time gets fed up due to different problems with MBOX files. Our technical support team often gets queries regarding how to import MBOX to email clients like Microsoft Outlook.
There can be multiple reasons why a user wants to import MBOX into Outlook versions. Among these reasons, the most prominent ones are platform dependency of MBOX format, MBOX file corruption, and switching to new email services.
Well, our clients disclose to us they view Outlook as their hub to adequately communicate at the workplace. Users like the consistent experience of their Outlook inbox as it is so easy to use that one can go with it without any prior training.
Note: – Also visit on MBOX to PST Converter Page for more information.
Why do Users Want to Import MBOX to Outlook Versions ?
Query1: I am a Forensic expert and regularly inspect files to collect evidence of the client problems. Last night, my client sent me some 20 MBOX files generated in Apple Mail. Now, I need to go through these emails urgently. For accessing these files, I want to import MBOX to Outlook 2019. Is there any solution that will help me to import MBOX emails to Outlook?
Query2: From past few days, I am looking for a solution that could allow me to import MBOX to Outlook 2010. Actually, I have some Eudora mail MBOX files which I intend to view in Outlook application on my new computer. Can you guide me how to import an import MBOX file into Outlook?
Query3: I tried to import MBOX to Outlook 2016 on my latest Windows 10 machine. However, failed in this attempt. How can I import MBOX into Outlook 2016 without any loss of information?
Such queries are very much frequent and are asked to our support team. Mostly, users try to import MBOX files into Outlook using manual methods. But due to lack of technical knowledge and manual methods shortcomings, users don't get satisfactory results.
So, if you are also one of those individuals who has got stuck while import files from MBOX format to Outlook then try the solution mentioned below.
A One-Stop Solution to Import MBOX Files to Outlook Application
RecoveryTools MBOX Migrator is your go-to solution for importing MBOX emails into Outlook. It supports all types of MBOX files generated from different email services like Apple Mail, Thunderbird, Claws Mail, Entourage, Netscape Mail, SeaMonkey, Eudora Mail, Mozilla Thunderbird, Evolution, Mulberry, Opera Mail, Evolution, and many more.
This software supports all latest and earlier versions of Microsoft Outlook such as Outlook 2019, Outlook 2016, Outlook 2013, Outlook 2010, and below editions.
The complete process to import MBOX to Outlook versions comprises five steps. If you follow these steps then within a fraction of seconds, you will see that all MBOX emails imported into Outlook with intact information. But before that, you need to download and install this application on your Mac and Windows computers.
Download from Here:
Download for Windows Download for Mac
Note: Both applications are available for free to import 25 emails from MBOX to Outlook editions. For complete MBOX to Outlook migration process, you need to purchase the software key.
Steps to Import MBOX to Outlook / Outlook 365
Run the application on your computer.
Select single as well as bulk MBOX files.
Choose MBOX folders & PST format in the saving list.
Set the resultant MBOX to PST location path.
Now, start the conversion of MBOX to PST file format.
How to Import MBOX Emails to Outlook ? – Stepwise Procedure
Before proceeding towards the usage of this application, please note that it will work fine even if you don't have an MBOX supportable email client on your machine. It's an independent utility that works absolutely fine without the installation of external apps. So, go through these steps to import the MBOX file into Outlook 2019, 2016, 2013, 2010:
First of all, download and install the setup of the software on your machine.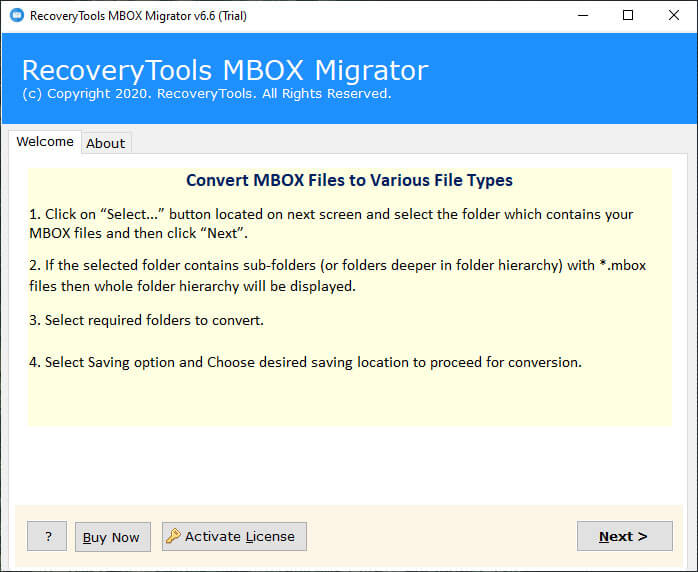 Now, you will see two options to load MBOX files. The Select files and Select Folders options enable to import of multiple MBOX files into the software panel for the process.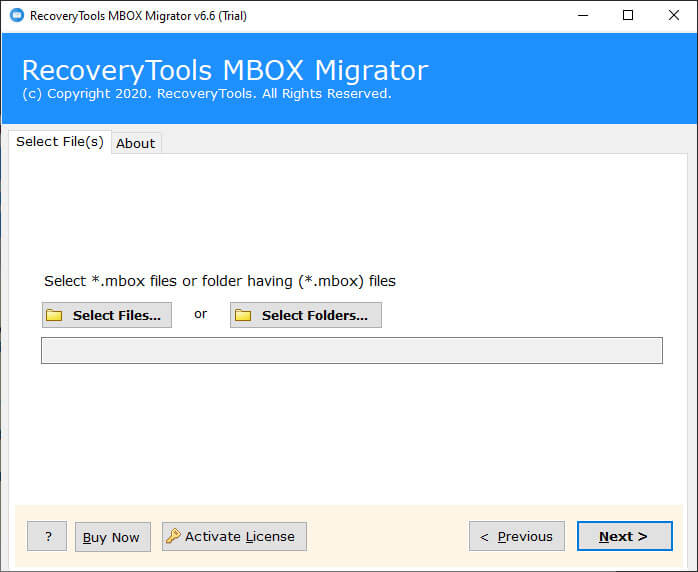 Now, choose the required MBOX files or Folders from the list.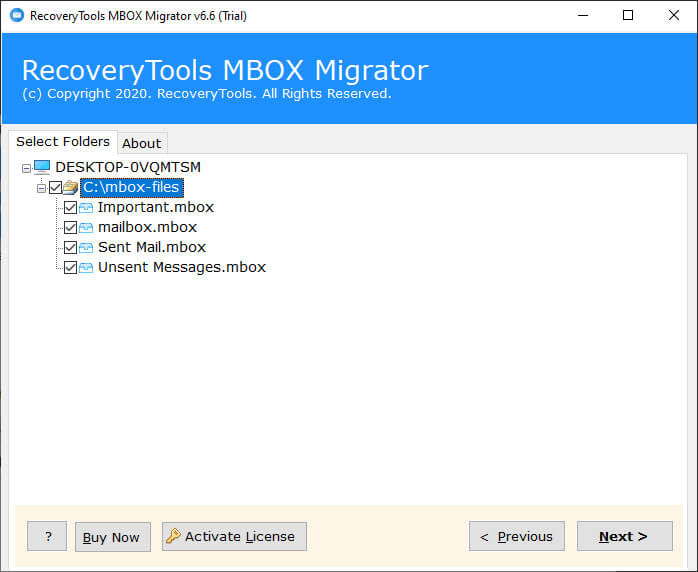 Next, select PST as the file saving option. Also, enable the 'Separate PST per MBOX' if required.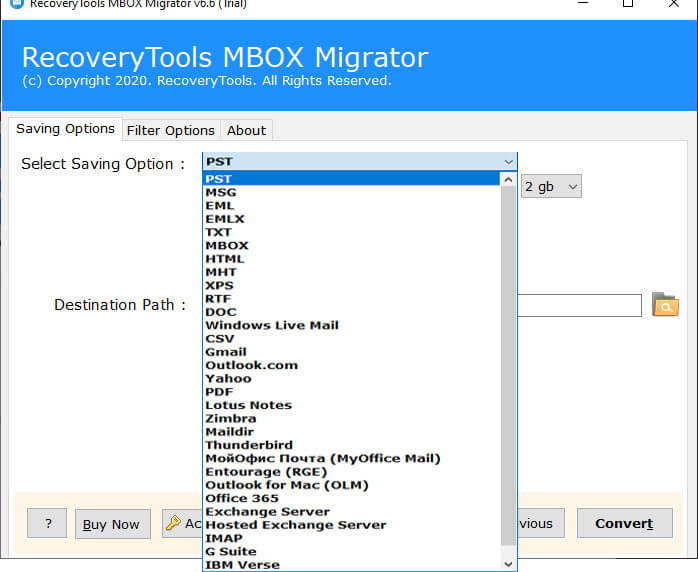 Please Note: There is a separate feature to split Outlook PST files into various sizes like 2 GB, 5 GB, 10 GB. If it's needed then specify this option otherwise, proceed to the next step.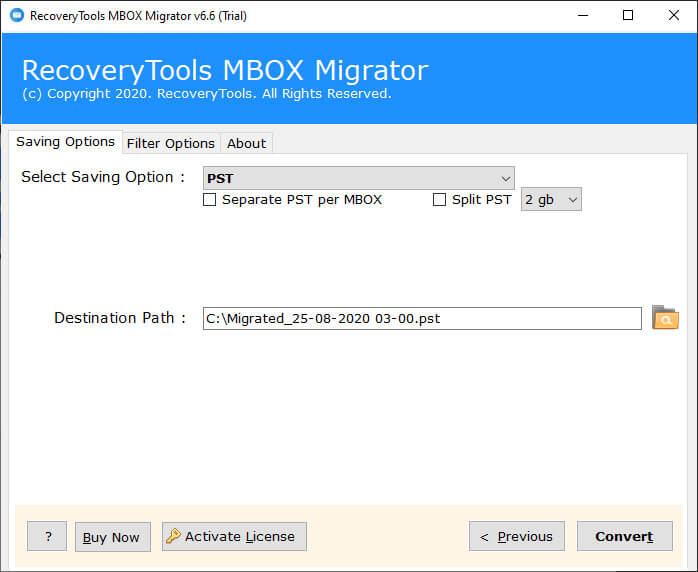 Then, browse a destination folder for saving the MBOX to Outlook imported emails at any location on PC.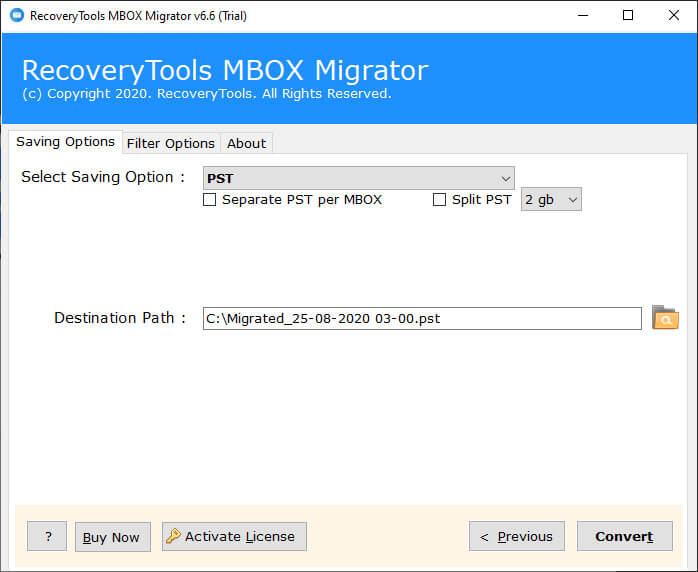 At last, click on the Next button to begin the process. The software starts to import MBOX file into Outlook and you can view the live conversion in the software panel too.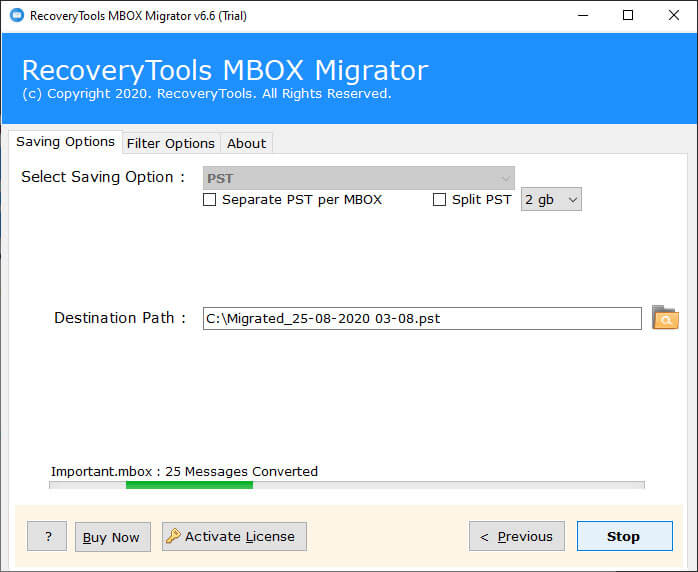 After this process ends, you will receive a pop-up message of completion.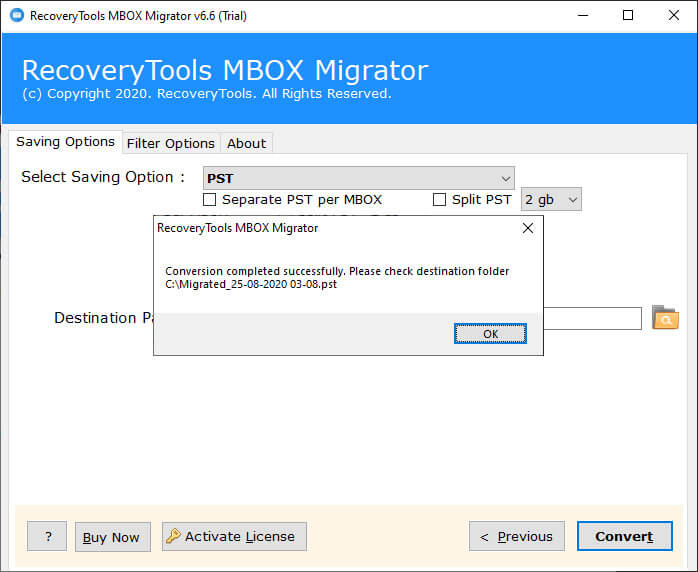 Import MBOX into Outlook Easily – Benefits of Software
Bulk Import MBOX files to Outlook:
This software is built in such a manner that it can import MBOX to Outlook without any limitations. One can import multiple MBOX emails to Outlook application at once without any hassle.
Upload MBOX files of any email service:
The tool is compatible with all MBOX files taken from any email service. Whether it is MBOX file of Thunderbird, Apple Mail, Netscape, Gmail, etc, this utility will efficiently perform the import MBOX to Outlook process.
Store Output at any Path:
After selecting the saving option, users can save the resultant converted emails at the desired location.
The software comes with a free trial edition. This helps to evaluate the features of the tool without paying anything. Additionally, you can import few MBOX files to Outlook too.
Support Windows & Mac OS:
It runs on all Windows Operating Systems such as Windows 10, Windows 8.1, Windows 8, Windows 7, Windows XP, Windows Vista, Windows Server 2019, 2016, etc. As well as you can install this application on all Mac OS X editions.
This application is programmed with the best technical algorithms. Hence, it does not require any external plug-in or application configuration to import MBOX to Outlook.
Final Words
In this blog post, we have explained the detailed method to import MBOX to Outlook versions. Since the software recommended here is rich-featured so one can use it without any problems. With this tool, you can import MBOX emails to Outlook 2019, 2016, 2013, 2010, or any version which you are using right now. So, quickly download this application today and avail all of its benefits. For more information, you can contact us via live chat or email.