How to Convert MBOX File Emails to Maildir Format ?
Overview: Are you one of them who are looking for a solution to convert MBOX to Maildir format ? Or want to know how to import MBOX to Dovecot Maildir Format ? If YES, then read this article to know the complete process. Here, we will explain the complete process to convert MBOX files to Maildir format. So, stay with us and keep reading.
Technology has changed our lives rapidly in a very short span of time, mostly for the better. Just a few years back we thought that there were some things we could never live without and now those same things are almost obsolete. In fact, some technology today is not quite the same as its predecessor like MBOX and Maildir.
MBOX and Maildir are technology popularly used to store and export emails from various email clients including Thunderbird, Communicate, Eudora Mail, etc. MBOX uses a single directory to store all mail whereas Maildir uses a directory hierarchy to store mail. In MBOX file, all messages are stored in one mailbox file. Maildir is a structure for a directory of incoming mail messages.
Maildir addresses the reliability issue on the MBOX file format. Since all emails are stored in a single MBOX file it is always prone to corruption of MBOX files and loss of all data. Whereas in Maildir a structure is followed which minimizes the risk of loss of data. It belongs to three subdirectories, all on the same filesystem: tmp, new, and cur.
Why Do We Need to Convert MBOX to Maildir File ?
There are a large number of users who are looking for a way to convert MBOX to Maildir format. One such procedure is MB2MD.pl scripts which don't only convert mailbox files into a Maildir file. But, it is not easy for non-technical users to perform MBOX to Maildir conversion process. Some major queries are:
"Are there any Windows-compatible tools to convert e-mail accounts in MBOX format to Maildir format?
I have an account backup in MBOX format that I need to upload to a new host that uses Maildir; I don't have shell access on either account."
"Converting MBOX to Maildir format on windows. I am aware that there are a few .pl scripts out there that serve this purpose. But I have some problems running it on Windows. Eg. http://www.akadia.com/services/converting_mbox_mdir.html
While the Unix server is being prepped, I wish to convert the MBOX files to Maildir format first. I have copied out the respective MBOX. Can someone help to provide the magic formula?
Assume my MBOX are in C:\archived and the mb2md-3.10.pl is at the same folder."
To resolve all these types of queries, we need a proper solution.
Instant Solution: MBOX to Maildir Converter
RecoveryTools MBOX Migrator Wizard is one of the best solution to batch convert MBOX to Maildir format. It allows you to choose multiple MBOX files at once. You can easily install this application on Mac and Windows computers. The software provides a simple and easy-to-use user graphical interface. It is one of the best software with easy-to-use graphical users. It is suitable for non-technical users in a simplified way. Follow these simplified steps to perform the MBOX to Maildir Conversion:
Download from Here:
Download for Windows Download for Mac
Note: You can use this application to export few MBOX emails to Maildir format. For complete mailbox files, you need to purchase the software key.
Steps to Convert Multiple MBOX Files to Maildir
Launch the software on your computer.
Select MBOX files with dual mode of selection.
Choose the Maildir option in the list of file-saving options.
Select the destination location path to save resultant data.
Click on the next to convert MBOX to Maildir in batch.
How to Import MBOX to Maildir using Third-party applications?
Install & Run this application on your Windows and Mac computers.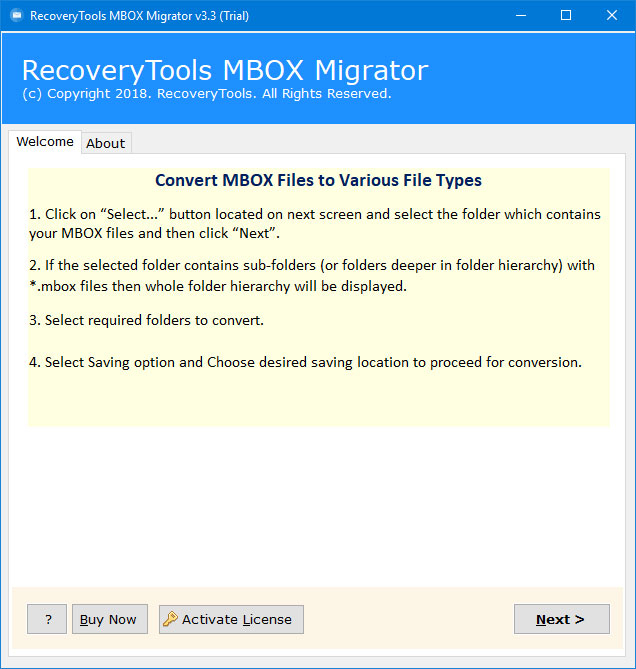 Dual modes to load MBOX files by clicking on Add Files or Add Folders options.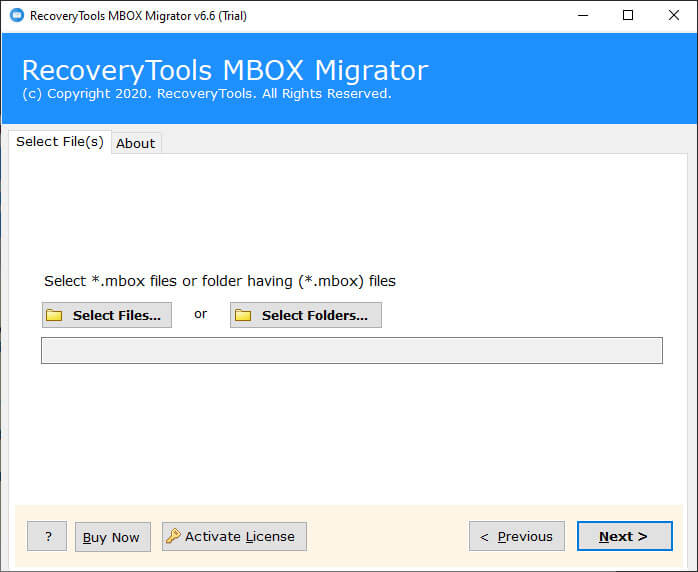 Choose the Mailbox folders and sub-folders by check/uncheck.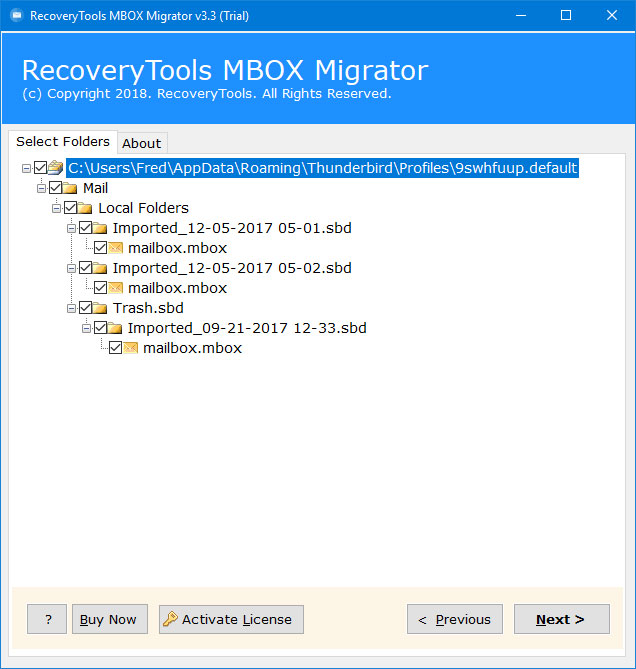 Select Maildir option from Select Saving options from 20+ file formats.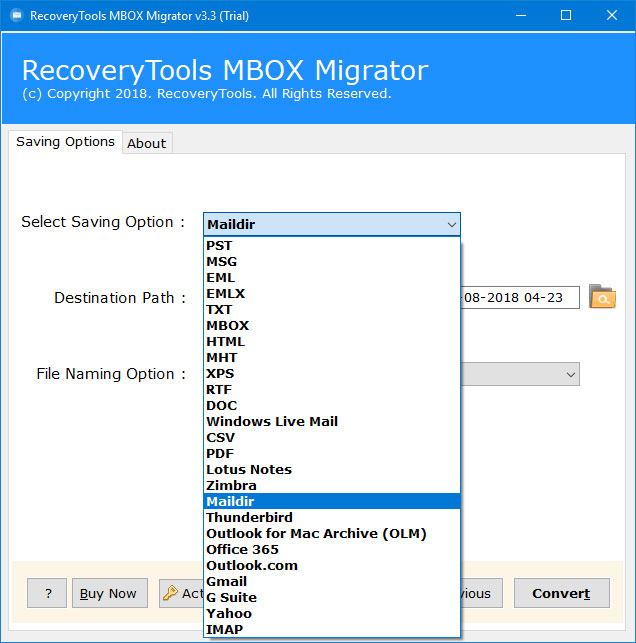 Set up MBOX to Maildir conversion options like File Naming options.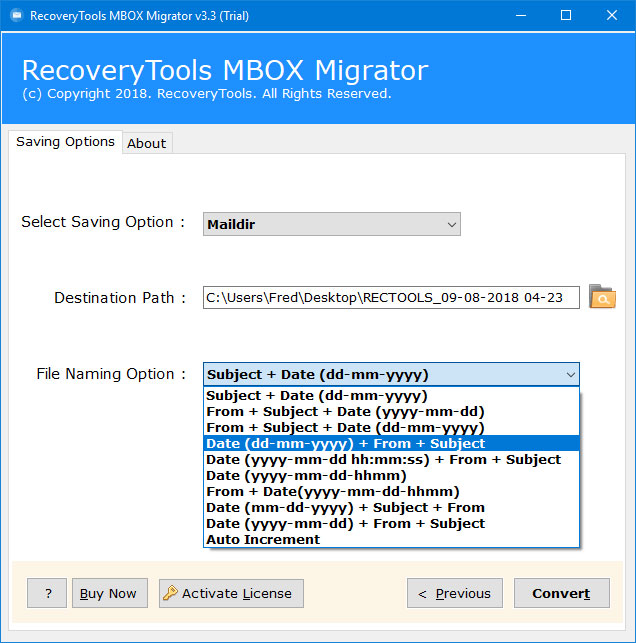 Click on the Folder icon and select the folder and click on OK.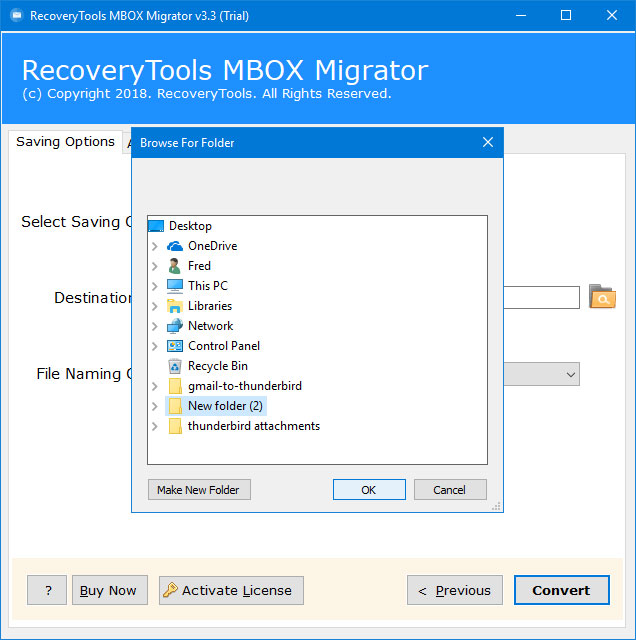 Click on the Convert button and analyze the live conversion process.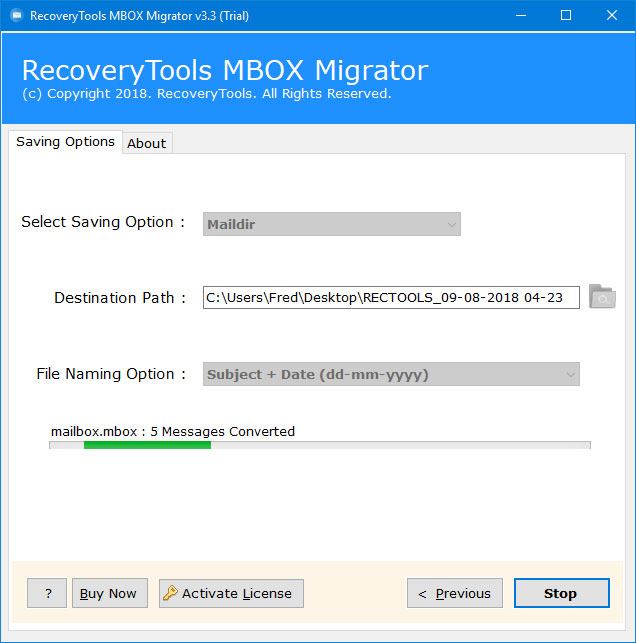 Access the resultant files from destination location as utility directly opens output folder. Import resultant Maildir files into the required application.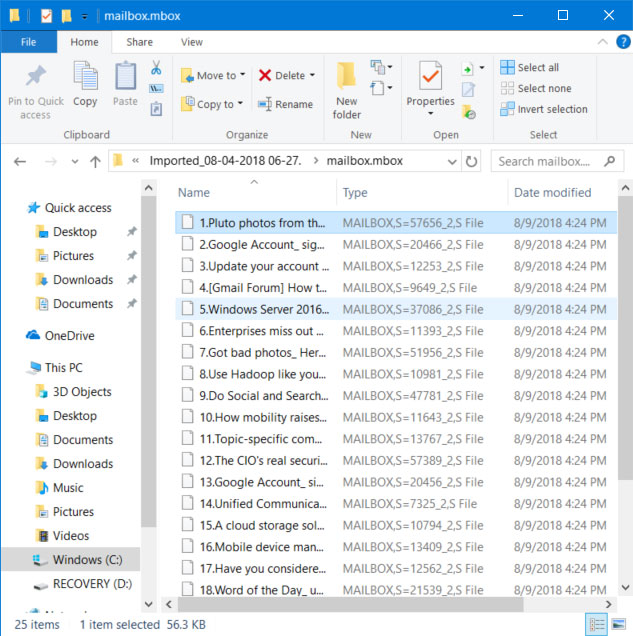 MBOX to Maildir Converter – Features & Its Benefits
This application offers various advanced functionalities to its users. It is available for free to download and helps them with different advantages & benefits. Currently, it comes with the following features:
Batch convert multiple MBOX files to Maildir at once.
Easy to locate, retrieve and export MBOX files to Maildir.
Allows you to create UNIX MBOX format to QMail's Maildir format.
Converting user's main mailbox referenced by ENV variables.
Converting a single mailbox file into the corresponding Maildir file.
Convert multiple mailboxes in a folder into the corresponding Maildir.
Recursive operation for a given directory to export complete mail storage of one user.
Able to handle leading/trailing spaces in mailbox file names.
Convert MBOX files into Unix-supported Mailbox file format.
Removal of messages that a couple of IMAP servers put at the beginning of a mailbox.
Preserves all the Metadata and properties of MBOX emails while converting to Maildir file.
Convert MBOX to Maildir with all inserted Attachments to transfer emails from one format from another.
Allows the users to convert Thunderbird MBOX to Maildir file format instantly & quickly.
Allows you to convert all types of applications exported from Thunderbird, Gmail, Entourage, Netscape, Eudora, Pocomail, Claws Mail, The Bat, Opera Mail, Chaos Intellect, Google Takeout, Spicebird, Mulberry, Kerio, etc. format.
Easily enables the users to save resultant MBOX files at user's desired location.
Compatible with all latest Windows OS versions including Windows 10, 8.1, 8, 7, XP, Vista for 32, 64-bit.
Creates Maildir Cur, New and Temp Folder of Maildir to protect its hierarchy.
Common Asked Queries
Does the software convert MBOX file to Qmail Maildir format ?
Yes, you can use this application to convert MBOX to Maildir format for Qmail software.
I'm using the Thunderbird email client application. I want to convert Thunderbird to Maildir format, Does the software allow me ?
Yes, you can also use this application to convert Thunderbird emails to Maildir format. But we suggest to use RecoveryTools Thunderbird Migrator utility for this.
Can I install this application on my Windows Server 2016 computer ?
Yes, the software supports all editions of Microsoft Windows including the Server 2016 edition.
Can I use this application to convert Google Takeout file to Maildir format ?
Yes, the software allows you to convert Google Takeout files to Maildir format.
Can I use this application on my Windows 11 Computer ?
Yes, the software supports all editions of the latest Windows operating systems including Windows 11.
Conclusion
In this article, we have explained the method of converting MBOX to Maildir format. Maildir is a mail storage system in which each mail stores in a single file with structured followed. In case if a user wants to convert a large number of MBOX files to Maildir format then it is recommended to use MBOX to Maildir Converter. It will batch convert multiple mailbox files to Maildir format. It will maintain the Maildir folder hierarchy by creating Maildir Cur, New & Temp folder. The working and features of the tool are discussed above. You can also ask any queries related to this product to our support team. Also, if you need any new feature, then contact us.