How to Import MBOX to Gmail / Google Mail Account? Solved!
Karen Chard
~ Modified: 13-10-2022 ~ Google ~ 7 Minutes Reading
In this article, learn how to import MBOX to Gmail account easily. We will discuss the entire step-by-step guide to importing a bulk number of files without facing any kind of issues. If you are one of those who have similar issues, read this post. Here, we cover all the issues related to this topic. As well the solution supports all kinds of MBOX and their variant files. So, keep reading the post.
Now popular email service providers like Google does not have native file import support for MBOX file. Most of the users want to know that can Gmail import MBOX files? That's why in this write-up, we will let you know about one of the utilities that helps you to do the entire task. But before that let's get familiar with the MBOX file and the Gmail platform.
MBOX is a well-known email storage format that has been used for over a decade. But people were familiar with this format when they start using Thunderbird. MBOX known as Mailbox is a container file of a collection of multiple emails. This file is supported by a huge number of email client applications.
On the other side, Gmail is a web platform. Where you can easily send or receive emails without any limitations. It is one of the most versatile platforms nowadays. Almost everyone who uses the Internet has a Gmail account. You can easily use Gmail account to manage emails, notes, documents, journals, calendars, contacts, events, etc.
Reasons to Import MBOX to Google Mail (Gmail) Account
I obtain some MBOX files from the Pocomail program & looking to export those files into my personal Google Mail account. Is there any solution available to import MBOX files into Gmail account? – Ratnajesh Nagar
It is not an easy task to upload a large amount of files to a Gmail account. I have 7GB of MBOX files in my local system & now want to import them to my Gmail account. Kindly suggest me a solution that will help me to do so. – Sam Wilson
As above a huge number of users looking for a solution to import MBOX files into their personal Gmail accounts. Therefore, in this blog, we have covered such issues and provided the best solution. By using this users can easily import their data without facing any kind of restrictions or issues.
Import MBOX to Gmail Account – With Simple Toolkit
RecoveryTools MBOX Migrator Tool will help users – who are looking to import multiple files to their Gmail accounts. Users can easily import an unlimited number of emails along with including attachments without any data loss. Moreover, the software has the ability to maintain the entire data structure including email attributes and meta properties. Using this utility, you can import MBOX files into different savings like MBOX to Entourage, MBOX to Readable format, MBOX to Spark, MBOX to Airmail Email, MBOX to Devocot, MBOX to Google Workspace, MBOX to Outlook, MBOX to iCloud, MBOX to Zoho Mail, and more.
Download for Windows Download for Mac
Trial Limitation: The free trial demo of the software will enable the users to import only the first 25 emails to their Gmail account. To remove this restriction, you need to first activate the software by purchasing its license.
Simple Steps to Import MBOX into Gmail?

Install & Run the mentioned Converter tool.
Load MBOX Files in the application panel in dual ways.
Choose the Gmail option from the list of saving options.
Enter credentials of your Gmail to import the data.
Click the Convert button to start the process.
How to Upload MBOX Files into Gmail Account ?
To import multiple files, users have to follow some simple instructions:
Firstly, install this Converter on your Windows operating system.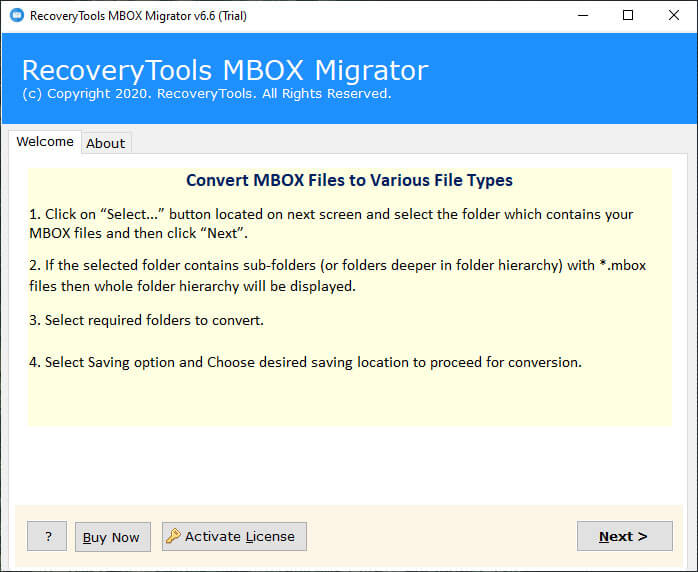 Then, select MBOX files or folders to upload directly on the panel.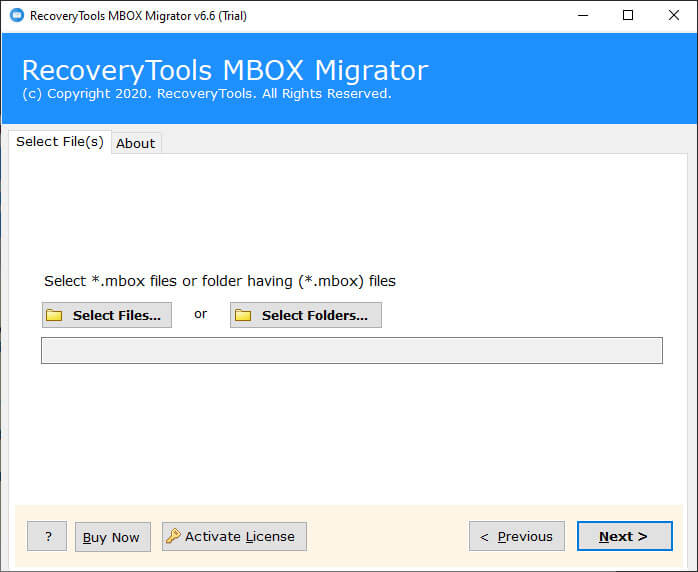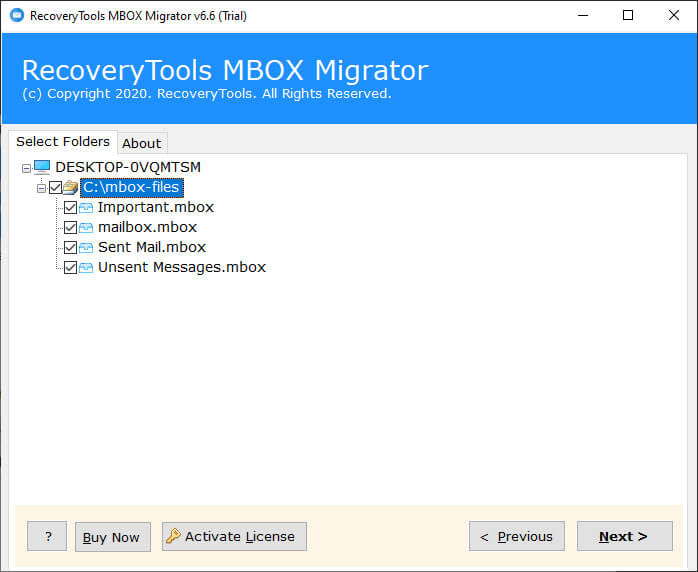 Now choose the files which you want to migrate, and click on the Export button to continue the process.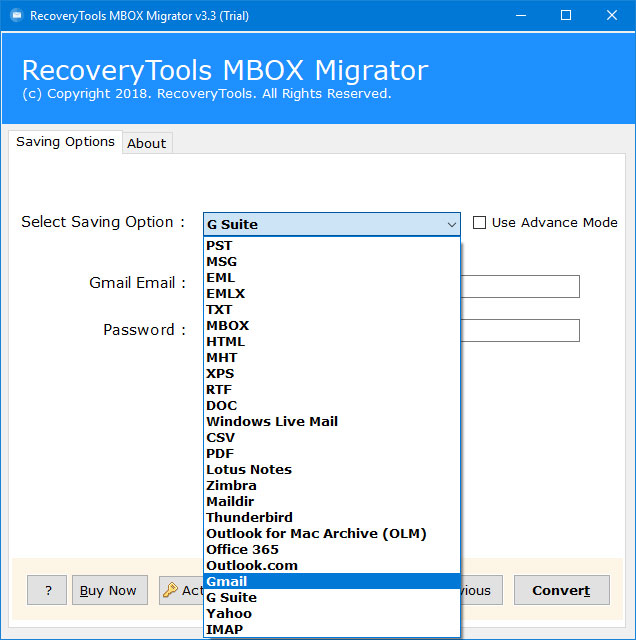 After that, press on the tab to begin the importing process.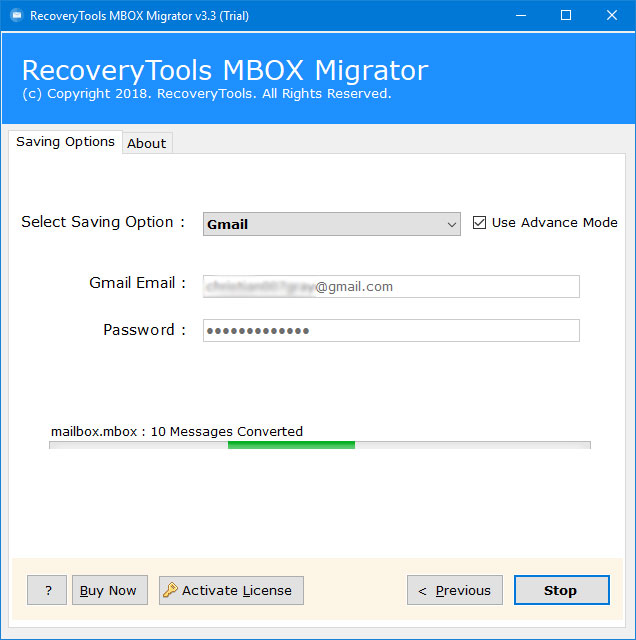 Then the software will complete the migrating procedure within a few moments, after the entire procedure is completed, a window will display with a "Successfully Conversion" message as well.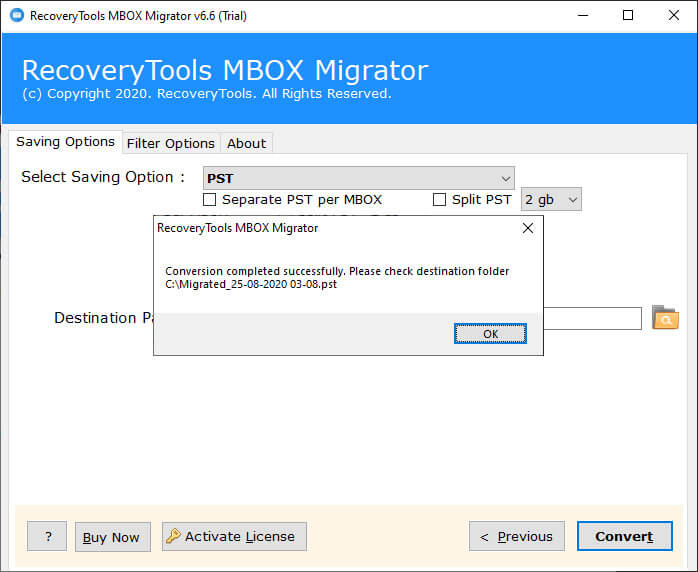 Login to your account to read your imported MBOX files.
Key Features of MBOX to Gmail Converter Tool
Import MBOX Emails to Gmail directly: This tool has been designed with extraordinary features to solve the queries of the users. It can easily import a bulk number of emails to the Google mail account along with including attachments that will save a lot of time and effort for the users.
Retain Folder Structure: The tool will keep folders and sub-folders structured at the time of performing the process so all MBOX files or folders can be imported to Gmail without changing the structure. Even, while uploading the files on the panel, there will not be any kind of change in the hierarchy of all files or folders.
Import MBOX Email Attachments to Gmail: This tool will maintain all attachments during transferring emails from MBOX file to Gmail i.e. JPG, GIF, Image, PDF, DOC, XLS, PPT, XPS, etc. so that the user does not need to worry about their account data.
Multiple Language Support: This MBOX to Gmail Converter gives the facility to install this application in multiple languages. After installation English will be the default language to perform the conversion. Many people have different requirements for conversion. This option is helpful for a lot of users because it will help to import according to their needs. It is a great feature of this tool because now users can use it in their language.
Advanced Filter Option: One of the interesting features inherited in this software is that it allows users to search for a particular MBOX email or file present in the software using different intents. The date range filter allows users to carry out emails of a particular date duration.
How Do I Import MBOX to Gmail Account – Understand by Video
Universally Supported MBOX to Gmail Converter
This tool supports all MBOX-related file formats successfully created and exported from Mozilla Thunderbird, Sea Monkey, Eudora Mail, Mac Mail, Google Takeout, Horde Mail, Entourage, Mulberry, Sparrow Mail, Sylpheed, The BAT, Netscape Mail, etc.
This software offers dual options to upload MBOX files in software panels like "Select Files" or "Select Folders" so users can easily choose single or multiple files for importing them into Gmail without any hassle. These options are very helpful in choosing needed files or folders effortlessly.
Additionally, the mentioned MBOX to Gmail Converter supports 20+ formats to easily exports the data into them such as MBOX to PDF, MBOX to PST, MBOX to Office 365, MBOX files to CSV, MBOX to Exchange Online, MBOX files to Yahoo, MBOX to Windows Live Mail, MBOX to OLM files, and multiple others.
Similarly, the application can also be used to import MBOX files to the G Suite account also.
Bottom lines
In Conclusion, we have mentioned the proper and effective solution to import MBOX to Gmail. One of the professional tools that have been developed by the RecoveryTools expert's team has been mentioned there. There are multiple other utilities present on the Internet but we recommend you to continue with this and carry out the desired results. Moreover, no extra technical guidance is required to operate this tool.