How to Import MBOX Files to Outlook.com Account Directly ?
Karen Chard
~ Modified: 26-06-2021 ~ How To ~ 7 Minutes Reading
Overview: Are you one of them who are looking for a solution to import MBOX to Outlook.com ? Or migrating your messages to Outlook.com from an email service that supports the MBOX file extension ? If YES, then read this article completely. However, the whole transfer process is basically a simple task. This write-up describes the most efficient method to import MBOX into Outlook.com account.
In 2012, Hotmail was updated to Outlook.com to facilitate a better user interface. This amazing email service by Microsoft is one of the best personal information managers through web app. Outlook.com is a successful alternative free webmail service in the world. It the second large webmail after Gmail which provides lots of features.
Unlike Outlook.com, MBOX is an email storage file format for local computers. MBOX is supported by many email client applications such as Apple Mail, Entourage, Mozilla Thunderbird, Eudora Mail, Earthlink, etc. So, if you are willing to import MBOX to Outlook.com and don't know an appropriate way to accomplish the same, then keep reading.
Reasons to Import MBOX Files to Outlook.com Account
"I am switching my emailing platform from Apple Mail to Outlook.com service. Outlook.com has no feature to import MBOX messages. I need to urgently import my old MBOX emails to Outlook.com account. Also, I am trying to avoid importing MBOX files to Outlook file since there is more than 20GB worth of email messages. How can I import MBOX to Outlook.com in a direct manner?"
– George, Edinburgh
"I have four mail accounts which I access on a regular basis. But, this didn't prevent me from joining up for a new Outlook.com email address. Since, I have backup of these email accounts in MBOX format now I need to import MBOX files to Outlook.com email account. Is there any reliable solution that would help me in this matter? Eagerly waiting for your response!"
– Tom, Seattle
A Professional Solution – MBOX to Outlook.com Import Tool
Download RecoveryTools MBOX Migrator Tool for importing bulk MBOX data to Outlook.com. It's a cost-effective and trustworthy application which allows users to perform large scale email conversion of MBOX files. The software comes with a self-descriptive interface so any novice can understand it's working without much hassle. You can easily install this application on your Windows and Mac computers.
Hit on the download button given below:
Download for Windows Download for Mac
Note: Both applications come with demo edition. You can easily export few emails from MBOX to Outlook.com account. For more you need to purchase the software key.
Steps to Import MBOX Files to Outlook.com
Launch the software on your computer.
Select MBOX files with dual selection option.
Choose the Outlook.com option in saving list.
Enter your Outlook.com account credentials.
Click on the next to upload MBOX to Outlook.com.
How to Import MBOX to Outlook.com without Supporting Email Application ?
If you don't have the respective MBOX email client service on your computer but only have MBOX files. Then, don't worry! You can use the suggested MBOX to Outlook.com upload tool without any external app installation.
First of all, download and launch the software on Windows or Mac machines.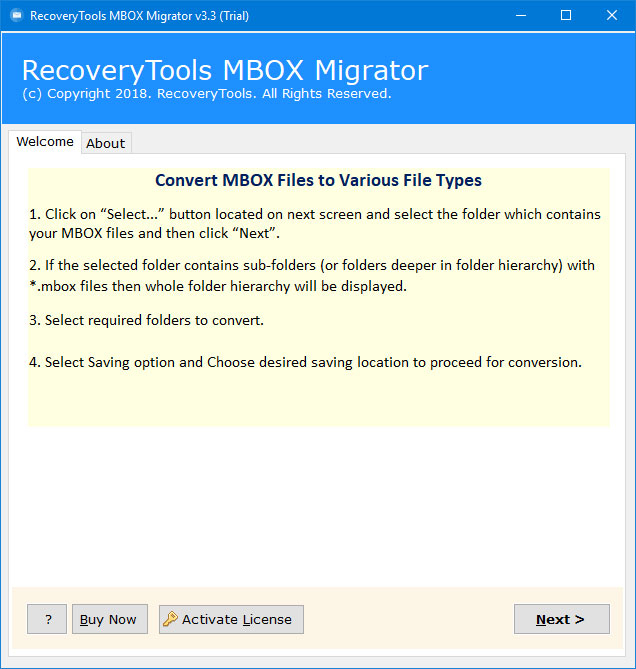 Now, tap on the Select files or Select folders options to choose MBOX files or folder having MBOX files for the conversion process.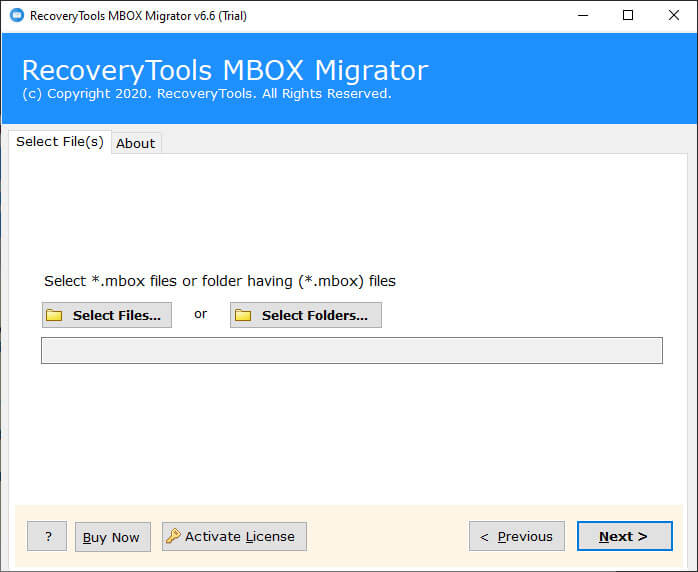 Then, if you have selected the folder option, quickly browse and pick the required files.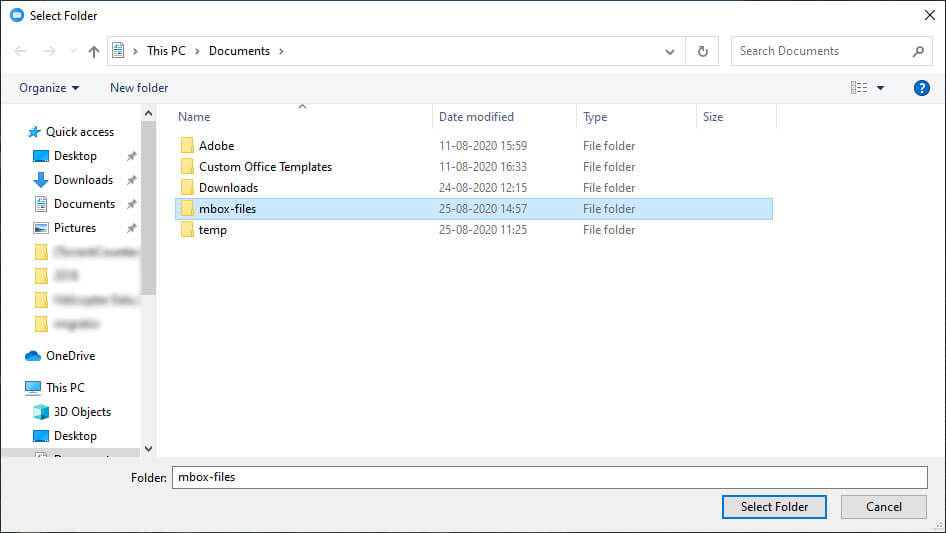 Thereafter, check the path of the source files or folder. Tap on the Next tab.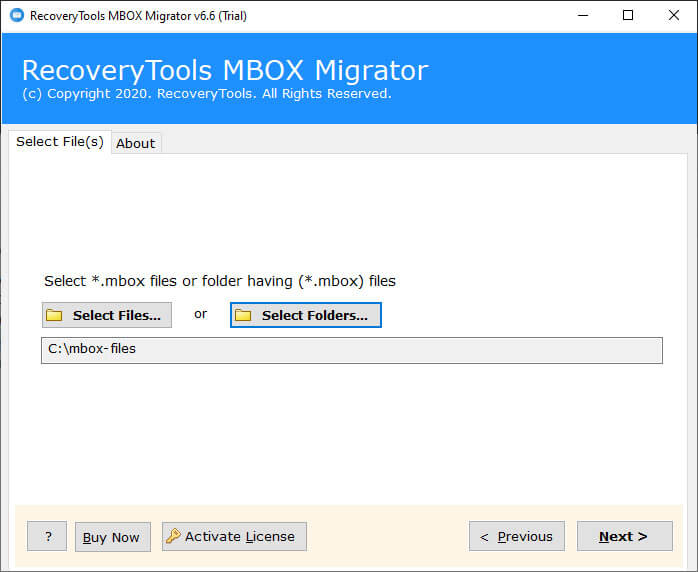 After this, specify the necessary mailboxes or items which you need to import into Outlook.com account.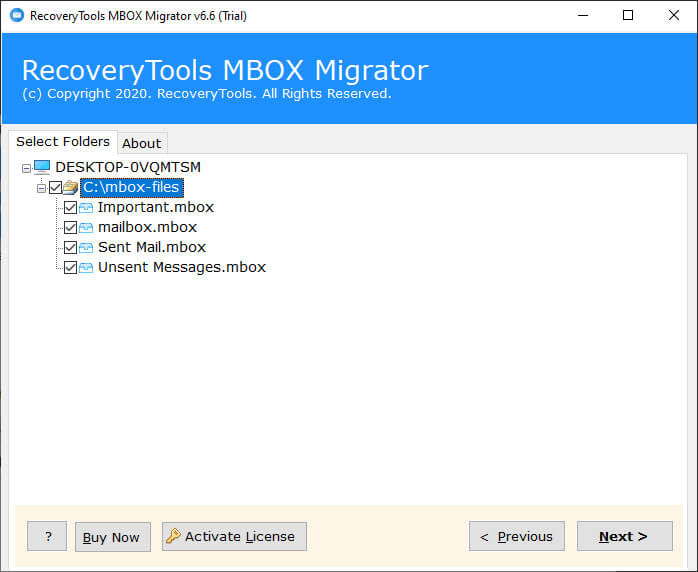 Next, select Outlook.com as the destination where you want to import MBOX files.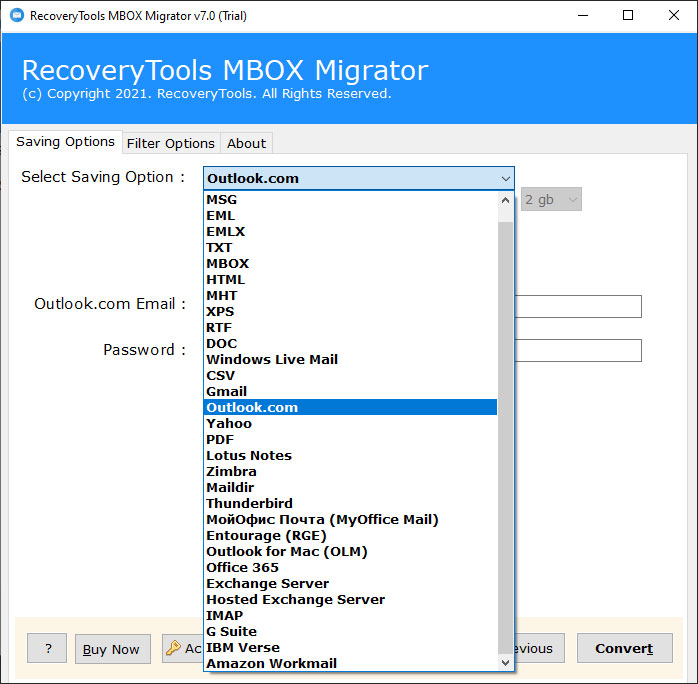 Please note that you can also selectively import MBOX to Outlook.com by choosing the various data filter options available in the toolkit.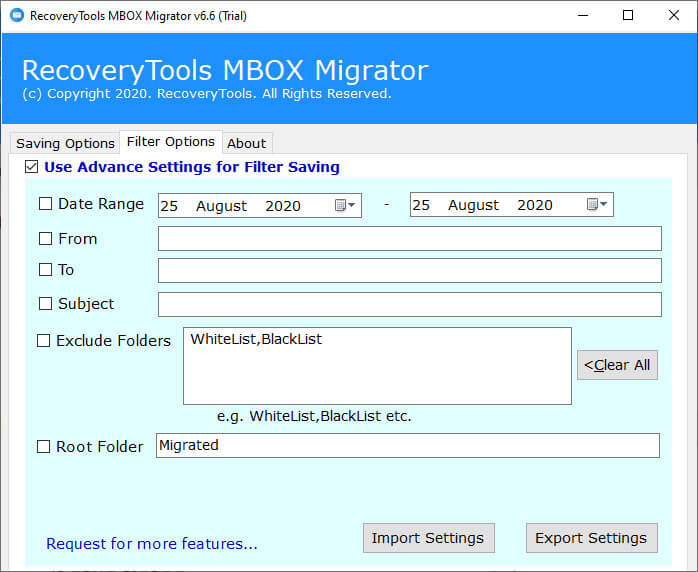 Then, enter the email address and password of your Outlook.com account. Click on Convert button.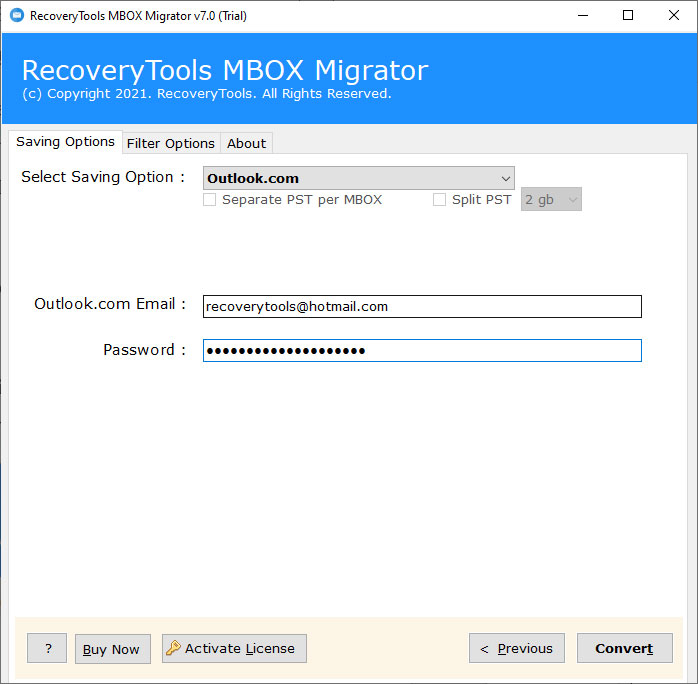 The process to import MBOX files to Outlook.com starts. Soon, all your MBOX data will be migrated to the Outlook.com account.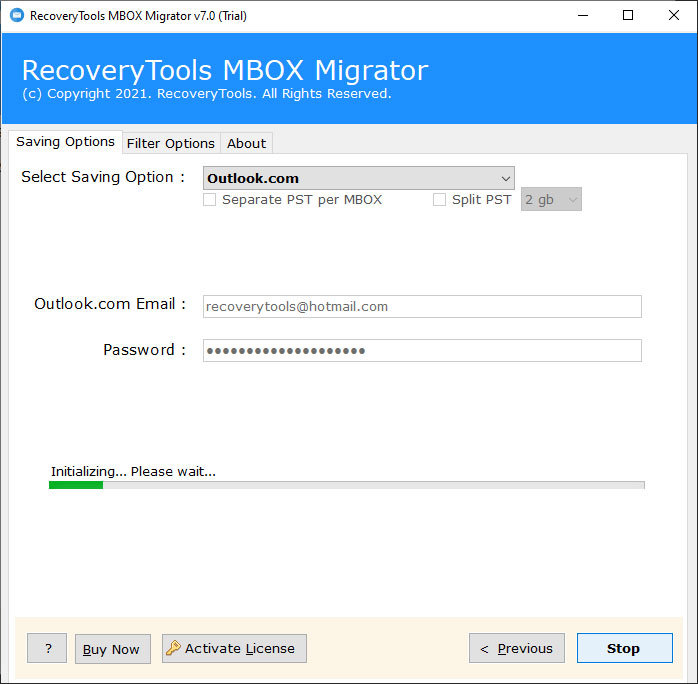 RecoveryTools MBOX to Outlook.com Tool – Features & Benefits
Bulk Import MBOX to Outlook.com:
This software is skilled enough to batch import MBOX data to Outlook.com account. By bulk import of emails, the users can enjoy unlimited conversion in a small span of time with fewer efforts.
Migrate Emails with Attachments:
The recommended tool not only import MBOX emails to Outlook.com but also moves attachments with it. It efficiently migrates MBOX files to Outlook.com with embedded attachments.
Move all Sort of MBOX Files:
This utility will not let you suffer from file incompatibility issues. Because it can handle all types of MBOX files for processing. You can import .mbox, .mbx, files to Outlook.com email service.
Selective Import of MBOX into Outlook.com:
We understand the user's problems while implementing the conversion tasks. That's why this tool is made in such a manner that a user can easily sort email messages by subject, email address, date intervals in order to selective import MBOX to Outlook.com.
Preserves On-disk Folder Structure:
Throughout the process to import emails from MBOX to Outlook.com, this utility maintains the internal folder structure.
Keeps Intact Email Attributes:
It preserves various email attributes during the process to import MBOX into Outlook.com web app. The tool maintains the attachments, images, hyperlinks, sender details, recipient details, text formatting, etc.
This application is standalone and does not require the installation of the respective MBOX email service on PC for the task. It can efficiently import MBOX to Outlook.com even without supporting MBOX email clients or webmail.
Compatible with All MBOX Files:
This tool support MBOX files taken from any email service like Mac Mail, Apple Mail, SeaMonkey, Eudora, Entourage, Netscape, Earthlink, MailCopa, Pocomail, The Bat, Thunderbird, etc.
Frequently Asked User Queries
Will this tool help me to import MBOX attachments to Outlook.com too?
Yes, this software has the ability to move MBOX files to Outlook.com along with attachments as well.
I want to import Apple Mail MBOX files to Outlook.com. Do I need to have an apple mail account also running while using this tool?
No! This software is standalone and perfectly works without external app installation. You can simply launch this tool on your machine and can import MBOX to Outlook.com easily.
I am afraid of losing the attributes of emails while executing this import process. Will this application maintain the integrity of data?
Yes, it will save the integrity throughout the process to import MBOX to Outlook.com
Yesterday, I have taken backup of old email messages from my Gmail account using Google Takeout technique. Now, how can I import old .mbox file to Outlook.com webmail? Is it a direct process?
Yes, it is a straightforward thing to do. Just download and run the MBOX to Outlook.com utility on any of your Windows or Mac OS. Thereafter, by following the steps explained above, you can import old MBOX emails to Outlook.com easily.
Can I install this application on my latest Windows editions ?
This application is compatible with all latest and earlier versions of MS Windows & Mac OS such as Windows 11, 10, 8.1, 8, and all Mac editions.
Conclusion
We hope that this post will help to you understand how to import MBOX to Outlook.com without losing any information. The recommended tool incorporates a rich interactive Graphical User Interface and is pretty simple to use. Moreover, a large number of users are nowadays switching from one email platform to another like Outlook.com. So, this utility will provide you an easy means to import all MBOX mailboxes from supporting MBOX services into Outlook.com web app. Please take the trial of the free edition for testing purposes. It will enable you to migrate few MBOX files to Outlook.com. You can perfectly import multiple MBOX items to Outlook.com by buying the full version of the software.