How To Convert Zimbra Emails to XPS Page Format? Find Out!
Overview: Are you seeking a perfect solution to convert Zimbra to XPS file format? Do you want to export entire Zimbra mailbox items to XPS paper format? If yes, then This article is perfect for you. Here, you will get a complete step-by-step guide to complete the conversion.
Zimbra is one of the well-known Email Client Applications that is used by most small-scale businesses for communication. It is free and open-source and gives complete access to your email accounts. It can easily synchronize emails, contacts, and calendars separately. Zimbra is a fully-featured email client that has an easy-to-use interface.
On the other hand, XML is one of the known paper formats that represent page layout files. This format is the same as Adobe PDF format and is especially used in layout, appearance, and printing information.
Users usually convert Zimbra emails to XPS because it provides a better way to create, share, print, and save digital documents. It is way better as it stores the data as a Windows Presentation Foundation.
Best Way to Convert Zimbra Emails to XPS Page Format
There is no direct solution for this query present. Multiple users are having the same query but the main issue arises that since yet they are unable to find the solution. And, to understand the needs of the users, we are finally here with a perfect utility, RecoveryTools Zimbra Migration Tool. The tool can easily convert Zimbra emails along with attachments and other data items and provides a flexible user interface.
It also provides users filter options to carry out some required data using different intents and date range filter options to carry out the emails of a particular duration. The utility provides a safe and secure Zimbra email to the XPS File Conversion process.
Therefore, to start the process, download Zimbra to XPS Converter for free of cost.
Steps to do Zimbra to XPS File Conversion:
Install and run the given Converter software in your existing Windows OS system.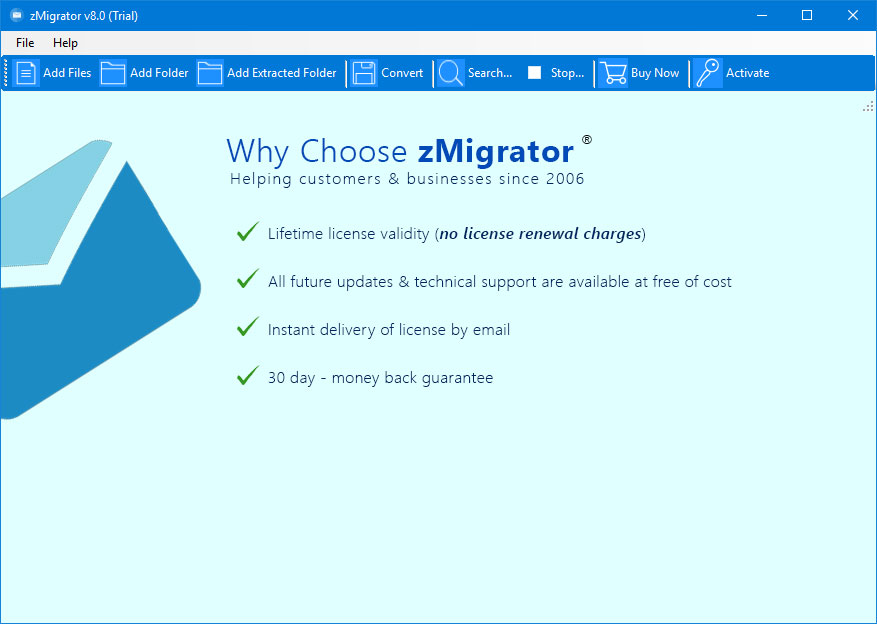 Now, you can add a file/folder using the select option mentioned. Browse the Zimbra TGZ files from the location where files are stored. Select desired files and click Open to load the data.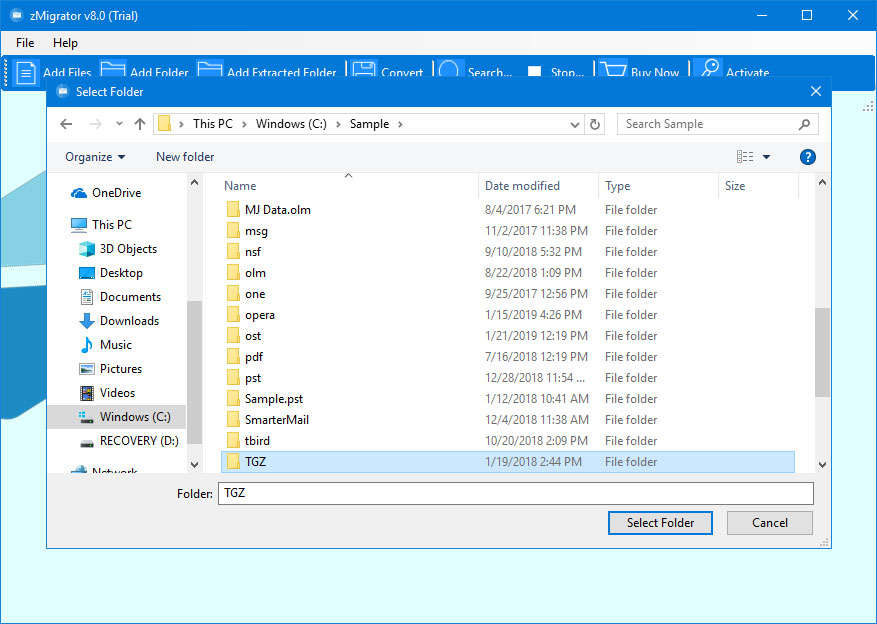 After that, all the mailbox items will be displayed on the screen and you will find all the items of a particular folder there. Select the required number of emails or files that you want to convert.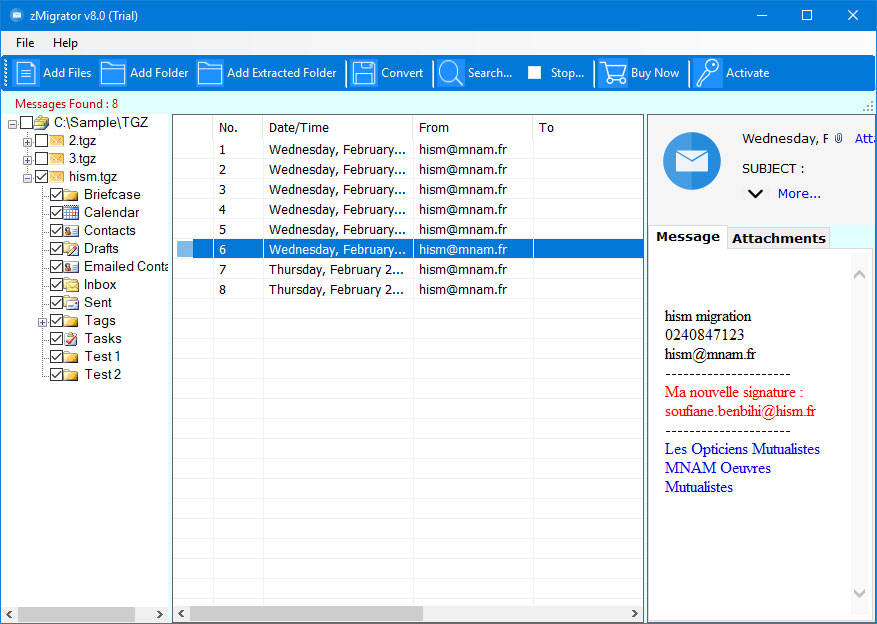 From the Select Saving Option, choose XPS as the file format from the 30+ list of structures.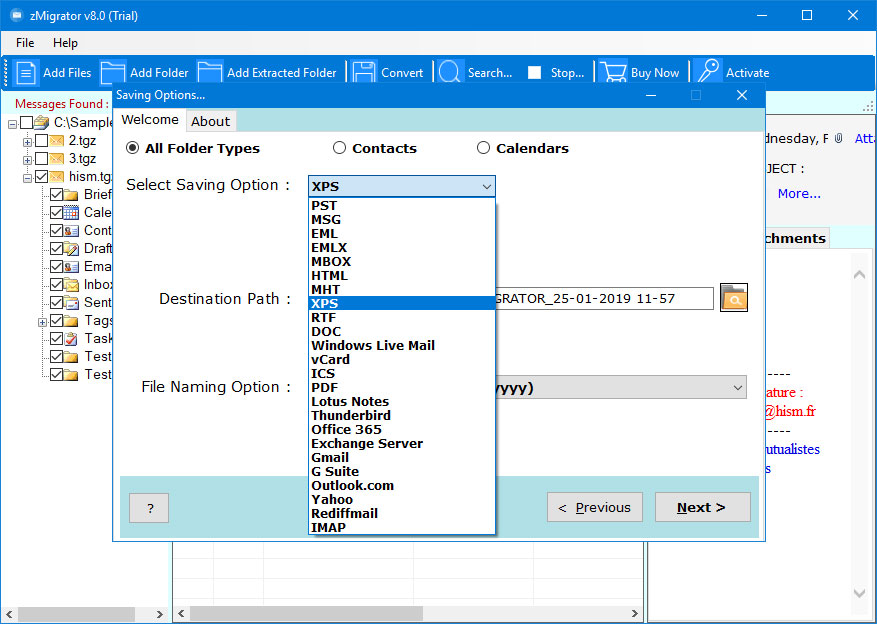 Enter the destination path and select File Naming Option from the complete list. Click on Convert and the process will start.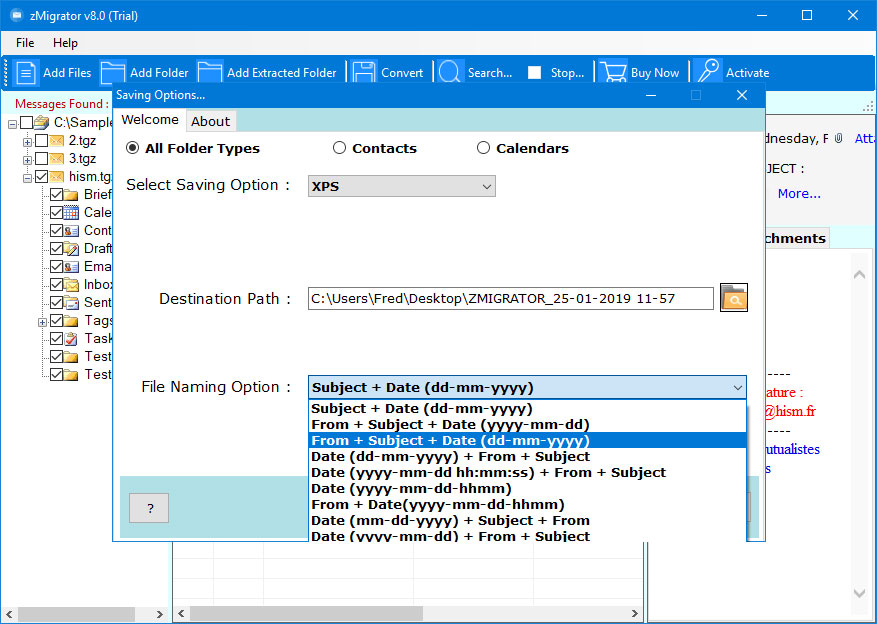 The data will be taken out in the form of a .xps file extension.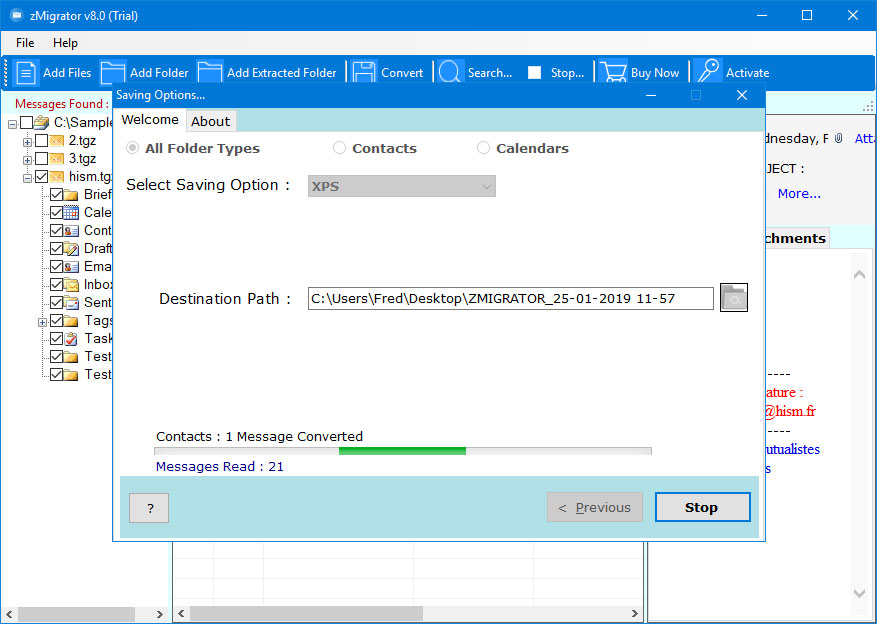 After that, in just a few minutes, you can see the SavingLog Report in the destination path.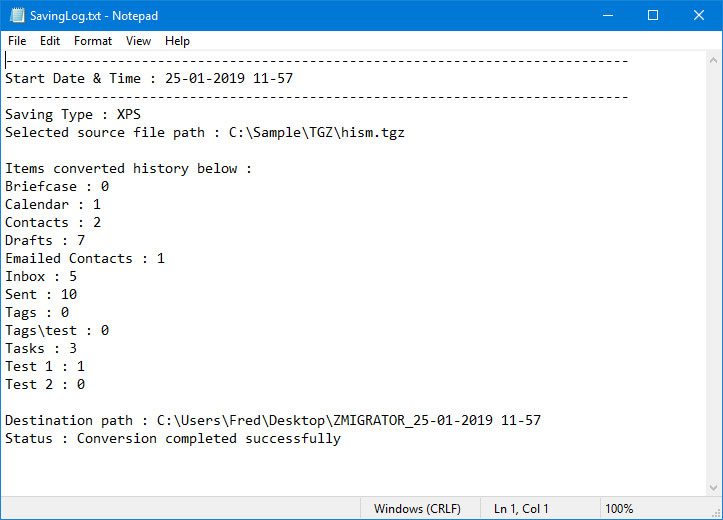 Characteristics of Zimbra to XPS Conversion Tool:
Convert Emails from all versions of Zimbra
This utility allows users to do the conversion of Zimbra from all the versions of the Zimbra email client and application and supports all kinds of TGZ files. Users can easily select the files and folders according to their needs and requirements and also do the safe and secure conversion of data.
Export Multiple Zimbra Files to XPS Instantly
Users can easily convert multiple files from Zimbra to XPS file format. This feature helps in reducing the time consumed in exporting the number of files. While migrating the entire data, users do not need to put much time and effort and will not lose even a single bit of data.
Maintains Data Consistency
The software maintains the entire structure of emails including all of its meta properties. While transferring data from one file format to another it will not lose even a bit of data or file structure is not harmed or disturbed during the entire Zimbra emails to XPS Conversion process. Although, the hierarchy of all the files and folders is managed in a precise manner.
Best Zimbra to XPS Converter
It is one of the best software that allows users to work according to their needs and requirements. The utility provides a simple and easy-to-use interface that makes the conversion process easy. Also, it does not need any kind of extra installation to complete the conversion. It can easily work on all the versions of Windows such as Windows 11.
Compatible with Multiple Structures 
The software can easily convert Zimbra emails to XPS format and in other multiple file formats such as PST, PDF, MSG, HTML, DOC, PST, and in multiple other Email Services or Clients such as Thunderbird, Apple Mail, Lotus Notes, Windows Live Mail, and multiple others.
In a Trial
The Zimbra to XPS Converter provides a Free trial version that helps to export 25 emails from each folder at once. And, to convert unlimited files, users can anytime move to the upgraded version.
In Conclusion
Hence, you can use the above-mentioned solution to convert Zimbra to XPS format in bulk quantity within a single cycle. You will find different solutions for this query but Trust me! it is the simplest solution that will give your proper results. The Zimbra to XPS Converter is designed with a special algorithm and if you face any issues, then you can anytime connect with our technical experts.