Learn How to Export Zimbra Emails to MSG Format?
Karen Chard
~ Modified: 13-10-2022 ~ Zimbra ~ 5 Minutes Reading
In this blog, we are going to discuss a solution to export Zimbra to MSG format. With the increase in technology and advancement, it is better to continue with the perfect Email Client that makes your work more effortless and can easily manage the entire data according to your satisfaction. So, let us first understand some quick points about TGZ and MSG format.
Zimbra is a well-known Email Server that is Open Source and gives you online access and offline access to manage your data. It is been basically by small-scale and medium-scale businesses and is capable to synchronize emails, contacts, calendars, and other data items.
On the other hand, moving to MSG format allow users to store a single email message object separately in a file that can be email, contact, calendars, to-do lists, journals, and other data items.
Users usually convert their data to MSG because it is possible for them to easily open those files in Outlook anytime whenever they want to. Also, easily open needed single message object that he wants to view or store in Outlook.
User Query
"I am working in an IT company as the IT admin and we are using Zimbra Email Server to manage our entire business work. But, due to some changes, my boss told me to switch to Microsoft Outlook as it will provide more security features and will manage the data more properly with daily synchronization.
Is there any other way that can help me in converting Zimbra to MSG format?"

"How can I export Zimbra mailboxes to MSG file format?"
How to Export Zimbra TGZ emails to MSG?
After reading most of the queries, it is our main aim to provide our user's solution that gives better results with 100% accuracy that fulfill their needs and requirements. Professionals have developed the Zimbra Converter that allows doing the conversion of files to MSG format for use in Microsoft Outlook. It is easy to use and provides a flexible interface that can be easily operated by all technical as well as non-technical users.
The software can convert the bulk of emails with attachments and other data items within a single attempt without any kind of loss of data. This TGZ to PST Converter possesses multiple advanced features that allow users to search for some particular emails from bulk data using different intents. And, also supports the conversion of Zimbra TGZ files not only in MSG but in multiple other formats such as converting Zimbra to PDF, converting Zimbra to PST, converting Zimbra to HTML, converting Zimbra to RTF, converting Zimbra to Word (DOC), export Zimbra to Apple Mail, import Zimbra to Thunderbird, etc.
Click on the "Free Download" button and have this Zimbra TGZ to MSG Converter in your system.
Steps to Export Zimbra to MSG:

Run the given software.
Upload the TGZ files.
Select the needed data.
Choose MSG as file saving option.
Get the desired results.
Complete Steps to Convert TGZ Files to MSG:
Install and run the mentioned utility in your existing Windows OS system.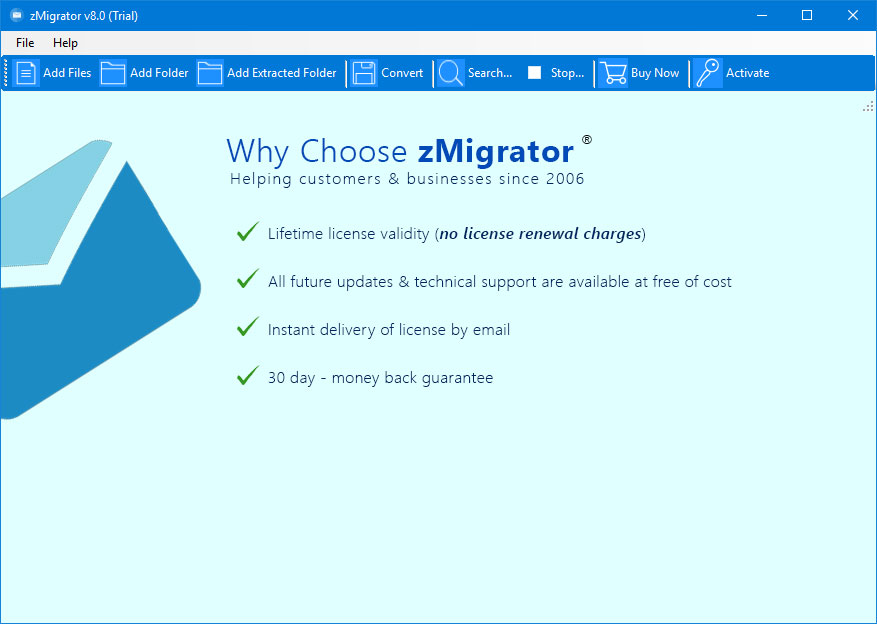 Add Zimbra TGZ files to the panel by choosing the options given on the panel. You can choose the needed option to upload the data.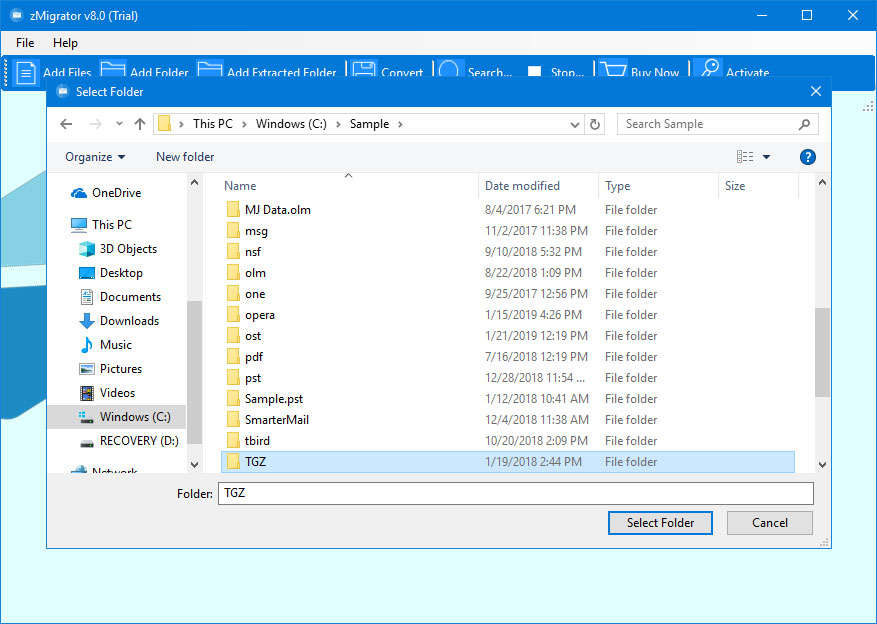 Then, look at all the mailbox items and choose the needed files or folders such as Inbox, Sent, Folder, Drafts, and others that you want to convert.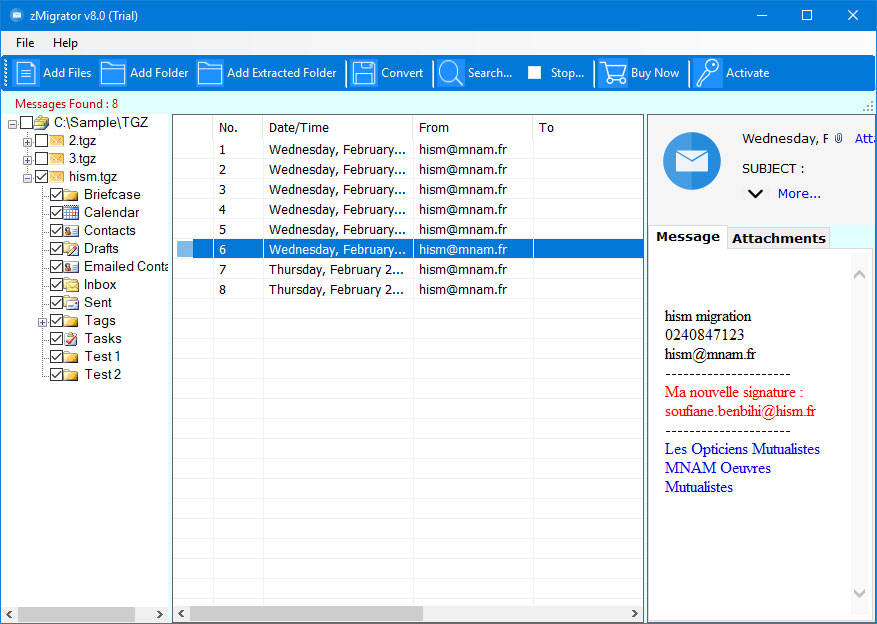 Choose MSG as the file saving option from the list of formats and there enter the destination location where you want to store your data. Also, choose the file naming option to save the resultant file.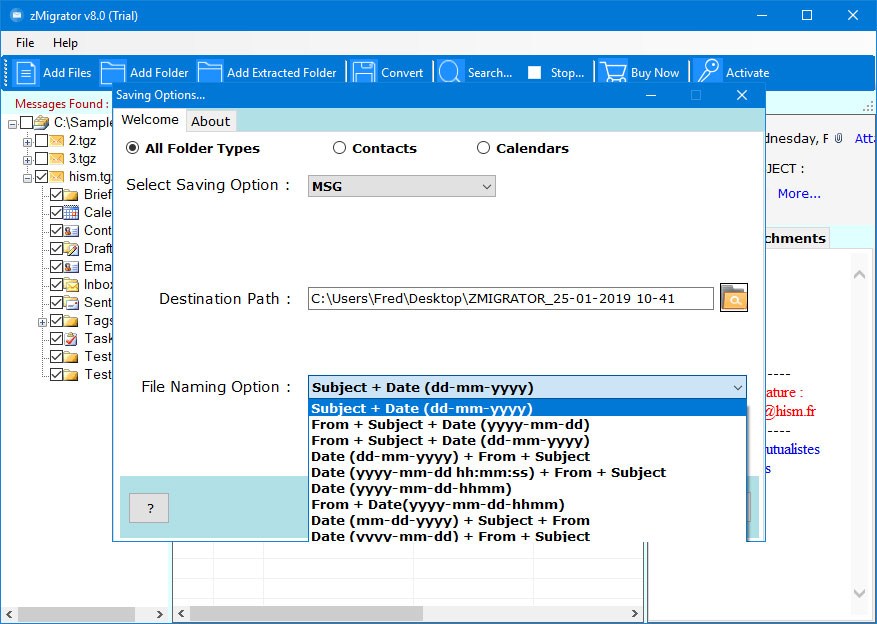 Click on the Convert button and hence the process has been started running on the screen. Wait for a couple of minutes and you will get the final conversion message on the screen.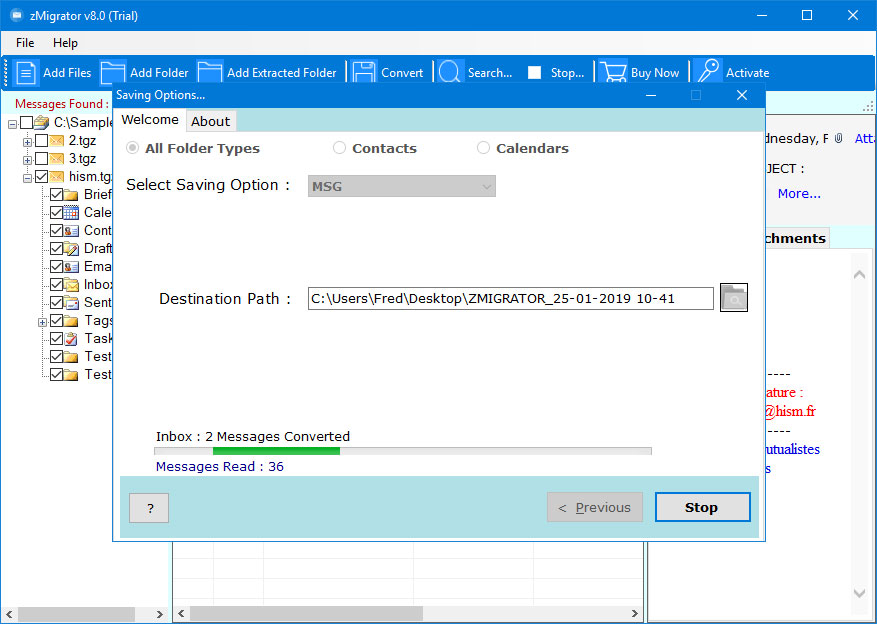 After that, you can also see the File Saving Log Report and by going to the destination path, you can see the resultant files on the screen.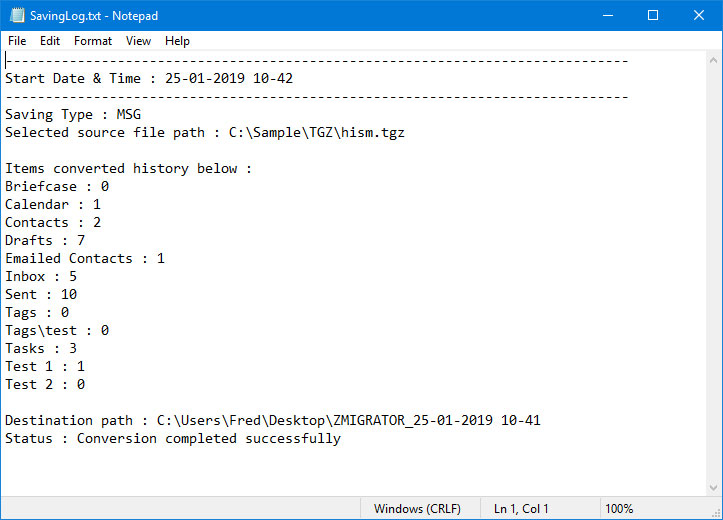 Characteristics of Zimbra TGZ to MSG Converter:
Batch Conversion of TGZ Emails with Attachments
The utility allows users to convert Zimbra TGZ to Outlook MSG in multiple numbers. It can easily transfer bulk emails with attachments and hence there will not be any kind of loss of data and the entire hierarchy will be maintained.
No Extra Installation Needed
This TGZ to MSG Converter is an independent utility and does not require any kind of extra installation. It provides a flexible user interface and can be easily used by all technical as well the non-technical users without the need for any kind of technical guidance.
Supports all kinds of Zimbra TGZ Files
Users can upload all kinds of TGZ files even if their sizes are large, and even if they are damaged or corrupted. This utility never imposes any kind of limitations while uploading any kind of TGZ files. It also provides Recovery Mode that will not harm your data and makes the conversion safe and secure.
Maintains the Data Consistency
The TGZ to PST Conversion utility while migrating a large amount of Zimbra files maintains the entire structure in the original format. There will not be any kind of loss of data and the hierarchy of files and folders maintained with 100% accuracy.
In a Nutshell
Therefore, in the end, just wanted to say that we had discussed the entire solution to export Zimbra to MSG instantly in bulk quantity. There is no direct solution but a lot of other methods are present on the Internet still, I suggest you use this TGZ to MSG Converter as no other utility can beat it while accessing accurate results. For any kind of information, you can connect with our technical experts.