Solution to Export Zimbra Mailbox to PST Format
Karen Chard
~ Modified: 13-10-2022 ~ Zimbra ~ 5 Minutes Reading
Seeking for a solution to export Zimbra mailbox to PST? No need to go anywhere, just follow the entire mentioned guide and easily export the bulk data without facing any kind of issues or limitations.
Zimbra is a known Email Server that is common nowadays, used by most small-scale and medium-scale organizations. It provides multiple security and also provides additional features. Zimbra stores the entire mailbox items and export the data in the form of .tgz file format. Moreover, it can handle a large amount of data and we know that nothing is perfect, so there are multiple users who want to move from Zimbra to another email platform such as Outlook PST.
PST is one of the portable file formats that has been used by Microsoft Outlook. It stores the entire mailbox items including emails, attachments, contacts, calendars, and other data items properly. Moving to the PST format is more beneficial for users when we talk in-depth.
Let's discuss the entire solution to export Zimbra mail to PST without facing any kind of disruptions and without facing issues.
User Query
"For the past 2 years, I am using the Zimbra account for my business purposes. But now, there arising multiple issues as now my business is growing very fast and there is less space to store the data. Also, I did a lot of research and I found Outlook to be the better Cloud-Service while performing the data. Is there any other solution that helps me to export the Zimbra mailbox to PST?"
A Solution to Export Zimbra Mailbox to PST
Use the Zimbra Migration Tool, developed by the RecoveryTools Experts Team. The utility is one such utility that allows exporting the entire mailbox to PST instantly. It has been developed with a high technological algorithm that works according to the needs and requirements of the users.
In addition, the software can easily export an unlimited number of emails along with including attachments without imposing any size limitation or any restrictions. Moreover, we need to first export messages from Zimbra whether you are using Zimbra Desktop or Zimbra Webmail online.
The software also supports 20+ formats including file formats and Email Services such as Zimbra to PDF, Zimbra to MSG, Zimbra to RTF, Zimbra to HTML, import Zimbra to Gmail, import Zimbra to Thunderbird, migrate Zimbra to Windows Live Mail, migrate Zimbra to Yahoo Mail, and multiple others.
Export Zimbra Email Messages
Here, you can use these steps to export the data in the .tgz formats from both Zimbra Desktop and Zimbra Webmail online.
Run Zimbra in your system >> Go to Preferences.
Choose the Import/Export option from the given lists.
Select Account from the Export panel to export emails.
Then, select the needed folders >> Export.
Email Messages will be downloaded in the .tgz format.
How to Export Zimbra Mail to PST with Attachments?
 Firstly, install and Run the given Migration tool in your Windows OS system.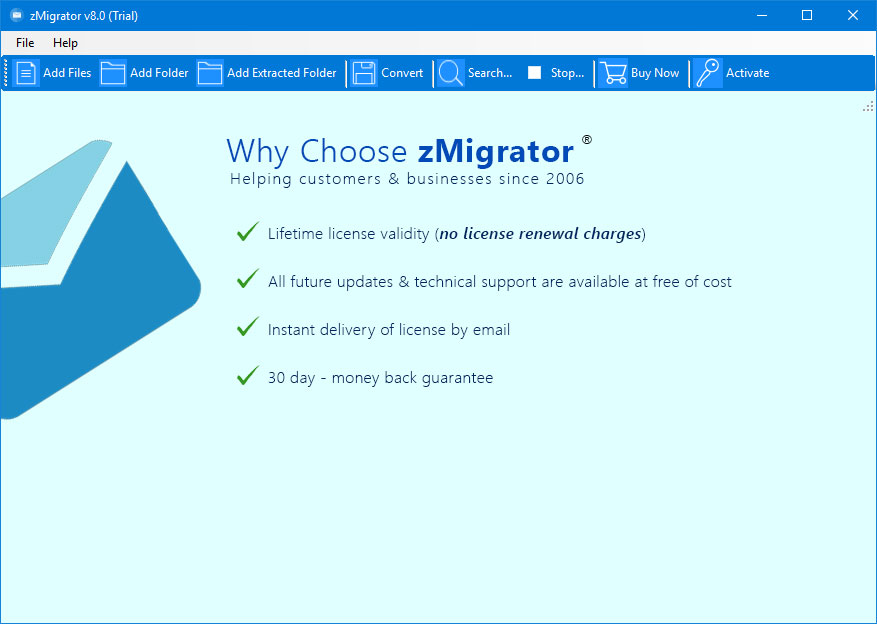 From the panel, click on Add File button and select the TGZ file directly by browsing.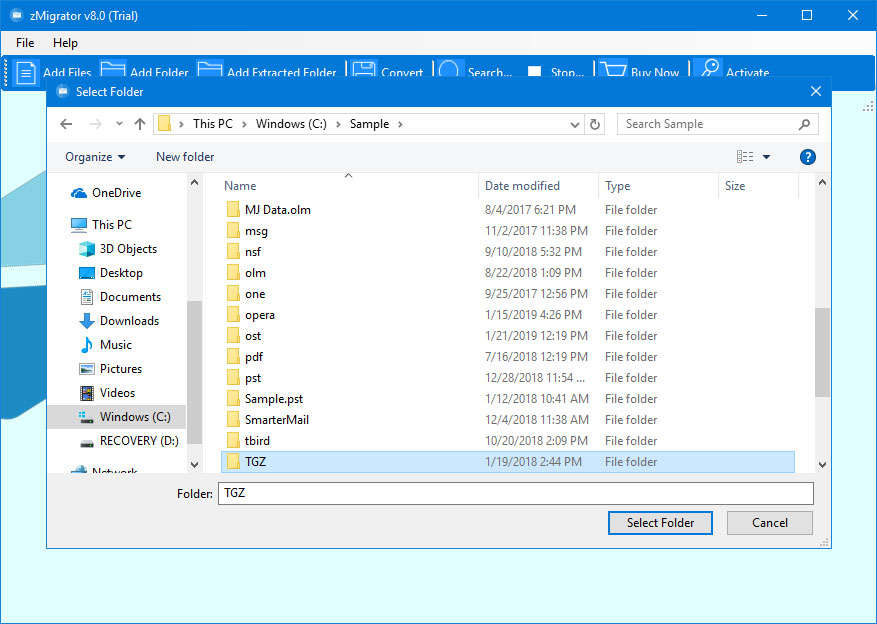 Then, you can be able to see the entire preview of emails along with the data items mentioned. Select the required number of emails and other needed data items.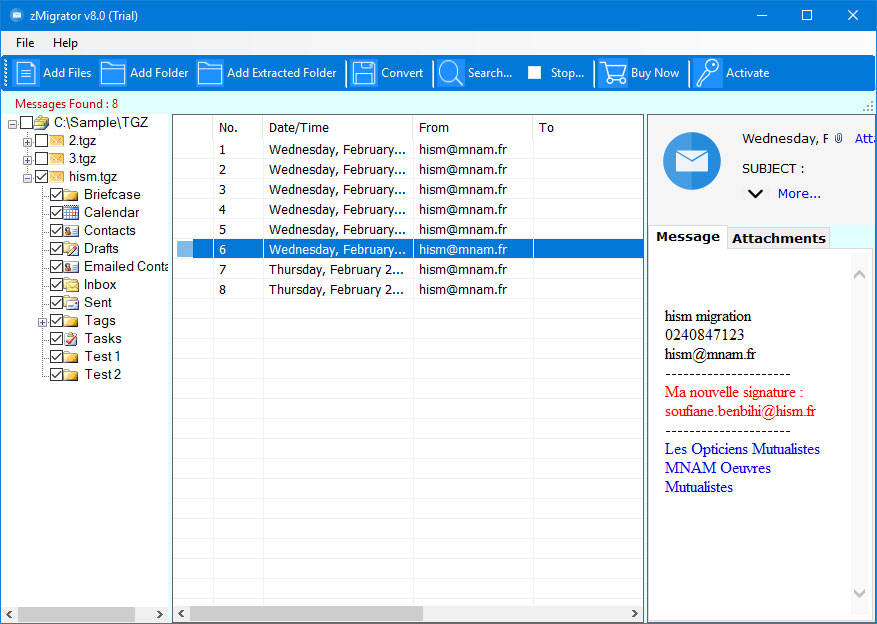 After that, choose PST as the file saving option and you can also choose the language.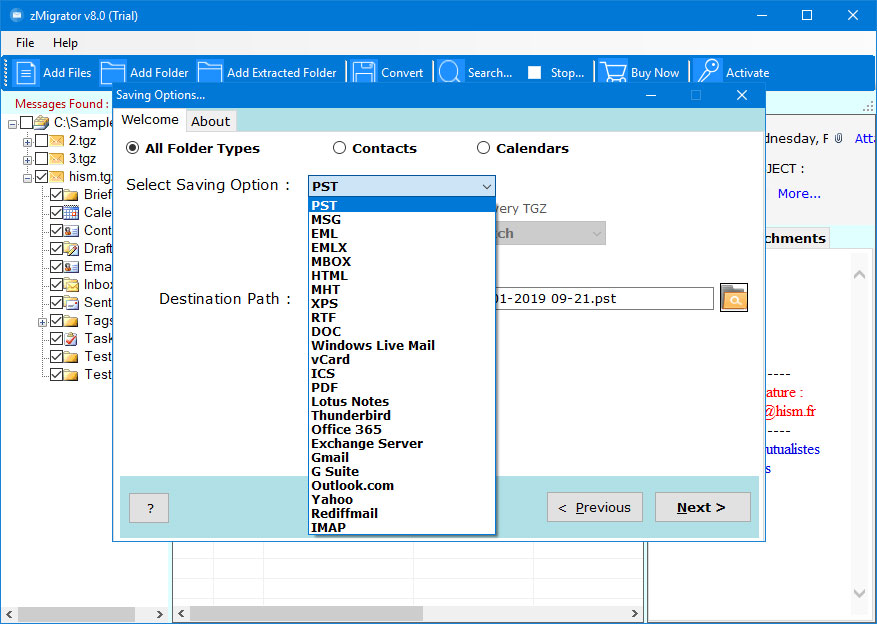 Enter the destination path and click on the Save button to start the TGZ to PST conversion process.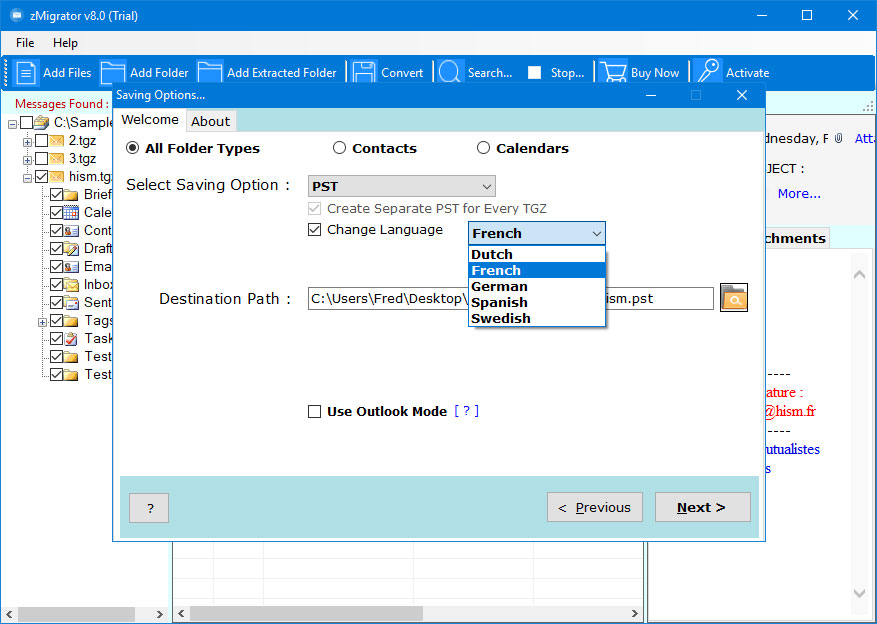 In just a few minutes, you can be able to see the resultant message on the software screen. Click on OK.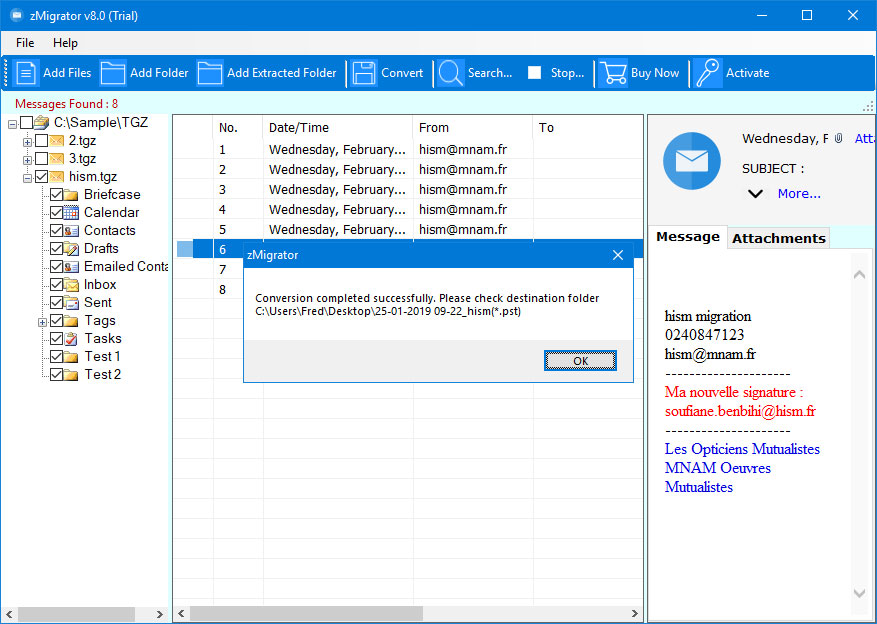 After performing these steps, go to the final location and get the exported PST files there.
Key Aspects of Given Software
 The software is easy-to-use and provides a flexible interface that can be easily used by all the technical as well as the non-technical users.
Export the entire mailbox data without imposing any kind of size limitation and any disruptions.
Additionally, you can extract the needed number of data items such as email meta properties and other email attributes with 100% accuracy.
Dual options to load the TGZ files wither by choosing Add Files or Add Folders. Add file allows to load some specific files, add folders allows to upload multiple files present in a single folder.
Export Zimbra Contacts to CSV & vCard and easily export Zimbra calendars to ICS format with no restrictions.
Advanced Filter option to locate some particular emails from the bulk of data present on the panel.
Multiple File Naming options to name the resultant Exported PST files.
Frequently Asked Questions
How do I export Zimbra mail to Outlook PST File?
1. Run the mentioned utility.
2. Upload the needed TGZ files.
3. Select the required data to export.
4. Choose PST as the file saving option.
5. Then, enter location and do additional settings.
6. Then, get the exported files.
 What is the limit while exporting the Zimbra data to PST?
There is no limit, users can easily export the bulk of data instantly without any kind of disruptions or restrictions.
I am using the Mac OS system, and I am trying to run this tool for the last 3 hours but it is not working. Can you tell me why?
It is because the tool is compatible with all the latest as well as the previous versions of Windows OS and does not support Mac OS.
End Results
In the end, we need to know that there are multiple other solutions that exist worldwide. But if we compare it to other solutions present in the market, then we can say this is one of the effortless solutions to export the Zimbra mailbox to PST. And, if you have any kind of doubt regarding the working of this utility then I recommend you to use the Demo version to export 25 emails from each folder at once. Once you get satisfied, you can anytime continue with the premium version. For more information, you can connect with our technical experts' team.