How to Export SmarterMail Emails to MBOX Format?
Karen Chard
~ Modified: 03-06-2022 ~ How To ~ 5 Minutes Reading
Overview: Are you looking for a solution to export SmarterMail Emails to MBOX format ? If yes, then your search end's here. In this article, we will use an amazing toolkit to batch convert emails from SmarterMail to MBOX file instantly & quickly.
SmarterMail offers an Exchange level mail server for a fraction of the cost. SmarterMail has much lower hardware requirements, better capabilities, and lower maintenance costs. It has a very low TCO (total cost of ownership) and that's make it best-in-class with an alternate to Microsoft Exchange.
On the other hand, MBOX is a mailbox format to store email messages with attachments in a local format. The MBOX format is quite popular as it is compatible with multiple email applications. On forum sites, a majority of users want a reliable solution to convert SmarterMail to MBOX format. We have listed a query that pops up on the technical site.
"
Hi, we are using SmarterMail for the last few years.
Recently I noticed that SmarterMail is lacking in many features. So, we decided to
transfer SmarterMail to Thunderbird
application. That's why we are looking for a solution that allows us to migrate emails from SmarterMail to MBOX format. Please help me!!!!"
A Direct Way to Export SmarterMail to MBOX File
This can be done with the help of a professional third-party application i.e. RecoveryTools SmarterMail Migrator software. The software provides a direct option to convert SmarterMail to MBOX file format without requiring any third-party application. It is a standalone toolkit and it has the capability to recover deleted emails & restore deleted SmarterMail emails into healthy format. You can download the solution on your Windows and Windows Server machines easily. Also, you can export SmarterMail emails into other savings like PST, CSV, IMAP, MailEnable, and more.
Free Software Download:
How to Convert SmarterMail to MBOX Format in Batch ?
The working of this SmarterMail to Mac Mail Migration toolkit enables the users to directly export SmarterMail emails to MBOX file format. One can understand the working of this software with the help of just following these simple steps.
Install & Run automated toolkit & then read all the important instructions.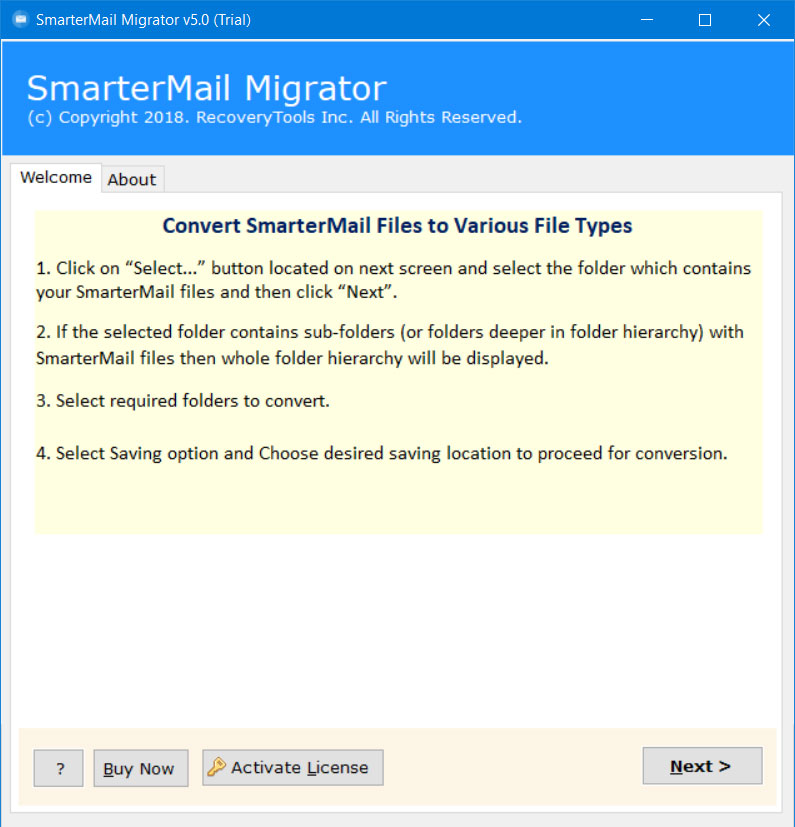 Load SmarterMail mailbox items from source location & select the folder having SmarterMail user's data.
The software will display all the user's mailbox folders like Administrators, Contacts, Inbox, Sent Items, Drafts, Junk, Calendars, etc.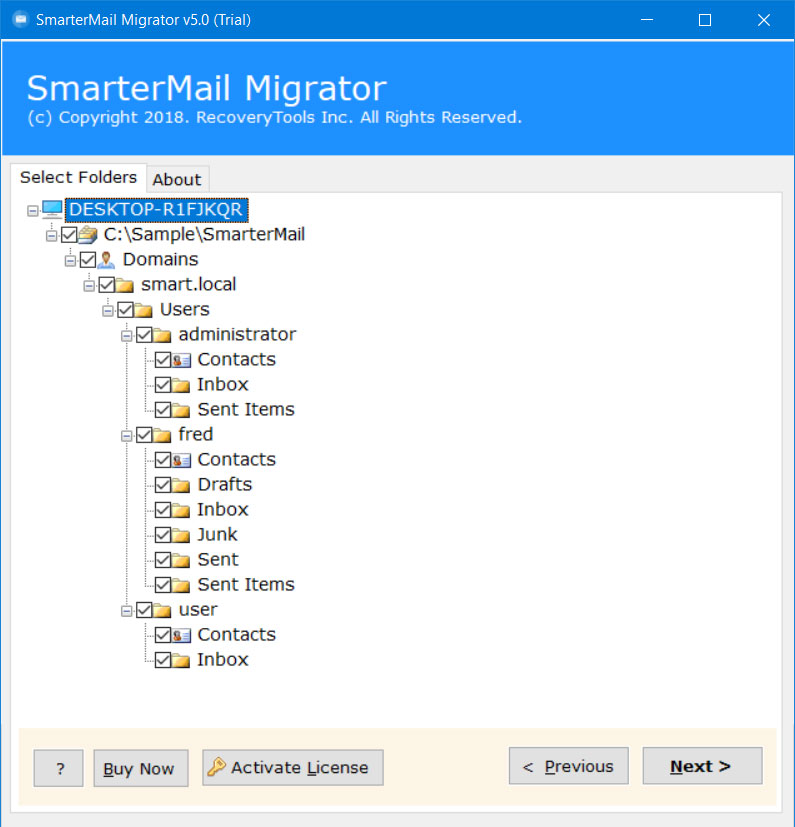 Afterward, choose the MBOX file format from the list of 20+ Saving options & click on the Next button.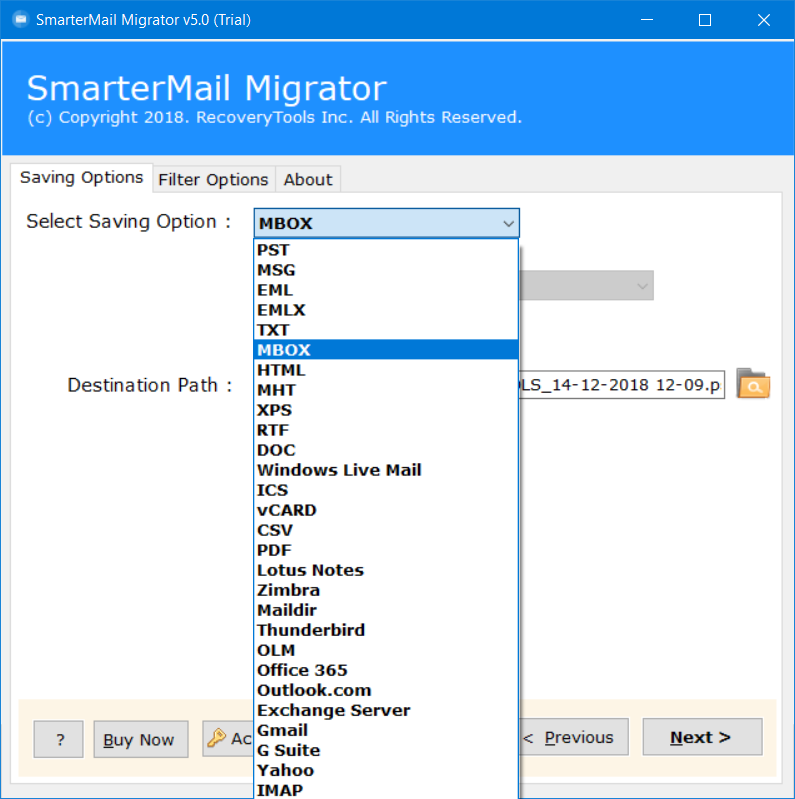 Further the software will display SmarterMail to MBOX file conversion options in its panel.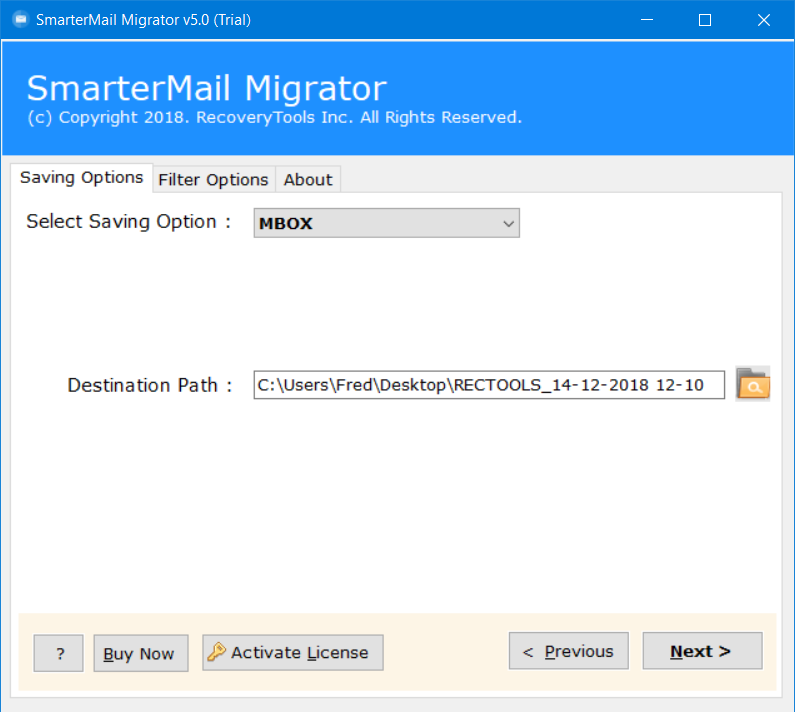 Click on the Folder icon to change the default destination location from Desktop. Users can also create a New Folder directly from the application panel.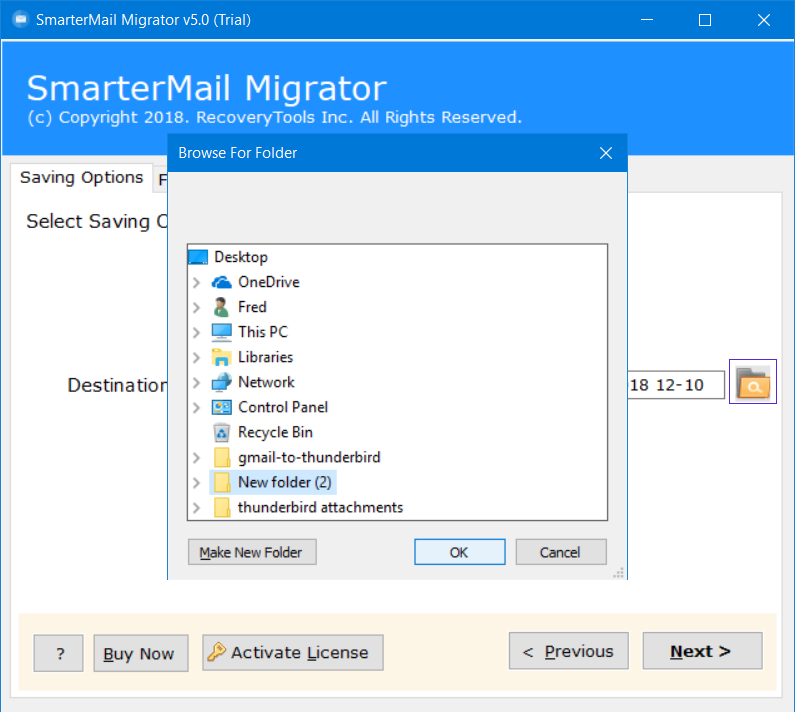 In case if a user wants to convert only required emails then one can apply the advanced filters option on the basis of Subject, Date Range, To, From or users can also exclude unnecessary folders of SmarterMail mailbox.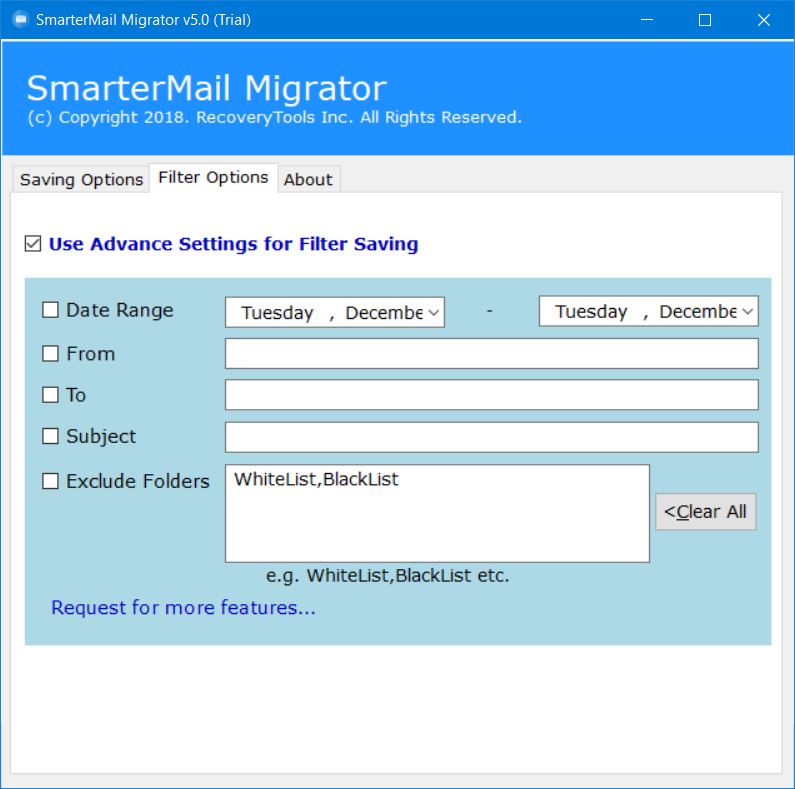 Once the setup process is finished & then click on Next button to initialize the conversion process. Analyze the live conversion process directly in the application panel.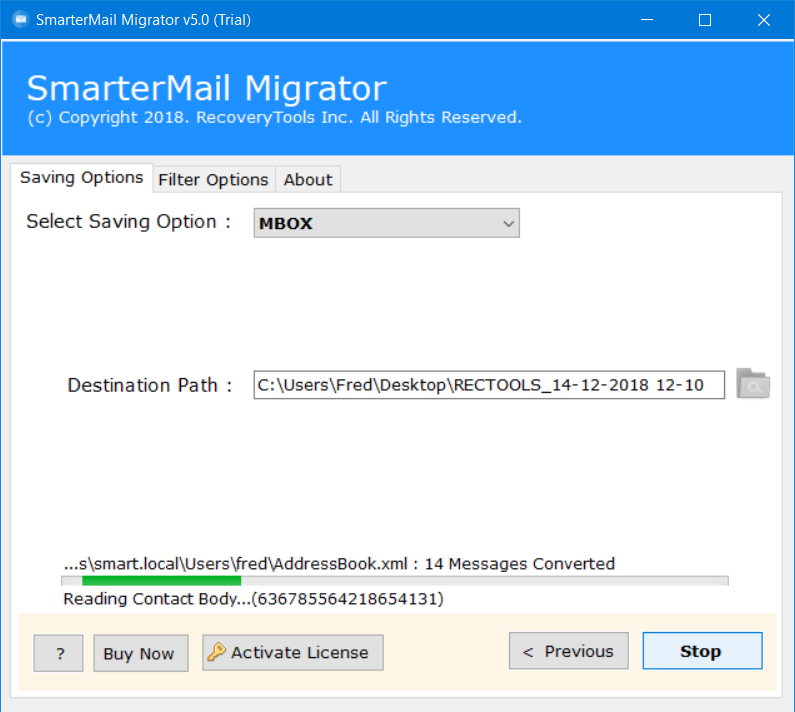 After the conversion process is finished click on the OK button in the confirmation box.

At last, the software will generate a SavingLog report containing all the information regarding the conversion like Start Date & Time, Saving Type, Path, Items Converted, Destination Path, Status of the Process, etc.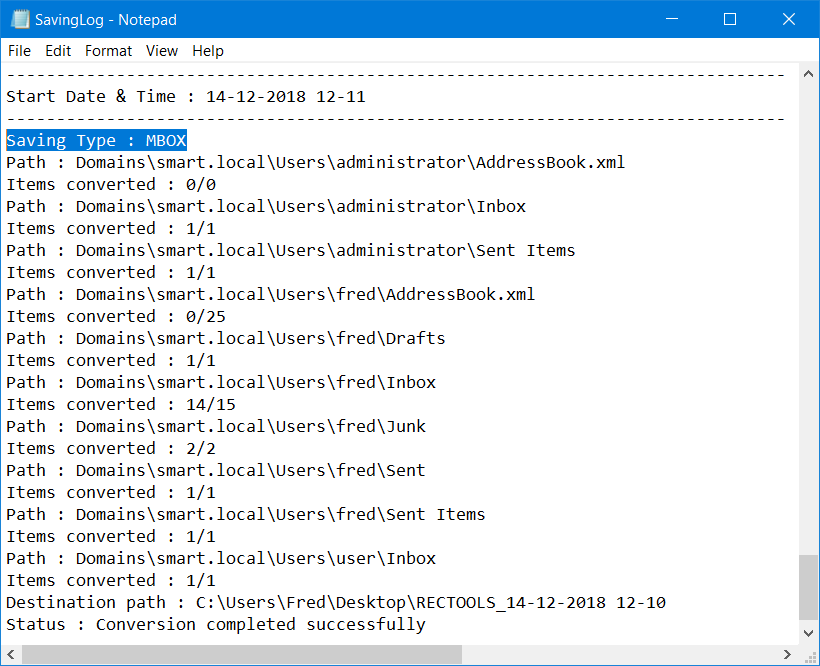 Major Features & Benefits of Using Automated Toolkit
As we can easily analyze from above that this SmarterMail to MBOX Migrator proves to be one of the best solutions available at the present time. Furthermore, a non-technical user can easily export SmarterMail emails to MBOX format without any failure.
Not only this, the software provides various useful advantages to its users particularly in terms of its speed & accuracy. Simultaneously, the software is completely standalone to perform its work without requiring any third-party application. Some major advantages provided with this application are listed below:
Allows the users to export SmarterMail Inbox, Drafts, Sent Items, Deleted Items, Junk E-mail, etc. to MBOX file format.
Allows the users to convert multiple user SmarterMail emails to MBOX file format.
Enables the users to import SmarterMail to Mac Mail account
The perfect solution to convert SmarterMail to MBOX format will all data attributes.
Allows dual modes to load SmarterMail mailbox items by clicking on Select Files or Select Folders
Allows the users to change the resultant file location from Desktop to any of the required file formats.
The software preserves the on-disk system folder hierarchy of the SmarterMail mailbox items.
Enables the users to convert SmarterMail emails along with all attachments inserted.
The software is fully compatible with all latest versions of Microsoft Windows i.e. Windows 10, 8.1, 8, 7, XP, Vista, etc. for both 32-bit & 64-bit OS editions.
The Verge
In this article, users get to know about how to export SmarterMail emails to MBOX File format with the help of this amazing software.Additionally, The wizard allows the users to import SmarterMail emails, contacts, calendars to distinct number of email platforms. It's suggested to download the demo edition of software on your PC to evaluate it's performance. For other queries, you can also contact us via live chat or email process.
Also Read: