How to Migrate Emails from SmarterMail to IMAP Server ?
Overview: Are you looking for a solution to migrate emails from SmarterMail to IMAP Server ? Or want to know how to transfer SmarterMail Emails to IMAP Account ? Suppose yes, the end of your search is here. In this article, we get more familiar with how the client can migrate from SmarterMail to IMAP Server. So, Keep observing this post.
SmarterMail is a good email, smooth working, and built-in talk server that successfully addresses any intentional business issues, from exclusive owners to organizations and adventurous affiliations. Provisions include a rich, up-to-date webmail interface updated for workstations, tablets, and phones, etc.
To get emails on our local machines, we require a way to get and manage email locally. IMAP (Internet Message Access Protocol) is a standard messaging protocol used for accessing online email locally. IMAP is probably the best way to give the facilities to access your email locally.
A large number of users are regularly looking for a professional toolkit that allows them to export SmarterMail data directly to the IMAP Server.
"I was working with SmarterMail Email Server. Be that as it may, for the present, my association is moving to Another Webmail Server. But the problem is the destination solution only supports IMAP Settings. So, at this point, I want to move from SmarterMail emails to IMAP Server. Does anyone know how can I do this ? Please help me!!!"
Direct Method – SmarterMail to Exchange Migration Tool
As we can without much of a stretch see from over that client are specifically searching for a simple to utilize and improved way of migrating emails from SmarterMail to IMAP account. This should be possible with the assistance of RecoveryTools SmarterMail Migrator. The solution provides a direct way to move emails into your IMAP Server account directly. You can download the solution on your Windows and Windows Server machines.
Get the Solution Now:
Note: You can use the solution to move only few emails from SmarterMail to IMAP Account. For more, you need to but this solution now.
Steps to Move from SmarterMail to IMAP Server
Launch the solution on your computer.
Select SmarterMail mailbox with dual mode.
Choose the required email folders from the list.
Select the IMAP option and enter credentials.
Start the process to move SmarterMail to IMAP.
How to Migrate Emails from SmarterMail to IMAP Account ?
First of all, you need to download the solution on your computer.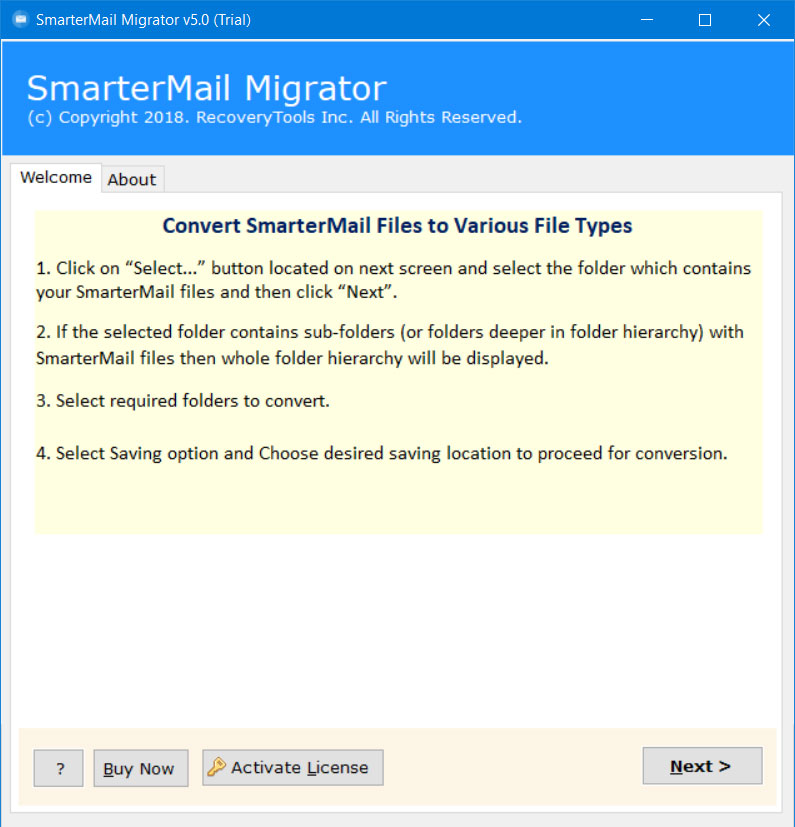 Choose the SmarterMail mailbox and profiles with dual selection options.
Mark only the required email folders from the list of given mailbox folders.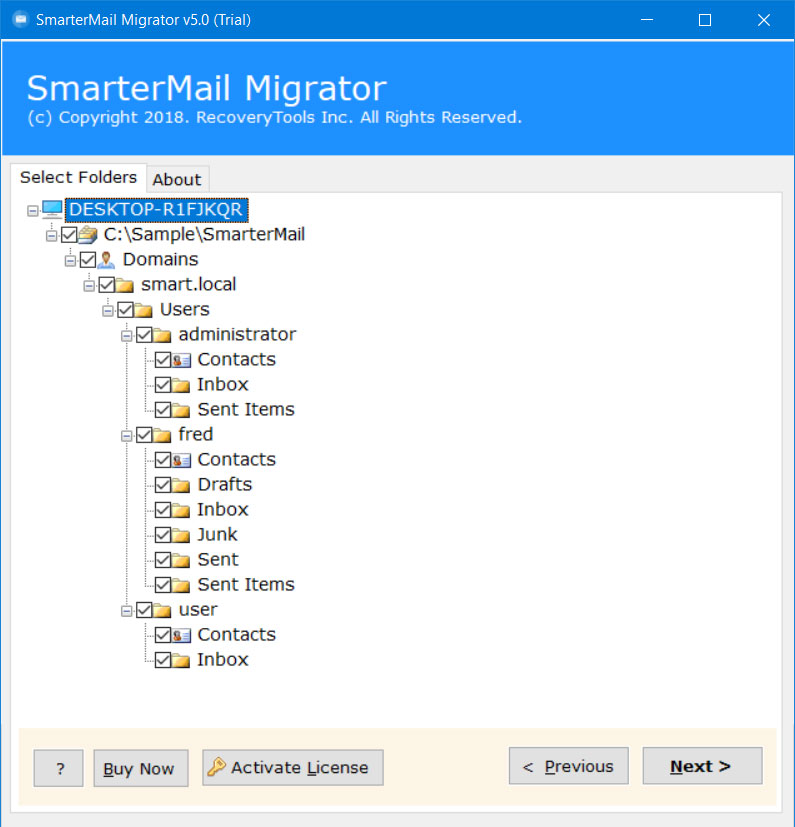 Select the required IMAP option in the list of file saving options.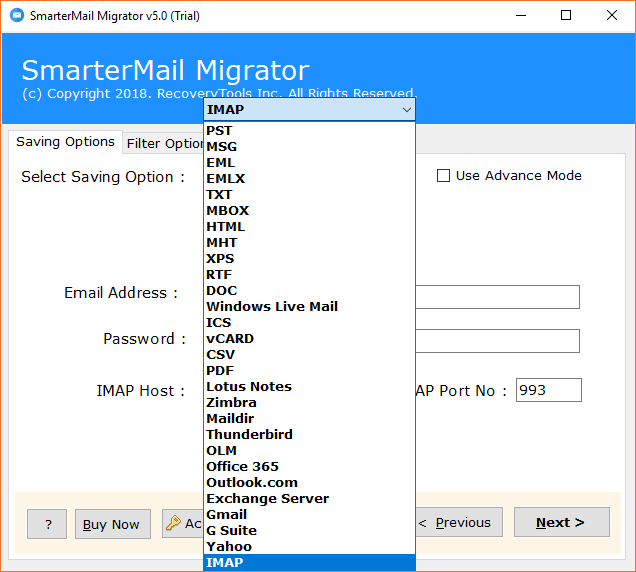 Enter your IMAP Server account credential in the user interface panel.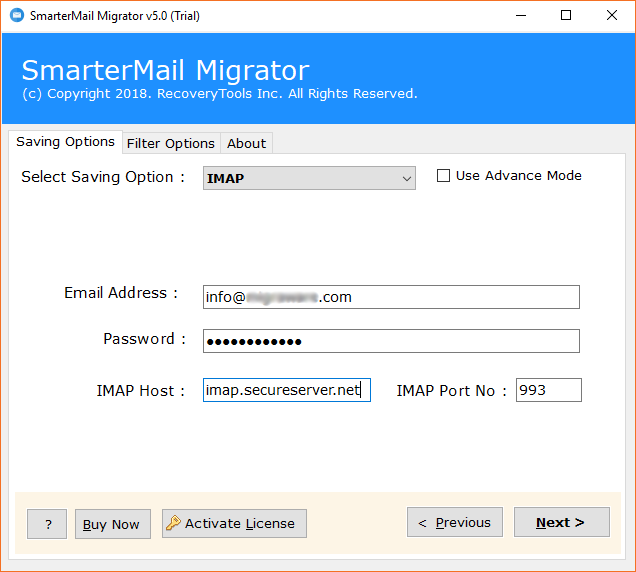 You can also choose the additional filter options for selective email migration.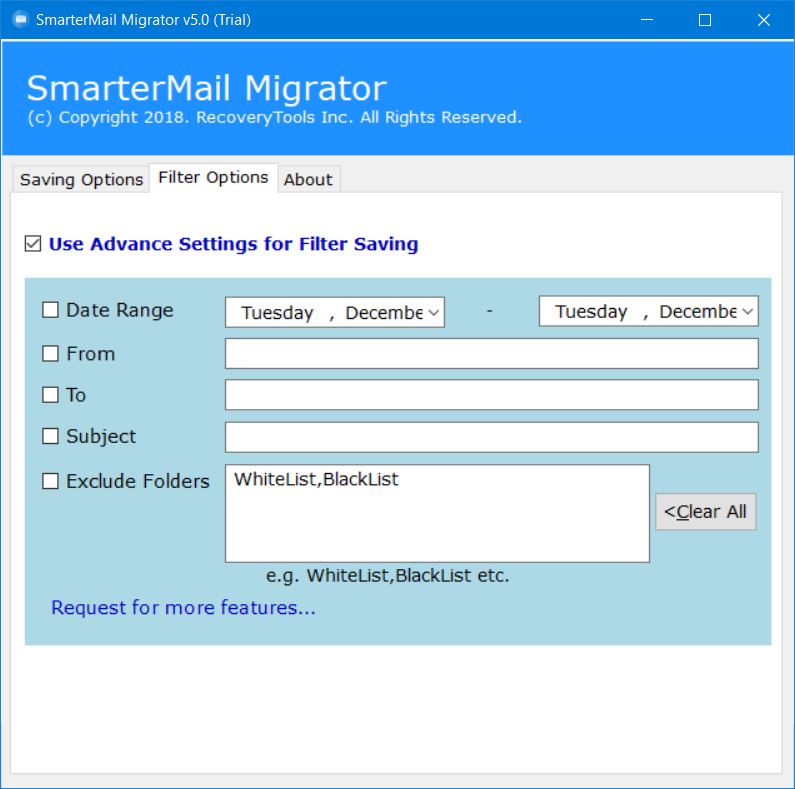 Start the process and move your SmarterMail emails to IMAP Account directly.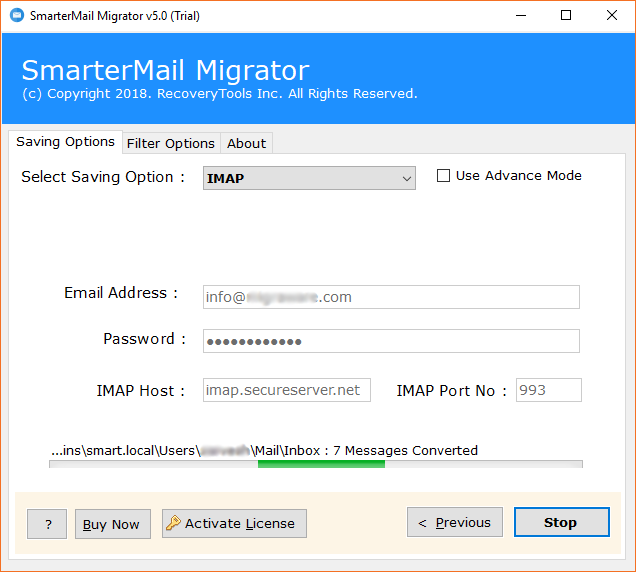 When the process is ended, press the next button.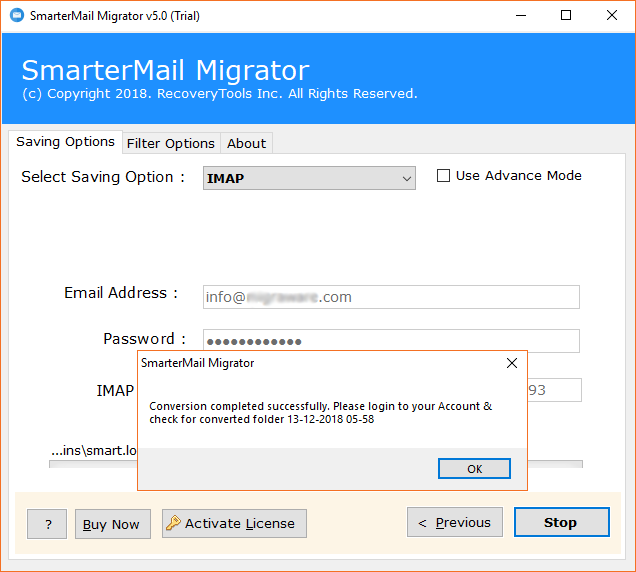 Top Advantages of RecoveryTools Solution
Batch Export Multiple User Mailbox Data:
This product empowers the clients to move multiple user profiles from SmarterMail to IMAP account at once. Clients can stack these mailboxes straightforwardly in the application UI. Just select the option "I am Converting Multiple Users" and afterward click on Select Folders choice. After this, the solution automatically loads all mailboxes in the panel.
Maintains all Original Properties & Folder Hierarchy:
The software performs the migration of multiple mailboxes while keeping all the properties of the email including attachments, internet header, and many more. The software maintains the on-disk System folder hierarchy among the mailboxes during the migration process.
Advanced Settings for Filter Savings:
The product allows you to perform the selective email migration process. One can use the Advanced Filters Settings on SmarterMail mailbox items to migrate only selected emails into IMAP Server. The solution provides many filters such as Date Range, From, To, Subject or Exclude Folders, etc.
Generates SavingLog report After Migration Process:
This product creates a SavingLog report which contains all the data viewing it, for example, the Start Date and Time of movement process, Saving File Format Type, Source File Path, Number of Items Converted, IMAP Server Destination Folder, and Status of the Process.
Windows Compatible Software:
This solution is primarily designed for Windows Compatible solutions. One can easily run this software on Windows 11, Windows 10, Windows 8.1, Windows 8, Windows 7, etc. for both 32-bit & 64-bit OS. You can also install this application on Windows Server machines.
Conclusion
In the above article, we get a flawless method to move emails from SmarterMail to IMAP Server directly. Free Download the solution from the above buttons which allows the users to convert the first 25 items from each folder. Also, you can activate the software by purchasing the appropriate license & the serial keys. If you have any further issues. Contact the technical support team. Thank you for reading.