How to Import DBX to Outlook 2019 and Other Versions? Solved!
Overview: Are you one of those who are looking for a solution – how to import DBX to Outlook and other versions? if your answer is YES! Then read this article to know the complete process. In this write-up, we have explained the most proficient technique to import Outlook Express files to Outlook. So, continue reading.
In this modern time, every old document is important to us. That's why we are constantly converting old documents to new digital formats. So why don't we do the same with our old emails? Because email is an essential medium for communication with business people, friends, or anyone. Therefore, in this write-up, we will show you the complete solution to import DBX to Outlook and its editions.
Internet Mail and News utility is the first email client application by Microsoft. It is also known as Outlook Express. It was developed by Microsoft to send or receive emails, news, information, etc. Outlook Express saves their mailbox data to DBX file formats. Now, this application is discontinued by Microsoft after launching the Outlook series.
Like Outlook Express, Outlook is also developed by Microsoft. It is the advanced version with multiple new features such as a better interface, contact & calendar support, speed, accuracy, tasks, to-do-list, attachments, journals, etc.
"Hi, I am from New York City. I was using Outlook Express on my old Windows XP computer. Recently I bought a new Windows 10 computer with Outlook 2016 email client. So, I want to import all those DBX files to Outlook instantly? Please Help Me!!!!"
Instant Solution: Import DBX File to Outlook
To solve import files to Outlook queries, we suggest you download the RecoveryTools DBX Migrator Tool. This application allows you to import multiple DBX files to Outlook format. The software is available for both Windows and Mac computers. You can install or use this application without any technical guidance.
Furthermore, this software also supports other formats for backup, conversion, and migration options such as DBX to PDF, DBX to MBOX, DBX file to CSV, DBX to Gmail, DBX to MSG, DBX to Office 365, DBX to Thunderbird, DBX to Yahoo Mail, and multiple others.
No need to worry, just free download the mentioned DBX to Outlook Converter to import multiple files to Outlook and other versions such as Outlook 2019, 2016, 2013, 2010, and multiple others.
Download from Here:
Download for Windows Download for Mac
Note: This application allows you to Import DBX Files to Outlook. You can also try this application before purchasing the license edition. The trial edition allows you to import 25 emails from Outlook Express DBX files without any issues.
How to Import DBX Files into Outlook 2019?

Launch the import tool on your computer.
Select DBX files with dual selection options.
Choose the required PST option in file saving options.
Set the resultant location path to save the data.
Click on the next to start the importing process.
Procedure to Import DBX Files to Outlook
Here, in this solution, we will first convert DBX files to PST and then import the resultant file into Outlook.
Run the mentioned import tool on your Mac and Windows Computers. Read all the instructions before starting the process.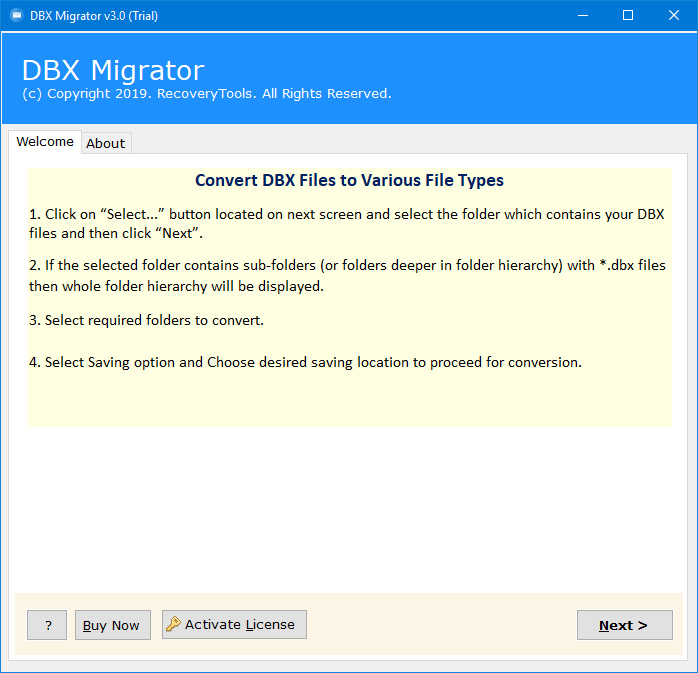 Then, Choose DBX Files with dual selection options i.e. select files or select folders.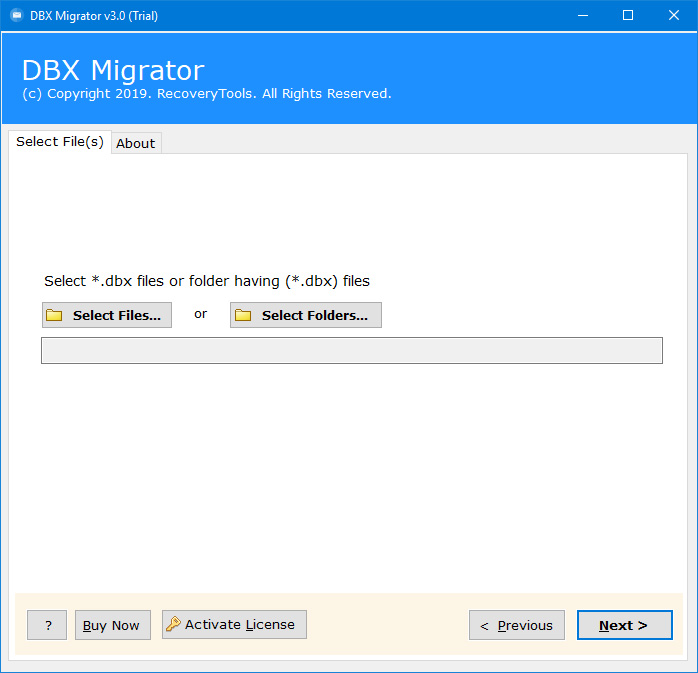 Browse your DBX files in your computer location and select.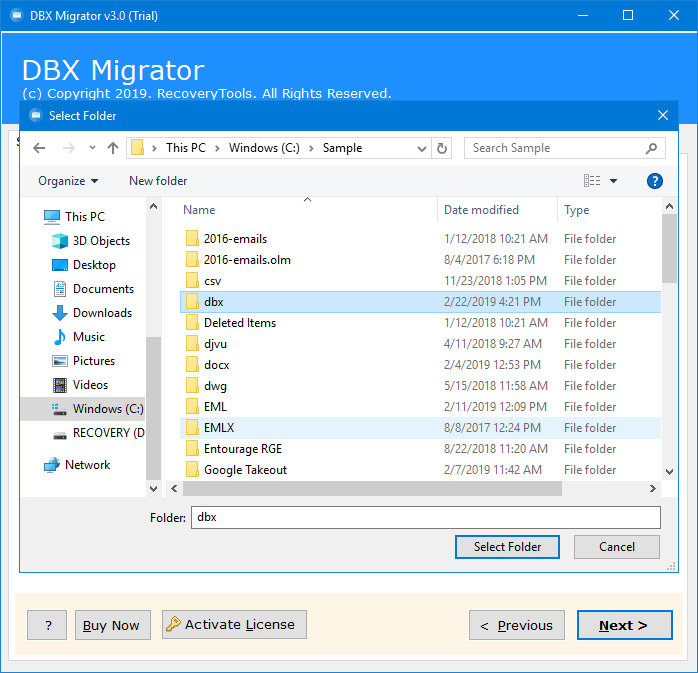 Now, select the required email folders from the list to import into Outlook.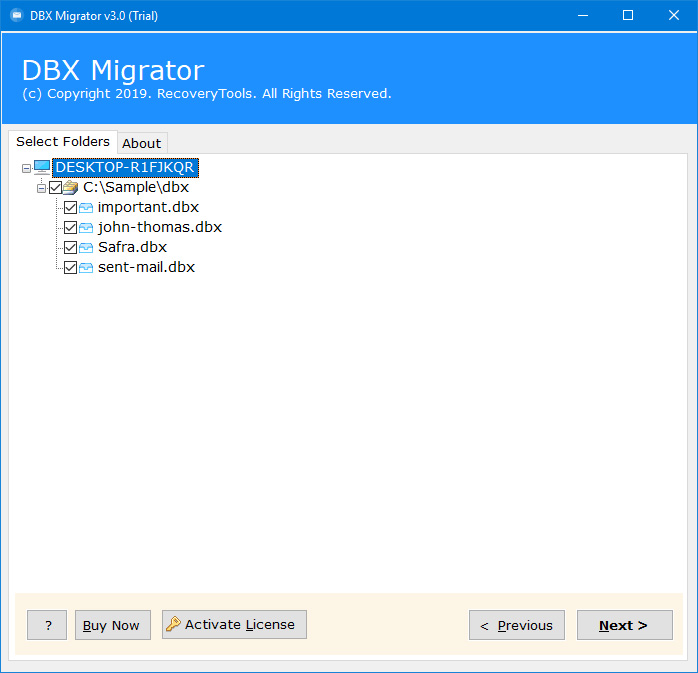 After this, choose the PST file saving option from the list.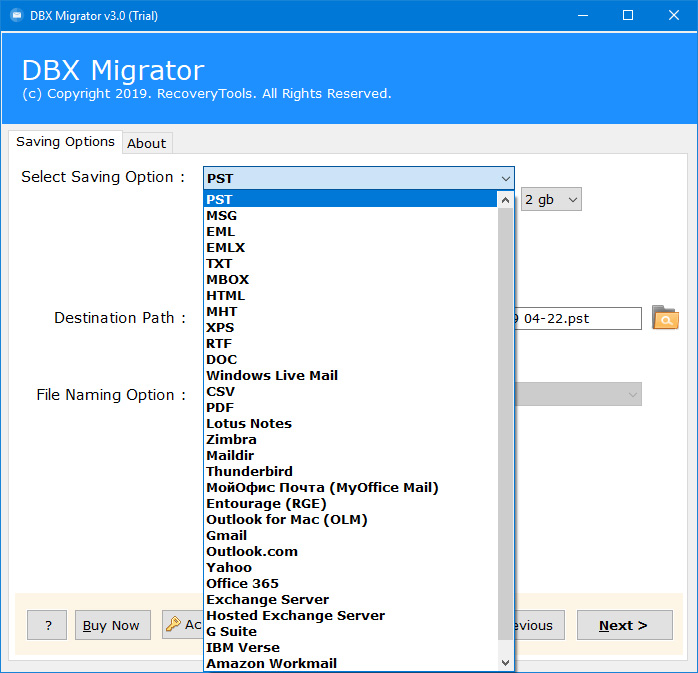 Finally, click on the next button to import the data.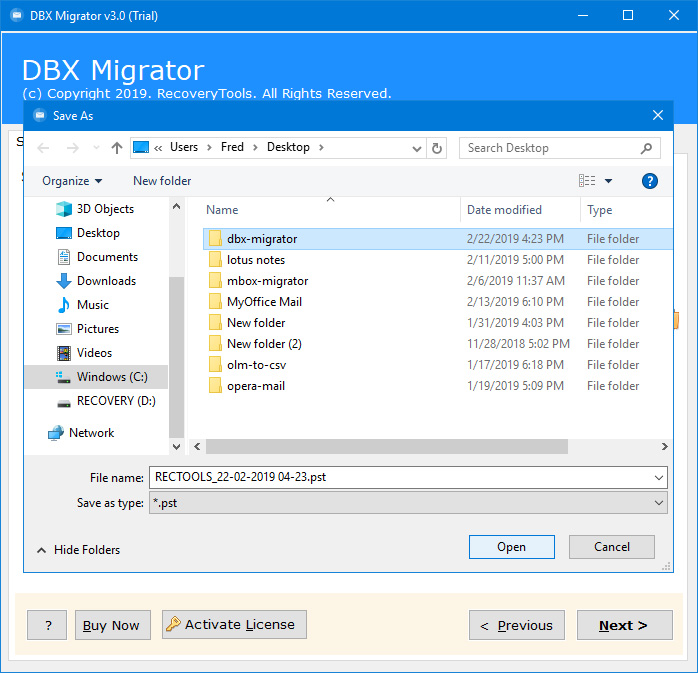 After that, the import process was completed successfully, Click OK to confirm.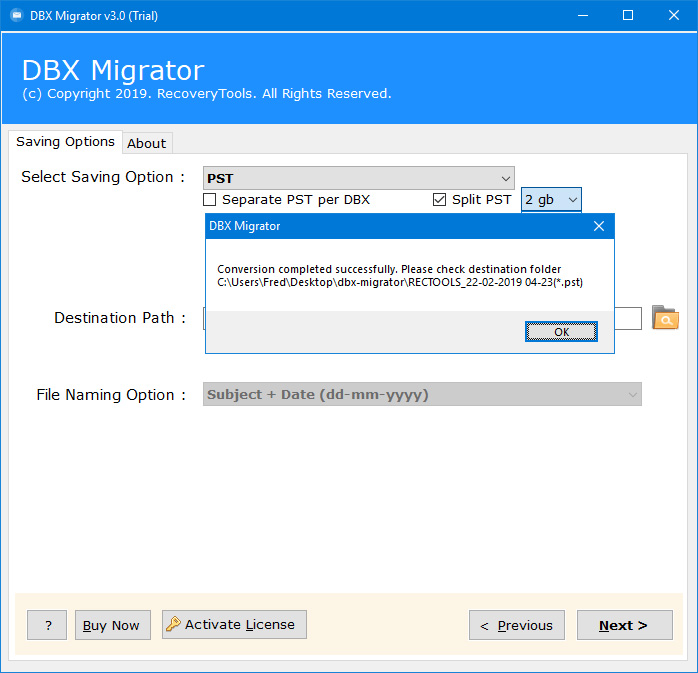 Hence, by performing these steps, you can easily do more than half of the process. Now, what you need to do is:
Import Resultant File to Outlook 

Open Outlook in your system.
Go to File Menu >> Open & Export. 
Select Import / Export >> Browse the Outlook Data File(.pst).
Upload it and see the imported data.
Features of Tool to – DBX to Outlook Converter
Dual Manual Selection Options:
The software gives the facility to choose multiple DBX files at once. The select file option allows you to choose selected DBX files from your computer location. With the help of the Select Folder option, you can browse the folder to upload multiple files at once. It also helps you to do the selectively import the data to Outlook.
Keep Email Properties & Elements:
During the process, the software keeps email properties or metadata of email elements. It maintains all email attachments, email addresses, subjects, images, hyperlinks, internet header, etc. information.
Store Resultant Data at any Path:
After selecting the Outlook saving option in the list, the software allows you to choose any resultant location path. You can select any location including internal or external locations to save resultant Outlook files.
The software comes with a free trial edition. This helps to evaluate the features of the tool without paying anything. Additionally, you can import a few DBX file emails to Outlook too.
Simple and Consistent Interface:
The software comes with a simple and easy-to-use graphical user interface for all types of users. You can use this application without taking the help of any technical user.
Support Mac and Windows OS:
Furthermore, the software supports all editions of the Microsoft Windows Operating System as well as Mac OS X editions. So, you can easily install this application on Windows 10, 8.1, 8, 7, as well as Windows Server 2019, 2016, 2012, 2008, as well as macOS 10.15 Catalina, 10.14 Mojave, 10.13 High Sierra, etc.
Conclusion
In the above article, we have explained the complete process to import DBX to Outlook and its editions. The software allows you to import a bulk number of files instantly without facing any issues. If you are also one of them, then download the recommended solution. You can also install this application on your Mac and Windows computers. The software comes with trial editions to import a few files from DBX to Outlook format. For more information contact us via chat or email process.