DBX to PDF Converter: Batch Convert Outlook Express .dbx Files into PDF Format
Karen Chard
~ Published: 29-03-2019 ~ Outlook Express ~ 5 Minutes Reading
In this era of advanced Technology, various users are Migrating Outlook Express DBX to PDF format but worried about data loss during the migration. Now you do not need to worry anymore because this time RecoveryTools DBX to PDF is here with the easiest and reliable solution which lets users to convert e-mail from outlook Express DBX into PDF format without losing any information.
DBX is a file format created by Outlook Express e-mail client. The storage of DBX files for a long time leads to file corruption due to an oversize of the DBX files, and another problem with Outlook Express is that it is outdated email client, so various tech devotee are planning to change Outlook Express email client to grab any other advanced email client/ file format. If you are also searching the same, then conversion to PDF (Portable Document Format) Format is useful for many companies in the business world. PDF file enables users to open, review, and print the documents saved in it. The main advantage of moving towards DBX to PDF file is that the PDF file are compatible across multiple platform and user can shared the PDF documents across multiple computer platforms.
How to Convert Outlook Express Email to PDF?
To convert DBX to PDF in structured way, it is highly recommend you to use RecoveryTool DBX Migrator to obtain the accurate conversion result. It is prominent solution for the users who are willing to print batch Outlook Express DBX into PDF format in couple of clicks. You can check the above video Tutorial which explain the complete step-by-step conversion process to obtain the results with accuracy. In next section, we will show you some sort of queries that we received frequently from various forum platforms.
Hello Team,

I have large size of .dbx files that are corrupted and now I want to recover all these corrupted .dbx files and convert them to PDF format. I searched and found numerous tool for converting DBX files to PDF format but these are unable to migrate corrupted Outlook Express Mailbox data. Can anyone suggest an Application that allows me to print my corrupted .dbx files to PDF?
From above query we can analyze that, there are so many users encounter problems when transferring the Outlook Express e-mail client to Adobe PDF format. Therefore, we recommend using the DBX to PDF conversion program. This is the most convenient way for users to convert Outlook Express to PDF format using attachments in few seconds.
Outlook Express DBX to PDF Converter Free Download Application:
We offer users a free trial version of DBX to PDF Converter, which allows you to convert the first 25 Outlook Express emails from DBX format to PDF. If users need to print an unlimited number of emails stored in Outlook Express in PDF format, it is necessary to activate the software using a license key by purchasing the appropriate license.
To convert DBX to PDF, users should follow these stepwise procedure.
Step 1: Download, Run & Install the DBX to PDF Converter Application.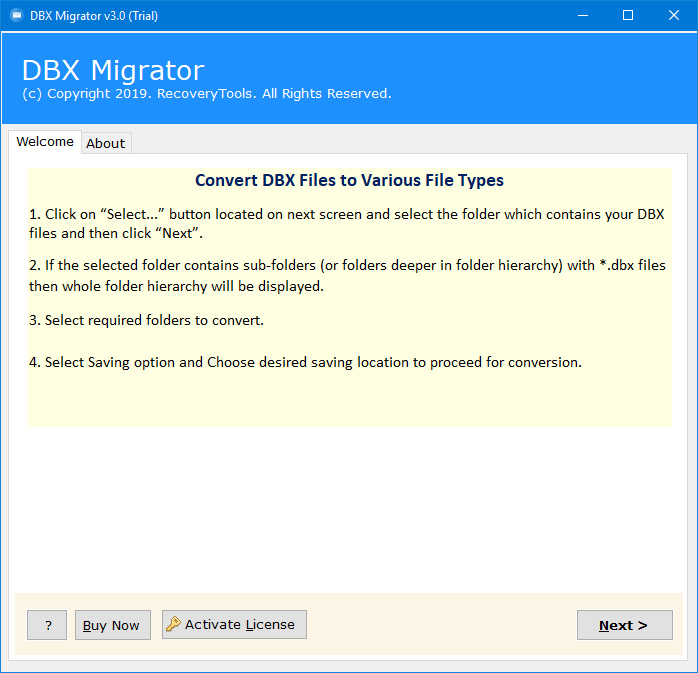 Step 2: The tool has a binary options to Load Outlook Express Mailbox Data i.e., Add Files & Add Folders.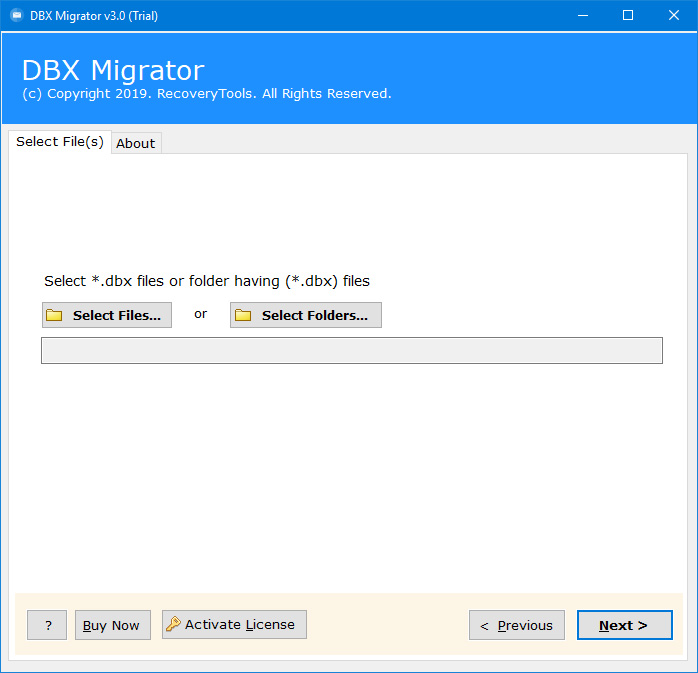 Step 3: Choose the DBX Mailbox folder that you need to print into PDF format.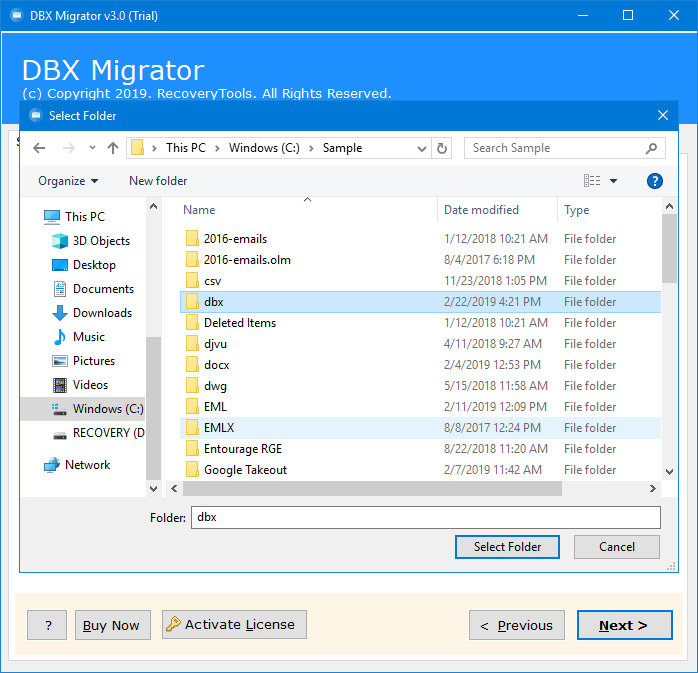 Step 4: Check the desired folder and Click on NEXT Tab to proceed further.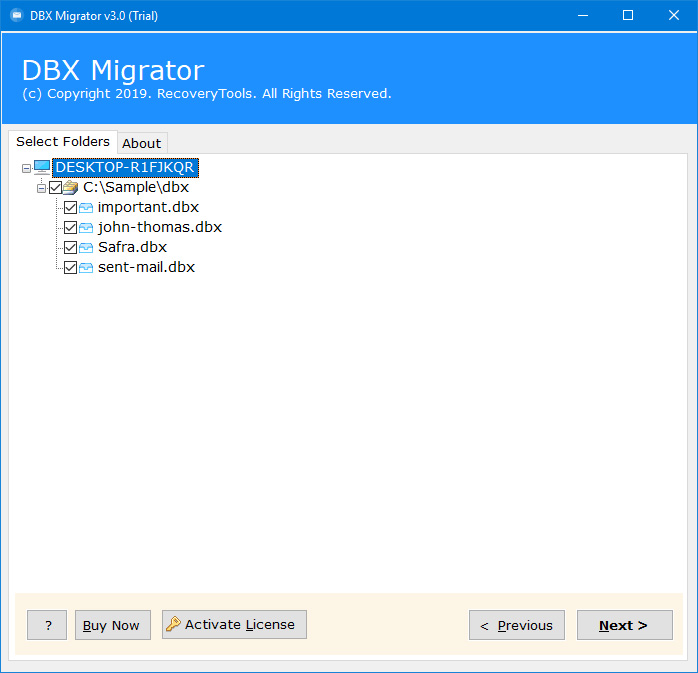 Step 5: Select PDF as saving option from the list of 25+ option.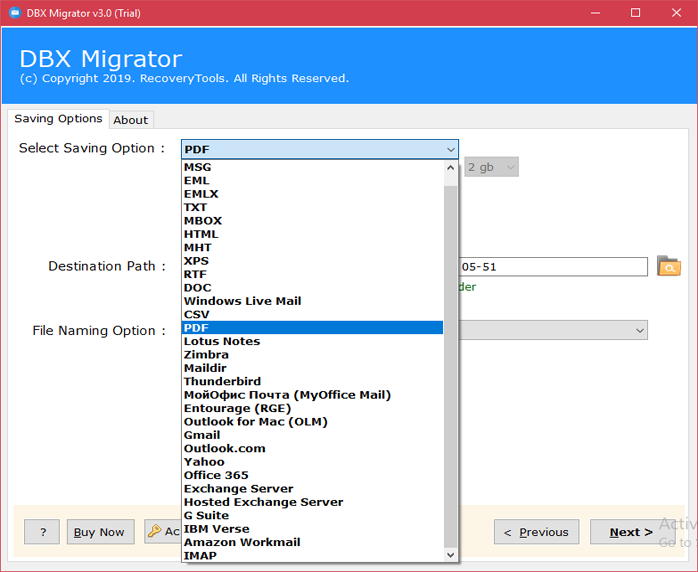 Step 6: Click on NEXT Button to start the Conversion process.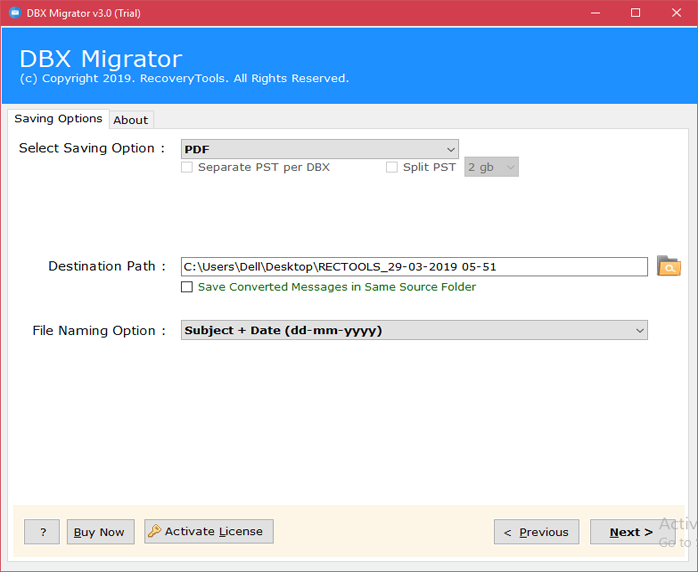 Step 7: Analyze live conversion process.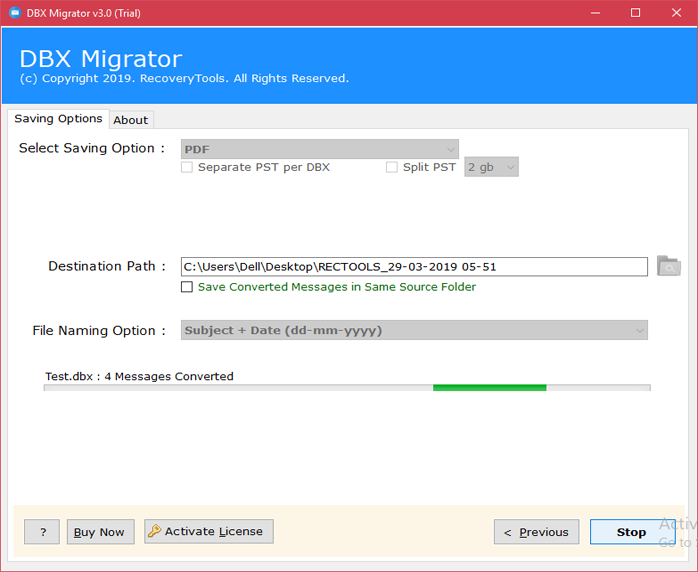 Step 8: After successful conversion, the dialog box appear on the screen click on Ok Tab to exit from here.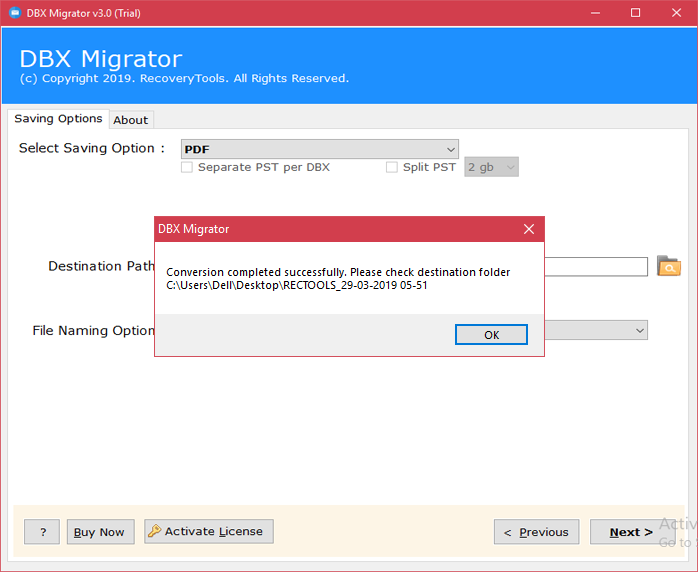 Features of Outlook Express DBX to PDF Migration Software:
The DBX to PDF Converter Toolkit is designed in such a way that it doesn't require an Outlook Express and Adobe Reader installation in order to perform the conversion process.
The Application has the ability to maintain all the meta-properties of the Outlook Express .dbx files like to, cc, from, subject, size, etc. after the DBX data has been converted to PDF Format too.
DBX to PDF Converter Application is compatible with the all latest and previous versions of Outlook Express and can open converted PDF files in any version of Adobe Acrobat.
User can print or copy large size of Outlook Express DBX files into PDF format without any size limitation. It will not affect the performance of the software.
The utility can converts all Outlook Express mails into PDF along with all inserted attachments.
The users can convert DBX Mailbox to PDF files in any version of Windows OS i.e., Win 10, Win 8.1, Win 8, Win XP, Win Vista, for both 32-bit & 64-bit OS editions.
The Verge: To convert DBX data from Outlook Express to PDF files, users can use the DBX to PDF Conversion Toolkit. It is a splendid solution for users to convert Outlook Express to PDF format with its attachments in a few seconds and the utility allows users to export DBX files to PDF format keeping all data in its original structure.