How to Convert Outlook Express DBX to MBOX File: Complete User Guide
Are you searching for the best DBX to MBOX Converter tool to quickly export Outlook Express DBX to MBOX Folder? If you are saying yes, then you are absolutely in right place.
Today, in this blog post, we will share the best DBX to MBOX Conversion guide that will help the users to archive the desired results in just a few clicks. Using this toolkit, one can easily export the Outlook Express DBX data to various MBOX-supported email client applications such as:
Mac Mail
SeaMonkey
Netscape Mail
MailCOPA
The Bat and so on.
Why Convert Outlook Express DBX Files to MBOX?
As we all know very well, DBX is the file format used to store Outlook Express data. It is an outdated email client, so there are many inconveniences with Outlook Express.
DBX files are heavier and consume a lot of space. Because of this, Outlook Express slows down its performance. To avoid all these problems, several users plan to export Outlook Express emails to any other email client.
To export DBX mailboxes, MBOX is the option among users. Because MBOX is the most popular file format for storing emails and is compatible with many email client applications such as Mac Mail, SeaMonkey, Eudora Mail, Entourage, Netscape Mail, Earthlink, MailCopa, Pocomail, The Bat, etc.
DBX to MBOX Converter is a state-of-the-art tool to export Outlook Express emails to MBOX file format.
How to Convert Outlook Express to MBOX?
For Outlook Express users, it is a fairly difficult task to convert the DBX file to the MBOX format manually. Therefore, Automatic Tools comes with a comprehensive solution that can export several DBX files to the desired format without risk of data loss.
The uses may be the most professional, But to convert Outlook Express files users need to use an automatic solution. Here, RecoveryTools DBX Migrator software allows users to convert Outlook Express emails into MBOX files along with attachments. Also, the app has the ability to convert DBX files into multiple savings like Outlook, and many more.
Using the tool, you can also import DBX into Mac Mail. You can follow these simple steps to understand the complete working processor of the DBX to Mac Mail converter Application.
Steps to Convert Outlook Express DBX Files to MBOX Format Quickly:
Step 1. Download Free DBX to MBOX Converter software on Windows Machine and read all the given instructions properly.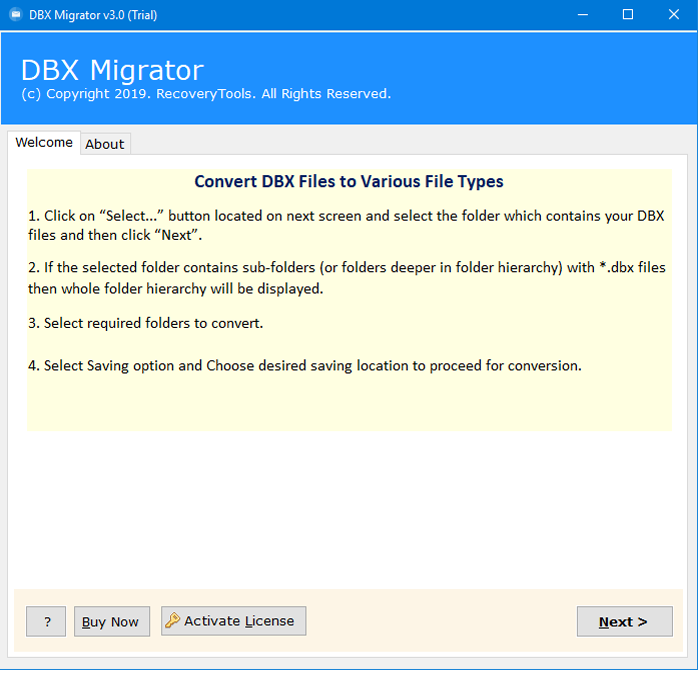 Step 2. Choose Select File or Select Folder Option to load source DBX Files into software UI.
Step 3. Select the desired DBX Mailbox folder and click on the Next button.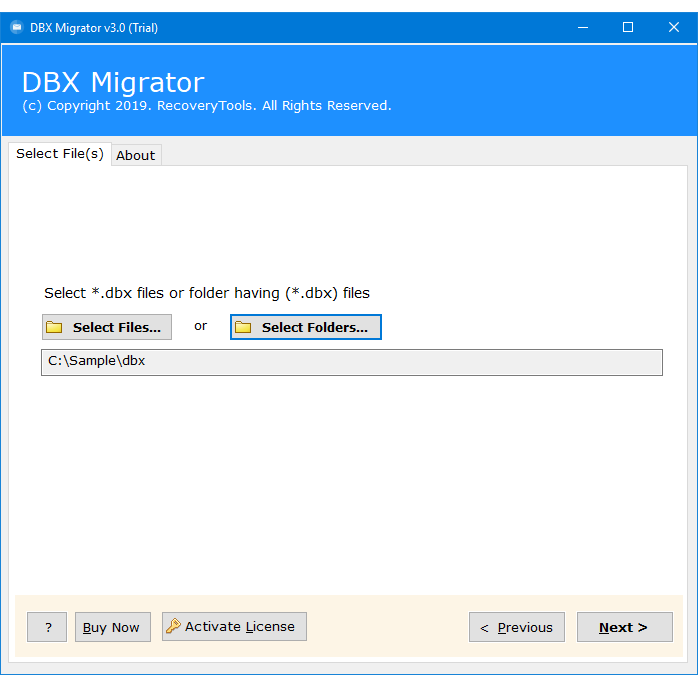 Step 4. Here, you can check/uncheck the folders that you wish to convert into MBOX Format.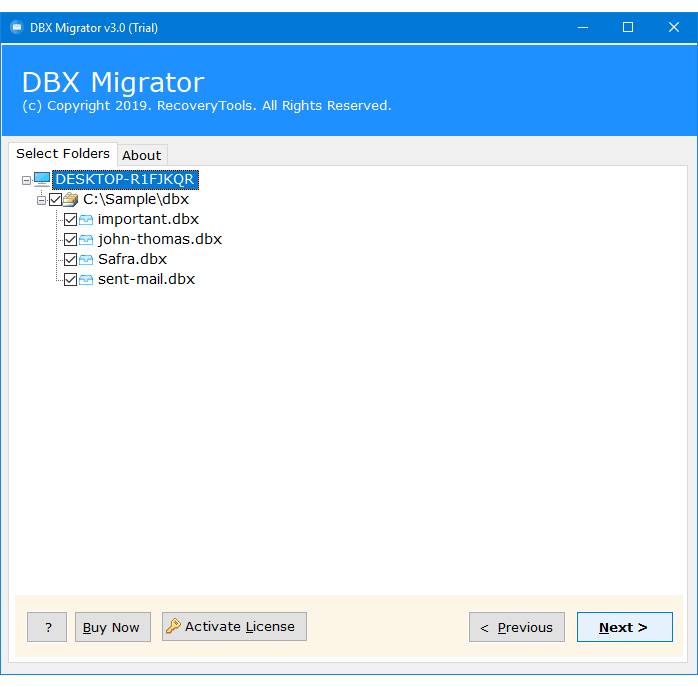 Step 5. From the list of 20+ saving formats, you can choose the MBOX file to export the DBX file to the MBOX format.
Step 6. Click on the Convert button to continue the conversion process.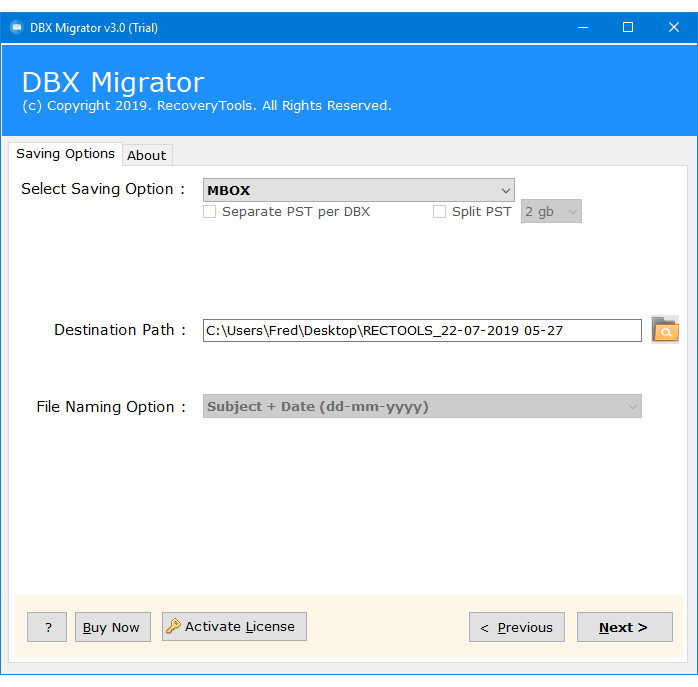 Step 7. Here, you can analyze the Live Conversion process Of DBX files.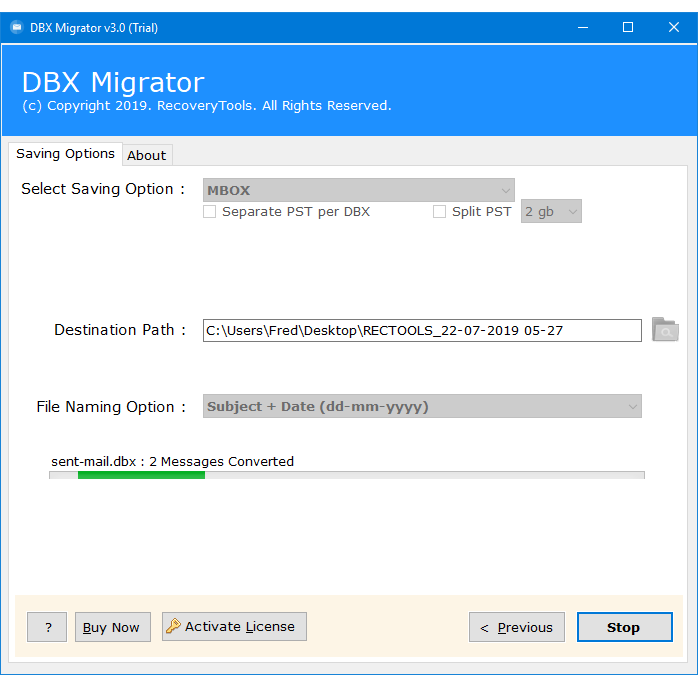 Step 8. Once the conversion is completed successfully, click on Ok Tab to confirm.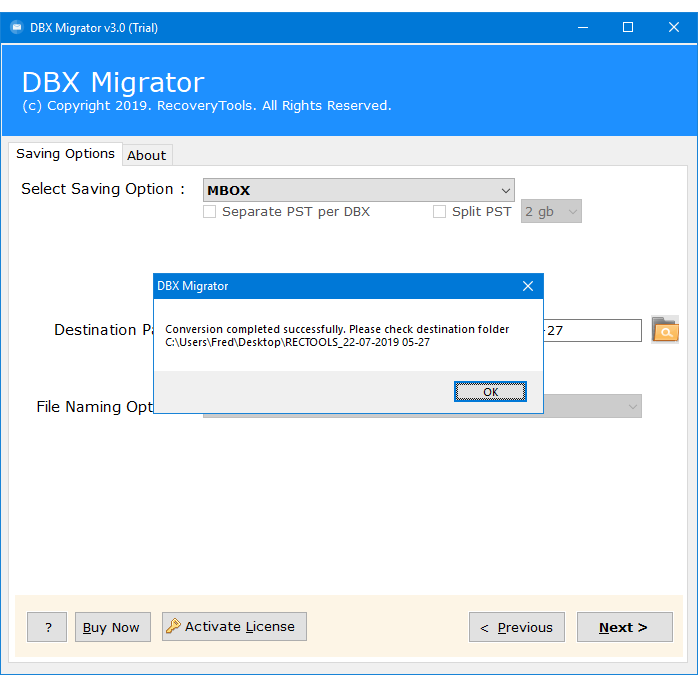 We hope that the steps mentioned above will help you to run the conversion in a hassle-free manner. The DBX to MBOX Converter utility is specially designed for Windows users because it is compatible with all previous and newer versions of the Windows operating system.
Such as Windows 10, Windows 8.1, Windows 8, Windows 7, Windows XP, Windows Vista, and so on.
Feature of Best DBX Files to MBOX Converter Tool  
The application proves to be the Best and very powerful utility in terms of converting selective or multiple DBX files to an email client compatible with MBOX. Some main features of this toolkit are given below:
This tool offers dual ways to convert Outlook Express emails to MBOX format.
Users can batch export multiple DBX mailbox items to the MBOX files without any limitations.
The utility gives the facility to export Outlook Express emails with all the properties like To, Cc, Bcc, email headers, many more. to MBOX file Format.
The Software permits to move of unlimited Outlook Express Emails to MBOX files at once.
This Converter tool is completely standalone. It doesn't require outlook express installation to accomplish the conversion.
The best thing about the software is that the users can install the product set up in various international languages.
DBX to MBOX Conversion application is developed with advanced algorithms, which allows executing unlimited conversion of DBX mailbox items.
The Software will successfully convert DBX files to MBOX format with attachments.
The tool preview all the selected Files/folders before the conversion. Users can check/uncheck them as per their needs.
After completing the conversion procedure, the software will automatically open the destination path to view the MBOX file.
Convert Outlook Express DBX to MBOX File – Video Tutorial
End Conclusion
The DBX to MBOX converter tool is the best & reliable way to export Outlook express email items to their respective formats. One can download & try the free Convert Outlook Express DBX to MBOX software. The free DEMO edition will convert the first 25 email messages from the Outlook Express DBX files to MBOX.
After getting the desired results, you can purchase the license to accomplish the complete conversion. Moreover, the tool is designed in such a way that an unlimited export of Outlook Express DBX files can be achieved with 100% accurate results.
Read More Related Topics: