How to Import Outlook Express DBX to Microsoft Office 365 Account?
Overview: This write-up gives a detailed procedure to import DBX to Office 365 account issue. If you have similar issues, then here you will get the best way to tackle this problem. A lot more manual as well as professional solutions are available to carry out the task. But for this query, manual solution is not convenient to use. So, we here discuss the professional solution.
Many times, people ask you a question, but for some reason you do not know the answer to it, but that question gets imprisoned in your attention. A week ago, a guy asked me a similar question. They want to know how to import DBX to Office 365 account. Since I am also from a technical background, that's why this issue got stuck in my mind.
But after reading this post you will get a flawless way to import DBX to Microsoft 365 account. But before that let's first understand the DBX format. It is an Outlook Express mailbox format that stores the entire database in a single file. This file can be easily found in Outlook Express default locations on your computer.
Microsoft Office 365 was initially Microsoft's online support for email communications service for organizations or individuals to share files in the cloud. One of the best services of Office 365 is the ease of managing work. The whole team can join the work and work together on a single platform.
User Query

"Hi, Recently I was looking for something in the old records in my old computers. Some of my important emails got stuck with the old desktop client – Outlook Express. This application supports DBX files. I have collected .dbx files. Currently, I was using Microsoft Office 365 service. Can I import DBX into Office 365? please help me!!!"
Manually Import Files From DBX to Office 365
For importing the data manually into Office 365, what users need to do:
Step 1: Convert DBX files to PST
Open Outlook in your system. Go to File Menu >> Import.
Click on Import/Export Wizard >> Select Import Internet Mail and Addresses.
Next, click on Outlook Import Tool >> Outlook Express.
Then, check Import Mailbox and Next.
Emails start moving to Outlook, and in just few minutes, it will show completion message.
Therefore, finally those DBX files are now moved to Outlook. Export PST files from Outlook.
Step 2: Import Data to Office 365
Now, you just need to import the resultant files directly into Office 365 account and for that there multiple methods but we recommend you to use the professional utility to import PST to Office 365.
Unified Way to Import DBX to Office 365
RecoveryTools DBX Migrator tool to import Outlook Express files to Office 365 in an easiest manner. Here, we used our advanced tool to execute the error free migration. One can rely on this ultimate toolkit in order to get 100% accurate and fast conversion. The solution is available for both Windows and Mac computers.
The tool has the ability to import bulk number of PST files to Office 365 account with maintaining the consistency of the data throughout the process. Although, not only to Office 365 but this also supports other formats such as DBX to PDF, DBX to MBOX, DBX to Gmail, DBX to Thunderbird, DBX to Exchange Server, and in multiple other formats.
Download from Here:
Download for Windows Download for Mac
Note: You can utilize the demo edition to import a few Outlook Express DBX file emails to Office 365 account. If you need to import unlimited mailbox data to Office 365 Account, then the user needs to activate the premium version of the tool.
Steps to Import DBX to Microsoft Office 365

Get DBX to Office 365 Import Tool.
Select DBX Files with desire options.
Choose the Office 365 option in the list.
Enter all the details of your Microsoft 365 account.
Press the start button to import the data.
How to Import Emails from DBX to Office 365 Account?
Get the mentioned Import Tool on your Windows as well as Mac computer.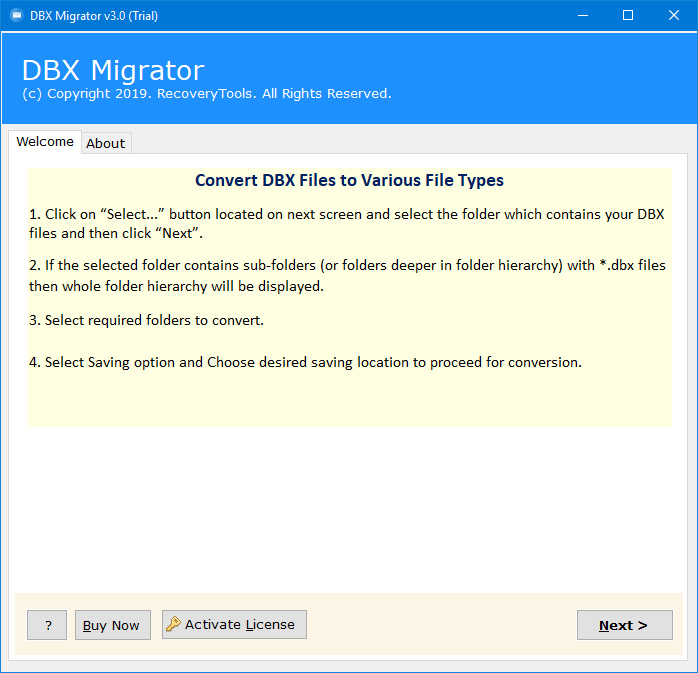 Click on Add Files or Add Folders options to pick DBX files in the application board.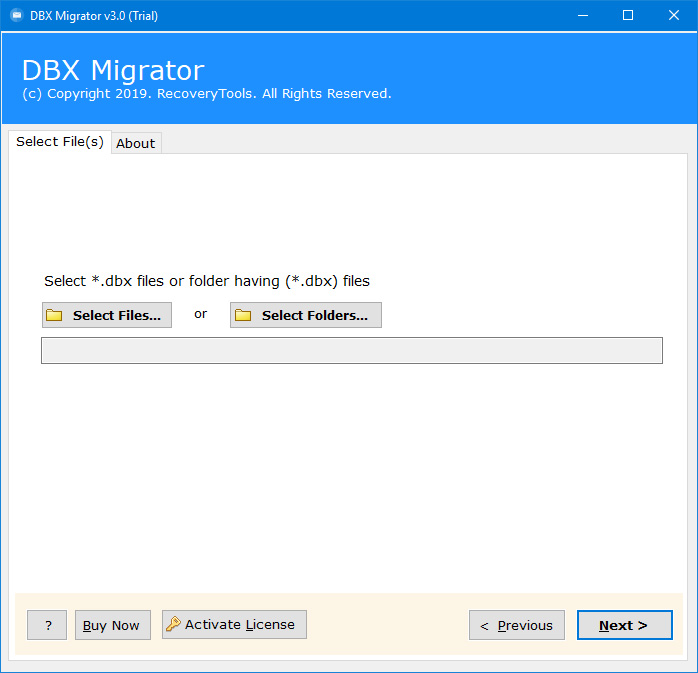 Select require messages files mentioned on the panel that you want to import into Office 365.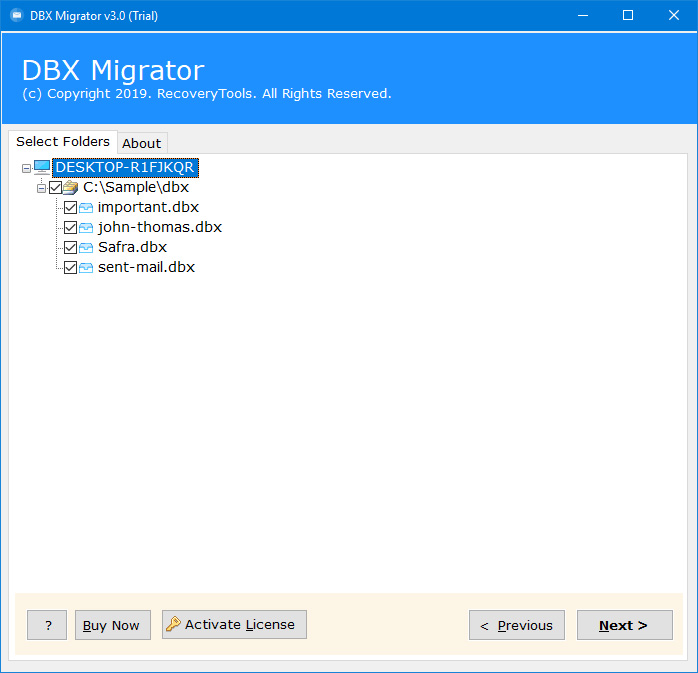 Now, pick Office 365 option from the 30+ saving choices list.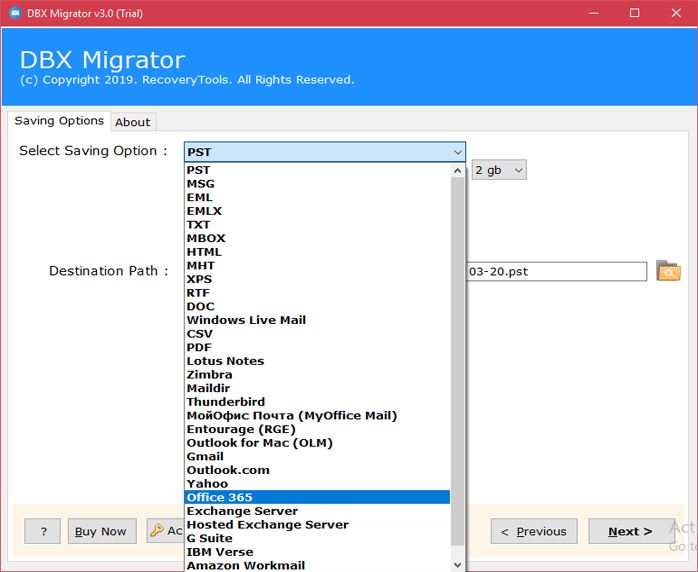 Give the login credentials of your Office 365 account by entering the User Id and Password.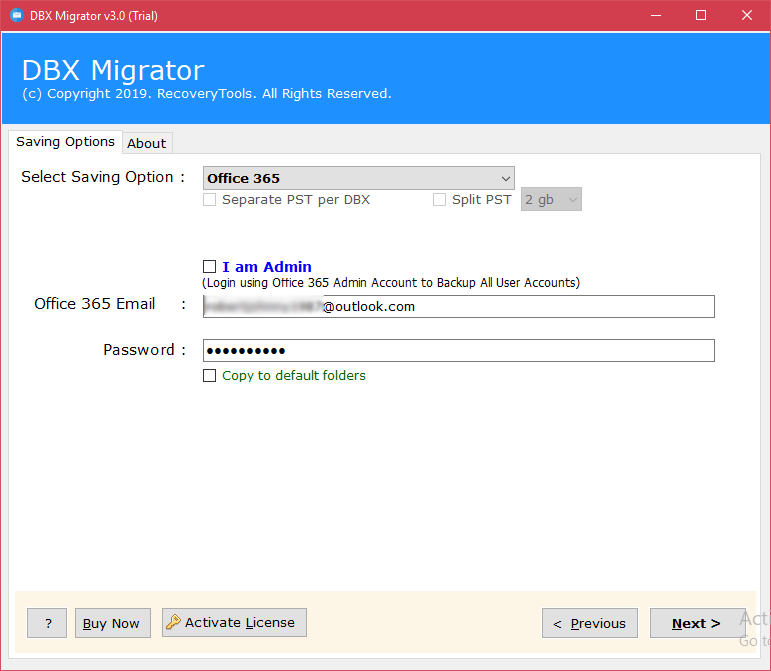 Tap on the Convert button and start the import process.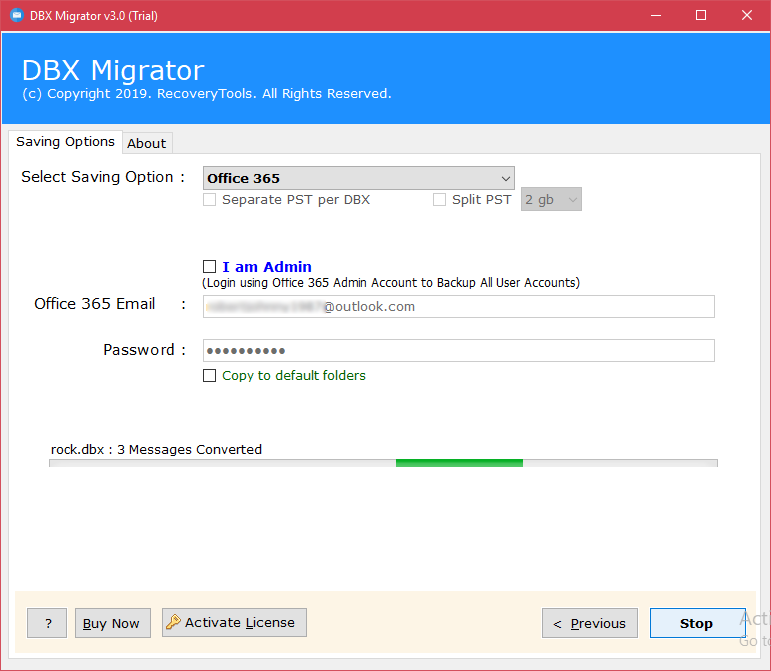 In just few minutes, access the resultant data on your Microsoft 365 account.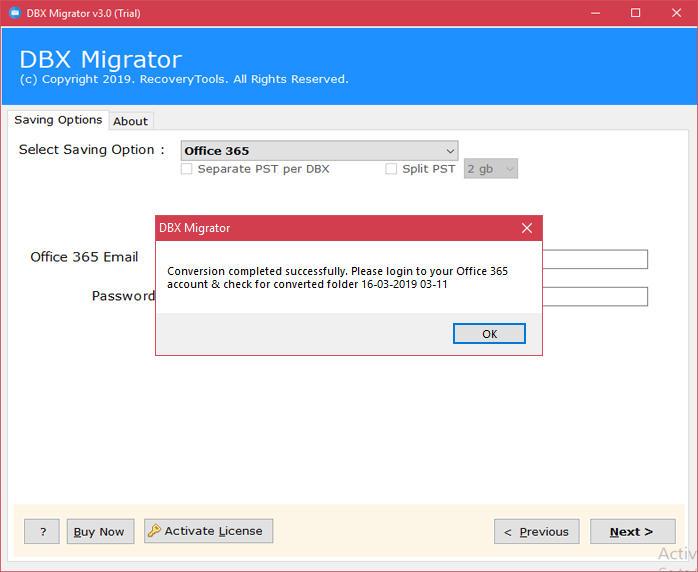 Major Features of Import Outlook Express DBX to Office 365 Tool
Dual Options to Import DBX Files:
The tool provides multiple options to load the Outlook Express data on the panel. Select Files or Select Folders option will be available on the panel. Using select files, it is possible for users to load some specific files on the panel. Using select folders, it is possible to load multiple number of files
Folder Structure Retains:
Most of us are worried when transferring emails from one place to other. Hence this product gives a flawless way of maintaining the folder structure during the process.
Safe Place to Protect Your Privacy:
Many platforms first move your DBX files to their database for conversion. But this is not the case with this application. Because it is a completely secure application. There is no need to upload DBX files to any application server. This product reads and migrates your data without any bugs.
Operate Easily By Any User:
Technology is a headache. Because many people do not understand the working of different tools or platforms. But this is not the case with this application. Hence this Outlook Express DBX to Office 365 import tool offers the simplest interface which easily understands by a novice user.
Conclusion
This write-up described a method to import DBX to Office 365 account. If you want to understand the procedure, then read this article completely. Also, you can test the recommended utility on your Mac or Windows computers. The solution gives a direct way to import the Outlook Express data. For other bits of help, the technical team is always available. Thank you for reading.