Import / Export DBX Contacts to CSV format with DBX to CSV Converter Tool
Karen Chard
~ Published: 03-04-2019 ~ Outlook Express ~ 4 Minutes Reading
Those who are looking for a solution to convert DBX to CSV format, you will be able to do the conversion easily after reading this blog. DBX is an outdated file format and many Outlook express users are looking to migrate the email platform to other formats including contacts.dbx file. Many email platforms support contacts in CSV format and we are going to explain how to convert your DBX contacts files to CSV format. We are introducing you one of our finest tool DBX Migrator that will help in achieving the result. Using the tool, you can convert not only the DBX contacts files but also email messages as well to CSV. The tool is helpful in managing Outlook Express DBX files into Excel Sheet with detailed important information such as Date, Subject, Body, From, To, CC, Attachments Storage Path, etc.
This written up will be useful for all those users who plan to export Outlook Express contacts to CSV format. Fortunately, DBX to CSV conversion software allow users to export the Outlook Express Address Book and all other contact details such as Name, Email Address, Mobile, Address, Phone etc.
How to Move DBX to CSV File & needs of Outlook Express to CSV Converter Application:
There are millions of users looking for manual ways to transfer Outlook Express DBX to the CSV file format. People can find numerous methods on the Internet to perform this task, but it can be a very Hectic & Time-Consuming task. Therefore, in order to perform conversion smoothly, we have designed the DBX Files to CSV Converter Application. The software is capable to perform large number of conversion in short span of time. To save time & efforts, the majority of users typically prefer to use DBX to CSV Converter Application.
Kindly watch the Above video tutorial which will explain you the complete steps for converting outlook express DBX files to CSV format. Here we used our Recoverytool DBX Migrator Application that provide the facility to import multiple or single DBX files into CSV format at once.
DBX to CSV File Converter Free Download Application:
DBX to CSV File Converter provides a free demo version of the application that allows users to convert the first 25 messages from each Outlook Express folder to the CSV format. User can evaluate the free trial edition to check the complete functionality of the software and once the user is satisfied with the efficiency of the application, they can buy the appropriate license of the software. With the licensed version, the user can perform an unlimited conversion without facing any error. The best part of the software is that there is no size limitations to convert DBX files to CSV format.
How to export DBX to CSV format in just few steps:
Step 1: Kindly Download, Run and Install the DBX to CSV file converter Application.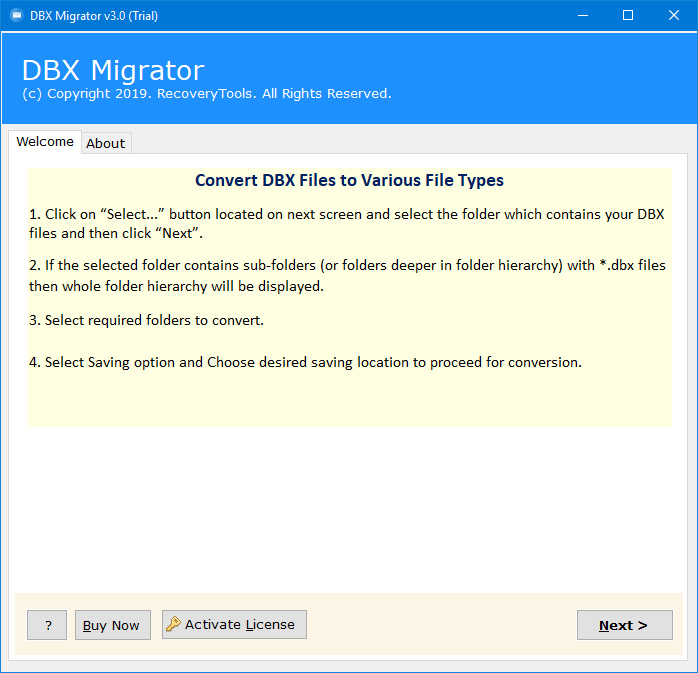 Step 2: Choose DBX Mailbox data by selecting Select Files or Select Folder Option.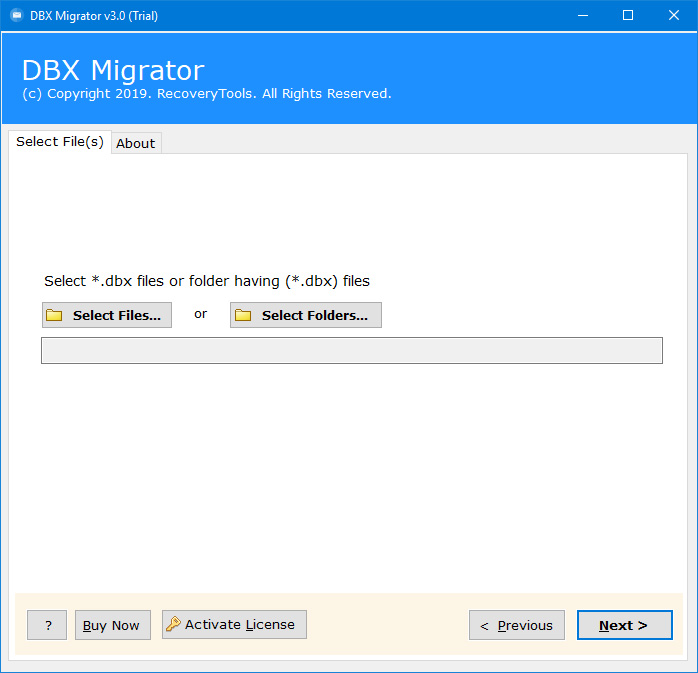 Step 3: Choose the DBX mailbox that you want to load in the application panel.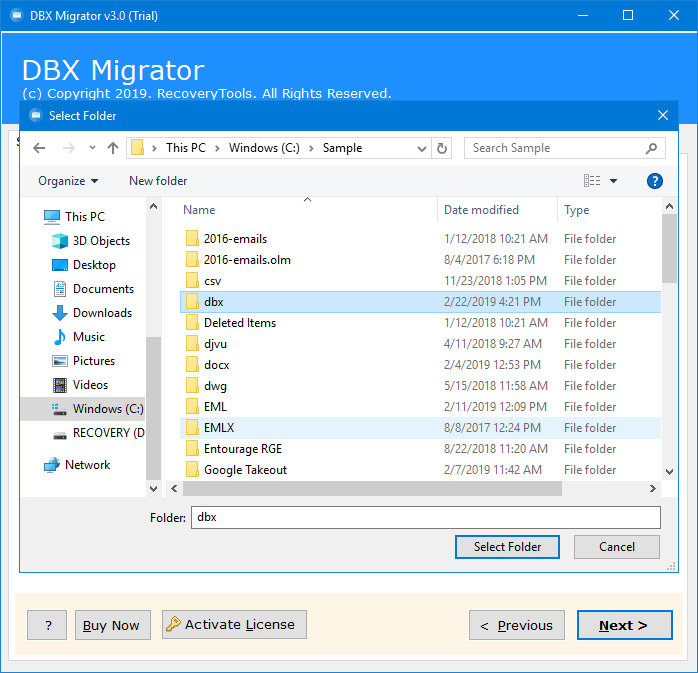 Step 4: Check all those item that you want to export into CSV file format.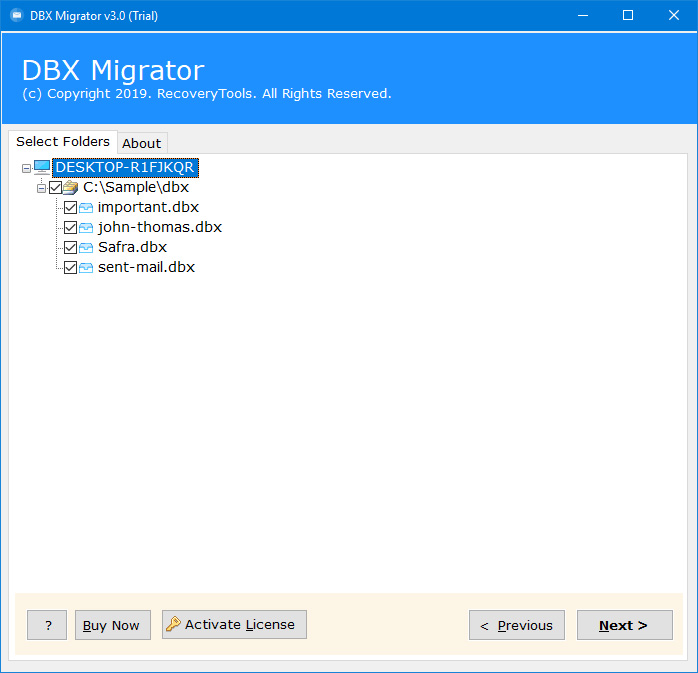 Step 5: Choose CSV as a saving option.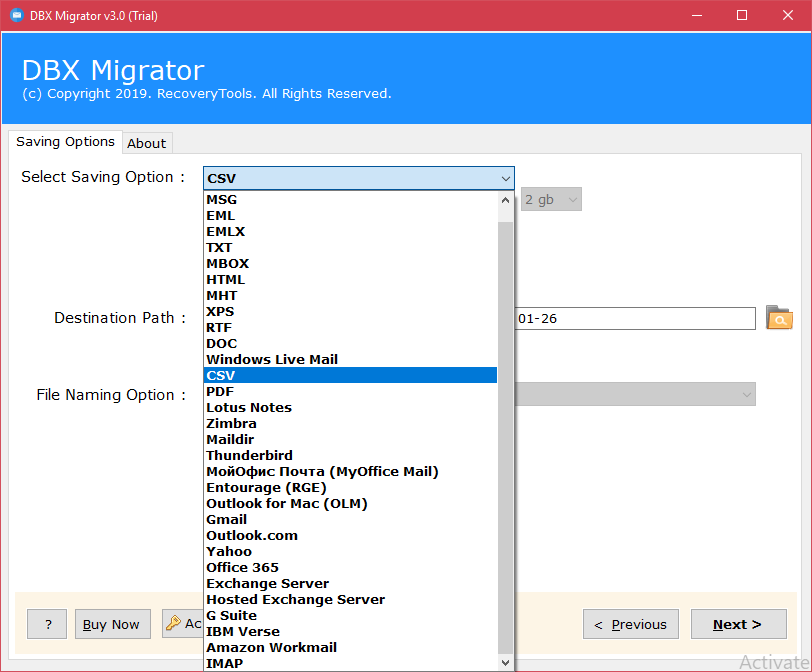 Step 6: Click on NEXT Button to process the conversion.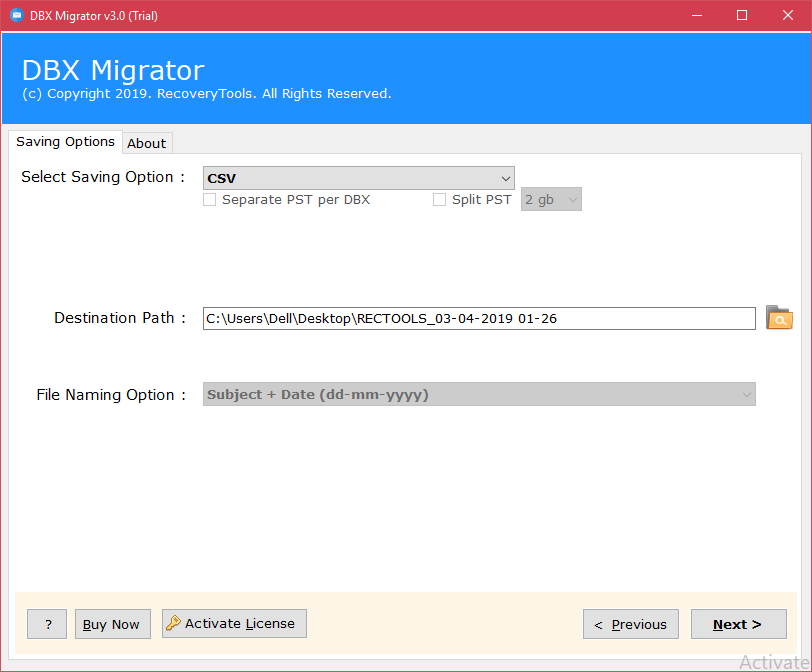 Step 8: Now, The tool will show you the Live Conversion process.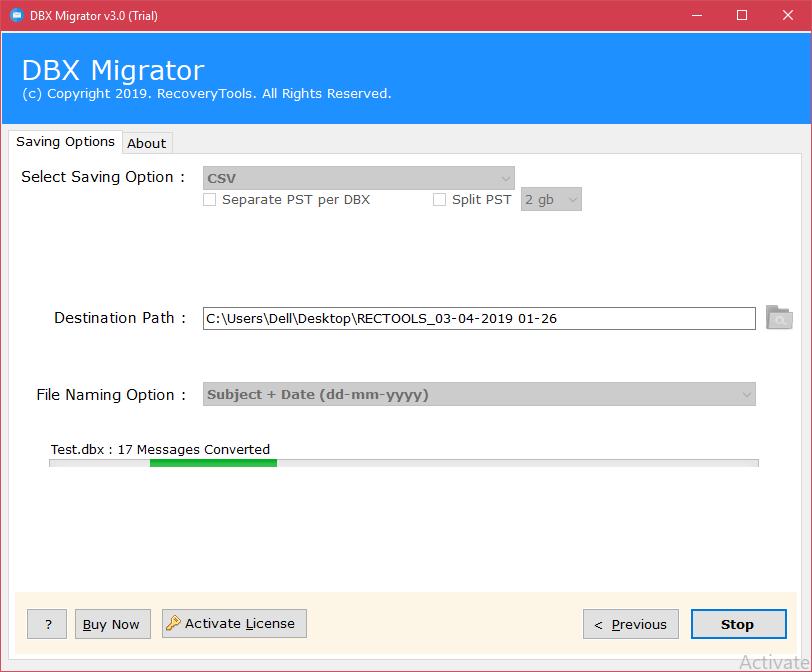 Step 8: After completing the conversion process, you will receive a pop-up message, click OK to exit from here.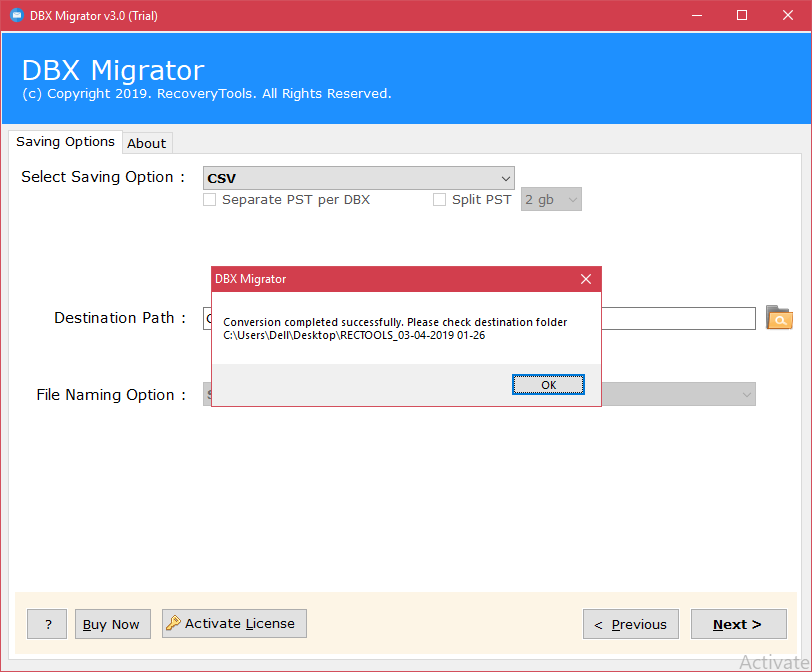 I hope that these previous steps will help you understand the complete conversion process. The best thing about the software is that it provides dual functionality, one can select individual or multiple files and convert them to CSV format. The software also has the functionality to convert unlimited DBX contacts files to excel in a single click.
The Verge: Now a days, it is quite easy to transfer DBX files to CSV format. The software provides 15+ email client / file formats for converting contacts.dbx files. The software provides direct option to export DBX files to CSV formats. You can download the free demo version and check the working by converting 25 outlook express contacts to excel format.