How to Export Lotus Notes to MSG File? Get Solution!
Karen Chard
~ Modified: 13-10-2022 ~ Lotus Notes ~ 6 Minutes Reading
Are you facing a lot of issues while using Lotus Notes Email Client? Do you want a perfect solution to export Lotus Notes to MSG format? If your answer is yes, then no need to go anywhere. This blog has been specially made for you, here you will get the perfect solution for the mentioned query.
Lotus Notes is one of the well-known Email Clients that is now referred to as HCL Notes. It manages the entire data including contacts, calendars, to-do lists, file sharing, management, instant messaging, and all the user directories. Lotus Notes exports its data in the .nsf file format.
On the other hand, if we talk about MSG, then we can say that it is a single object storage file that has been given by Microsoft Outlook. It can be an email, contact, calendars, to-do lists, attachments, and other data items. Users can easily open MSG files in Outlook without having any issues.
There are lots of users on the Internet who wants to convert their NSF files from Lotus Notes to MSG format. Although there are a lot of solutions present on the Internet still users are facing a lot of issues in finding a perfect guide to solve their queries instantly.
Why do users export Lotus Notes to MSG?
Users usually move from Lotus Notes to MSG, only because Lotus Notes is so much costly and if a small organization is using this then, it may be a huge loss as they have to pay a lot of amounts while working on this. Whereas, moving to Outlook will cost less.
Also, converting NSF files to MSG allows users to store a single object separately according to their needs and requirements. And, it is beneficial when user wants to send only some data to their business client or team members.
User Query
"Hey, I am Julie. I am using Lotus Notes for the last 2 years since I had started my small business. But now I am thinking to move to Outlook as I am facing some money issues, all because Lotus notes take much amount to manage my data. And, moving to Outlook in the form of MSG allow me to save my single data items separately so that it is possible for me to manage them according to categories.
Is there any possible way that can help me for the conversion of entire Lotus Notes .nsf data to MSG instantly?"
Automated Approach to Convert Lotus Notes (.nsf) to MSG
Hence, there is no direct solution for the conversion. Therefore, we have come up with a perfect utility that has been developed by the RecoveryTools Team Experts to carry out the results instantly without putting much time and effort. Lotus Notes Converter is an effective solution that allows users to convert multiple or unlimited numbers of files to MSG format for Outlook. It has been developed with an advanced technological algorithm to understand the queries of the users that we had received.
This NSF to MSG Converter possesses multiple unique features and hence can easily convert unlimited data without any data loss. The utility also supports the conversion of files to 25+ formats including Email Services and file formats such as converting NSF to PDF, converting NSF to PST, converting NSF to XPS, converting NSF to DXL,  import NSF to Gmail, import NSF to office 365, and others.
So, without wasting the time, just download the NSF files to MSG Converter for free of cost and initiate the conversion process.
Step-By-Step Guide to Export Lotus Notes to MSG Format:
Install and run the mentioned utility in your existing system to start the conversion process.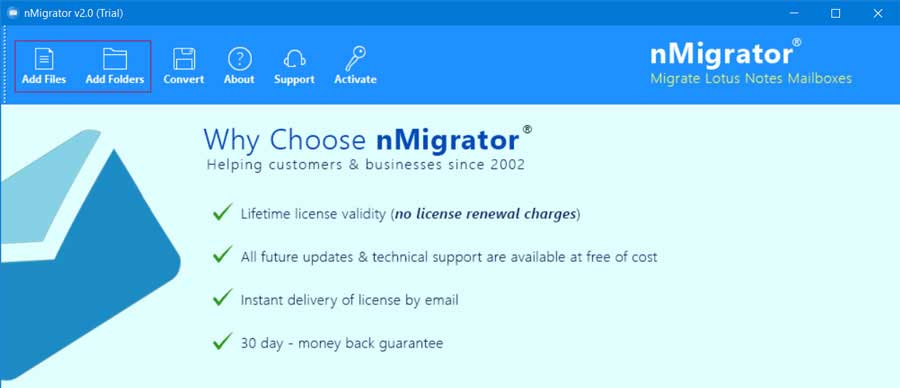 From the software panel, choose the option to add files or add folders and select the data from your system.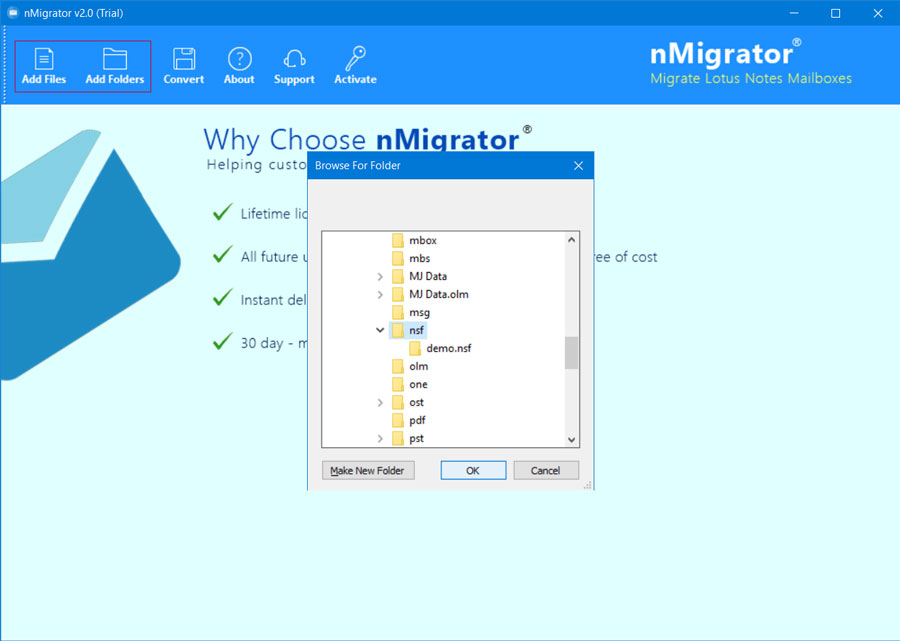 Then, you can see all the data including emails, attachments, contacts, and other data items on the screen. You can select the needed data from them and easily do the selective conversion of data.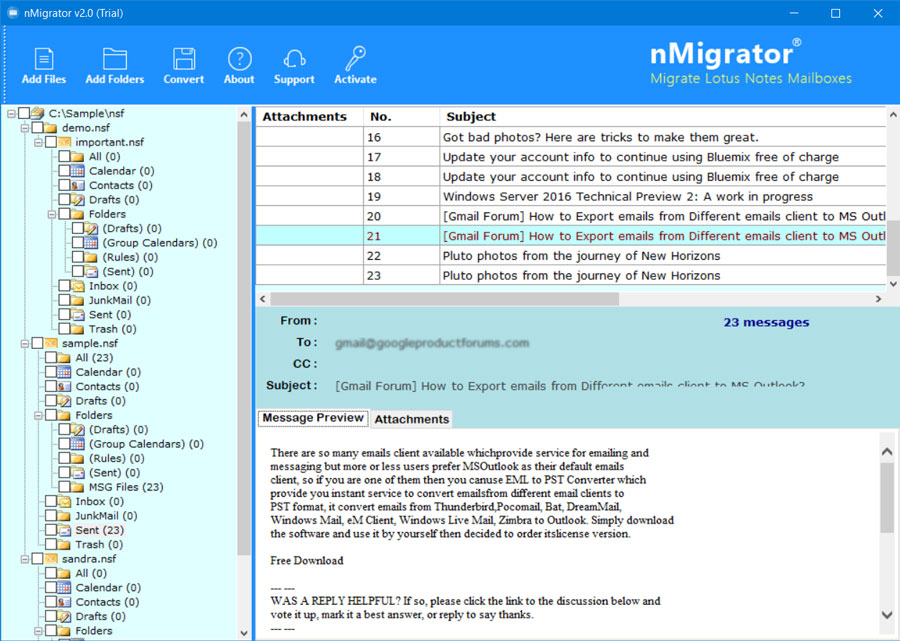 After that, click on the Convert button and choose the destination path using the Browse option. Select MSG as the file saving option from the complete list and you can also choose the file naming option to save the resultant file with that name.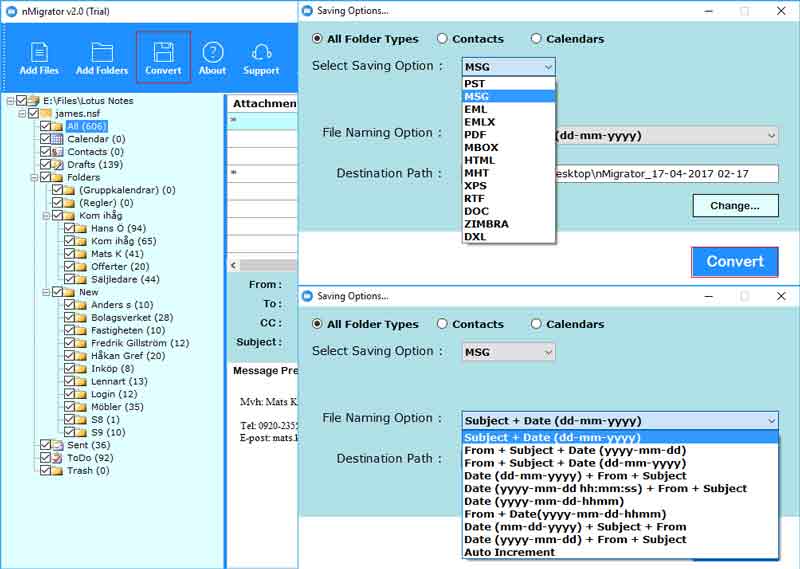 Wait for a couple of minutes, and you will be able to see the resultant message on the software screen.

Then, you can go the final path and see the resultant files. Double click on the file and choose MS Outlook as the file opening option.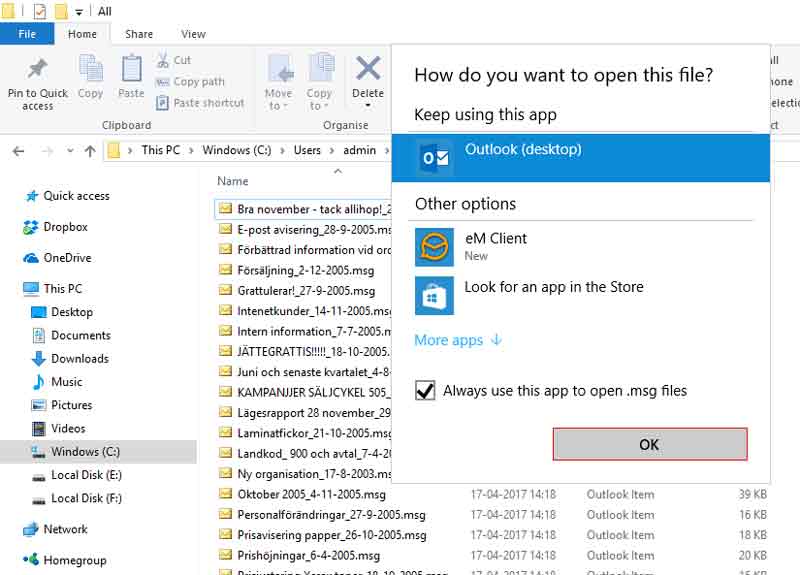 Key Aspects of NSF to MSG Converter Tool:
Several Options to Load NSF Files
The software allows you to load the data on the panel either by choosing the options "Add Files" or "Add Folders". Add files allows users to load only some specific files. Add Folders can easily load multiple files present in a single folder. This feature makes the user's task easier and can easily load only some selective data according to user needs and requirements.
Batch Conversion of NSF to MSG
The Converter can export Lotus Notes data to MSG in bulk quantity without any kind of size limitation. While converting a large number of data, the original structure is managed properly. In fact, in the hierarchy of files and folders, there will not be any kind of interchanging or swapping.
Maintains all the Lotus Notes Attachments
The NSF to MSG Converter while conversion of emails into MSG also includes attachments whether they are normal or embedded. This utility is one of the perfect software that maintains attachments in emails in their original format.
Supports all Outlook versions for resultant MSG files
This Conversion tool will result in an MSG file that supports all the versions of Outlook whether previous or latest versions. Also, it will not result in any type of damaged or corrupted file that can harm the data. It is compatible with all the versions of Windows OS and all other 32-bit and 64-bit Windows OS versions.
In Conclusion
Therefore, we had tried our best to give you the complete solution to export Lotus Notes to MSG. Hence this is one of the easiest ways to conversion of NSF files present on the Internet. Additionally, there is no direct solution for this conversion but I suggest you continue with this automated approach to get positive results with 100% accuracy.
Also Read: Migrate HCL Notes to Gmail Account