How to Migrate HCL Notes to Gmail Account ?
As an experienced HCL Notes (formerly from IBM) engineer with 10 years of experience, I am regularly asked: "For what reason are you switching from Notes?" My answer is that there are countless such options for users like us today!
An organization can replace HCL notes for several reasons.
Okay, you might find another C-level chief who had no prior experience working with Lotus Notes Domino.
Therefore, regardless of the reason, users want to transfer HCL Notes to a very productive email platform like Gmail.
In this blog post, we are going to discuss a highly efficient solution for transferring HCL Notes email to Gmail.
Instant Solution:
If you want to migrate HCL Notes emails to Gmail, we have recommended you to download this application on your Windows computer. This solution allows you to transfer all your emails from HCL Notes to a Gmail account directly. For more information, continue reading this article.
Pros of Migrating HCL Notes Emails to Gmail
Normal and Recognizable: One very common explanation behind the need to transfer HCL Notes emails to Gmail is its unfamiliarity. So many users are already learning about Gmail but are not very familiar with the use of HCL Notes.
Clunky Interface: let's face it. HCL Notes is not the new emailing platform that it used to be. In fact, even with the fullness of its updates, its UI can feel somewhat contrasted with the straightforward clean UI of older Gmail.
Less Central Management: Gmail comes with better and superior management while HCL Notes Domino is not. You need to invest energy to set it up and organize it. This can be a real consideration for some, especially those with less technical experience.
Under such conditions, it is highly suggested to transfer emails from HCL Notes to Gmail.
Hassle-Free Solution to Transfer HCL Notes Emails to Gmail: If you are looking to change your email platform from HCL Notes to Gmail, your search ends here. RecoveryTools nMigrator Software is an automated utility that gives a direct option to migrating HCL Notes email messages to Gmail.
It allows to migrate HCL Notes emails to Gmail in a single instance without any file limitations.
How to Migrate HCL Notes to Gmail Account ? Working of Software
Read the steps given below to know the functioning of HCL Notes to Gmail migration tool.
First of all, download and install the setup of software on your Windows PC.
Now, open your HCL Notes files in the toolkit using the dual options- Select Files or Select Folders.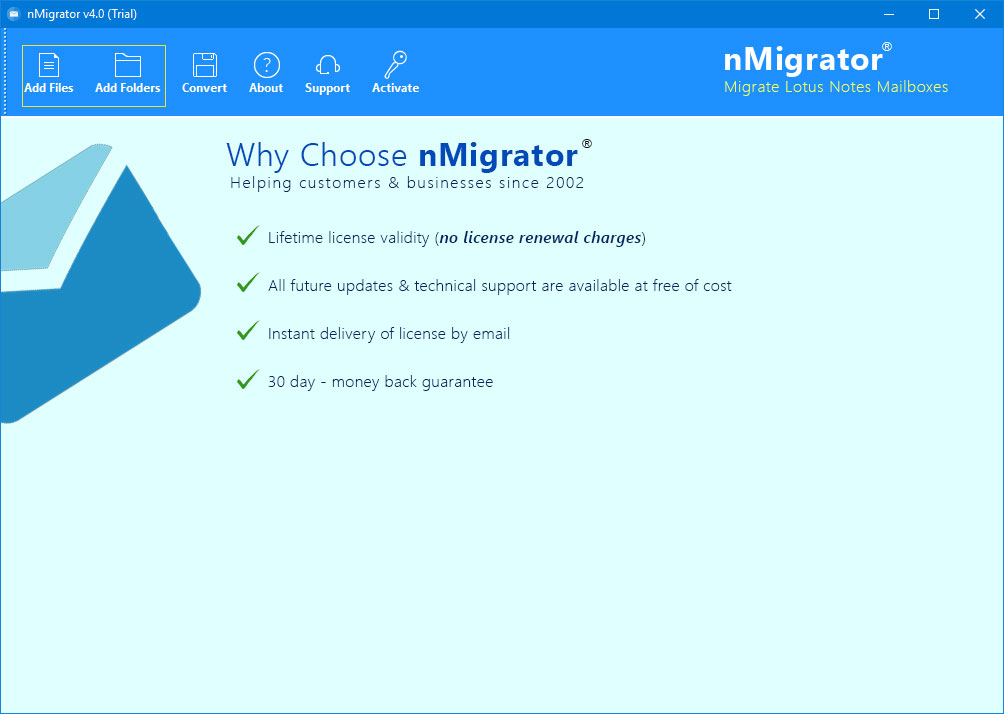 Then, the utility starts loading all HCL Notes NSF mailbox items in the user interface.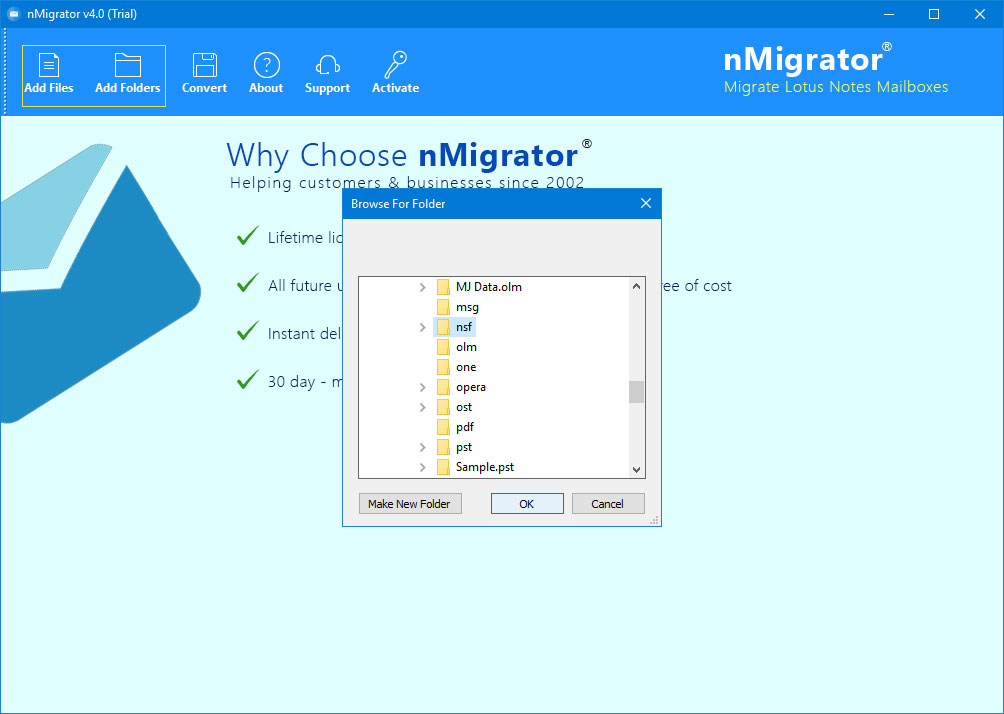 After this, hit on any folder to see all messages in the right pane of the window.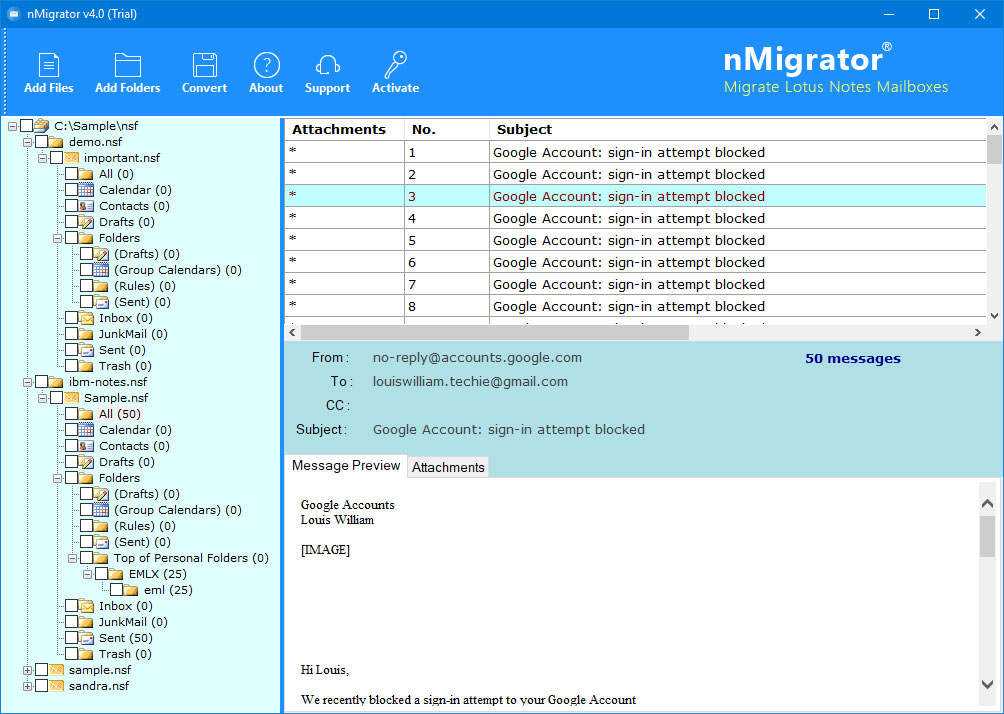 Thereafter, choose any HCL Notes email message to view entire information such as Header info, email content, etc.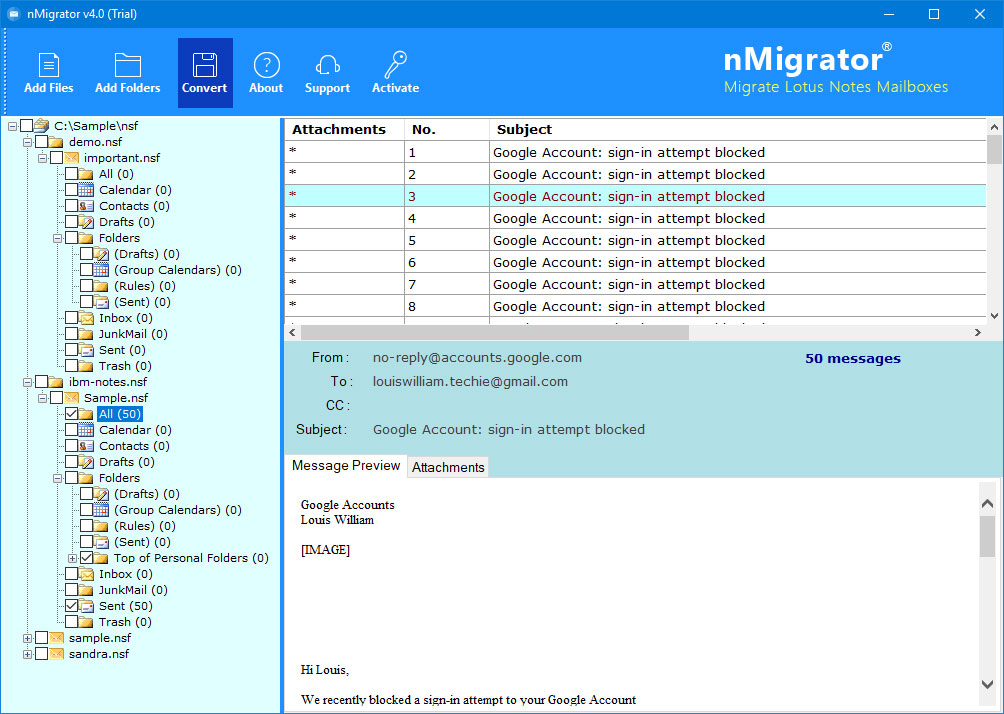 Now, to perform the migration, hit on the Convert button. Here, select Gmail as destination saving option.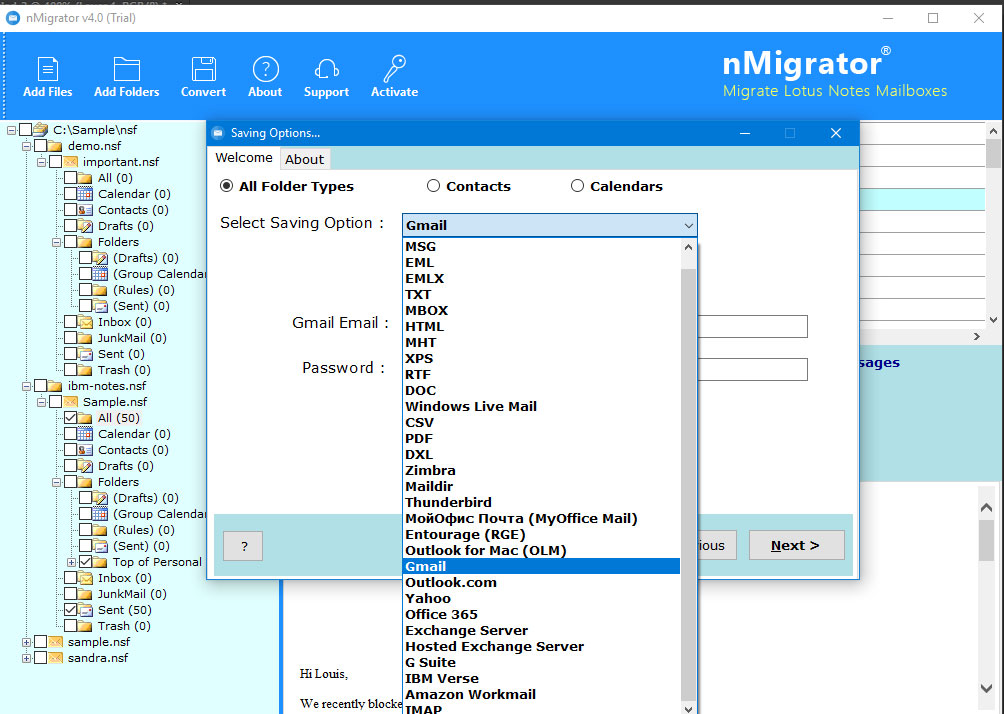 Thereafter, enter all login credentials of your Gmail account.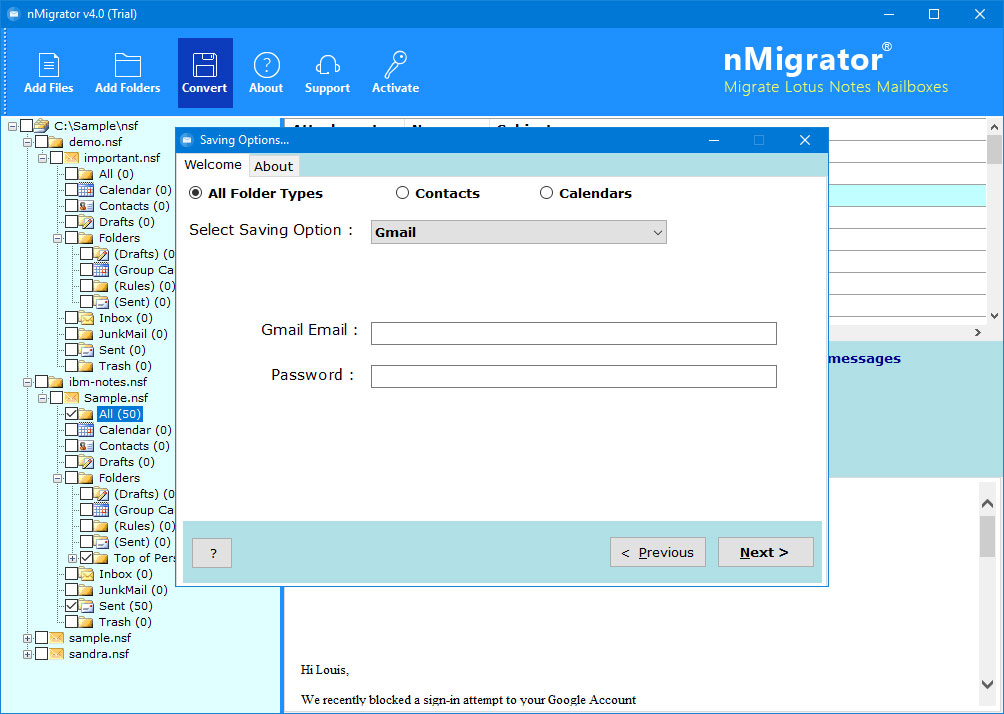 Finally, start the process to transfer HCL Notes emails to Gmail account.
At the end of HCL Notes to Gmail migration process, you will see a Saving Log report which comprises each detail of the processing.
HCL Notes to Gmail Migration – Benefits of Software
Batch Migration- With this software, you can easily transfer HCL Notes emails to Gmail in batch mode. This whole process takes place in a single round of processing.
Transfer each data item- The utility will migrate each single data item from HCL Notes to Gmail account. Rather it's your inbox, drafts, sent, junk, trash, etc. the tool will transfer everything.
Data Filters- Users can also migrate HCL Notes emails to Gmail in a selective manner. For this, there are various filters available such as Date, From, To, Subject, Exclude Folders, Organizer, Root Folder, Text Formatting, etc.
Migration with Attachments- Note only emails, the HCL Notes to Gmail transfer is capable to move all embedded attachments too. It allows to migrate emails from HCL Notes to Gmail with attachments.
Windows Compatibility- Use this software to transfer HCL Notes emails to Gmail on any of your Windows machines. The tool runs on Windows 10, 8.1, 8, 7, XP, Vista, etc.
No Domain Connectivity Required- While using this application, the user will not require connectivity with the Domino Server.
Preview of All Emails- Users can also preview each single HCL Notes data before starting the migration. The tool gives a full preview of all email messages along with attached files.
Conclusion
The above write-up is a simple tutorial about how to migrate HCL Notes emails to Gmail account. If you have many orphan NSF files and you don't have HCL Notes mail client on your machine, this utility is quite useful. You can also take the advantage of the free demo version for evaluating the performance of the tool. It allows to transfer top 25 emails from HCL Notes to Gmail account. Once you are fully satisfied with it, then you can buy the licensed keys of the product.