Simple Approach – How To Do Lotus Notes to Gmail Migration?
Overview: Are you searching for a method to do Lotus Notes to Gmail migration? If yes, then read this write-up. In this article, we will get to know about how to forward emails, contacts, calendars to Gmail accounts instantly & quickly. A large number of users are in search of this query and a large number of solutions already present on the Internet but still we have come up today with one of the effective solution.
Lotus Notes or IBM Notes is an enterprise email client which integrates social collaboration, messaging & business applications on a single platform. It allows the users to manage emails, calendars, and contacts with an improved user experience. Moreover, it also integrates the IBM Collaboration tools as well as IBM Domino Business Applications. Its latest release is IBM Notes v10 which can forward all your emails to become part of crucial operational functioning & increase the overall efficiency.
But the main problem faced while using HCL Notes by users is it's a desktop-based email client. It cannot be accessed online in this age of cloud computing. The prime alternative which can fill this limitation is Google Mail or Gmail. It is a completely free-to-use email service that provides various advantageous integrations to its users. Hence it has become a common trade between the users to forward their data from Lotus Notes to Gmail account.
I was looking for a powerful software which can migrate my Lotus Notes data to Google Mail account. I prefer Gmail over Lotus Notes due to its cost-effective approach. When I asked about it with my friends, they tried to do it through some manual tricks but that cannot be done to obtain the accurate results. Kindly suggest me a professional toolkit.
Thomas Marley, Netherlands
Smart Solution: Lotus Notes to Gmail Migration Tool
This can be done with the help of a powerful toolkit. One such solution is RecoveryTools Lotus Notes Migrator software which will provide a direct solution to forward Lotus Notes to Gmail. The user only needed to provide the account with the login credentials of the resultant Gmail account like Email Id & Password.
Not only in Gmail but you can easily migrate the data to other platforms such as Lotus Notes to HTML, Lotus Notes to Office 365, Lotus Notes to Exchange Server, Lotus Notes to Cloud, and in multiple other structures. It has been developed with a high technological algorithm that allows users to perform multiple functions at once. In fact, it provides an Advanced Search option that allows users to search for a particular email from bulk data at once.
Free Download Lotus Notes to Gmail Migration Tool:
Note: This tool is free to download which allows the users to forward first 25 items from Lotus Notes to Gmail. Moreover, for unlimited migration, it is possible to migrate unlimited number of data to Gmail account.
How to Forward Lotus Notes to Gmail? – Steps
The working of the software is very easy & simplified. Anyone can forward emails, contacts, calendars, etc. to a Gmail account just by following these simple steps:
Install & Run mentioned Migration tool & choose Add Files or Add Folders.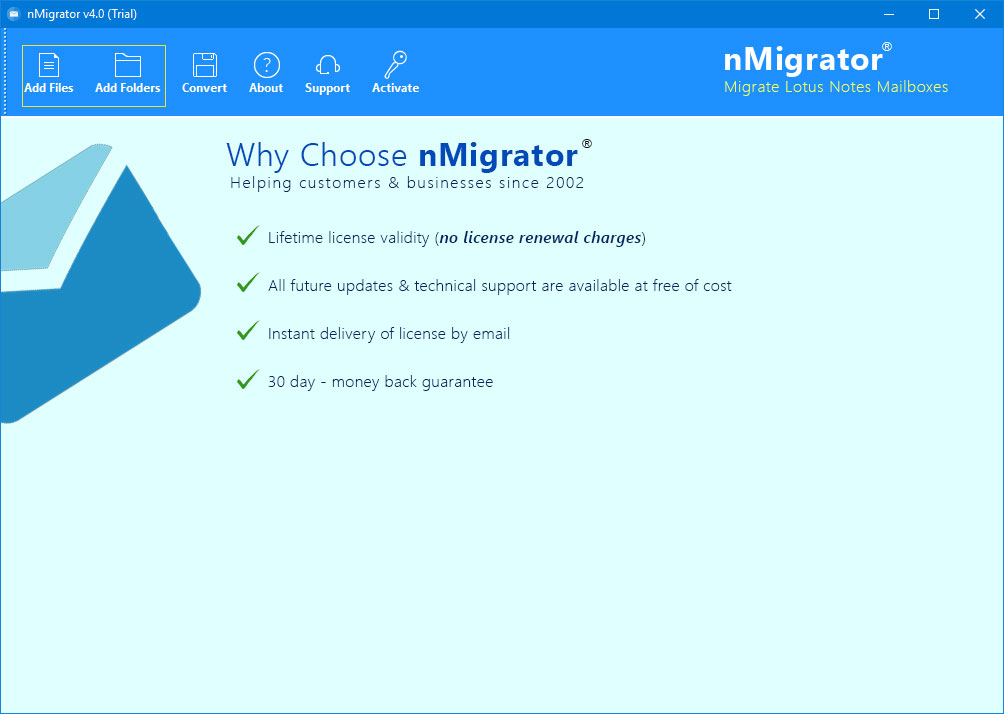 Select the Folder having NSF files & then click on OK.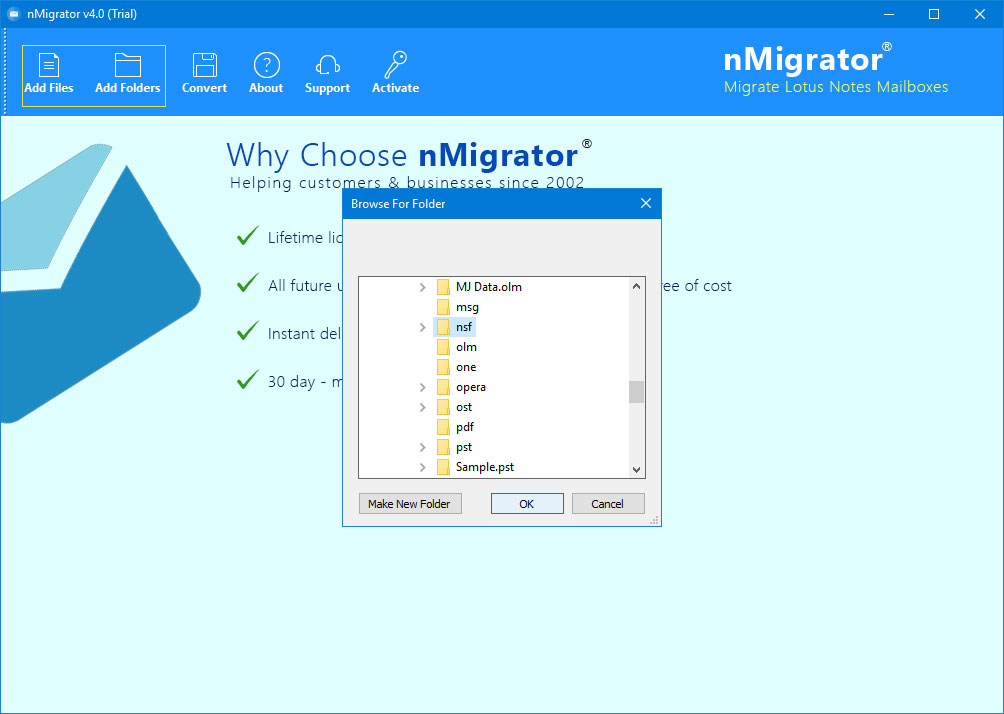 The utility will allow the preview of Lotus Notes mailbox items with all properties like From, To, CC, etc.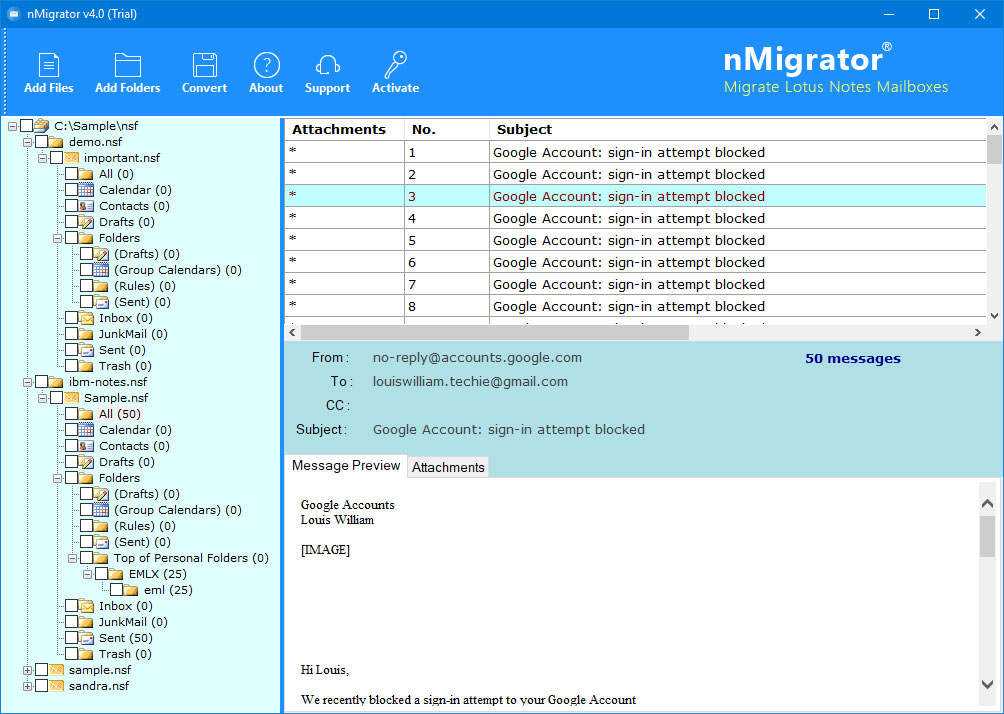 Select the mailbox folders to perform conversion & click on Convert to proceed.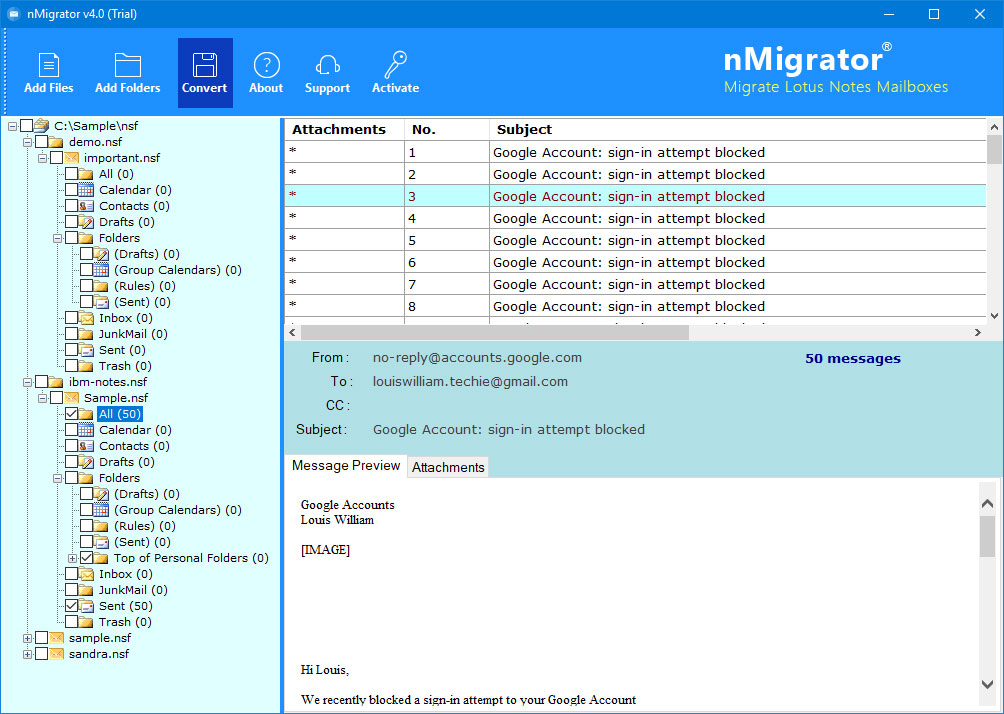 From the list of 30+, Saving options choose the Gmail option.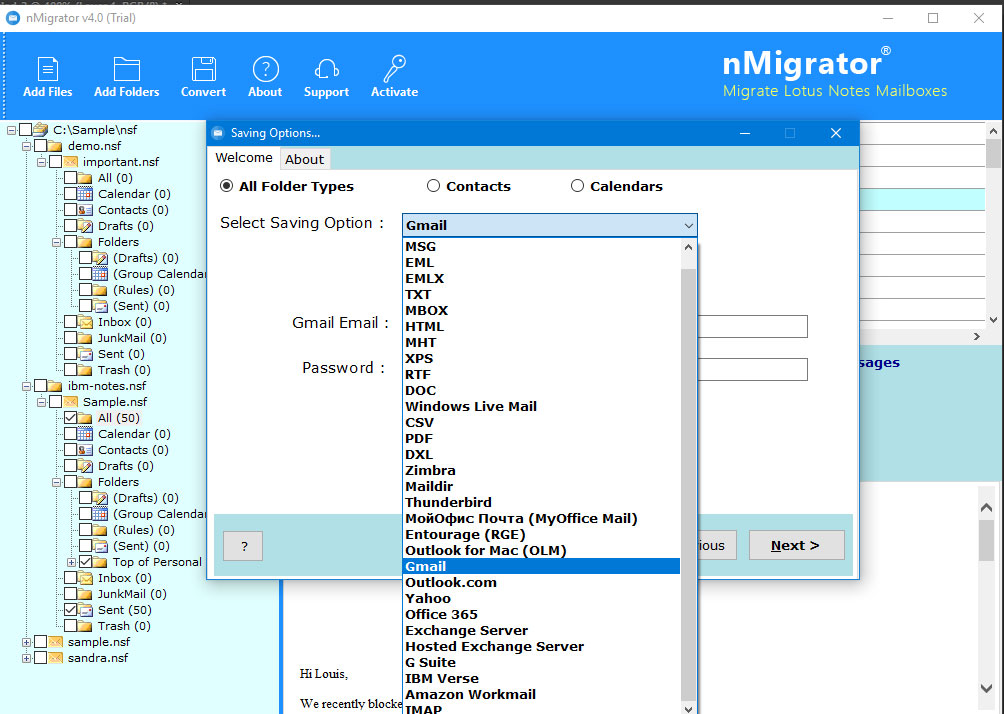 The software will ask the users their to enter Gmail Email ID & Password.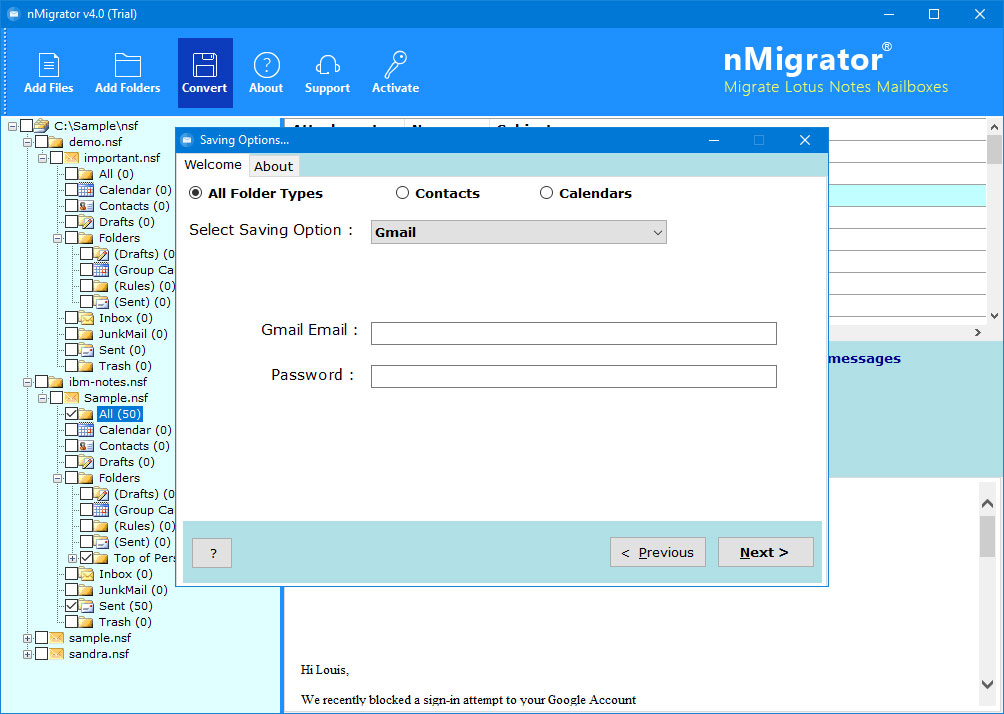 Setup Lotus Notes to Gmail migration option & click on Convert. It will initialize the process. Analyze the Live conversion process directly in the application panel.
At last, the software will display a confirmation box. Click on the OK button to confirm & exit from here.
Note: In case you face any issue while configuring or authenticating your Gmail account, then you need to Enable IMAP access, and Generate App Password there.
Lotus Notes to Gmail Migration Software – Major Features & Benefits:
The software allows dual ways to load Lotus Notes files in the application panel either by clicking on the Select Files option or Select Folders.
One can batch forward multiple Lotus Notes users in a single instant. One can load the whole folder having NSF files in the application panel.
The utility enables the users to preview the Lotus Notes emails directly in the application with all its information like Metadata, Attachments, & message content information.
Moreover, the software requires Lotus Notes or HCL Notes email client installed & configured
Also, this utility only requires account login credentials of resultant accounts like Gmail Login Id & Password.
It supports forwarding all types of Lotus Notes exported NSF files obtained from any version i.e. Lotus Notes 6.5, Notes 7.0, Notes 8.0, Notes 8.5, Notes 9.0 or IBM Notes 10.0.
Migrate all Lotus Notes Emails, Contacts, and Calendars to your Gmail account instantly & quickly.
The utility is compatible with all the latest versions of Microsoft Windows i.e. Windows 10, Win 8.1, Win 8, Win 7, Win XP, Win Vista, etc. for both 32-bit & 64-bit OS editions.
The Verge
In this article, we deal with a number of queries that are regularly asked by users on various platforms. We tried to find out a solution for how can anyone do Lotus Notes to Gmail Migration without making any change in its original formatting. Free download this mentioned tool to forward data to your Gmail account. The Demo version which will allow you to migrate the first 25 emails from each folder. To perform unlimited migration of mailbox folder kindly purchase the appropriate license & then activate the software. For more details, you can also visit the support page.