How to Migrate Zoho Mail to Gmail Using Direct Solution?
Are you looking for a solution to migrate Zoho Mail to Gmail account with complete data security? Want to know more about how to export emails from Zoho to Gmail? If yes, then read this article to understand the solution with step by step guide. Here, we have explained the process to migrate emails and attachments. So, let's begin the topic here.
In this world of cutting edge innovation, email plays an important role in communicating with others. On a professional level, email is the most ideal way to communicate with others. However, it is clear that emails contain very important information and no user would like to lose them anyhow. Therefore, a lot of users migrate email data from one platform to another every now and then. As having emails on different platforms ensures a data security.
"User Query: Hi, I want to know the process to move Zoho Mail for Windows 12.0 to Gmail account. However, I have a lot of important emails and many attachments in my Zoho Mail account. My mailbox is almost full. So, I need to migrate all emails to my official Gmail account. Furthermore, I want to maintain the email folder hierarchy during the process. Do you have any reliable solution that can help me migrate email data instantly? Please give me suggestion."
Secure Solution for a Zoho to Gmail Migration
For a secure and migration, just download RecoveryTools Zoho Mail Backup Software. This is one of the best applications to provide a direct way to export Zoho Mail to Gmail account. Moreover, this automated software supports all Microsoft Windows operating systems including server editions.
Using this application, users can easily do the complete migration of all email data and attachments without facing any limitations. Moreover, it even supports multiple other formats such as Zoho Mail to PDF, Zoho Mail to PST, Zoho Mail to EML, Zoho Mail to Office 365, and others.
Note: First, download this trial version of this utility to migrate 25 emails from each Zoho Mail folder to your required Gmail account. For unlimited migration process, purchase licensed edition.
How to Migrate Zoho Mail to Gmail Account Quickly?

Run Zoho to Gmail Migration Tool on Windows desktop.
Enter Zoho account credentials in the interface including user name and password.
Select the required email folders from the Zoho mailbox list.
Choose Gmail option from the drop-down list and fill out the account Credentials.
Click on the next to Backup option to begin the migration of all selected emails.
Common Reasons Why Users Prefer to Move to Gmail
There can be many reasons why a user wants to migrate email from Zoho to Gmail account. But a big reason for this is security and free email service. Furthermore, Zoho Mail only offers 5GB of storage, while the user gets 15GB of free Gmail storage. Thus, creating a backup at double location makes the data more secure. In the following, we have mentioned some of the common reasons for a user who wants to migrate.
Gmail is a free email service provided by Google Inc. Google is one of the leading corporations in the world. It provides better data security as per other email service providers. So, Zoho Mail users may want to transfer their emails to Gmail accounts.
In terms of storage space, Zoho Mail only offers 5GB of free storage. But Gmail gives 15GB of free storage space along with 25MB of attachments to send with each email.
Gmail provides a simple and managed user interface API for instant messaging. This is one of the major reasons why users want to migrate Zoho Mail to Gmail account.
Moreover, Gmail even offers multiple device connectivity at one time. You can easily access your Gmail account from any device.
Quick Steps to Migrate Zoho Mail to Gmail Account
Important Note: To configure required Zoho and Gmail accounts into the software for migration, you have to validate the IMAP access and make an app password. The steps are mentioned below for both accounts.
For Gmail Account:
For Zoho Mail Account: Check out the Zoho Mail Settings
Once all the settings are done, you can go for the tool to transfer emails from Zoho to Gmail account as given below-
Run the mentioned Migration tool on your Windows Computer.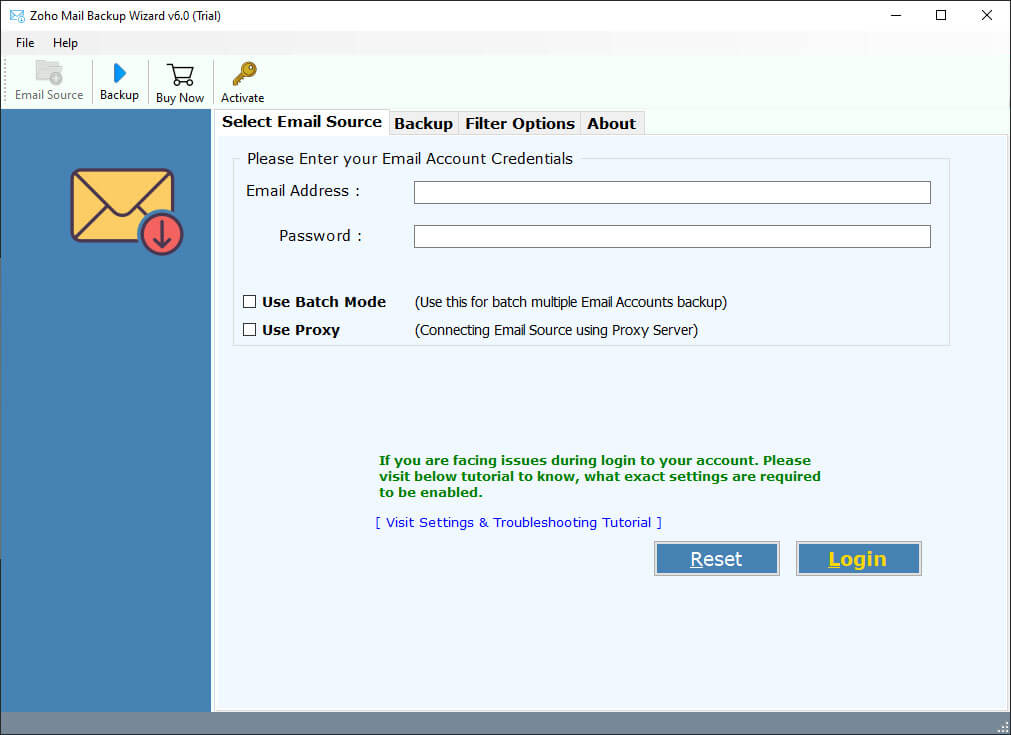 After that, enter the details of your Zoho Mail account in the user interface.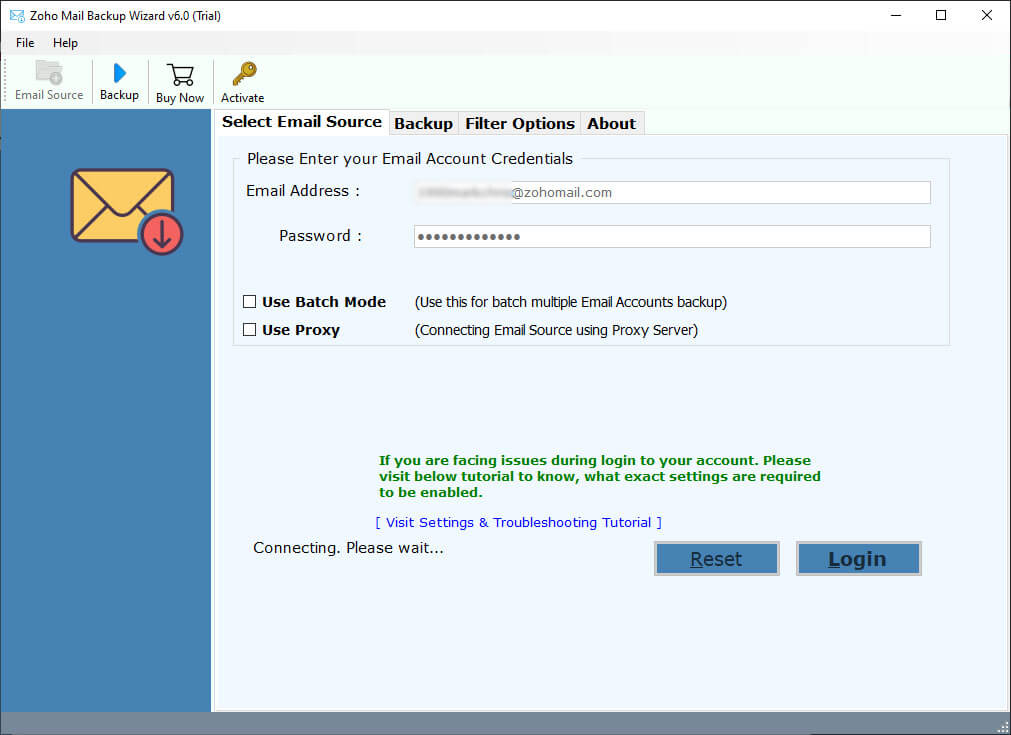 Thereafter, choose the required Zoho email folders from the mailbox for a specific migration.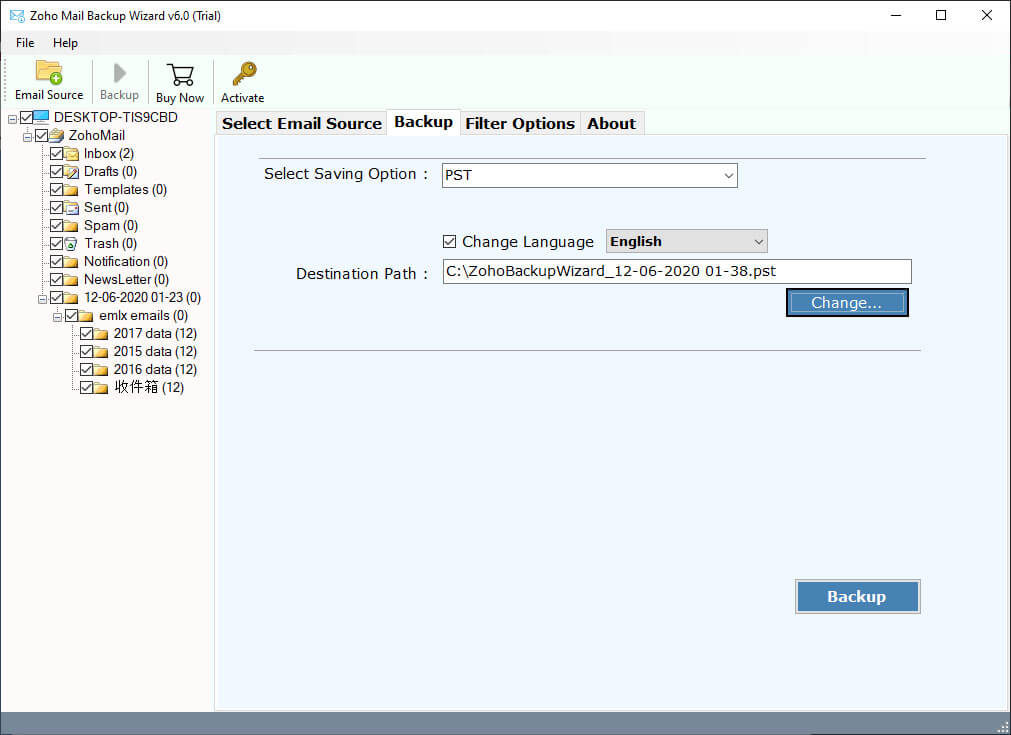 After that, select the Gmail option from the many options available in the drop-down list.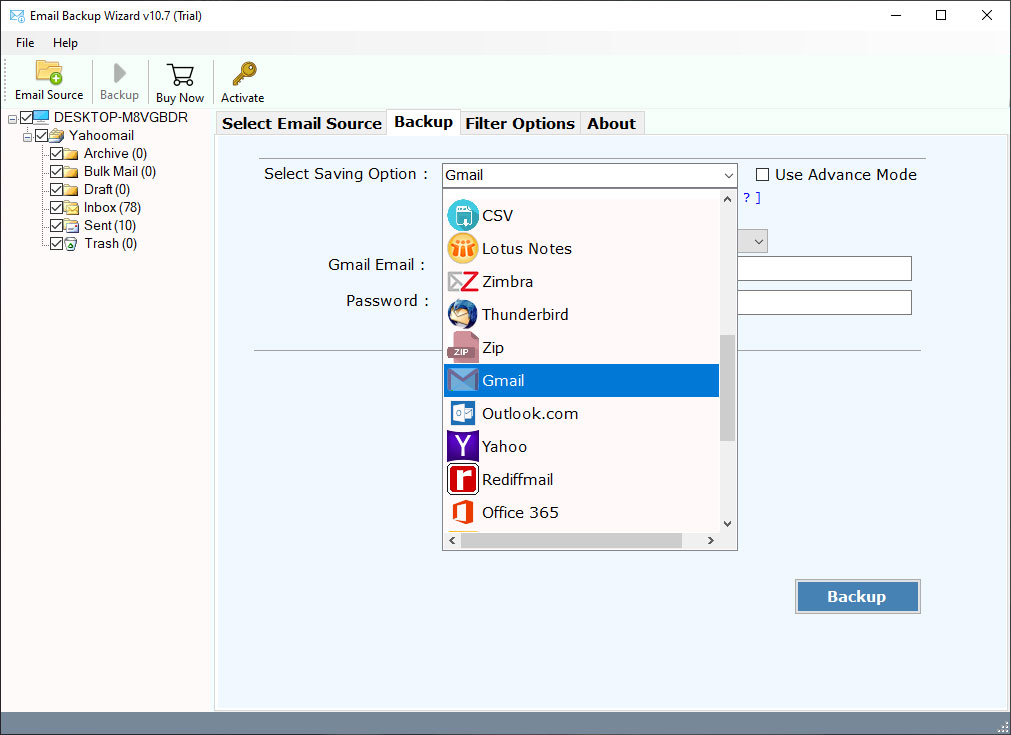 Thereafter, enter your Gmail account details in the user interface including email address and password.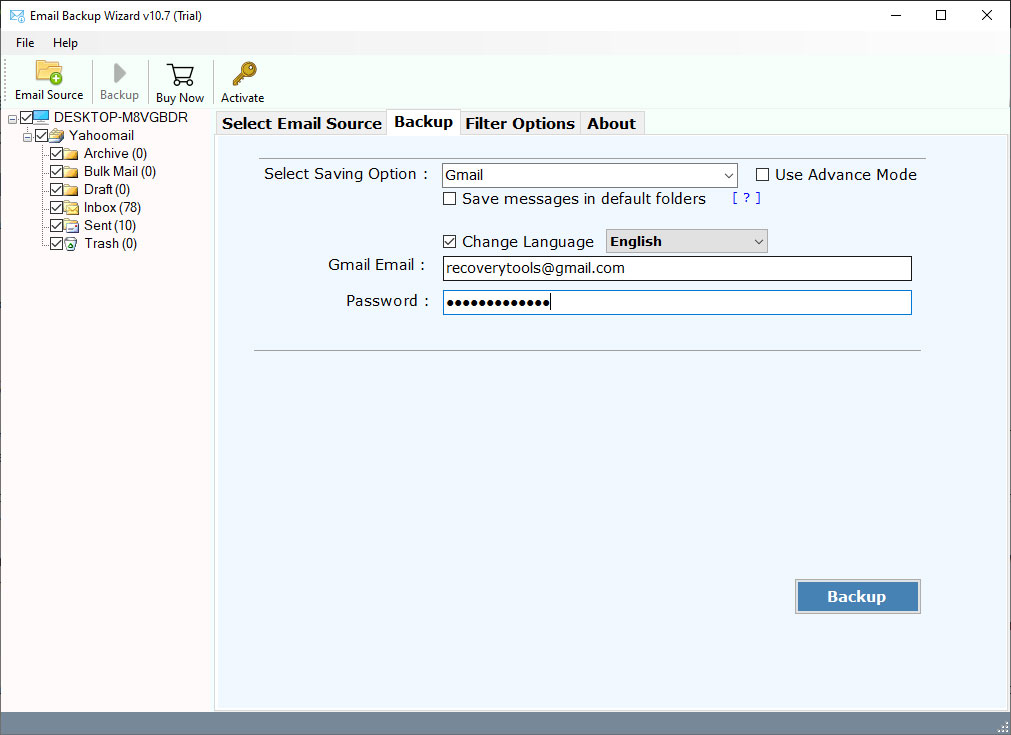 After that, click on the Backup button to start the migration process as shown in the image. Wait for a couple of minutes, and you will get the resultant pop-up confirmation on the screen.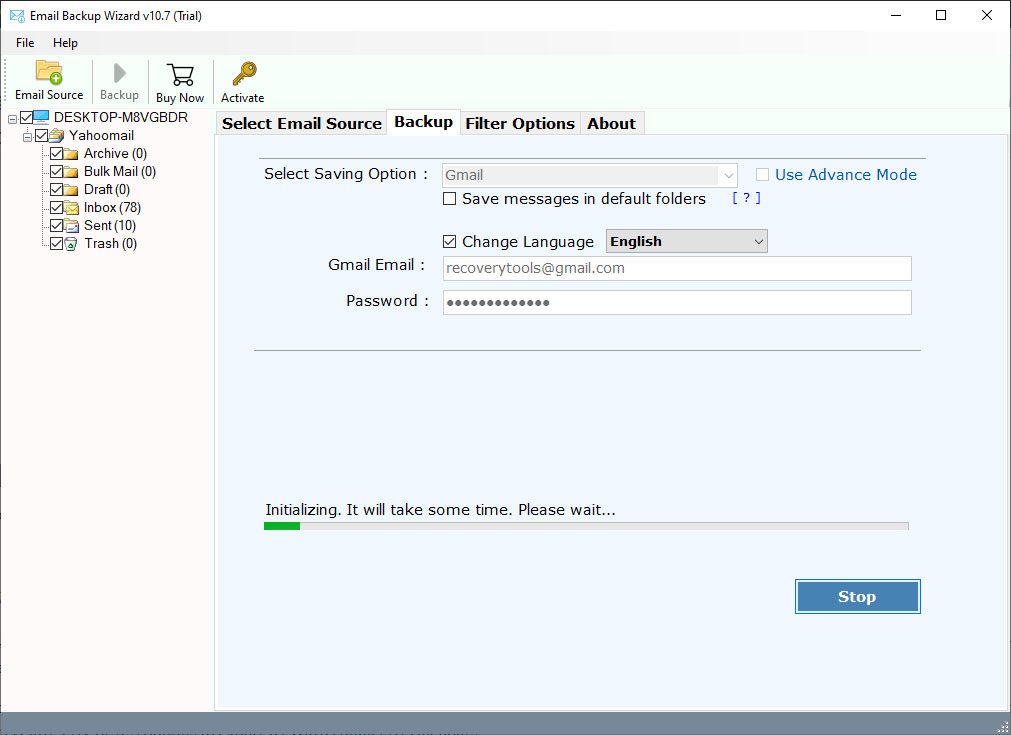 Zoho to Gmail Migration Tool – Features and Benefits
100% Secure Interface Panel
The software comes with a secure interface that does not store user's personal data inside the interface cache. In fact, it never stores user credentials and email database from Zoho Mail in the software panel. It is completely secure application software.
Simple and Consistent Interface
Furthermore, the tool comes with a simple and easy-to-use interface for all types of users. Both technical and non-technical users can easily understand the process without any problem.
Migrate Multiple Zoho Mail Accounts to Gmail
There are many situations when you need to migrate multiple emails and attachments to your Gmail account. The software provides an advanced option to export multiple accounts to Gmail at once simultaneously.
Connect Your Zoho Mail Account with Proxy Server
This tool also provides some additional benefits to easily migrate your emails to your Gmail account. If you are having trouble logging into your Zoho Mail account in another location, you can choose the Proxy Server option.
Maintain Email Folder Hierarchy Structure
During Zoho Mail to Gmail migration, the software will retain the email folder hierarchy structure as prior. So, you can get exact copy of all mail folders in your Google mail accounts without any problem.
Keep Original Email Properties
The software maintains email properties and meta elements when a user try to migrate Zoho mail to Gmail. It maintains all the basic email properties like email with attachments, email subject, email addresses (to, cc, bcc, from), email formatting, email hyperlinks, images, etc.
Support All Microsoft Windows OS
The software supports all Microsoft Windows OS including Windows 11, Windows 10, Windows 8.1, Windows 8, Windows 7, Windows Server 2019, Windows Server 2016, Windows Server 2012, Windows Server 2008, etc.
FAQs
Q- Can I get to know the software before going with the licensed version?
Yes, of course, this tool provides a free demo version to every user to transfer emails from Zoho to Gmail for specific emails. With this free trial, you can get to know the functionality of the tool and perform a limited email migration.
Q- Does this tool provide bulk migration of multiple accounts?
Yes, this is an advanced solution that allows users to migrate Zoho Mail to Gmail for multiple accounts in one go.
Q- Can I filter only required folders to export from Zoho Mail to required Gmail account?
Definitely yes, this tool lets users to check or uncheck the folders they need to move from mailbox on any latest or older versions of Windows OS.
Conclusion
In the above article, we have explained the process to migrate Zoho Mail to a Gmail account. If you are one of them who are looking for a solution to do the migration, then download the recommended solution. The utility supports all Microsoft Windows Operating systems including Windows 10. Moreover, it allows its users to export the data to Gmail with a direct method and maintains the email folder hierarchy and properties. You can download the trial edition of this application on your Windows Computer. If you have any further queries, then contact us on live support chat.