How to Migrate Lotus Notes to Exchange Server?
Karen Chard
~ Modified: 21-05-2022 ~ Lotus Notes ~ 5 Minutes Reading
In this article, we describe the best way to export IBM Notes to Exchange Server (Hosted & Online) step-by-step. As we know the Lotus Notes to Exchange Migration migration process is more difficult to handle without a proper solution, but RecoveryTools software is here to help us. So, read this post and learn the complete method to migrate HCL Notes to Exchange 2016 step-by-step.
A common inquiry from our clients is "How to Migrate Lotus Notes to Hosted Exchange Server ?" Recently, HCL acquires IBM Notes all rights, so the technology is renamed HCL Notes. Often, associations are changing from Lotus Notes to Exchange Server for work.
The reason is obvious, Lotus Notes is a more technical & complex email client in comparison to other applications available. Moreover, the working expenses of IBM Notes are fundamentally higher than Exchange Server.
Today, organizations need to use a high-level platform to deal with their daily correspondence work. This is why most organizations use the Exchange Server platform and looking for a solution to migrate Lotus Notes to Exchange Server account.
"Hi, recently we received news that IBM announced it is selling several software products to HCL Technologies including IBM Notes and Domino Server. Therefore, we no longer receive updates from IBM Notes. This is why our organization wants to transfer Lotus Notes to Exchange Server. Does RecoveryTools help me in this matter?"
Instant Solution – Lotus Notes to Exchange Migration Tool:
If you are one of those who want to migrate IBM Notes to Exchange Server, then we suggest you download RecoveryTools Lotus Notes Migration Tool. This solution allows you to transfer all your emails from Lotus Notes to On-Premise Exchange Server, Hosted Exchange Server, and Exchange Online directly. For more information, continue reading this article.
Please Note: This is a free trial edition that allows the users to export only the top 25 Lotus Notes emails to the Exchange Server account. If you are looking to migrate Lotus Notes mailboxes to Exchange Server account, then you need to upgrade the license keys of the product.
Steps to Export Lotus Notes Mailboxes to Exchange Server
Download & Start Lotus Notes to Exchange Migration Tool.
Load Lotus Notes Mailbox items in its panel.
Choose Required Mailbox folders for conversion.
Select Exchange Server option from saving option list.
Setup Lotus Notes to Exchange migration & start process.
Reasons to Migrate IBM Notes to Exchange Server
The Microsoft Exchange Server makes it simple to build an infrastructure for an organization and business on the cloud. In addition, the exchange can be accessed from anywhere. It is a great idea to migrate Lotus Notes mail to Exchange 2016 Server.
When moving Lotus Notes to Exchange, convenience and availability become straightforward. That's why most of us want to transfer IBM Notes to Exchange Server.
Microsoft Exchange Hosting permits you to synchronize your information with multiple devices like PCs, tablets, or cell phones. You can access your emails, contacts, or schedule whenever, anyplace without much of a stretch.
After Lotus Notes to Exchange Migration process, you don't need to worry about your mailbox data. Because Exchange Server provides backup facilities to save your data periodically.
The very common reason for migrating HCL Notes to Exchange server is its unfamiliarity. But there are many users who know about the Exchange Server.
How to do Lotus Notes to Exchange Server Migration?
Now download the software and follow the given step by step process: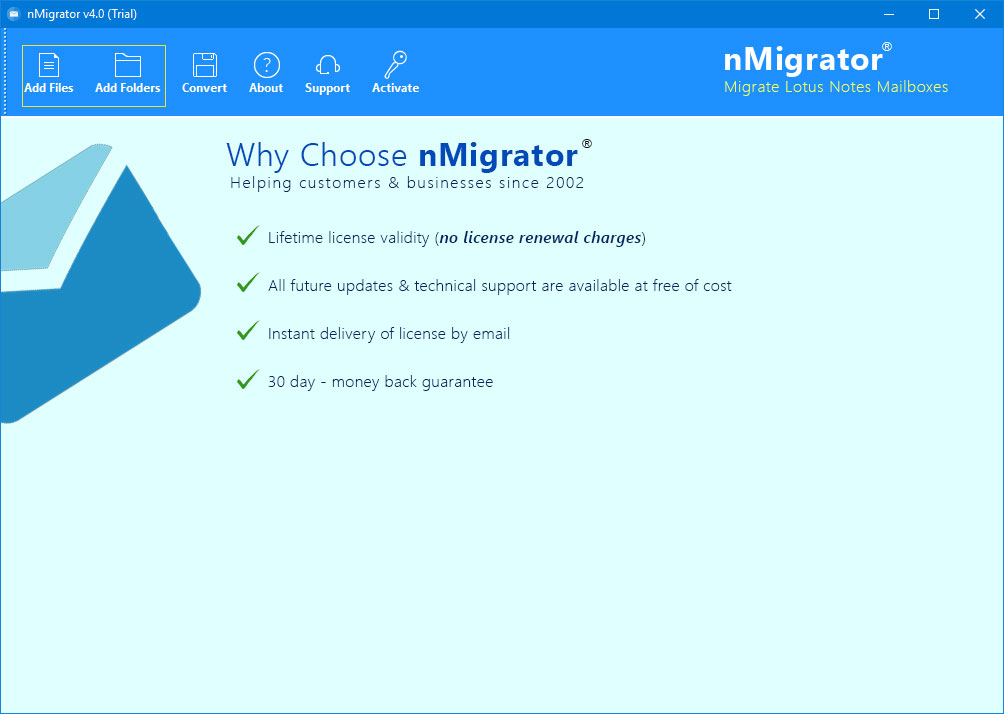 Install or launch the software on your Windows Computer. Choose your IBM Notes data with dual options.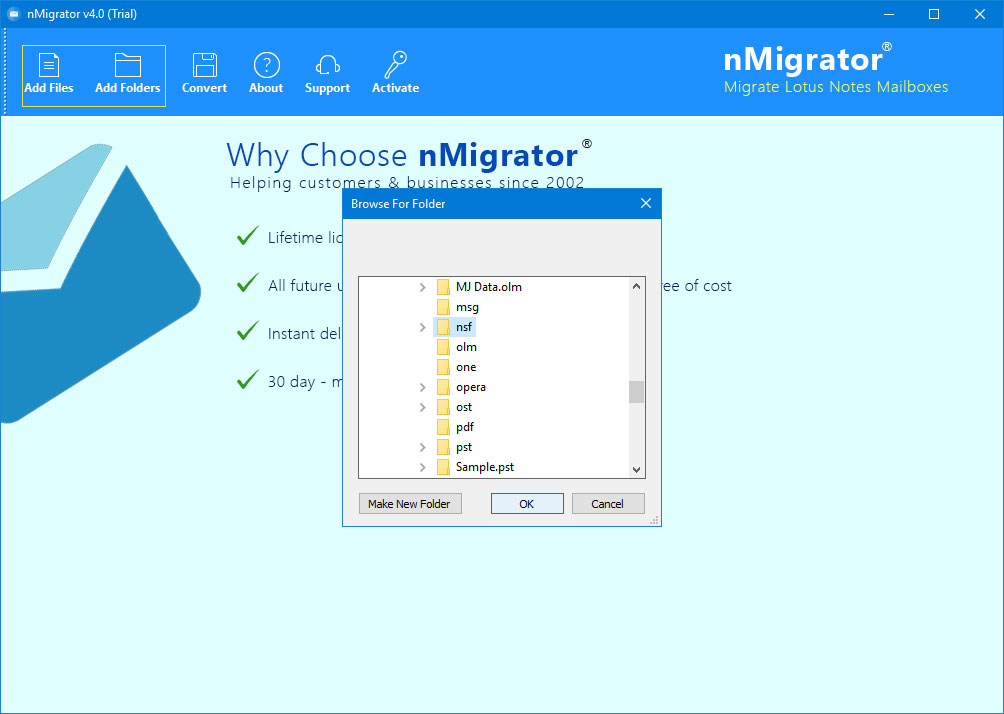 After this, the program starts loading Lotus Notes data into the software.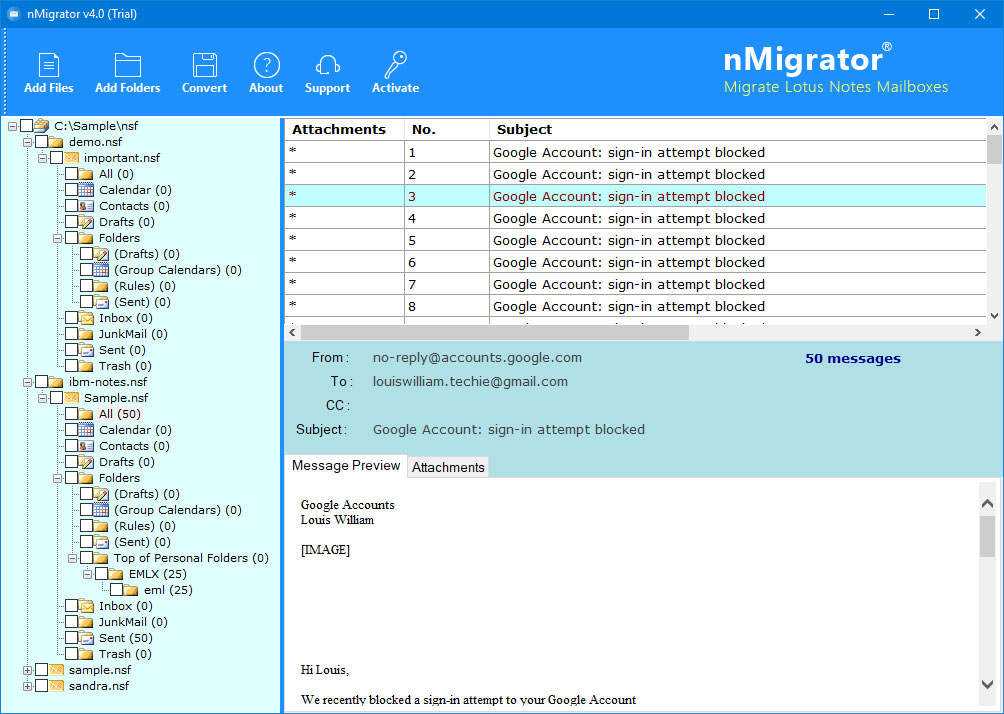 You can also get a free preview of email messages in the user interface panel.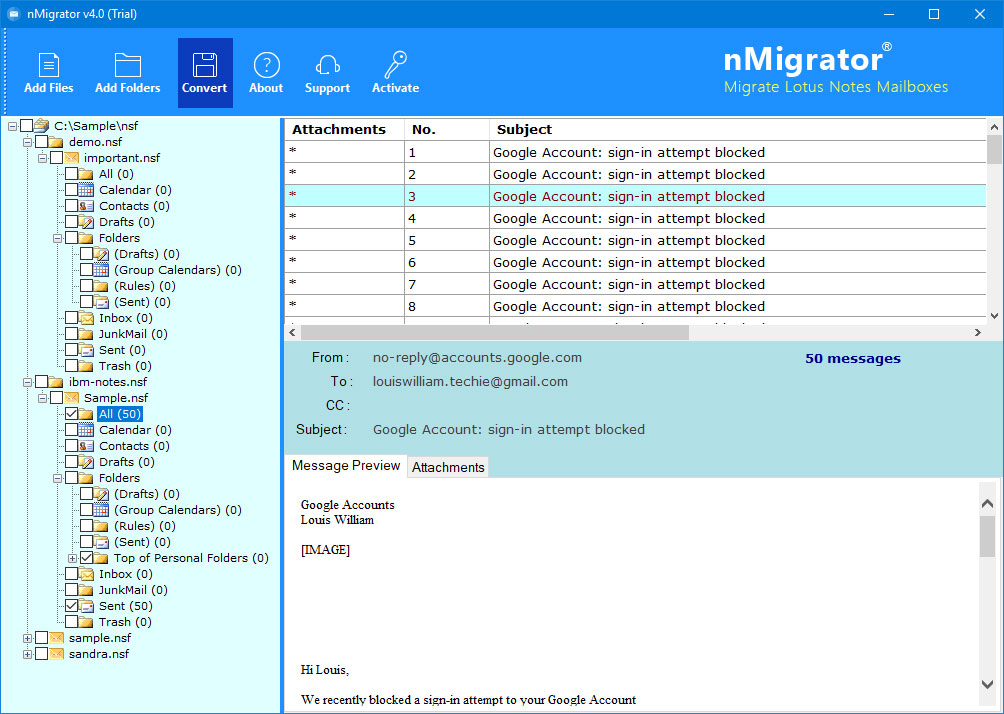 Now, select the Exchange Server option in the list of file saving options.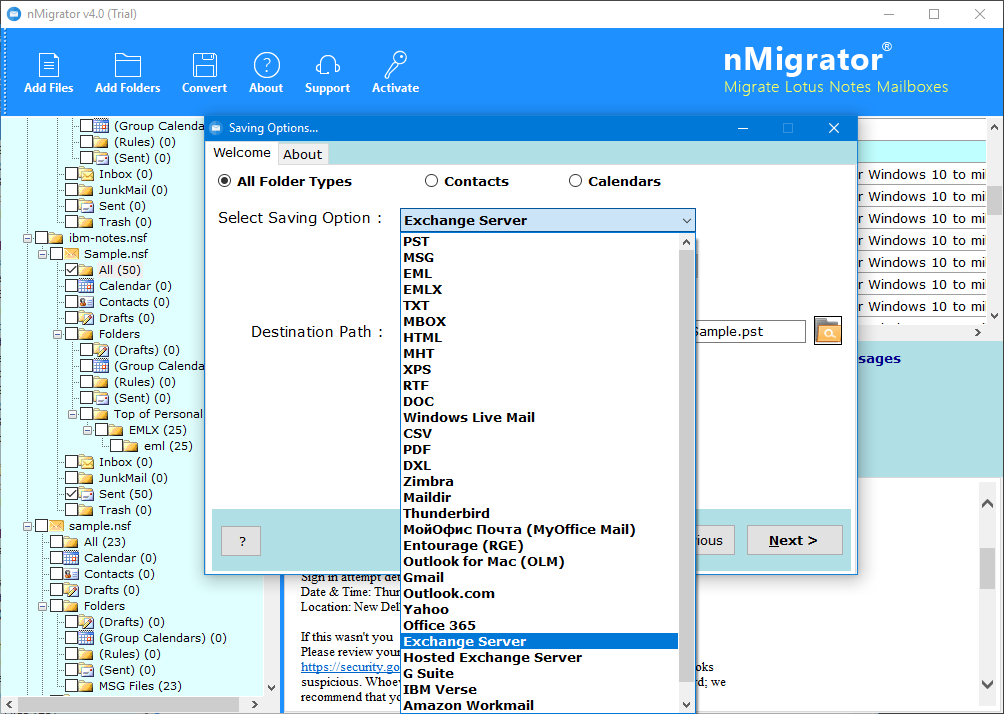 Here, enter your Exchange Server credentials in the user interface panel.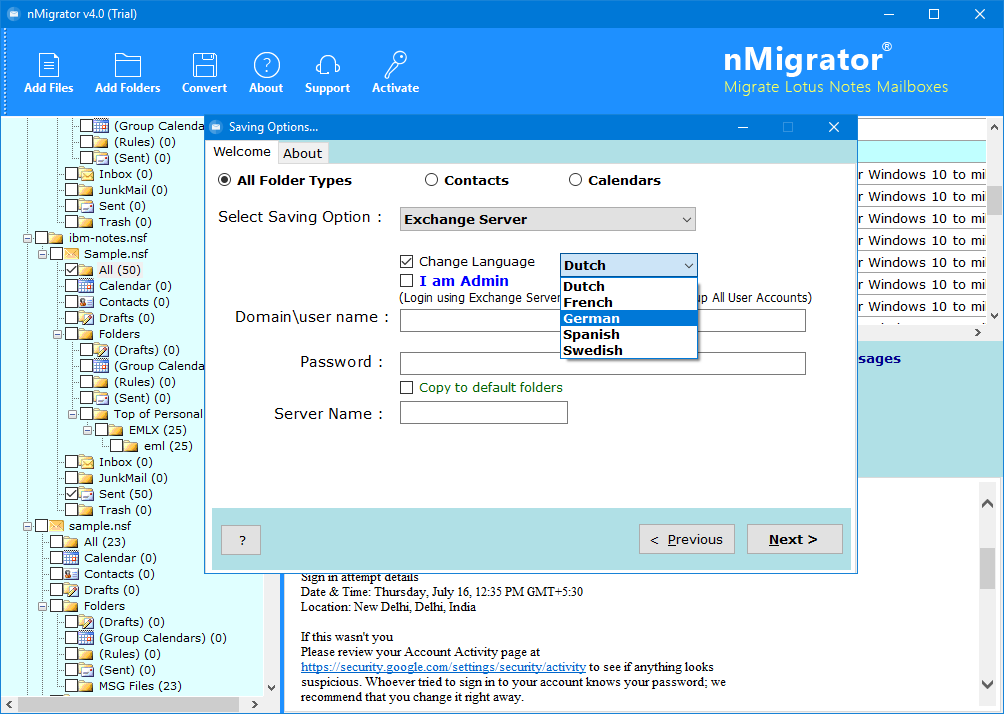 Click on the next button to export Lotus Notes emails to Exchange Server.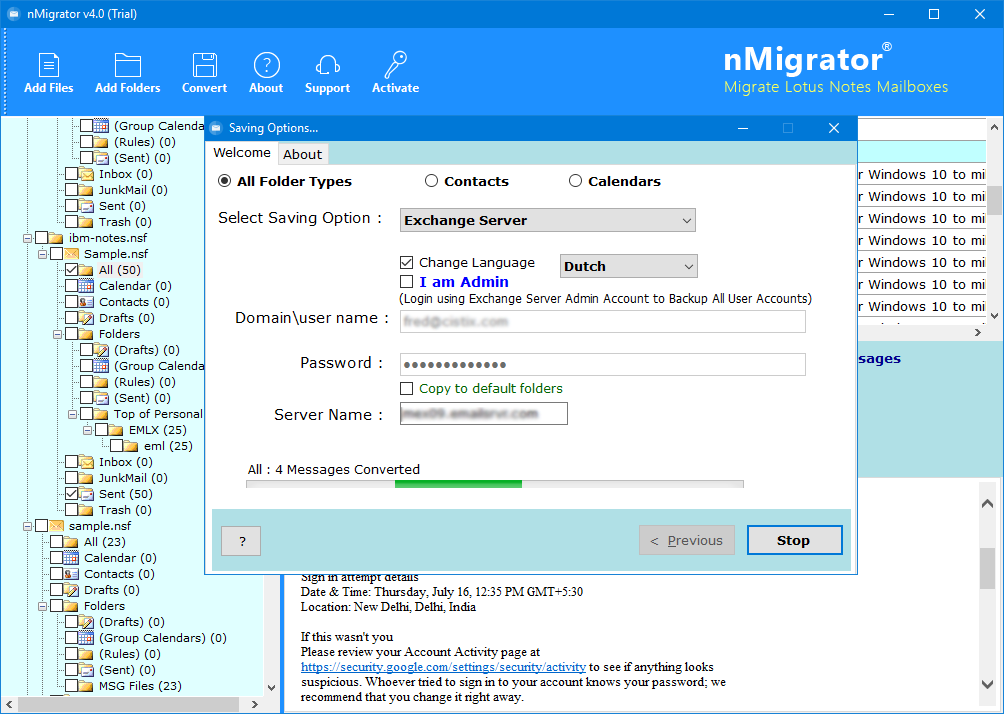 HCL Notes to Exchange Migration – Benefits & Its Features
Dual Batch Migration Options:
The program comes with two options that used to select Lotus Notes data in a batch. Using the select folders option to choose multiple IBM Notes user mailboxes at once.
Get Free Preview of Emails:
After selecting Lotus Notes data using dual-mode, the software analyzing the mailbox items in the interface. Here, you can get the complete mailbox folder hierarchy list. Click on any folder or email to get a free preview of meta-data in the interface.
The software provides various filter options to migrate only required emails from Lotus Notes to Exchange Server. Using these filter options, one can easily export emails by date range, subject, email addresses, etc.
Install on Windows & Server Machines:
The program supports all editions of Microsoft Windows operating systems including Windows 10, 8, 8.1, 7, and Server 2019, 2016, 2012, etc. editions.
No Domino Server Connectivity Required:
While migrating Lotus Notes to Exchange Server, there is no need to connect with your HCL Domino server. The software provides a direct solution to transfer your HCL Notes data to Exchange Server without any issues.
Conclusion
In this writeup, we have described the complete method of migrating Lotus Notes to the Exchange Server. We all know that businesses have many ideas in mind when they transfer emails from one platform to another. But, RecoveryTools software always gives a reliable solution for every user without any compromising. You can test this application before purchase. If you are having any problem, still seek the help of our technicians.