How to Migrate IMAP to Exchange 2019, 2016, 2013, 2010 ?
Overview: – Would you like to migrate IMAP Emails to Exchange Server or Hosted and On-Premises Exchange ? If yes, then you have just reached the correct page. This blog discusses the simplest trick to migrate email from IMAP to Exchange Server. There are many reasons to export IMAP emails to Exchange accounts such as storage, security, price, etc.
Changing technology is changing our lifestyles day by day, and it forces us to find new ways of working. Each organization uses an email platform that suits its purpose, is easily managed, and is within budget. In many cases, with time, associations may face the requirement for a superior email platform.
let us consider an example:
"Hello, I am James from New York City. I am working in a small organization where we do clothes work. Recently, I decided to go to a large organization in my own field. But I have faced many issues while I was transferring my old emails to Exchange Server. Actually, they use an on-premises own email server that supports IMAP settings.
So, I want to know how to migrate IMAP emails to Exchange Server. Because my new working place has used Exchange Server. Does anyone know how to convert IMAP to Exchange with my complete mailbox ? Please help me!!!!"
Exchange Server is the most sophisticated email platform used by many companies for better growth. To execute the above switch, an organization and individual require a third-party solution that supports several options of email migration.
Now, we talk about IMAP to Exchange migration, it is a very difficult task that requires a lot of time and dedication. When we are moving large numbers of IMAP mailboxes to Exchange, there are many possibilities of errors and data loss.
Simple & Fastest IMAP to Exchange Migration Process
To overcome these issues, RecoveryTools suggest you to use an automatic solution called – IMAP Backup Tool. This program gives the facility to move multiple IMAP mailboxes to Exchange Server at once process. The software will support both Hosted Exchange Server and On-Premises Exchange Server. So, you can easily migrate IMAP emails to Hosted and On-Premises Exchange account. Also, with this app, you can migrate IMAP emails into other savings like PDF, G Suite, Thunderbird, Yahoo Mail, CSV, MBOX, and more.
This solution performs the IMAP to Exchange Migration in the safest, secure, and more accurate manner. It takes the minimum time during IMAP to Exchange Migration process. The best part of this solution is available for Windows and Mac Computers. You can easily migrate multiple different IMAP users to Exchange using this solution.
Download from Here:
Download for Windows Download for Mac
Note: – Both solutions work like a licensed edition, but only a few differences between licensed and demo editions. A trial edition allows you to migrate only a few emails from IMAP server to Exchange account.
Steps to Migrate IMAP Emails to Exchange Server
Launch the utility on your Windows & Mac PC.
Enter your IMAP account details in the program.
Choose the required folders and Exchange option.
Now, enter your Exchange Server account details.
Click on the next to migrate IMAP emails to Exchange.
How to Migrate Emails from IMAP to Exchange ?
Download IMAP to Exchange migration tool on your computer. After this, read and understand the user interface panel.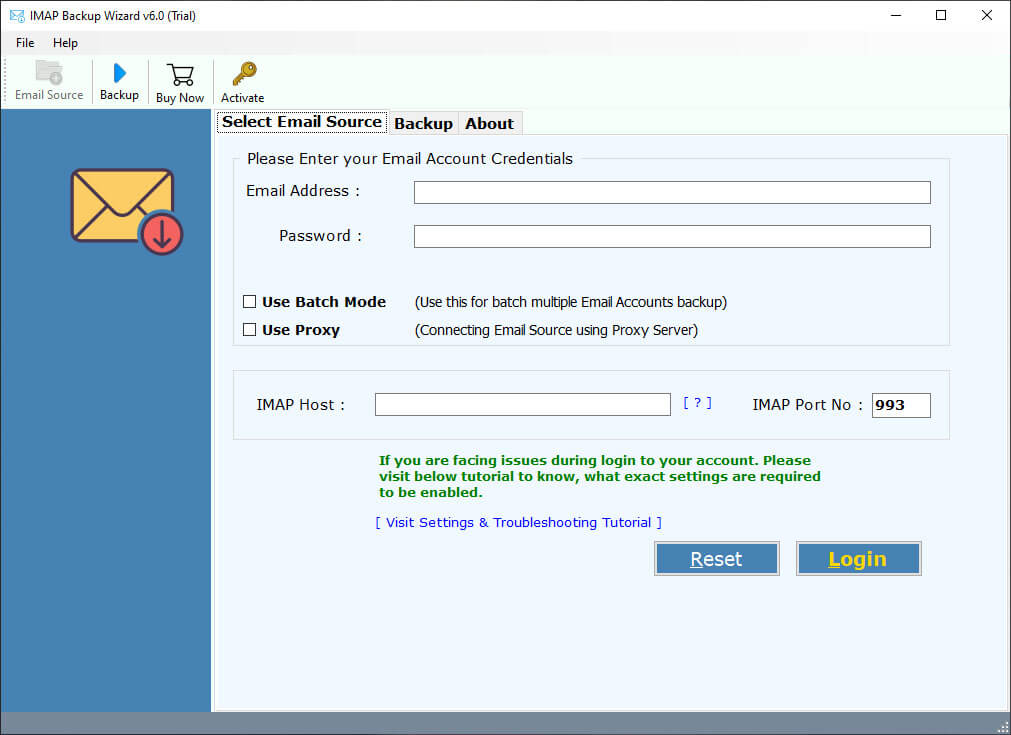 Thereafter, Enter IMAP Server Login credentials of the source account in the user interface.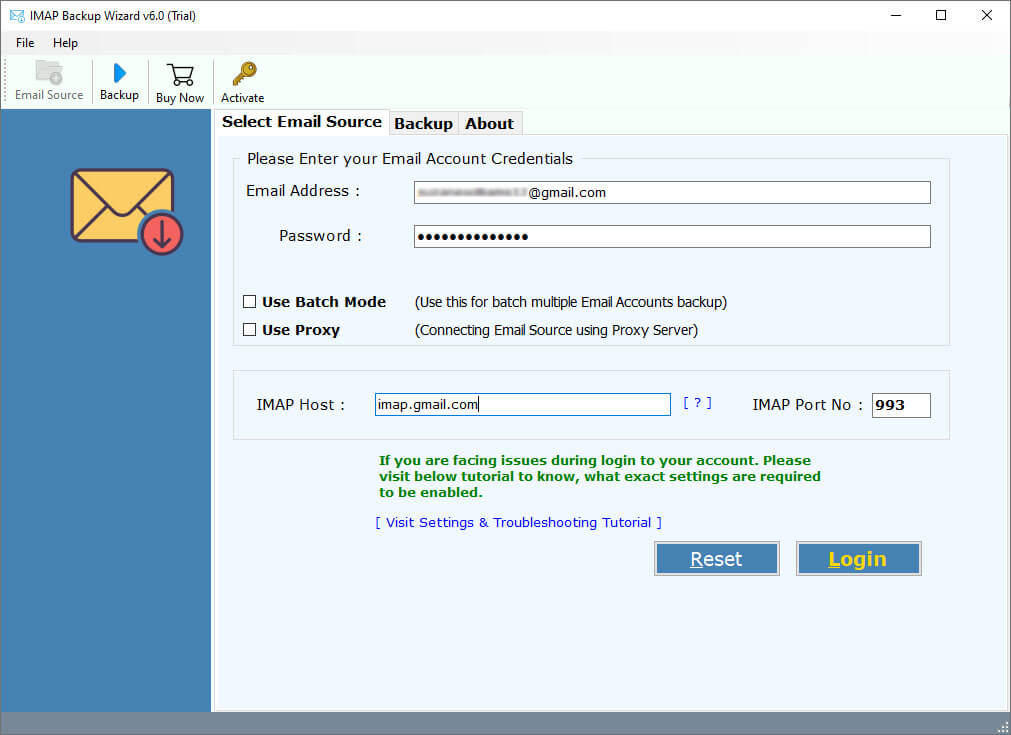 The software also provides the separate option to connect with multiple IMAP accounts at once.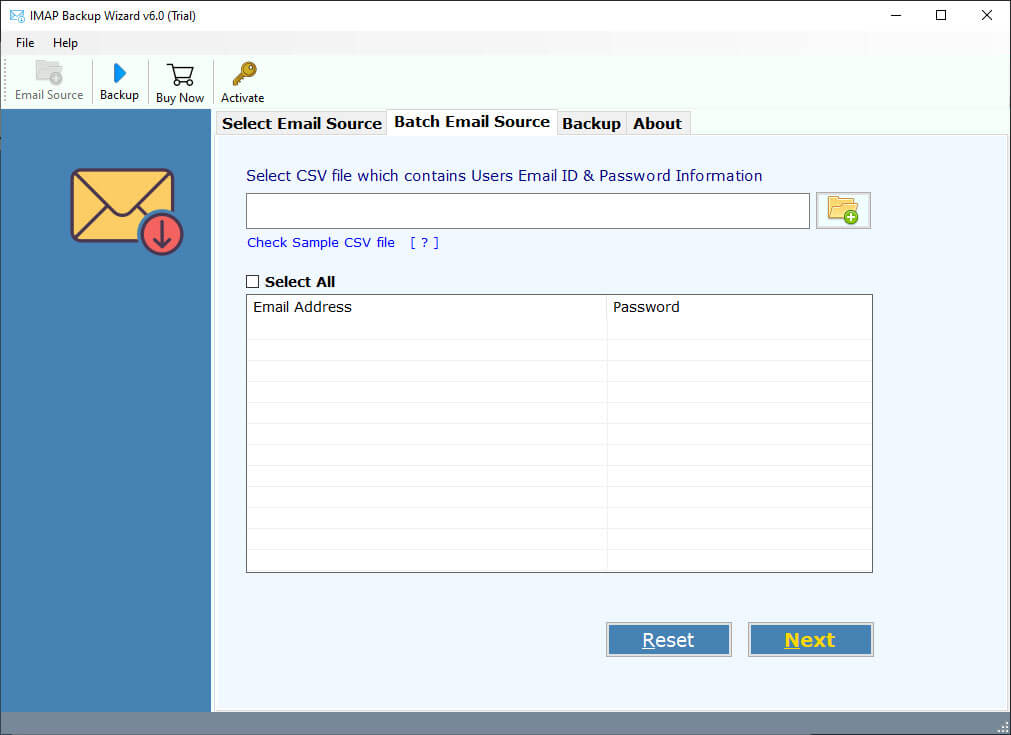 Now, the program starts analyzing all IMAP mailbox folders. After that, choose the required IMAP folders from the list.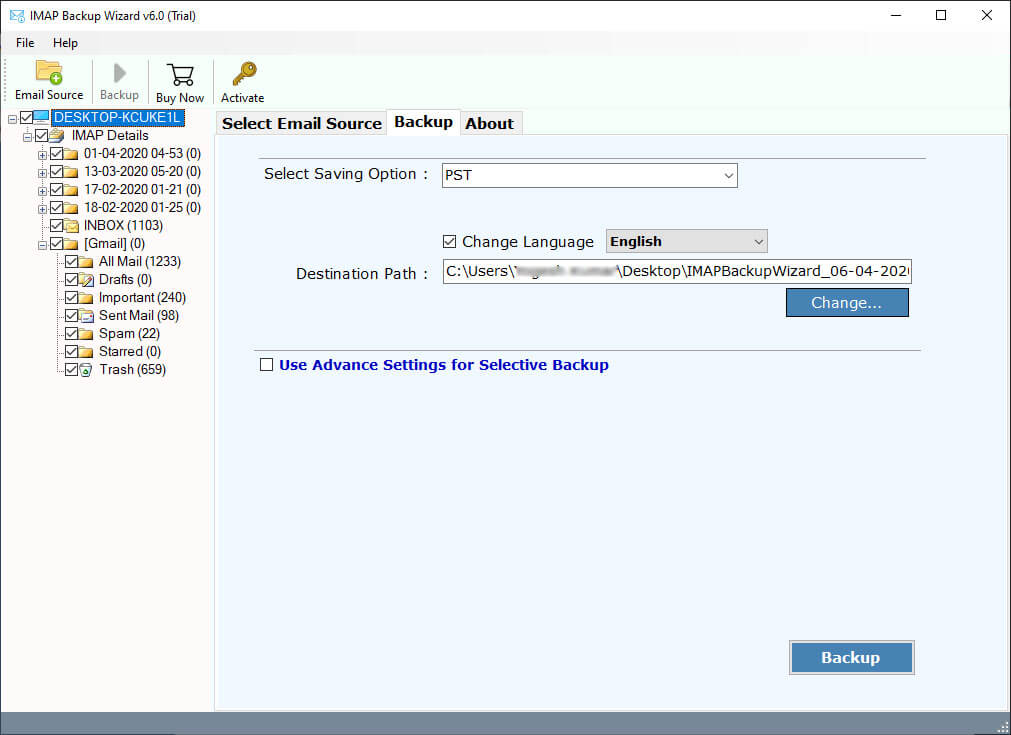 After this, go to the saving option list and choose Exchange or Hosted Exchange Server option.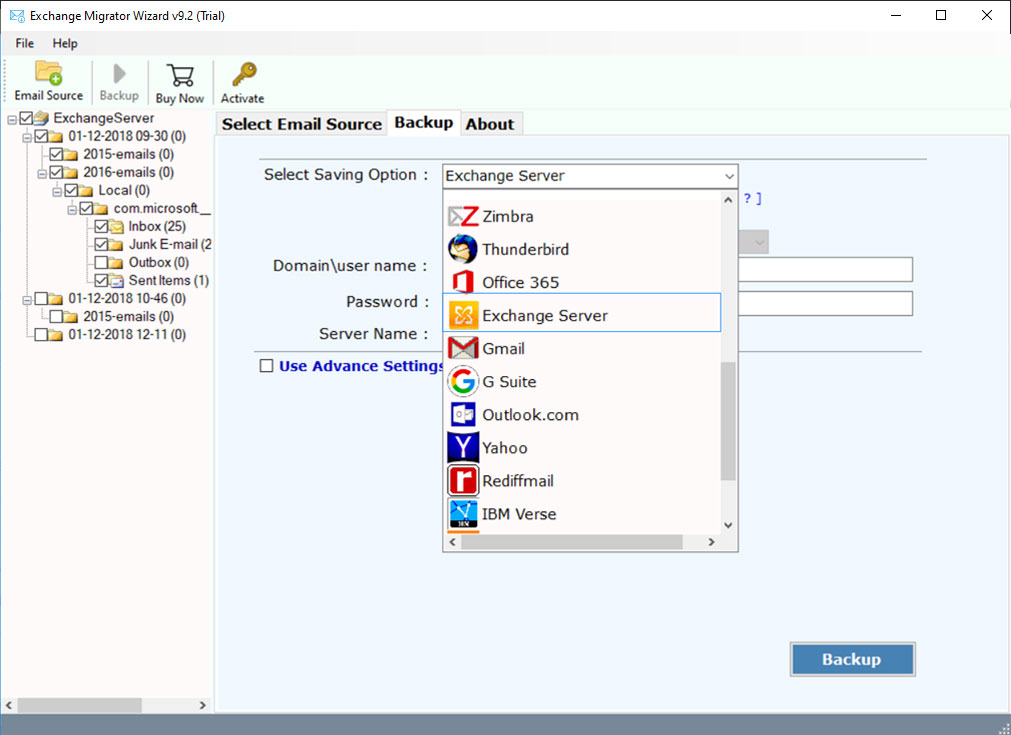 Here, you can also choose the filter options which allow you to migrate selected items from IMAP to Exchange.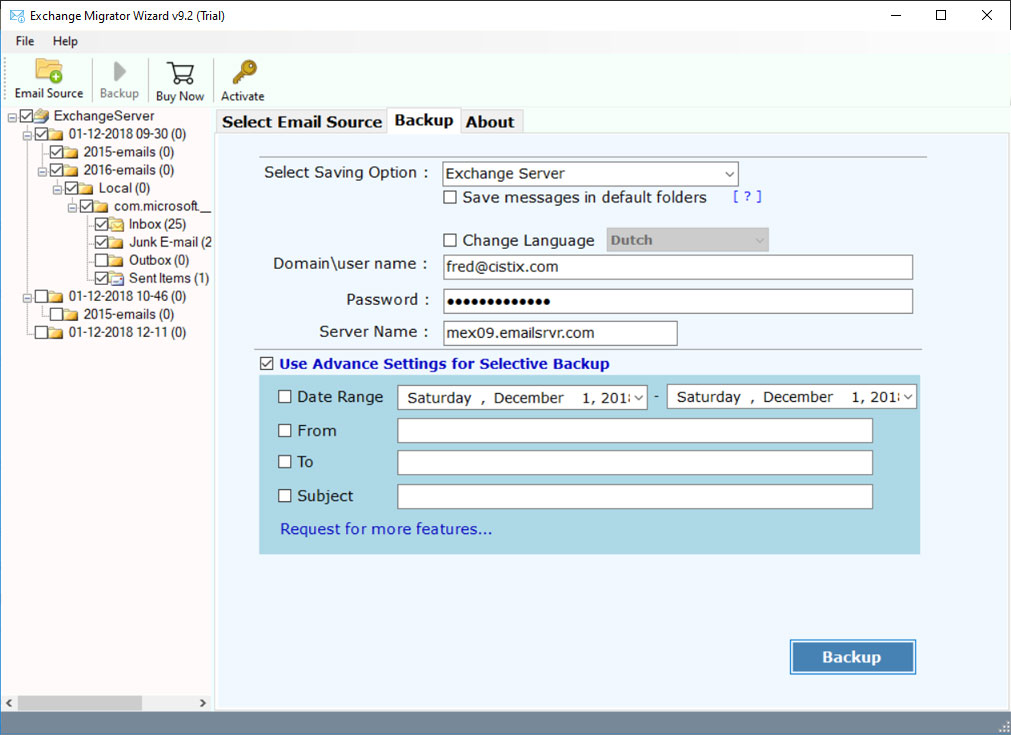 Now, fill all the Exchange Credentials including name or email id, password, and server address or port no.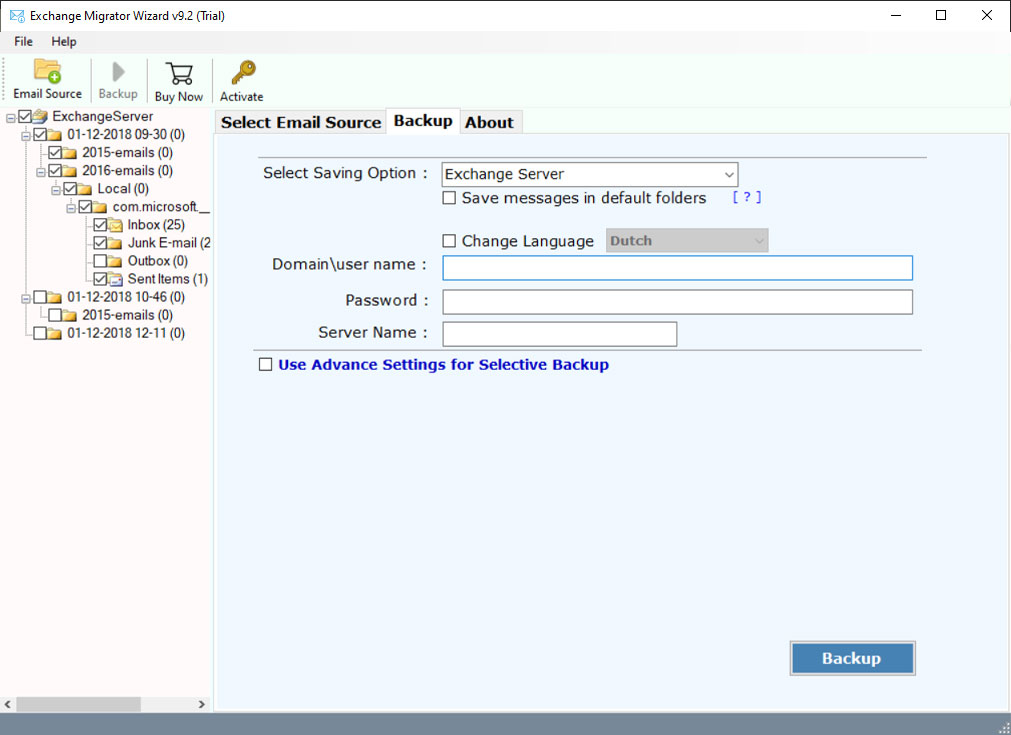 In the last, hit on the next button to migrate IMAP emails to Exchange Server.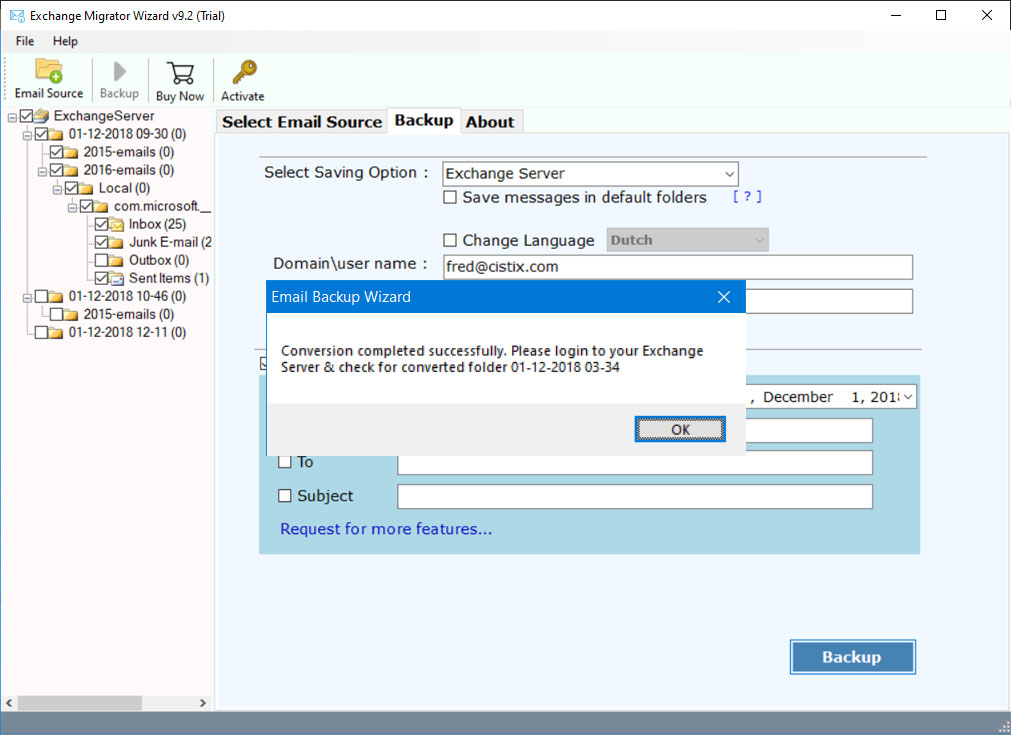 When the process is completed, click on the ok button and the tool will open the complete log report.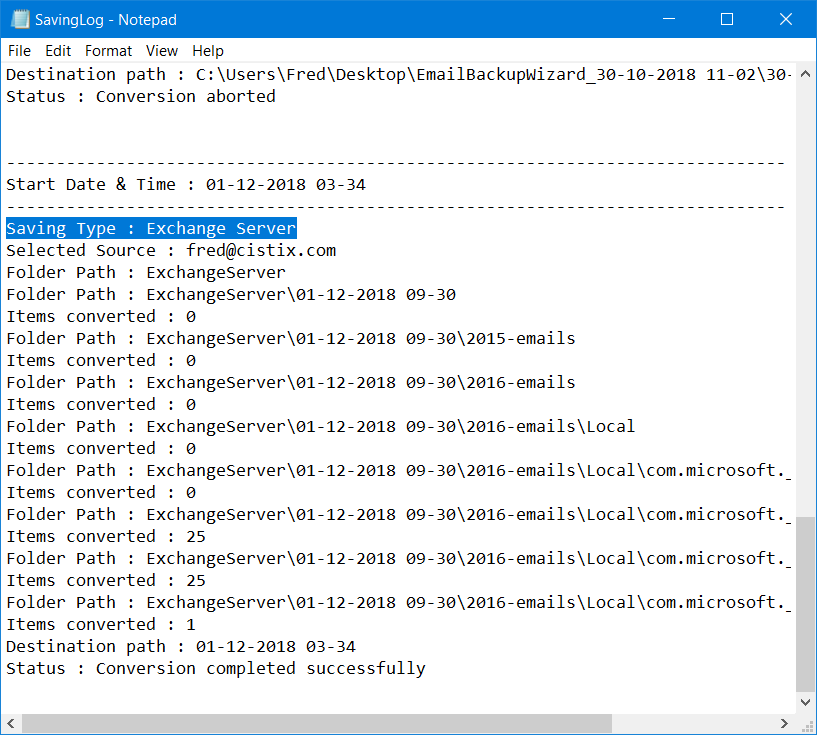 Some Advantages of IMAP to Exchange Migration Tool
Reliable and 100% Secure Solution:
The application has been developed by many professional programmers who specifically focus on the privacy of user data. That's why many organizations and professional users use this application without any issues. It is a completely secure user interface panel that never stores your mailbox data inside the software and interface caches.
Keeps Email Metadata Properties:
Email properties are one of the major tasks while moving from one platform to another. But with RecoveryTools IMAP to Exchange Migration tool, you don't need to worry more. During the migration process, the program keeps all email properties such as email with attachments, email subject, email internet header, addresses (to, from, cc, bcc), images, and many more.
Move Multiple IMAP Accounts:
The one-by-one process takes more time and dedication during the IMAP to Exchange Migration process. Therefore, the developer of RecoveryTools IMAP to Exchange migration tool will create an advanced batch option. This option allows you to move multiple IMAP accounts to Exchange in a single process. A user just needs to put their all-IMAP account details in a CSV file and upload it to the software.
Selective Migration Options:
There are many scenarios where a user needs to migrate only a few emails from IMAP to Exchange Server. So, this application developed with all the features that work on every condition when the user needs it. The advance filter option allows you to migrate IMAP emails by specific dates, email addresses, subjects, etc. to your Exchange account.
Support Mac and Windows Operating Systems:
One can easily install this application on all Mac and Windows computers such as Windows 10, Windows 8.1, Windows 8, Windows 7, as well as Windows Server 2019, Server 2016, Server 2012, macOS 10.15 (Catalina), Mojave, High Sierra, Sierra, El Capitan, etc.
Some General Asked Queries about IMAP to Exchange Conversion
Can I move IMAP mailbox data to Exchange Public Folders using this solution ?
Yes, you can do this by using this solution. But the software will move IMAP mailbox folders to the same Exchange Folders. After completing the migration process, you will easily move exchange folders to Public folders without any issues.
Can I use this application to move old Exchange Server data to Hosted Exchange account ?
Yes, you can. Just download the solution and enter your old Exchange server IMAP details and upload it to your hosted Exchange account.
During the process, it keeps my email properties with the internet header or not ?
The software keeps all email properties including internet header during the migration process.
Can I use this application on my Windows Server 2016 R2 computer ?
Yes, the software supports all editions of Microsoft Windows operating systems including Server 2016 R2 edition.
Final Words
In this article, we have explained the way to move IMAP emails to Exchange Server. Here, we mentioned an automatic solution that supports both On-Premises and Hosted Exchange Server options. So, you can easily migrate IMAP mailboxes to Hosted & On-Premises Exchange Account easily. The solution is available on both Windows and Mac computers. For more details, you can contact our technical support team.