How do Save IMAP Emails to Thunderbird Locally? – Effective Guide
Overview
: This article describes the way to move emails from IMAP to Thunderbird locally. If you are looking for a solution to save IMAP emails to local folders in Thunderbird, then this article is for you. Here, we will explain a simple method to extract IMAP emails to Thunderbird folders without any account configuration. So, stay here to learn the complete method using RecoveryTools IMAP to Thunderbird Export Tool.
Nowadays, many users prefer to use Thunderbird as their primary personal choice for storing emails, attachments, messages, address books, and user configuration settings. Also, many users use Thunderbird to manage their email, contacts, calendar, and more items locally.
Sometimes, users try to clean up their online email accounts, so that they can easily store their online emails locally in Thunderbird before deleting them. It is one of the most widely used email client applications, which is readily available in the market for free of cost. Mozilla Thunderbird widely supports all the popular platforms such as Windows & Windows Server machines, Mac OS X machines, and Linux machines.
"Hello, I have an email account that I can access by IMAP server. Now, for some personal reasons, I want to remove this account from the server. But before that, I want to back up all the emails in the Thunderbird local folder."
I am trying to configure this IMAP server email account to the Thunderbird email client, but every time, I am getting an error message. The problem is, that Thunderbird is not allowing me to access my IMAP account. Suggest me some way to save IMAP emails in Thunderbird's local folders.
James William
Instant Solution: IMAP to Thunderbird Export Tool
Importing IMAP server emails to local folders in Thunderbird is not an easier task. RecoveryTools suggest you use IMAP Backup Tool. This application allows you to move emails from IMAP to Thunderbird folders directly. You can also download this application on Mac and Windows computers.
Download From Here:
Download for Windows Download for Mac
Note: – Both applications are available in the demo version. You can use them before investing your money. The demo version behaves like a licensed version, but you can only migrate some IMAP emails to Thunderbird. To transfer an unlimited number of emails from IMAP to Thunderbird, buy a licensed version of this utility.
Steps to Backup IMAP Emails to Thunderbird
Launch the solution on your Mac & Windows OS.
Enter your IMAP account credentials in the interface
Choose the required email folders from the list
Select the Thunderbird file-saving option from the list
Click the Backup button to save IMAP emails to Thunderbird locally.
How to Archive IMAP Emails in Thunderbird Locally?
Launch the software on your Windows or Mac computer. Read all the instructions.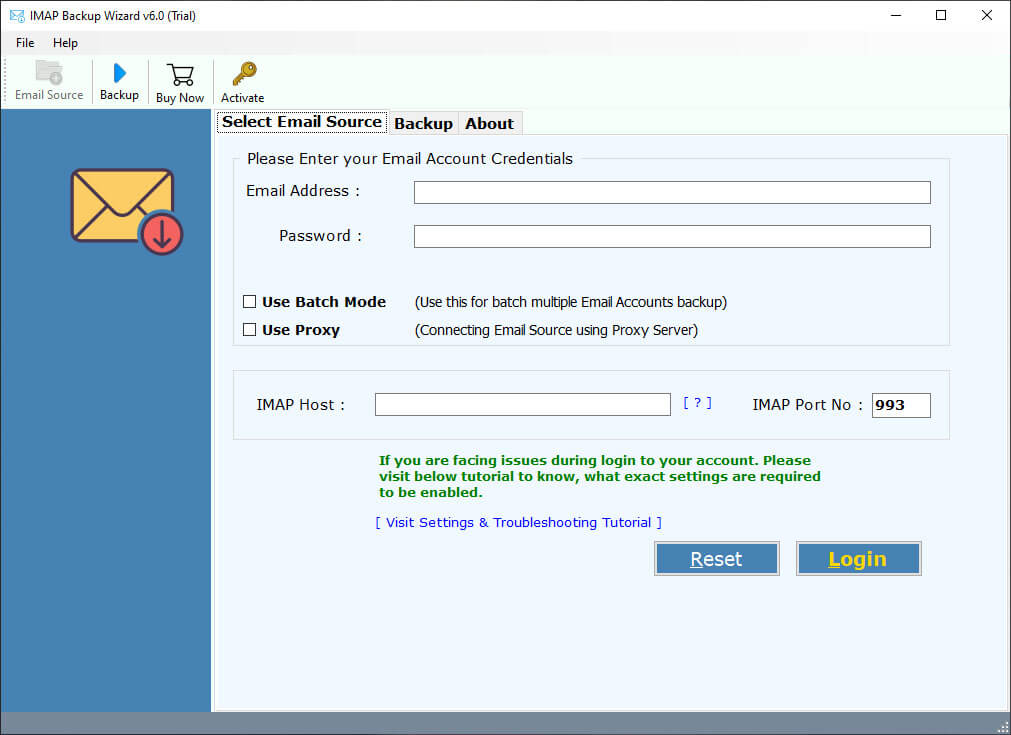 Enter your IMAP account credentials in the user interface panel. Click the Connect button to log in with your IMAP account.
Note: -If you face any login issues, create an APP password. For more details, contact us on live support chat.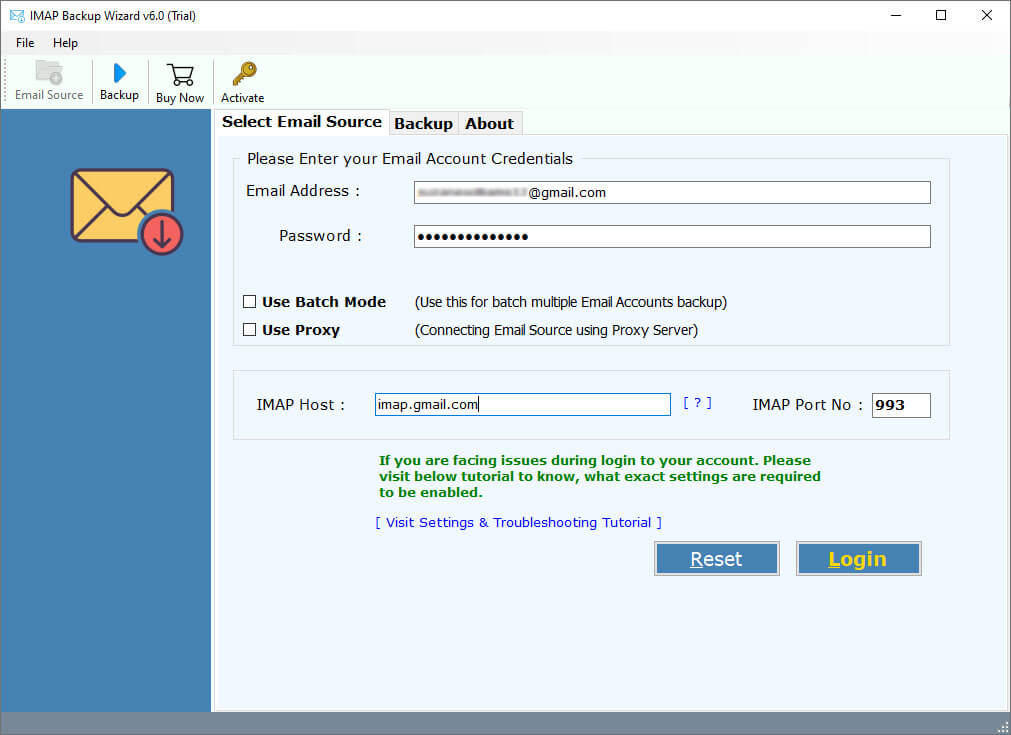 The software also provides a separate option to connect with multiple IMAP accounts at once.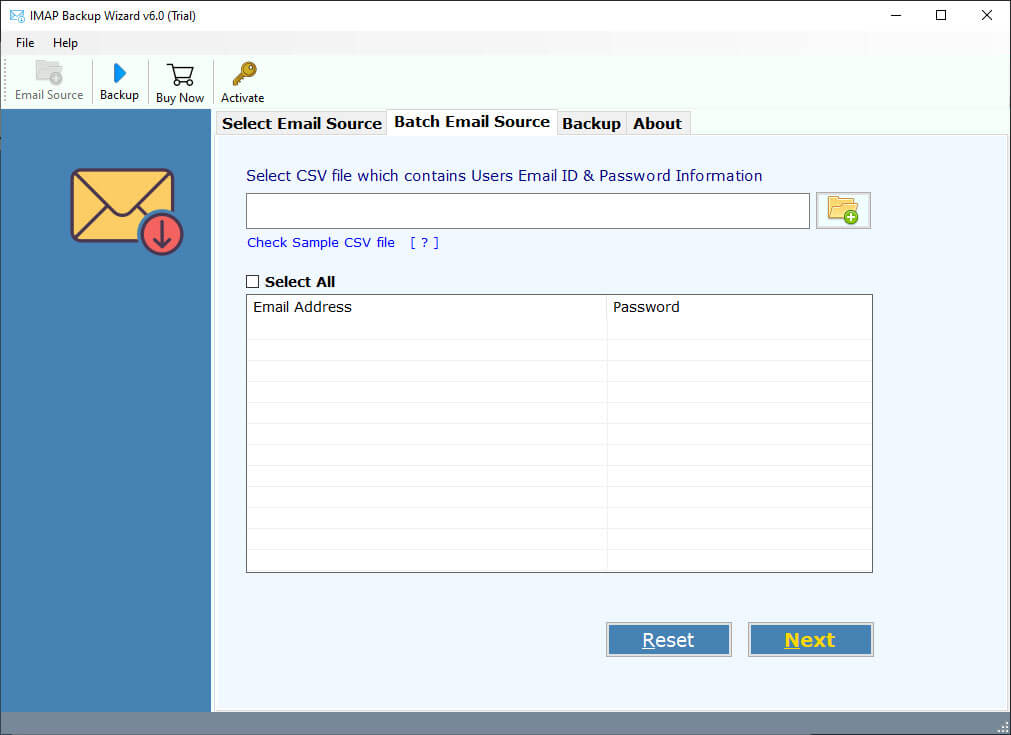 In the next phase, your IMAP account is connected to our software. Here, you can choose the required IMAP folders from the list.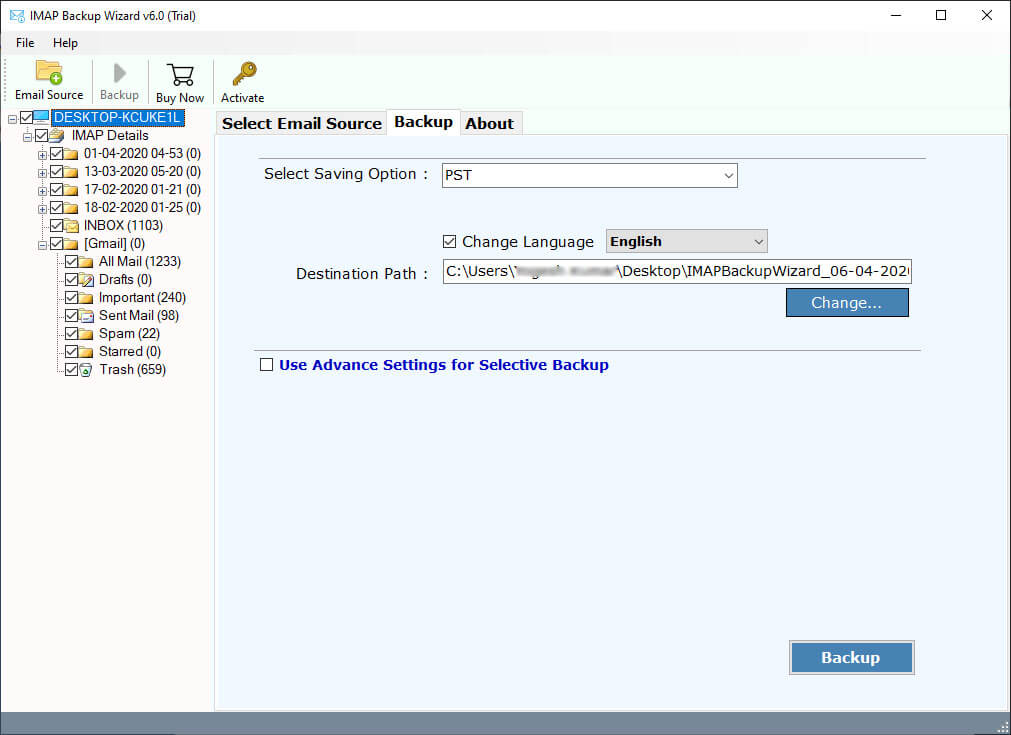 Next, select the Thunderbird option from the list of file saving options.
Also, you can use filter options for the selective backup process.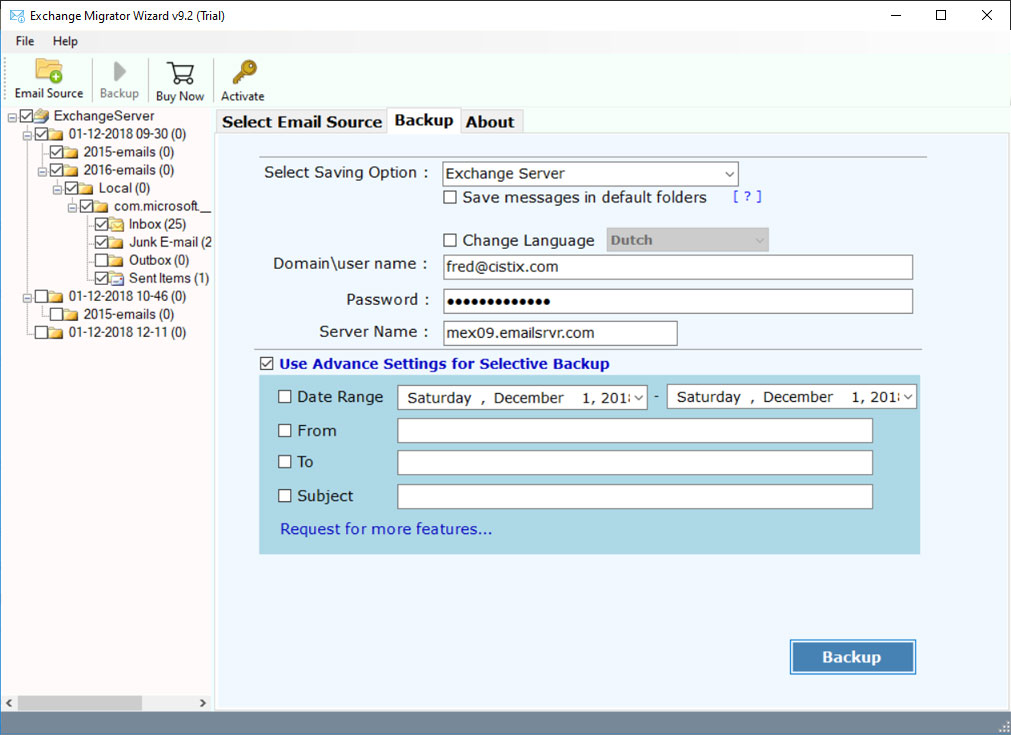 The software automatically detects your default Thunderbird location path.
Note: – If you don't have Thunderbird installed on your computer, then choose the MBOX option.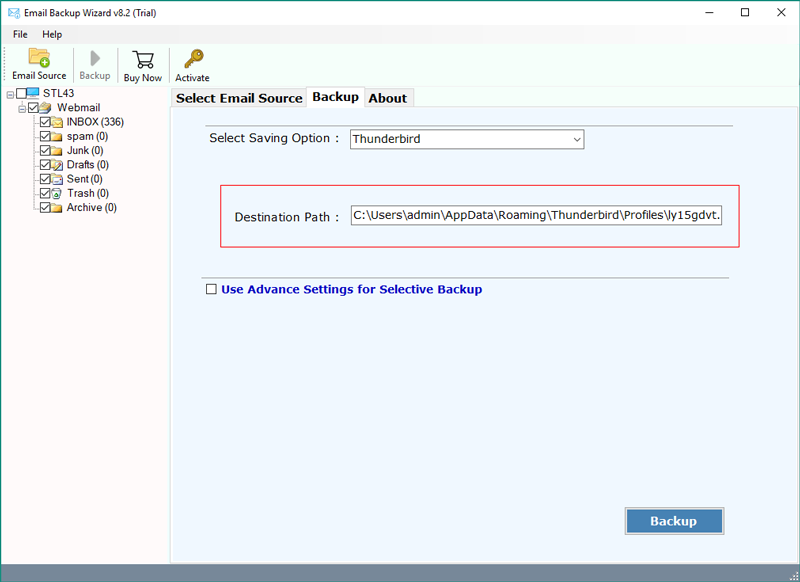 Click the Backup button to export IMAP Emails to Thunderbird locally.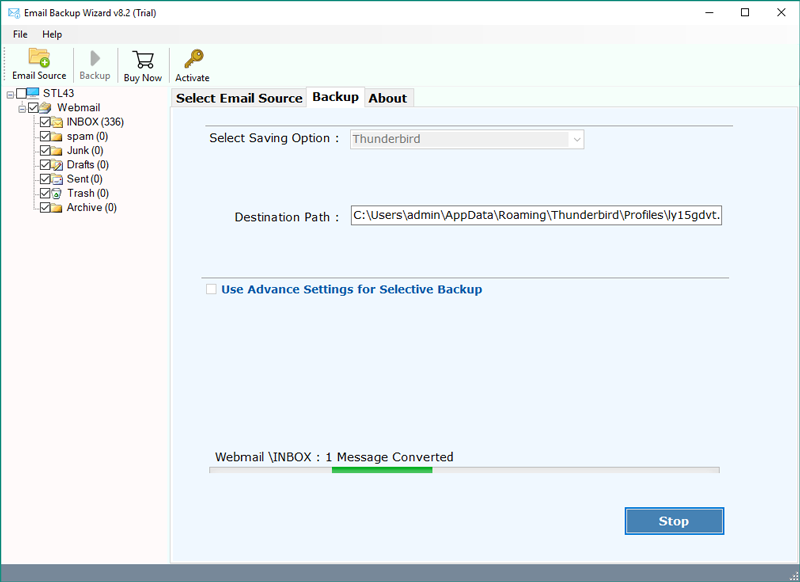 When the process is completed, the tool will inform you by a message.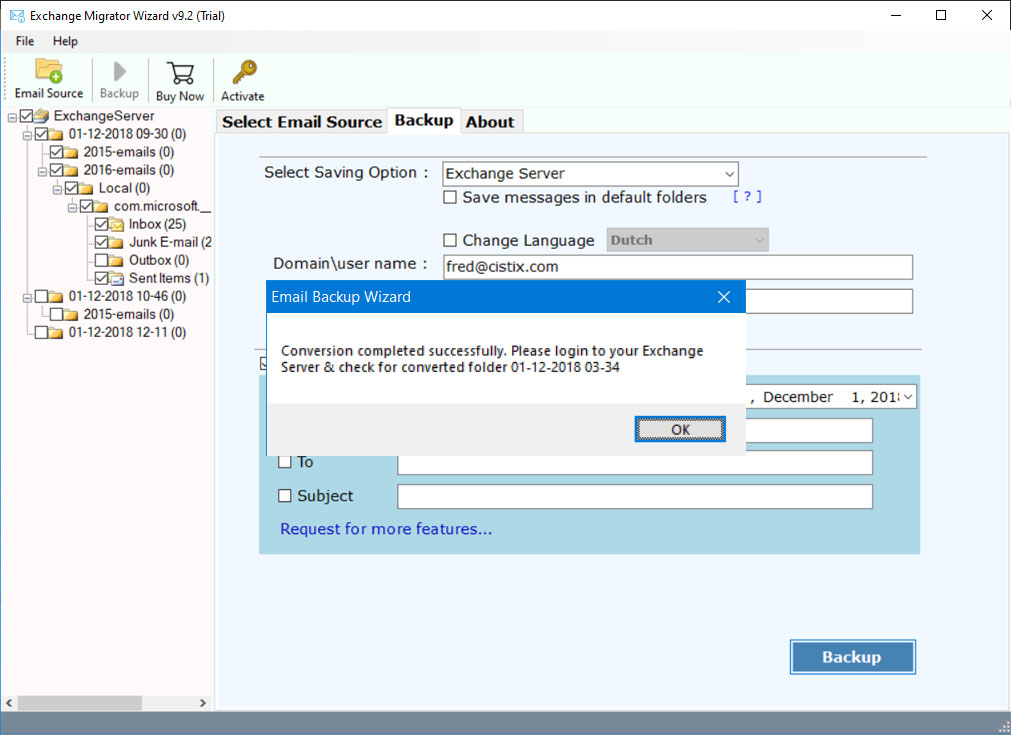 Advanced Features & Benefits to Convert IMAP to Thunderbird
Migrate All IMAP Email items:
The IMAP to Thunderbird conversion software is designed in such a manner that it can export all IMAP Server databases to the Thunderbird email client. It has the ability to transfer all IMAP folders to a Thunderbird account.
Preserves Email Attributes:
The IMAP server to Thunderbird migration tool retains all email properties during the process such as the email address, attachments, subject, inline images, hyperlinks, text formatting, hyperlinks, graphics, date, time, etc.
Move Each Folder from IMAP to Thunderbird:
Users can easily convert IMAP to Thunderbird email client by migrating data from all email folders like inbox, outbox, sent items, spam, draft, local folders, personal labels, etc.
With the export IMAP to Thunderbird software, one can also perform selective email migration. The utility offers different data filter features, which help users to convert IMAP emails to Thunderbird by sorting data as per date range, subject, email address, etc.
Save Output at Any Location:
One can migrate IMAP to Thunderbird and store the converted emails at any location on their computer. The tool allows users to choose a specific saving location for the output.
This is an amazing IMAP to Thunderbird transfer tool that supports all versions of Microsoft Windows Operating Systems such as Windows 10, 8.1, 8, 7, XP, Vista, Windows Server 2019, and 2016.
It offers an easy-to-understand and interactive Graphical User Interface. It assures that it never saves user account login details in the software database.
Regularly Asked User Queries
How to convert IMAP to Thunderbird?
Download & Launch the software on a PC.
Set up IMAP Account credentials in the UI
Specify desired mailboxes from the appeared list
Select Thunderbird as the saving option
Begin to convert IMAP emails to Mozilla Thunderbird.
Can I run this software on Windows 8.1 OS?
Yes, this application is compatible with every edition of Windows OS including the Windows 8.1 OS.
Does the utility enable bulk export of IMAP emails to Thunderbird?
Yes, you can choose multiple IMAP emails at once and can perform bulk export of IMAP to Thunderbird easily.
Will this software permit saving the IMAP to Thunderbird convert emails on any location of PC?
Yes, you can specify any location for storing the data exported from the IMAP server to Thunderbird.
Conclusion
In the above blog, we have discussed the complete way to move IMAP emails to local folders in Thunderbird. If you want to export multiple IMAP email account mailboxes to Thunderbird, then this is one of the best solutions.
This software gives the facility to migrate only selected IMAP emails to Thunderbird locally. You can also try this application before investing your money with the free IMAP to Thunderbird Migration tool. If you have any queries, feel free to contact us by live chat or email.