How to Export Emails from IMAP Account to MBOX File ?
Karen Chard
~ Modified: 23-05-2022 ~ How To ~ 6 Minutes Reading
Overview: Are you one of them who want to learn how to export IMAP mailbox to MBOX file ? If yes, then read this article completely. Many users want to know how to backup IMAP to MBOX file for Thunderbird, Windows Live Mail, Apple Mail, etc. RecoveryTools IMAP to MBOX export tool is the best solution to extract IMAP emails to MBOX format.
This is one of the most trending queries of the month. There are many users who want to know how to export emails from IMAP server to an MBOX file. Recently, our technical support executive received a question from a New York user.
"Hi, I am looking for a solution to export IMAP mailbox to MBOX file. Because I have tried many times to configure my IMAP account in the Thunderbird client. But Thunderbird shows me an error message for failing to communicate with my IMAP server. So, I want to backup IMAP to MBOX format. Does anyone know how to export IMAP Emails to MBOX file ? Please Help me!!!!"
Alex Norton
There are many users who do not know what IMAP is. Well, IMAP is a protocol that is used to send and get messages from email servers. Many email platforms have their own servers that store your email account information. To access your data to your local machine, IMAP provides a convention between you and your machine.
However, to backup IMAP Emails to MBOX format, firstly you need to export IMAP to MBOX file. In this article, we will explain the complete procedure to extract IMAP mailbox to MBOX format.
Instant Solution: IMAP to MBOX Backup Tool
Here's one of the best solutions in this world – called RecoveryTools IMAP Backup Tool. This application allows you to export IMAP emails to multiple formats including MBOX file. It will enable you to successfully backup IMAP emails, folders, attachments, etc. The software is available for both Windows and Mac computers.
Download From Here: –
Download for Windows Download for Mac
Note: – Before you purchase this application, we will provide you a demo edition of both utilities. The trial edition of these applications allows you to export 25 emails from IMAP to MBOX file. Satisfied users can easily buy the license of these applications.
Steps to Export IMAP Emails to MBOX File
Launch the application on your PC.
Enter IMAP details and select folders.
Choose MBOX format in file saving options.
Set destination location path as user required.
Click on the next to extract IMAP to MBOX format.
How to Backup Emails from IMAP to MBOX Format ?
First of all, install or launch this application on your computer.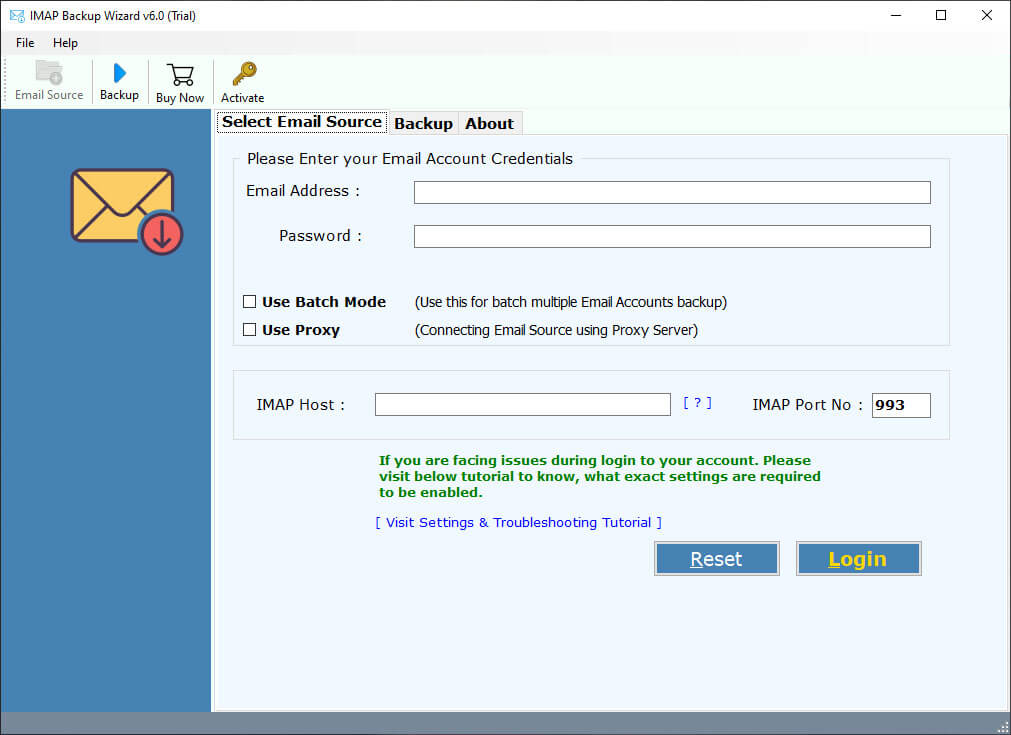 Thereafter, enter your IMAP account credentials in the user interface.
Note: – if you are facing any login issues, please create "app password" or contact us by live support chat.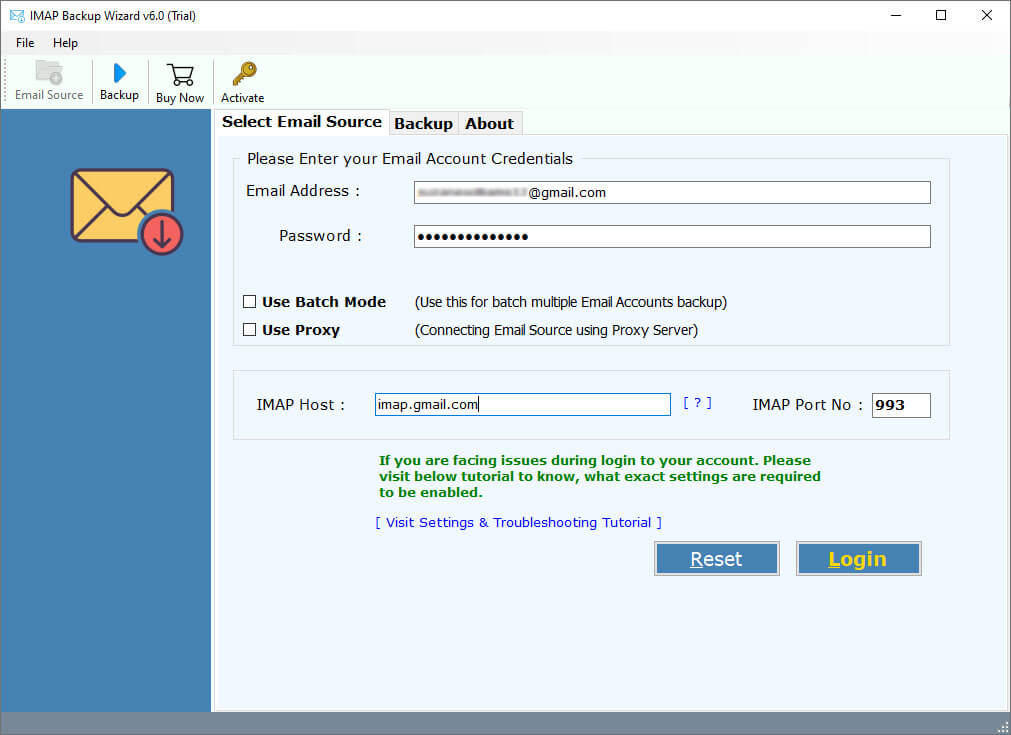 Also, this application allows you to export data from multiple IMAP accounts.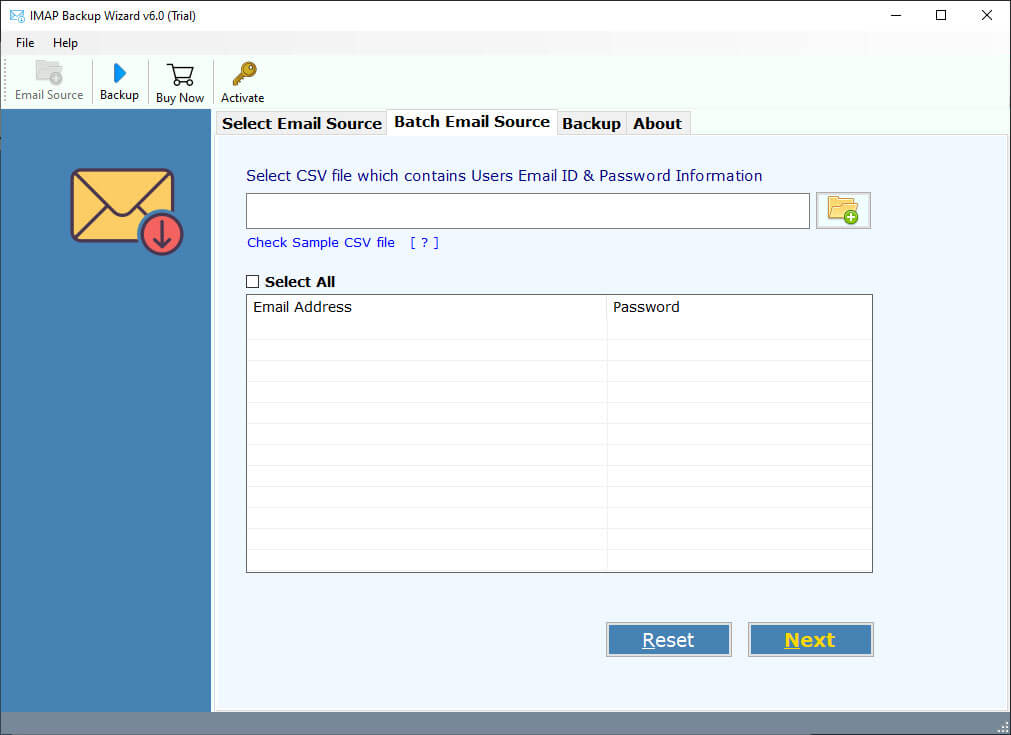 After all, choose the required email folders from the list.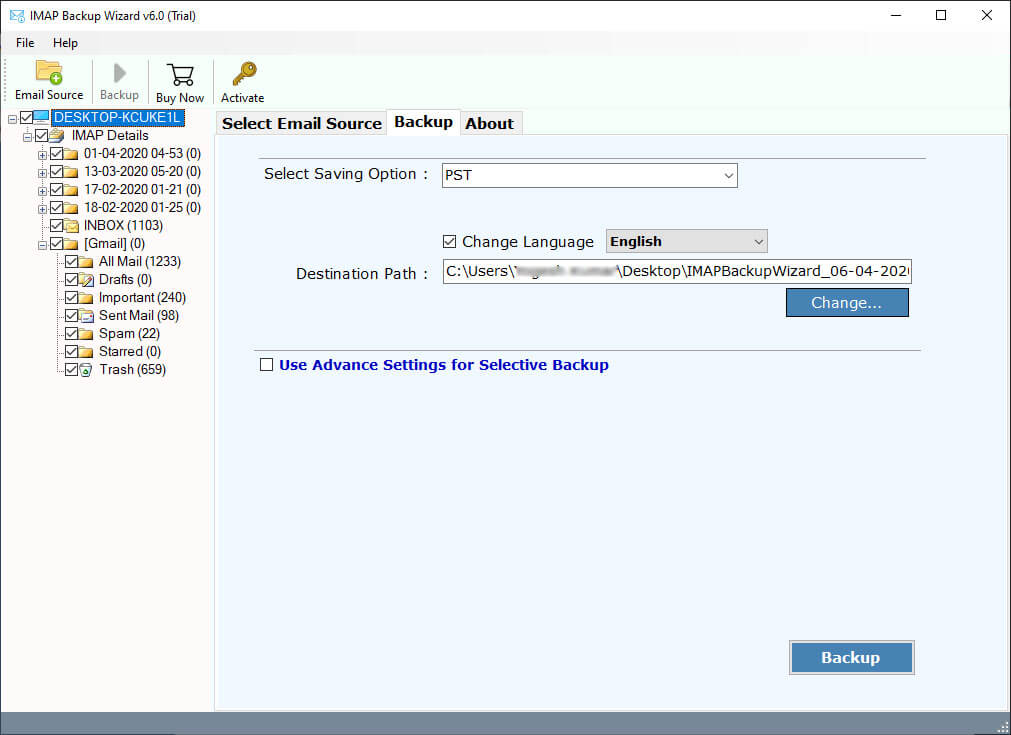 Now, select the MBOX option in the list of file saving options.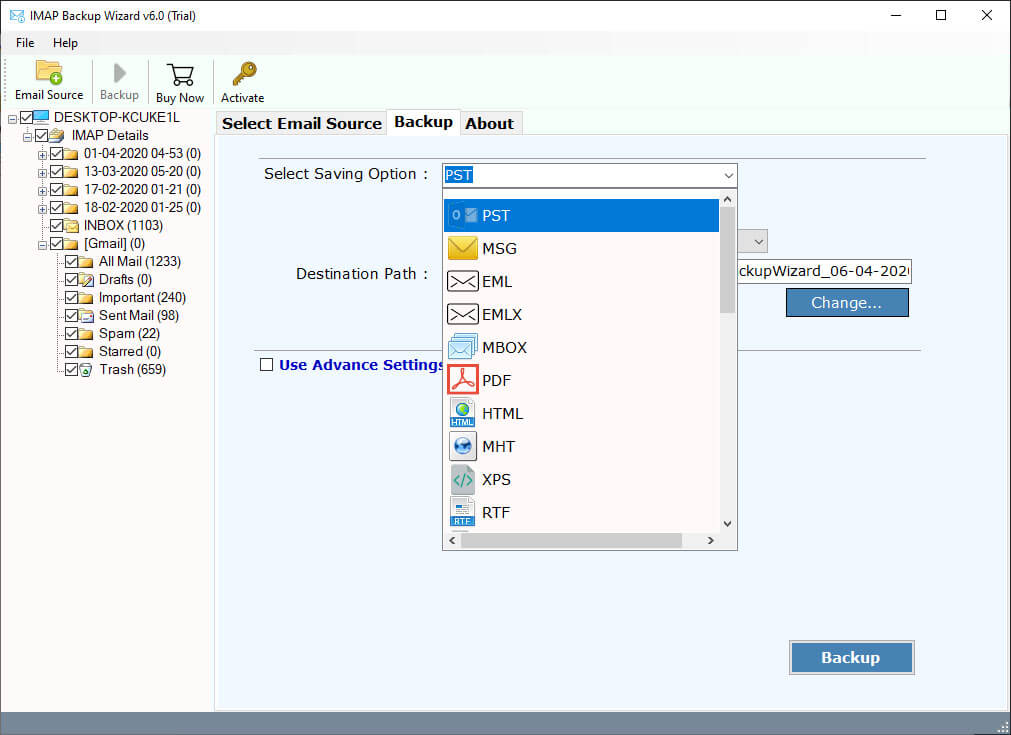 After that, you can choose the filter options and saving the location path.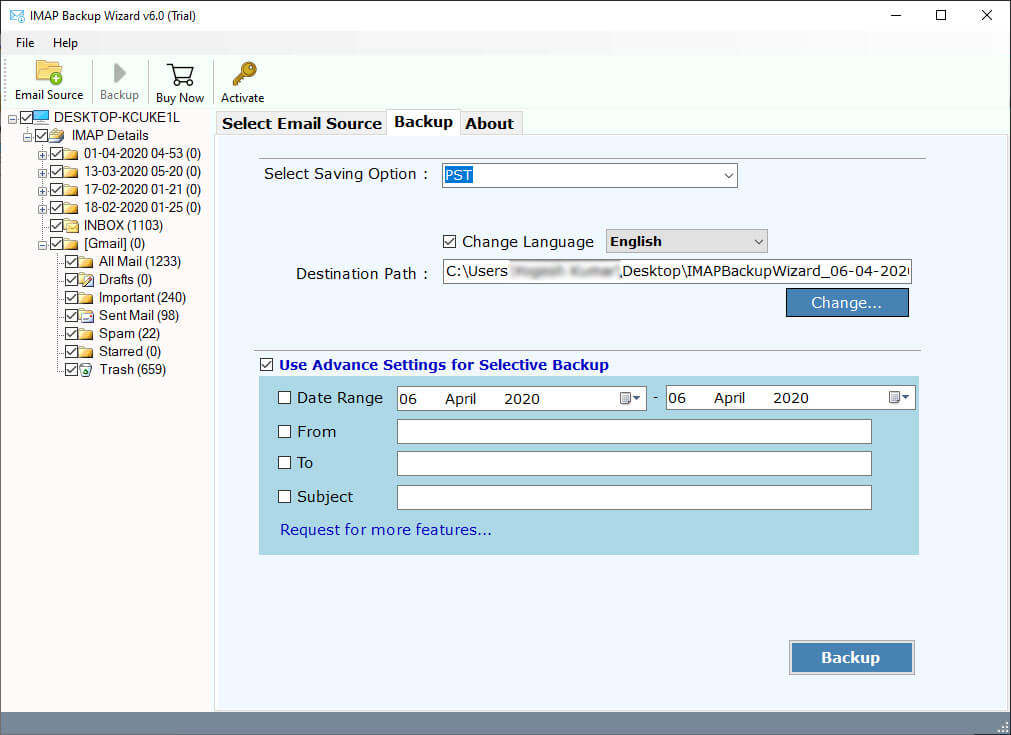 Finally, hit on the enter button to start IMAP to MBOX Backup process.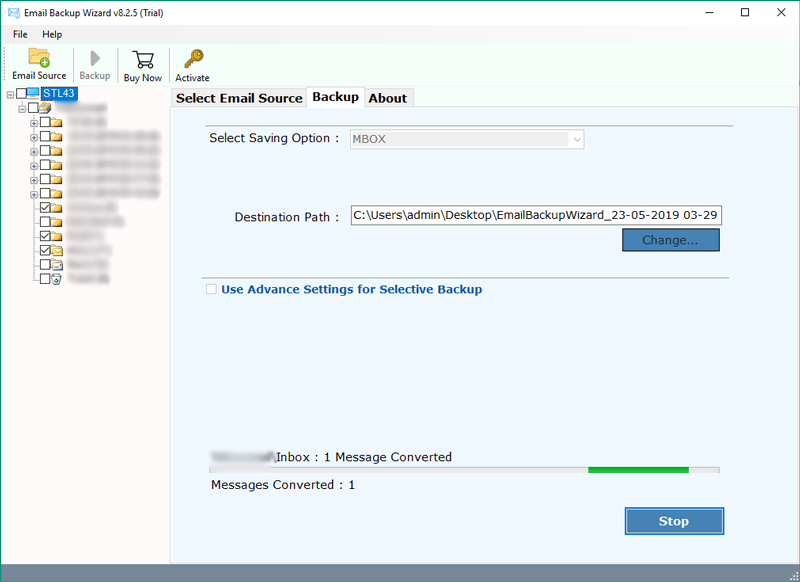 When the process is finished, click on the OK button.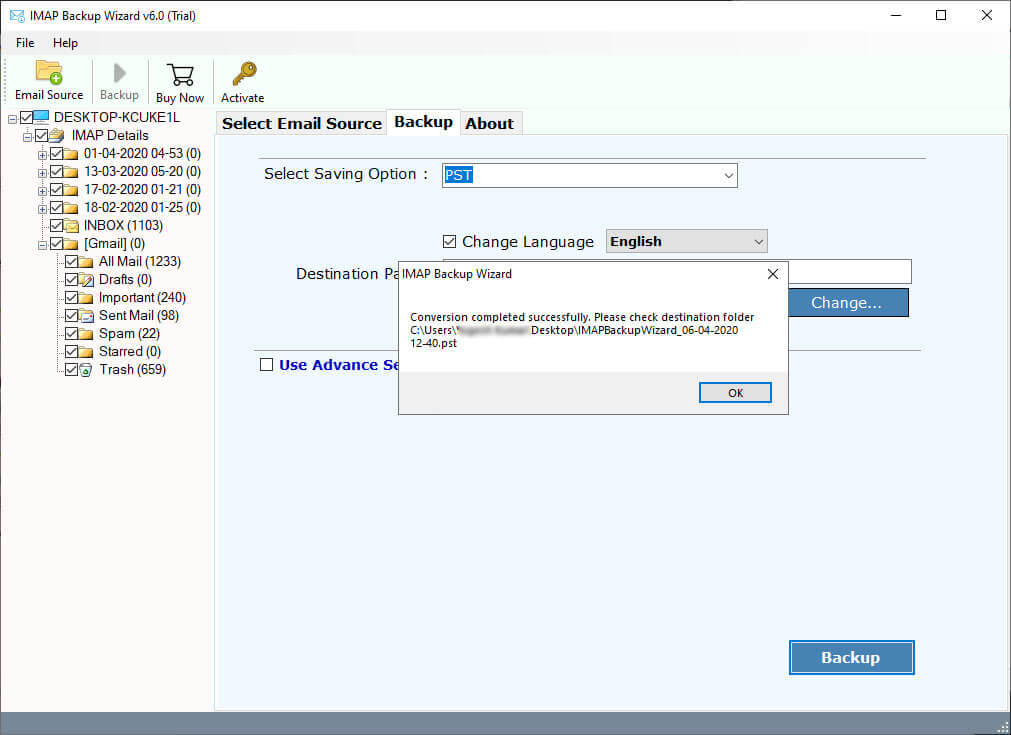 IMAP to MBOX Export Tool – Features and Its Benefits
Complete Secure User Interface Panel:
The software comes with 100% secure user interface panel. It is tested by many professional users and organizations. During the process, it never stores user personal data and IMAP account credentials in the interface caches.
Download Multiple IMAP Mailboxes to MBOX File:
The software comes with the batch mode which used for downloading multiple IMAP account mailboxes at once. Using this facility, one can easily download multiple IMAP mailboxes to MBOX file. Just create a CSV file with all your IMAP account credentials, and upload it on the user interface panel.
Keep Email Meta-Properties:
During the process, the software keeps all the properties of your IMAP emails. It will maintain email with attachments, email addresses, subject, font properties, internet header, date and time, in-line images, etc.
Backup Any IMAP Account to MBOX File:
The program has provided the facilities to export any IMAP account data to MBOX format. Now, you can easily extract any IMAP account data including your local channel provides to MBOX format. This is one of the best features of this application.
Filter Options for Selective Migration:
The software gives multiple filters used for selective IMAP emails to MBOX backup process. All these filters are helpful when you need to extract only required data from your IMAP server. You can easily backup IMAP to MBOX by date range, by subject, by email address, etc.
Work on all Windows & Mac Computers:
The software supports all Windows and Mac Computer. You can install this application on Windows 10, 8.1, 8, 7, as well as Windows Server 2019, 2016, 2012, etc. You can install the Mac version of this product on all Mac OS X Versions.
Common Asked User Queries
How to Extract MBOX file from an IMAP Account ?
To Export IMAP account to MBOX file, follow the steps: –
Run IMAP to MBOX Backup tool.
Enter details and choose the required folders.
Select MBOX file in saving options.
Set resultant path and filter options.
Hit on the enter to export IMAP emails to MBOX file.
Will it work on my old laptop that is currently using Windows 7?
Sure, this application supports all your Windows editions including old Windows 7.
Can I extract selected emails from IMAP account to MBOX file ?
Yes, you can use the filter options to export required IMAP emails by date, subject, and email addresses, etc.
Does the software allow us to export selected folders from IMAP to MBOX format ?
Yes, the program allows you to choose the required IMAP folders before start the migration process.
Can I use this application on my Linux computer ?
Currently, the software supports only Windows and Mac computers. For more details, contact with us.
Final Words
In the above article, we have explained the way to export IMAP to MBOX file. MBOX is one of the most common email formats which are supported by many popular email client applications. To backup IMAP to MBOX file, you need to download the RecoveryTools IMAP to MBOX Backup tool. This application is available on both Windows and Mac editions. You can also try both applications before purchase the licensed edition of these utilities. For more information, you can also contact with technical support team.