How to Export Google Workspace Emails to Exchange Online Server?
Karen Chard
~ Modified: 16-07-2022 ~ Google ~ 4 Minutes Reading
Know the complete process of how to migrate G Suite to Exchange Server without any issue. It is a million-dollar question for the users to migrate Google Workspace emails to Exchange Online account. The G Suite migration to Microsoft Exchange application allows & supports the latest Exchange 2016 Server online.
If you've ever done it earlier, then you must know how hard it is to migrate from one server to another. Similarly, the process to migrate G Suite to Exchange Server is very typical. You need advanced technical knowledge to perform the migration.
Note: By default, G Suite will only allow the users to migrate 2GB per day of their mailboxes to Exchange Server. You need technical software to migrate more items.
Thankfully, there is some powerful third-party G Suite Migration Software available, that makes the complex process simpler. By using this application, a user can successfully migrate emails with all data including attachments, contents, hyperlinks, or other embedded objects.
If you feel, this article is the same which I wrote a few days back i.e., export G Suite emails to Apple Mail. Has the process changed now? No. but here we will talk about the business edition of Google Mail i.e., Google Workspace (formerly G Suite) & how to migrate Google Workspace mailboxes to Exchange Server account.
Preparation – Migrate from G Suite to Exchange Server
Part 1: First of all, you need to set the App Password for the Google Workspace account. It is a safe practice to use App Password. Follow these simple steps to set G Suite App Password.
Go to Your Google Account settings, and choose Security Tab.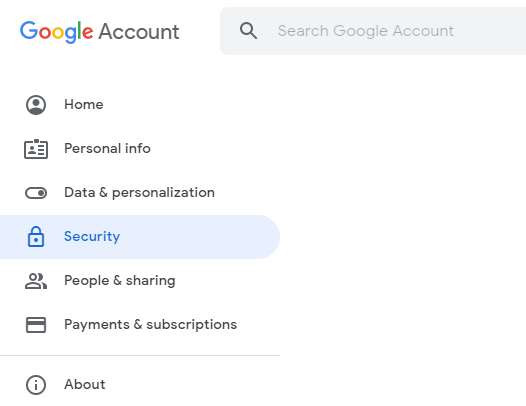 Now, under the signing into Google option click on the App Passwords option.

Now, choose the Mail option and select device – Windows Computer. Then, generate your App Password.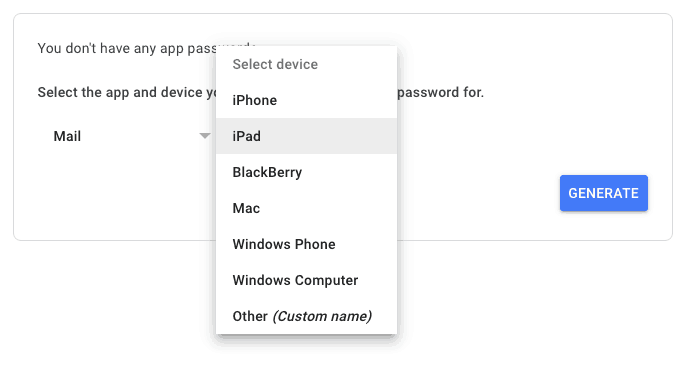 Part 2: Validate Google MFA is Turned Off & 'Allow to Less Secure Apps' is Turned On.
Go to the Google Account button & click on the Manage your Google Account.
Choose the Security option from the number of options.
Now make sure 2-step Verification & Use your Phone to sign In both options are turned off.
Turn on Less Secure Apps Access.
Part 3: Add Users in Exchange Server
You can also create user mailboxes in Exchange Online Server. Apply here Exchange Online license through a subscription plan.
How to Migrate Google Workspace Emails to Exchange Online?
To initialize G Suite to Exchange Migration process, you need to first Download Google Workspace to Exchange Migration tool. The toolkit is available for both Mac & Windows OS. Free download the setup from the below button.
Download for Windows Download for Mac
Install & run the software on your computer & enter login credentials.
The application will quickly start loading G Suite mailbox folders in its panel. Choose all the required mailbox folder items from here.
Choose the Exchange Server option now. Setup Google Workspace to Exchange migration options here.
Enter the account login credentials of the Exchange Server account in the application panel. You can change the mailbox language from here as well as choose I am Admin
A user can also apply advanced filter settings to migrate only specific emails from G Suite to Exchange Server account.
Click on the Backup button to initialize Google Workspace to Exchange migration process. You can analyze the live migration process directly in the application panel.
As the process finished successfully, will pop up a confirmation message box that your process is completed now.
In the end, the toolkit will generate a SavingLog report that will provide users summary of the process.
What Data You Will Export G Suite to Exchange 2016?
The software will successfully migrate Google Workspace mailbox items to Exchange Online Server. Here is the list of items that this software will migrate from G Suite to Exchange Server.
Inbox, Outbox, Deleted Items, Sent Items, Junk Emails, etc.
User-Defined Folders or Labels,
All Emails, Forwarded Emails, Muted Emails,
Contacts
Calendars & Notifications (Only include links of Google Hangout within the Mattings)
Items Blocked:
Appointments
Calendar Reminders
Calendar Attachments
Chats & History
Google Mailbox Categories
Attachments Linked to Google Drive
Google Groups for Business Chats
Conclusion:
This is a complete guide of how a user can successfully migrate Google Workspace Emails to Exchange Server account. You can do it with the help of the best G Suite to Exchange Online migration tool. The software will provide the users a direct option to migrate mailbox items. It also supports G Suite migration to pre-existed Microsoft Exchange Server mailboxes.