How to Export Google Workspace Emails to PST via DIY Solution
Karen Chard
~ Modified: 20-03-2023 ~ How To ~ 6 Minutes Reading
Google Workspace, formerly known as G Suite is a popular cloud-based productivity suite that is widely used by many businesses worldwide. However, there are times when a user or an admin needs to export its data to some other format, say PST file. Now, the main question that you might think of is the safest and most efficient way to export G Suite to PST format.
As a Google account stores a lot of crucial and sensitive emails, it is important for us to go with a tried and tested solution to export Google Workspace to PST. Along with that, if you are thinking that why a user would need to download G Suite emails locally if he/she has the option to store them on the cloud, then we will answer that question as well.
Table of Contents

1. Why Users Plan to Export G Suite Emails
2. Perfect Solution to Export Emails
3. Step by Step Working of the Tool
4. Advance Features that it offers
5. Conclusion
Reasons Why Users Need to Export G Suite Emails to PST
Although many users think that Google fulfills all the necessary requirements for data storage and a safe storage option as well, there are certain requirements that make users export their Google Workspace emails to PST format.
There might be numerous reasons behind data export, we have listed some of the most common ones in the following section:
Archiving data for compliance or regulatory purposes
To keep a backup copy of your data
Migrating data to some other platform
PST files offer password protection so that makes PST the top choice for admins
Exporting G Suite emails to PST enables offline accessibility of data
An employee leaving the organization
These are some of the primary reasons why a user wants to export his/her crucial data.
Free Download this Solution to Export G Suite to PST Format
One of the highly-rated solutions is RecoveryTools Google Workspace Backup Tool, which allows users to easily export G suite emails to PST format without using Outlook. The application provides a direct option to export data in bulk. It has a user-friendly interface that can be easily used by all users from all types of backgrounds.
The software has also developed with a highly advanced algorithm that possesses multiple unique features to export the data. Using this utility, it is also possible for users to back up G Suite emails instantly in a needed format according to their needs. Other than that, the software also supports migration to 20+ formats such as G Suite to MDaemon, G Suite to Gmail, G Suite to Exchange Online, G Suite to Zoho Mail, G Suite to Apple Mail, and many more.
To solve your query without wasting much of your time and effort, just continue downloading the software for free and start the process. You can easily download the mentioned utility in your Windows as well as MAC OS system on all latest as well as previous versions.
Free Download this Solution:
Download for Windows Download for Mac
The free trial of this software allows you to export only the first 25 emails from your Google Workspace account to a PST file. To export the entire mailbox, simply activate the software by purchasing a license key from below.
This tool has a simple data export process. You just need to provide the G Suite login credentials and export the mailbox in the desired format instantly in bulk quantity.
How to Export G Suite Mailbox to PST Step-by-Step Process
Install and run the mentioned export tool and enter your credentials.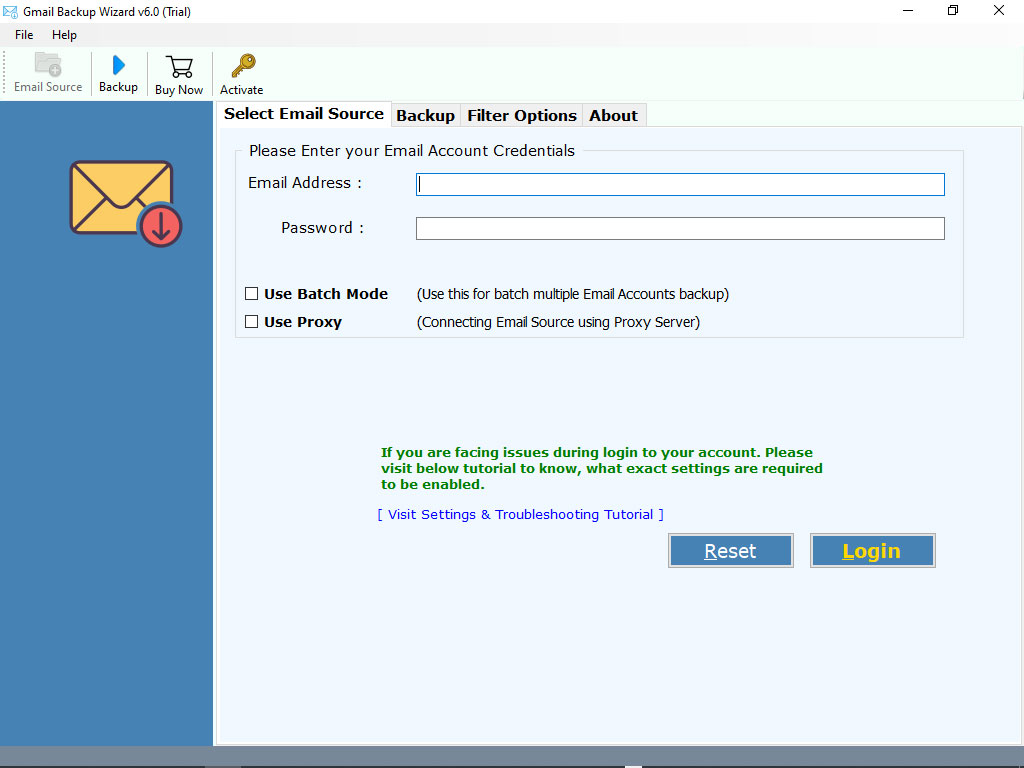 Select all G Suite mailbox items required for conversion.
Select PST from the list of saving options.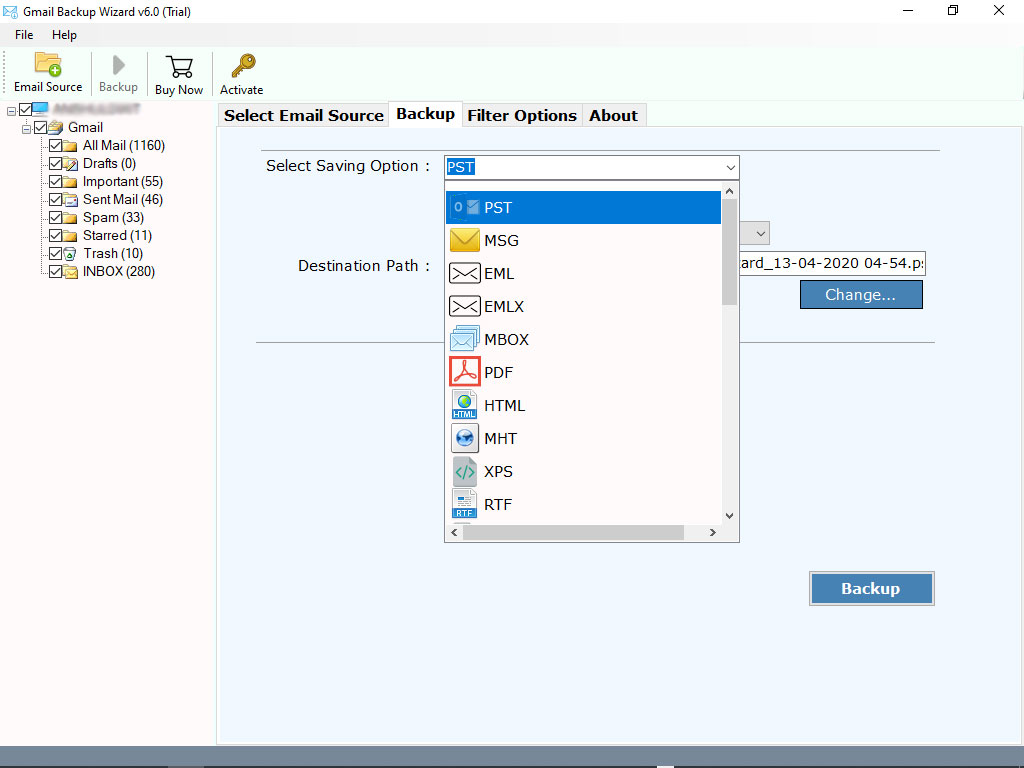 Then, select the folder path to save the resulting PST files. By default, it saves them to the desktop.
Click the Backup button to begin exporting process.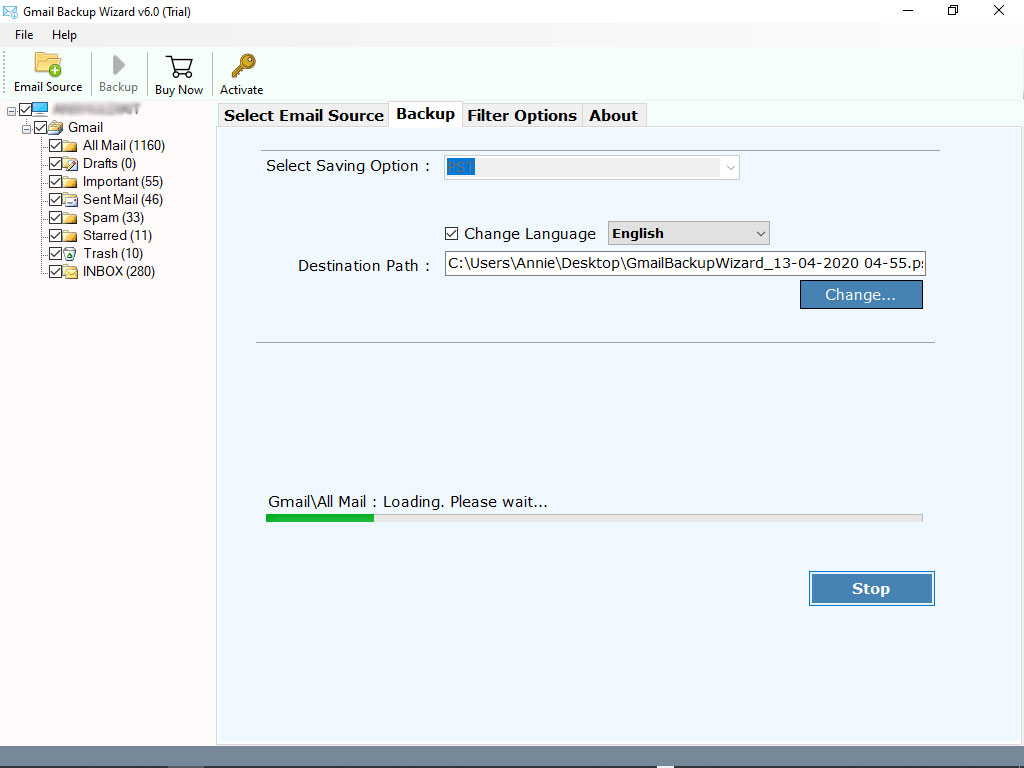 Provides a preview of the entire process directly in its panel.
Finally, the software opens the destination folder where you can see the exported PST file.
The user can easily export G Suite emails in a very easy and simple way. The application will also generate a Log report, which will contain all the information related to the migration process.
You can also watch the following video to understand how to export G Suite/Google Workspace emails from multiple accounts:
Amazing Features of Tool to Export Google Workspace to PST
This is the perfect tool to migrate from Google Workspace to Outlook. It supports exporting emails, contacts, calendars, and the entire G Suite mailbox without any hassle. Below are some highlighted features of this tool:
Successfully export data from thousands of users from a single G Suite domain to a PST file.
Supports Google Workspace to Outlook migration by creating PST files in UNICODE that supports all versions of Microsoft Outlook, including Outlook 2021, 2019, 2016, 2013, 2010, 2007, and 2003.
There are also advanced filter settings for exporting only selective emails using different options.
The tool preserves the original metadata and properties of the G Suite mailbox during the process.
The original hierarchy of system folders is preserved without any kind of loss of data. Moreover, while uploading files on the panel, there will not be any kind of swapping or interchanging of data.
Completely standalone and independent software that can work without the need for any external utility throughout the process.
The user can translate G Suite email folder names to the folder name of the selected language. i.e., the English Inbox in the Posteingang folder in German.
Possible for users to back up entire Google Workspace data locally on a desktop, or external hard drive.
Also acts as Google Workspace migrator with powerful capabilities.
Compatible with all Mac, Windows OS, and Windows Server devices whether their latest or the previous versions.
Conclusion
Hence, we have mentioned the entire guide to export G Suite emails to PST in a single attempt. Using the mentioned solution, it is possible for users to export the entire Google Workspace Mailbox without facing any kind of size limitations. If we talk about other solutions then I can definitely say that no utility is better than this. For more information, you can contact our technical expert team.