Simple Method – How to Export G Suite Email to PST File
Karen Chard
~ Modified: 06-06-2022 ~ How To ~ 6 Minutes Reading
I'm a G Suite Account Administrator with 1,700 users in my domain. Because Google is no longer supporting G Suite and is renaming that as Google Workspace, I'm switching to the Outlook email client. So, I am finding a solution to export G Suite email to PST file, I choose the Data Export Tool provided by Google.
Data Export Tool is a service that allows to export of email and other mailbox data from Google Workspace Administrators. It's very similar to Google Takeout, which is available for personal Gmail accounts to download data.
However, to use the G Suite Data Export service, you must meet some criteria:
The user must be an administrator for at least 30 days.
The domain must have less than 1,000 users. If your administrator account has more than 1,000 users, this service will not work properly (contact Google Cloud Support to temporarily enable the service).
Two-factor authentication must be enabled.
Become a domain super administrator.
The Google Workspace Data Export Tool will not download user data created in the last 24 hours.
After selecting the export process, it will start exporting data after 48 hours.
It is understandable that choosing a data export tool to export the G Suite mailbox is a very bad idea. The data export process typically takes 72 hours, but depending on the size of the mailbox, the time may exceed 14 days. Is there any best method to export email to PST files?
Yes, there is one automated approach that can help to export the data from Google Workspace to PST. Since there is no direct solution for the same mentioned on the Internet. So, I recommend you continue with this and get the results as soon as possible.
Best Tool to Export G Suite Email to PST File:
One of the highly-rated solutions is RecoveryTools Google Workspace Backup Tool, which allows users to easily migrate Google workspace email to PST format without using Outlook. The application provides a direct option to export the data in bulk. It has a user-friendly interface that can be easily used by all users from all types of backgrounds.
The software has also developed with a highly advanced algorithm that possesses multiple unique features to export the data. Using this utility, it is also possible for users to backup G Suite emails instantly in a needed format according to their needs. Other than that, the software also supports 20+ formats such as G Suite to MDaemon, G Suite to Gmail, G Suite to Exchange online, G Suite to Zoho Mail, G Suite to Apple Mail, and to other file formats such as PDF, MSG, MBOX, EML, HTML, and others.
To solve your query, without wasting much of your time and efforts, just continue downloading the software for free of cost and start the process. You can easily download the mentioned utility in your Windows as well as MAC OS system on all latest as well as previous versions.
The free trial of this software allows you to export only the first 25 emails from your Google Workspace account to a PST file. To export the entire mailbox, simply activate the software by purchasing a license key from below.
This tool has a simple data export process. You just need to provide the G Suite login credentials and export the mailbox in the desired format instantly in bulk quantity.
Simple Steps to Export Google Workspace Email to PST

Run G Suite to PST Export Tool and login there.
See the preview of entire data on screen.
Select the required number of mailbox items.
Using the Export Menu, choose PST as the format.
Enter destination and get the exported PST file. 
How to Export G Suite Mailbox to PST Step-by-step Process:
Install and run the mentioned export tool and enter your credentials.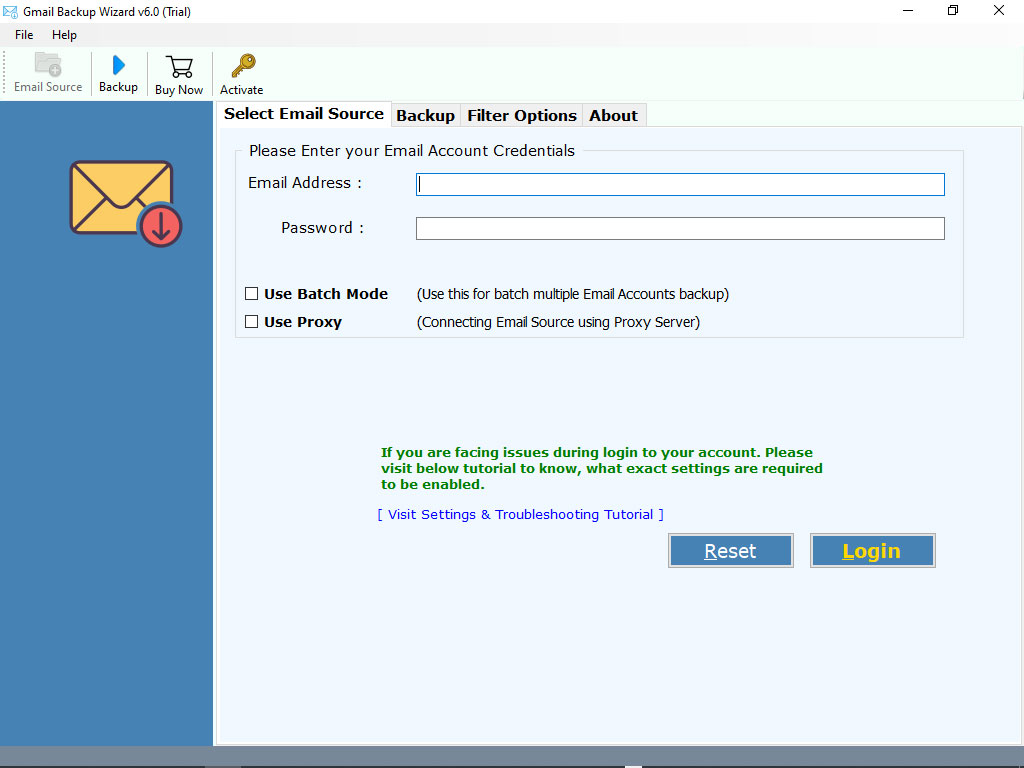 Select all G Suite mailbox items required for conversion.
Select PST from the list of saving options.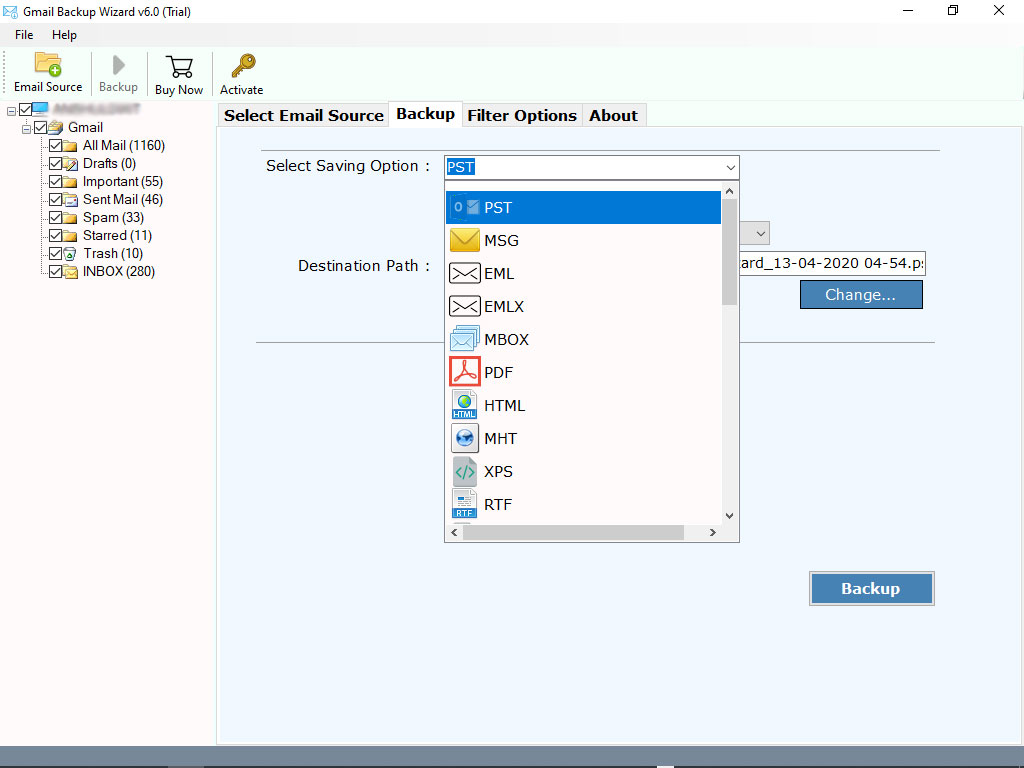 Then, select the folder path to save the resulting PST files. By default, it saves them to the desktop.
Click the Backup button to begin exporting process.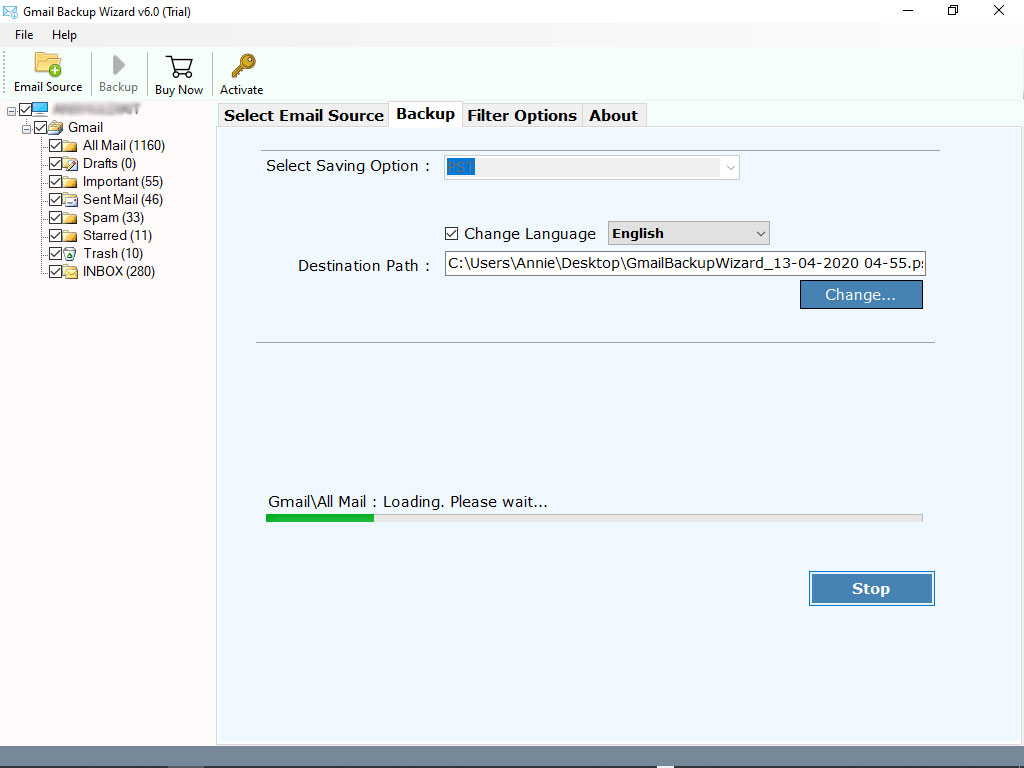 Provides a preview of the entire process directly in its panel.
Finally, the software opens the destination folder where you can see the exported PST file.
The user can easily export the Google Workspace email to a PST file in a very easy and simple way. The application will also generate a Log report, which will contain all the information related to the migration process.
Amazing Features Of Tool – Google Workspace Export to PST
This is the perfect tool for exporting mailbox to PST files. It supports exporting emails, contacts, calendars, and the entire G Suite mailbox without any hassle. Below are some highlighted features of this tool:
Successfully export data from thousands of users from a single G Suite domain to a PST file.
Create PST files in UNICODE that supports all versions of Microsoft Outlook, including Outlook 2019, 2016, 2013, 2010, 2007, and so on.
There are also advanced filter settings for exporting only selective emails using different options.
The tool preserves the original metadata and properties of the G Suite mailbox during the process.
The original hierarchy of system folders is preserved without any kind of loss of data. Moreover, while uploading files on the panel, there will not be any kind of swapping or interchanging of data.
Completely standalone and independent software that can work without the need of any kind of external utility throughout the process.
The user can translate G Suite email folder names to the folder name of the selected language. i.e., the English Inbox in the Posteingang folder in German.
Possible for users to backup entire Google Workspace data locally on a desktop, or external hard drive.
Compatible with all Mac,

Windows

OS, and Windows Server devices on all their latest as well as the previous versions of data.
Summary
Hence, we have mentioned the entire guide to export G Suite email to PST in a single attempt. Using the mentioned solution, it is possible for users to export the entire Google Workspace Mailbox without facing any kind of size limitations. If we talk about other solutions present in the market, then I can say no utility will provide better features like this. For more information, you can anytime connect with our technical expert team.