How to Import Outlook Contacts to Microsoft Teams Member List?
Karen Chard
~ Published: 03-08-2022 ~ Outlook ~ 5 Minutes Reading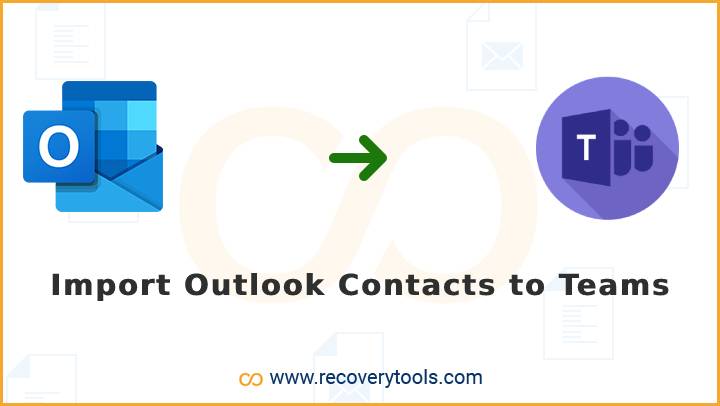 Wondering about a method to import Outlook Contacts to Microsoft Teams account? Or want to share your Microsoft Outlook address book to Teams? If so, then your searches end here. This article explains the way to migrate your Outlook contacts to Teams directly. So, keep reading this article to know the process.
In today's life, one of the best ways to communicate with others is through contact. These contacts will help us to know about others. Because today contacts represent people. To contact someone in person, you can use the phone or the mail. Therefore, people want to preserve their contact information.
MS Outlook is an email program which is developed by Microsoft. It's a powerful application that is designed to help people be more productive. It is an application that is used to send and receive emails. In addition, it also allows users to create personal calendars, address books, journals, and task lists. It has some features which make it easy for people to work efficiently and keep their work organized.
Microsoft Teams is an application developed by Microsoft. It helps you to communicate with others and share information with others. It is used by businesses around the world to share content, ideas, documents, and files. When you use Microsoft Teams, you can create chat rooms, create online meetings, and share videos and other types of content.
Reasons to Import Outlook Contacts to Teams
Teams are a web-based application that was designed by Microsoft to allow people to communicate. And Outlook is a desktop-based email client application which also developed by Microsoft. It allows you to communicate with other people using various means like emails, contacts, etc.
But Microsoft Teams can use it to share information, ideas, images, videos, documents, presentations, and Video chat with other members. Both are different applications and different infrastructures, but both support contacts. That's why people want to know how to import contacts from Outlook to Teams. A user query explains the reasons.
"Hi, I am using Microsoft products for a while on my office and personal systems. Microsoft Outlook is one of the best platforms for managing emails, messages, contacts, and calendars. But it doesn't provide Video Chat benefits. Which are presented in Microsoft Teams? That's why I am looking for a method to import Outlook contacts to Teams. Do you have any method!!!?"
Some Helpful Articles:
Solution: Import Contacts into Microsoft Teams
Most of the solutions on the interface suggest you to use PowerShell commands to import Outlook contacts to Teams. But in this post, I will suggest you a simple method using a professional solution. RecoveryTools Outlook PST Migrator is one of the best tools to export Outlook contacts to several contact formats. Is the solution for those users who want to import Contacts into Microsoft Teams account.
Download the Solution Now:
Download for Windows Download for Mac
How to Import Contacts from Outlook to Teams?
Get the solution on your Windows and Mac computers.

Choose the required auto-mode to locate your Outlook data files.

You can also choose the manual options if you want to import contacts from PST file to Teams.

The solution also allows you to choose only contact folders from the entire Outlook database.

Now, you simply choose the CSV option in the saving list.

Set the destination location path to save resultant data at the user location.

Start the process to export Outlook contacts for Microsoft Teams.

Access the resultant file at the user's desired location path.

Now, open your Microsoft Teams Admin Panel on your web browser.
Click on the teams and choose Add Member option.

Now, on the top side, you will see an option to select a file.
Choose your resultant CSV file which contains Outlook contacts.

Complete the process and get all your Outlook contacts in Microsoft Teams.

Advantages of Outlook Contacts to Microsoft Teams Tool
Simple and Direct Method: Outlook Migrator by RecoveryTools offers a simple and direct method to export contacts from Outlook. It has an inbuilt search option to find any Outlook edition data automatically.
Import PST Contacts to Microsoft Teams: There are lots of users who have only Outlook PST files that contain contacts. They want to upload PST contacts to Microsoft Teams. That's why this application is developed for those users which dual batch selection options.
Simple and Graphical Interface: The program window or interface is one of the major reasons for the failure and success of the application. That's why we developed a visual basic default and simple graphical user interface panel for all types of users. You can easily self-understand the process by using this solution.
Access Outlook Data from Default Path: There are lots of non-technical users doesn't know the default location and storage location of Microsoft Outlook. That's why we provide an advance option that automatically locates Outlook data files.
Windows and Mac Solution: You not only use this application on your Windows computers. But also use this application on your Mac computers. The solution supports all the latest Mac and Windows operating systems including Windows 11 or macOS Ventura.
Final Words
If you are new to Microsoft Teams, I highly recommend you to check out this blog post where I am sharing some helpful tips on how to import Outlook contacts to Microsoft teams. This is a perfect way to connect with the other members of your team and let them know who you are. You can download the solution on your Windows and Mac for Outlook for Mac editions. For more information, contact the technical support team.