How to Import Outlook Contacts to Salesforce Account – Solved
Karen Chard
~ Published: 01-08-2022 ~ How To ~ 6 Minutes Reading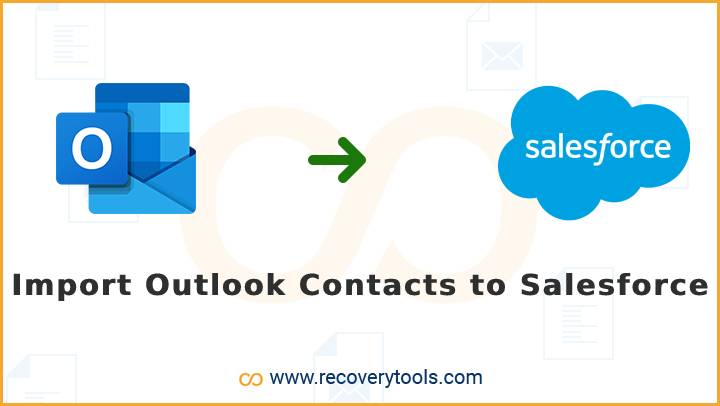 There are several reasons why you might import contacts into Salesforce. I'm not a Salesforce expert, but I will explain a method to import Outlook contacts to Salesforce. If you are also one of them who are looking for the same solution? Then don't worry now. In this post, you will get a simple method to import Outlook contacts to Salesforce. So, keep reading the post to know more.
Microsoft Outlook is a software program that lets you organize your emails, appointments, tasks, and notes. You can use this software to keep track of all your important information. When you are using this software, you can add, edit, delete, and reply to emails. You can also create reminders and store your contact details with Microsoft Outlook.
Another side, Salesforce is a California, USA-based Technology Company. It provides many services but is popular among CRM software. Salesforce is a company that sells software that can help you to manage a business. This is a good way to track your customers' activities. You can use this tool to find out who is selling what to whom and what they are spending on it.
Reasons to Import Outlook Contacts to Salesforce
CRM is a software that helps the sales organization in a better way. This software allows sales organizations to maintain a database of their customers and prospects, manage the sales process, and track their sales performance. It helps the sales team to have better communication with their customers. That's why people want to export their contacts from Outlook to Salesforce. Some common reasons explain below:
If you are a salesperson, chances are you will be using email to communicate with customers. This means that you should learn how to use Outlook contacts and import them into Salesforce so that you can have more control over your emails.
This is a great way to make your business contacts more useful. Your contacts will have to update their information, so you should import your contacts into Salesforce. When you do, you'll be able to access this data whenever you need it.
Read More:
Solution: Outlook Contacts to Salesforce Converter
RecoveryTools Outlook PST Migrator is an all-in-one solution for Outlook users. This application supports a wide range of contacts, emails, webmail's, servers, and lots of saving options. You can easily use this application to extract Outlook contacts in popular contact files. The solution offers several filters and advanced options that allow you to easily use Outlook data without any issues.
Download the Solution:
Download for Windows Download for Mac
How to Import Outlook Contacts to Salesforce?
Get the program on your computer and use the solution for Outlook.

It provides new technology that directly traces your Outlook data if you have already installed Outlook.

You can also use the manual options to choose Outlook Data Files.

When you selected Outlook data, now you need to choose Outlook Contact folders.

The program offers several file-saving options. But here, you need to choose CSV option.

You can also select the additional options and resultant location path according to requirements.

Now, start the conversion process to export Outlook contacts to CSV files.

Access Outlook CSV contacts file from the destination location.

Once you get the Outlook Contacts files, login into your Salesforce account.

Now, search Data Import Wizard and launch it.

Here, choose the "where is your data located" option and choose Outlook CSV option.

Then you need to browse your resultant file and upload it to the Salesforce platform.
After that, you can easily modify your contact list easily.

Press the import button to start the procedure.

Features and Advantages of Outlook Contacts to Salesforce Tool
Trace Outlook Data Automatically: RecoveryTools understand the client's needs and their backgrounds. That's why we developed a solution that easily does user tasks. The software has the ability to access Outlook data automatically in your application. But it is when you have Outlook installation on your current machine.
Manually Select Outlook Data Files: If you have Outlook data files and OST or PST files. Then you can easily use them to extract your Outlook contacts. The solution supports all Outlook files and export contacts in all popular contact formats.
Outlook Connectivity Not Required: There is no need for any application connectivity during the process. There is no need for Microsoft Outlook connectivity during the contact export process. Because it is the best application in the market.
Maintain Outlook Contact Details: This program looks like a simple file conversion application. But behind this, it has used the most popular and best algorithm which keeps your data properties without any issues. It also holds details of Outlook contact including name, contact, address, etc.
Windows and Mac Supportable Platform: The solution supports all editions of Microsoft Windows or Mac OS X operating systems. You can easily install this application on all the latest versions of Mac and Windows editions. The tool is fully compatible with Microsoft Windows 11 computers.
Manual Method to Import Outlook Contacts to Salesforce
Microsoft Outlook has a default option to export contacts in CSV format. But this process is difficult and takes a lot of time and effort. Follow the given steps to export the data easily.
Launch Microsoft Outlook edition on your computer.
Choose the file menu option and choose the Import/Export option.
Now, select the Export to a file option.
Select the Comma Separated Values option.
Choose required contact folders.
Browse destination location.
Export Outlook contacts in CSV file.
Limitation:
Today's technology allows us to contact anyone. You can talk to anyone you want to talk to by just typing a message into the computer. But sometimes we use shortcuts and make our records cheap. The manual process is tricky and takes a lot of time and effort. Many users lost their valuable contact information using this method. If you only have Outlook data file, the manual process is not going to work for you. Also, you need extra technical knowledge to do this task. That's why I suggest you to use the professional method.
Final Words
If you're looking to start a new business and want to share your Outlook contacts with your CRM software. Or if you're just tired of using Salesforce CRM and want to import your Outlook contacts to Salesforce. Then this post explained the complete process. It offers the best ways to import PST contacts to Salesforce without any problem. You can also take the help of the technical team for more information.