How to Import Lotus Notes to Outlook 2019, 2016, 2013, 2010?
Karen Chard
~ Modified: 12-07-2022 ~ Lotus Notes ~ 6 Minutes Reading
In this article, we are going to discuss the solution of how can a user import Lotus Notes to Outlook. Importing data items from one email client to another is a difficult task due to a lack of effective methods. In fact, in most of the scenarios, users need to face a lot of difficulties and other issues.
In this case, Lotus Notes, which went on to become IBM Notes and now is called HCL Notes, uses an NSF file to store its data. It has the functionality to export its data items in NSF file format.
Microsoft Outlook, on the other hand, stores data primarily in OST and PST files. When a user is trying to import data into Outlook, then it is only possible using the PST file format.
A lot of users are finding a way to migrate emails from Lotus Notes to Outlook. If you are also one of those, then read this article till the end.
Content Structure:

Note: Lotus Notes, IBM Notes, and HCL Notes are one and the same. It is just that Lotus Notes was rebranded as IBM Notes when IBM acquired the client-server email application in 1995. Going forward to 2019, HCL acquired IBM Notes and rebranded it as HCL Notes. So, do not confuse yourself with the names. Focus on the application versions.
Free Manual Method to Import Lotus Notes to Outlook
The free manual method uses CSV format to migrate data between the two email clients. But keep in mind that it only deals with email messages. Other mailbox items like contacts and calendars are to be migrated from IBM Notes to Outlook separately.
Step-1: Export Lotus Notes to CSV File
To export Lotus Notes mailbox emails, follow these steps:
Run Lotus Notes application.
Create a view that displays all the fields as you want them.
Click on the File menu bar.
Select Export.
In the window, choose Comma Separated Value (Structured data) in the Save as type.
Choose other desired options and click the OK button to export the data.
If the exported file has no extension, rename and add a .csv extension to the file.
Step-2: Import CSV File into MS Outlook
To import Lotus Notes mailbox emails to Outlook, follow these steps:
Launch MS Outlook application.
Click on the File menu bar.
Select Open & Export | Import/Export.
Choose Import from another program or file and click Next.
Choose Comma Separated Values and click Next.
Select the Browse button and add the Lotus Notes CSV file in the window that appears.
Select the Outlook folder in which the Lotus Notes data will reside.
Proceed and click the Finish button to end the process.
Any Problems One Might Face?
This export step may fail if any of the text fields contain a comma or a tab. So, keep clean data there.
CSV is meant to store contacts, structures, and tabular data like an address book. It is not meant for storing emails in Outlook. So, the import step MIGHT result in incomplete/different email properties.
It is only helpful for small-scale migration. The sheer amount of work when dealing with a large database is too much to handle.
So, make sure to use this method for importing a small database from IBM Lotus Notes to Outlook as a trial. Go with bulk transfer only if you find the result satisfying.
Expert's Solution to Migrate Emails From Lotus Notes to Outlook
Here, we recommend you to use RecoveryTools Lotus Notes Migration Tool is the premium tool to migrate emails to Outlook and its other versions such as Outlook 2019, 2016, 2013, 2010, 2007 & 2003. It allows importing Lotus Notes emails, contacts, calendars, and all other data items, which the manual methods fail to do. It has been tested to work with Lotus Notes 6.0, 6.5, 7.0, 7.5, 8.0, 8.5, and 9.0.
This software results in a UNICODE PST file that can be easily imported into all the versions of Outlook such as Outlook 2019, 2016, 2013, 2010, 2007 & 2003. Also, works on migrating the data such as Lotus Notes to EML, Lotus Notes to Office 365, Lotus Notes to Exchange Server, Lotus Notes to Gmail, and others.
Moreover, the tool has the ability to perform multiple other functions and provides an Advanced Search option to locate a particular email from the bulk of the data. Not only this but multiple other functions after reading queries from most of the technical forums. Just Free Download the mentioned Lotus Notes to Outlook Migration Tool and start the process.
The free version of the software allows the users to migrate 25 items per folder from Lotus Notes NSF to PST File to import into Outlook. It is enough to consolidate one's belief in the tool's working.
How to Import Lotus Notes .nsf File to Outlook? – Steps
Launch the mentioned migration tool and click on Add Files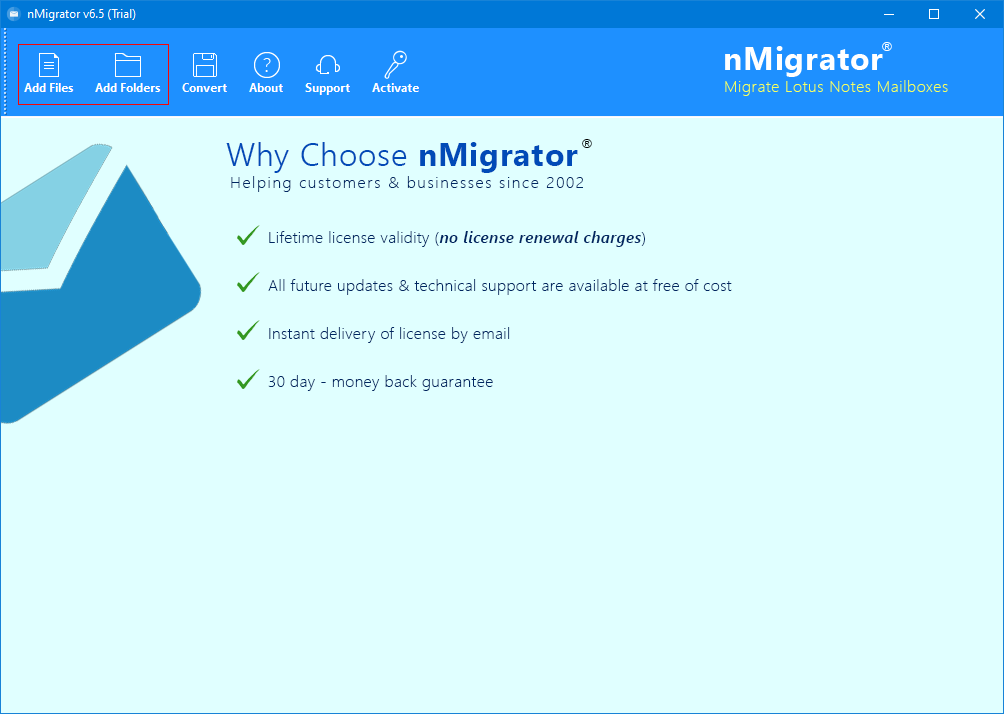 Select the Lotus Notes NSF files or folders from the system and click on the Open button to add it to the software.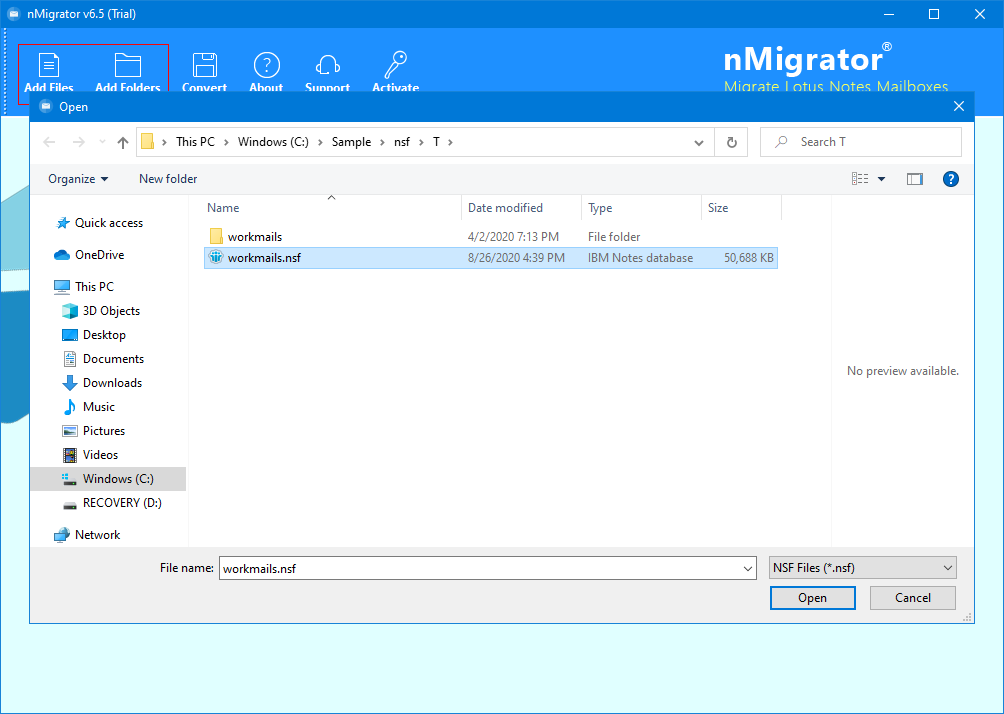 The software will preview all the mailbox items on its interface.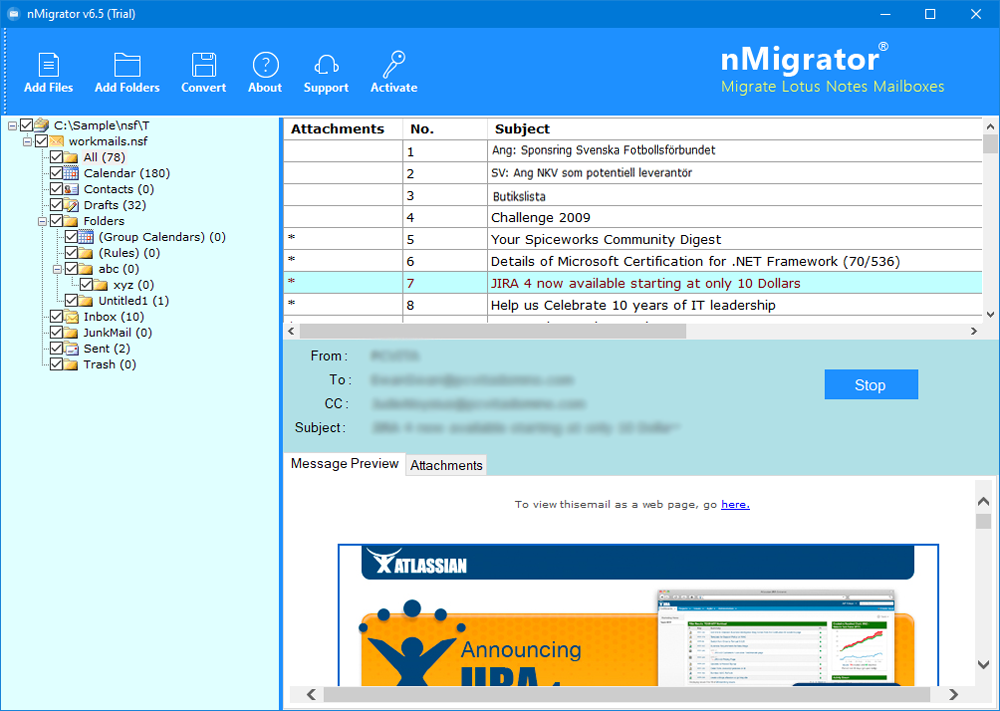 Click on the Convert button and select PST in the window that appears.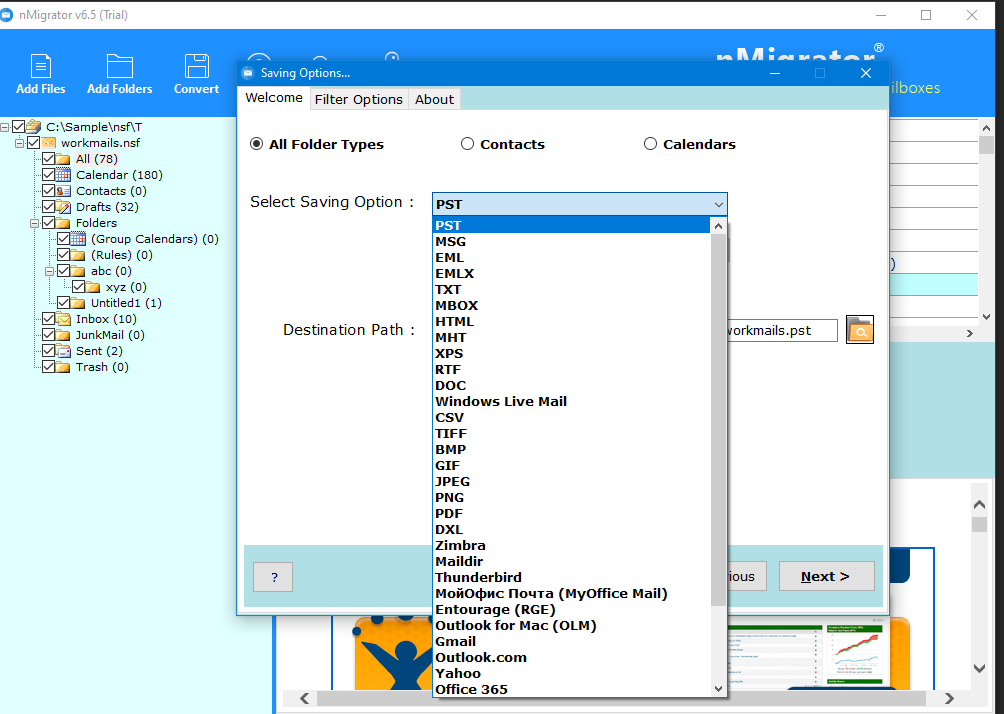 Apply advance settings as per requirements in the Filter Options tab.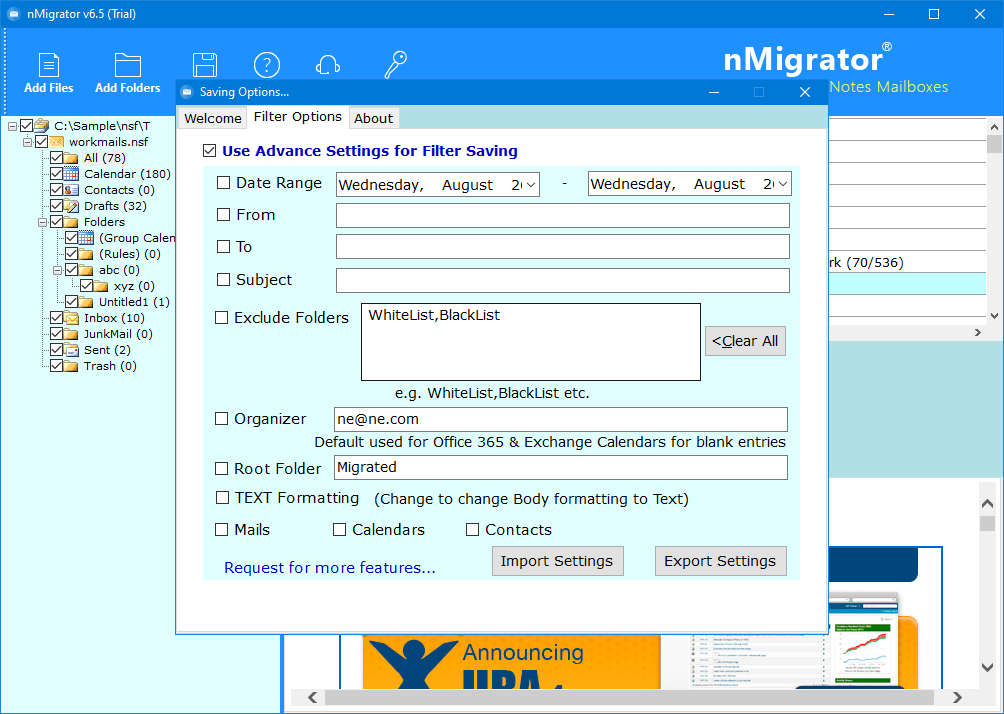 Select the destination path and click on Next to start the migration options.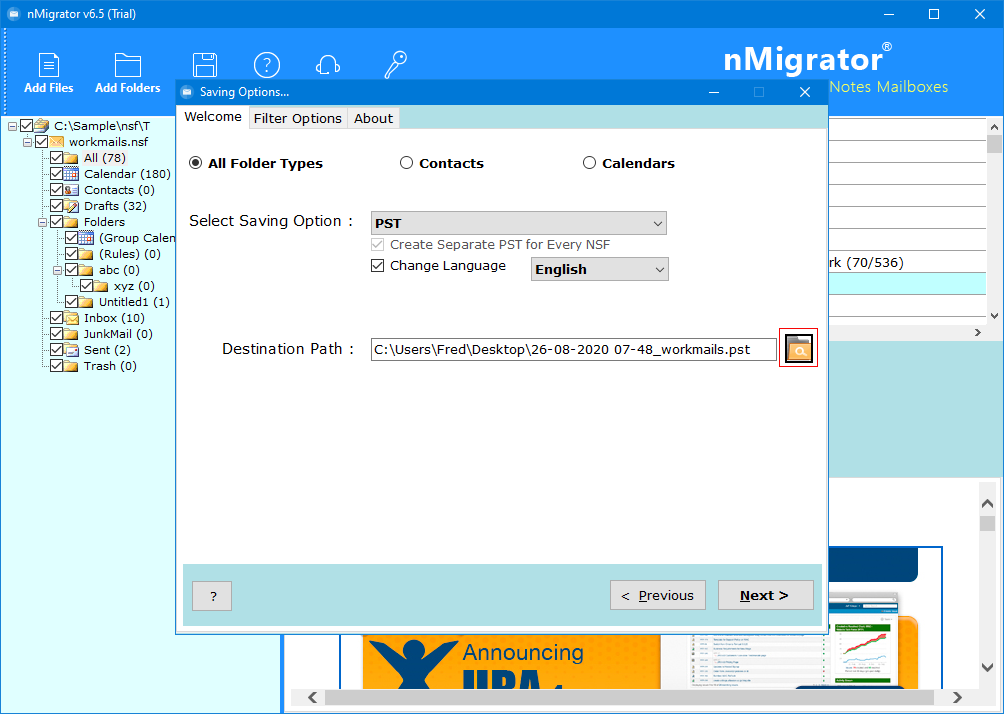 Click OK on the successful migration window that appears.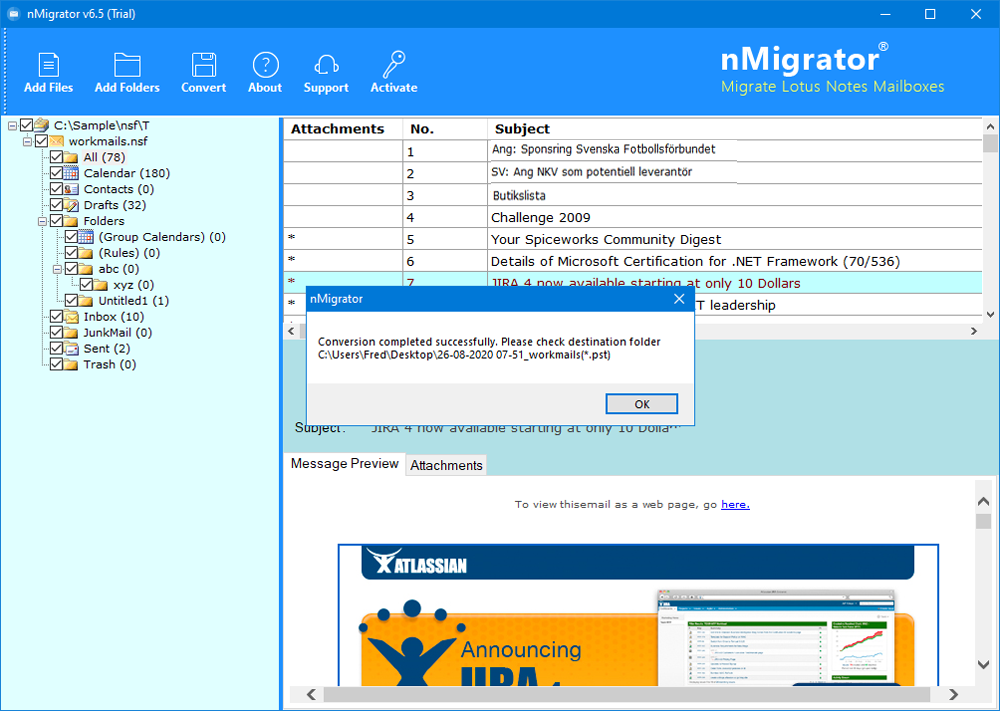 Hence, after performing these steps, the software will get the PST files to directly import into Outlook. Import those files directly.
Also Read: How to Open Lotus Notes Archive Files?
Import PST File into MS Outlook
Now, you have the file containing all Lotus Notes mailbox data and it is time to import it into Outlook.
In Outlook, go to File | Open & Export | Import/Export.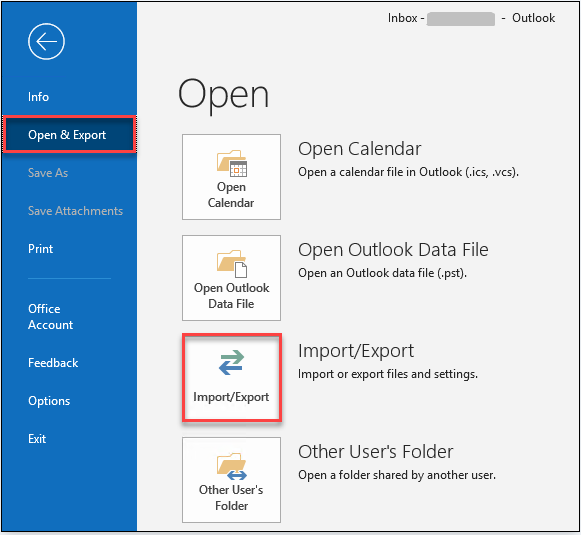 In the window that appears, select Import from another program or file, then click Next.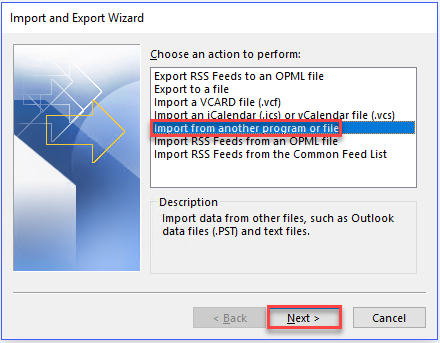 Thereafter, select the Outlook data file (.pst) option, then click Next.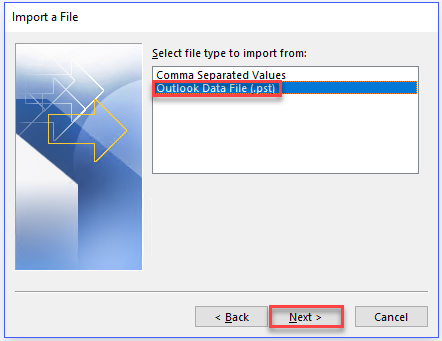 In the Import Outlook data file window, browse and select the PST file obtained.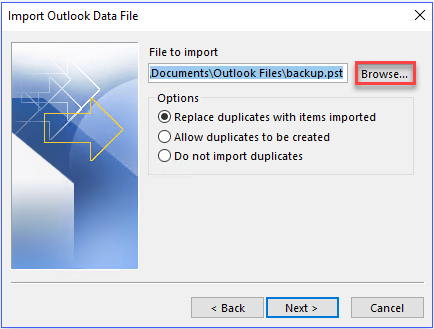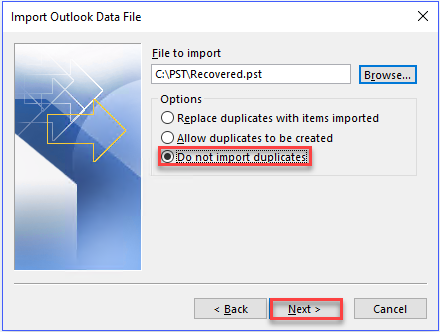 In the window that appears, select the Outlook folder to import the data into and click the Finish button.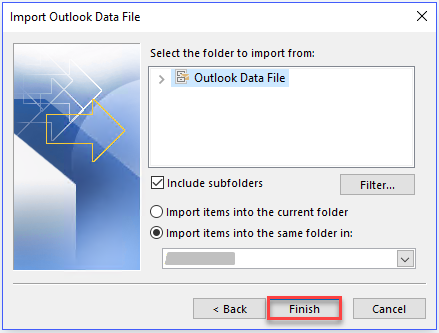 Final Thoughts
After reading the article, it is convenient to say that a user can easily import Lotus Notes to Outlook without any issue. Regardless of the reasons that led to organizations switching to Microsoft, file migration is an inevitable task. Thankfully, by migrating the file into PST, the users can easily import Lotus Notes to Outlook along with emails, contacts, and calendars, as required.