Complete Procedure to Export Lotus Notes to EML Format – Know How
Karen Chard
~ Modified: 11-07-2022 ~ EML , Lotus Notes ~ 4 Minutes Reading
Lotus Notes is one of the well-known email clients that is used to send and receive emails and works on managing the entire business data. It is also known as HCL Notes. A lot of users store their email platforms' data in their system locally so that they can use them either as a backup or for other tasks. Even a lot of Lotus Notes users also want to export their messages and raise a query – Can Lotus Notes export email to EML?
The answer to the above question is yes. And, In this write-up, we are going to discuss the complete solution to export Lotus Notes email to EML messages. From the last week, even we are receiving a lot of queries regarding the same. And since, our main aim is to provide our users with a convenient solution that helps them to resolve their queries. So, we are here to provide you with the most better and more cost-effective solution.
Automated Solution to Export Lotus Notes to EML
RecoveryTools Lotus Notes Migration Tool is a perfect solution to export email messages to EML format in batch. It is one of the best software recommended by IT Professionals for its smooth and error-free conversions. Additionally, the software can convert both embedded and standard attachments. It also supports multiple advanced filters such as Date filter, Text formatting, etc. Also, a demo edition of the toolkit is available.
This tool has the ability to export messages from Lotus Notes in bulk quantity without imposing any file size limitations. Also, the hierarchy of all the files and folders is maintained throughout the process. Even a tool has the ability to export Lotus Notes to PDF, export Lotus Notes to XPS, Lotus Notes to Outlook, Lotus Notes to Gmail, and multiple others.
Go and free download the Lotus Notes to the EML Export tool and starts the conversion.
Steps to Export Lotus Notes Email to EML Messages
Download and run the mentioned export tool in your existing Windows OS system.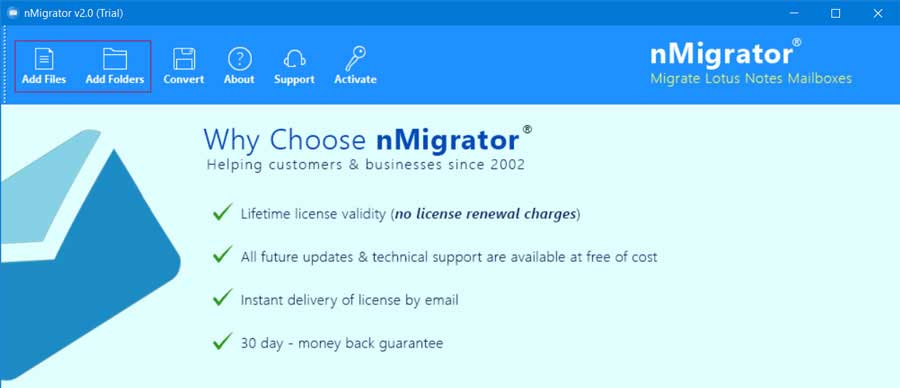 Select One or More NSF Files to Convert: Click on Add File(s) or folder to browse the Lotus Notes database file of the Domino server. Move towards the path where your files are located, select them, and hit on Open.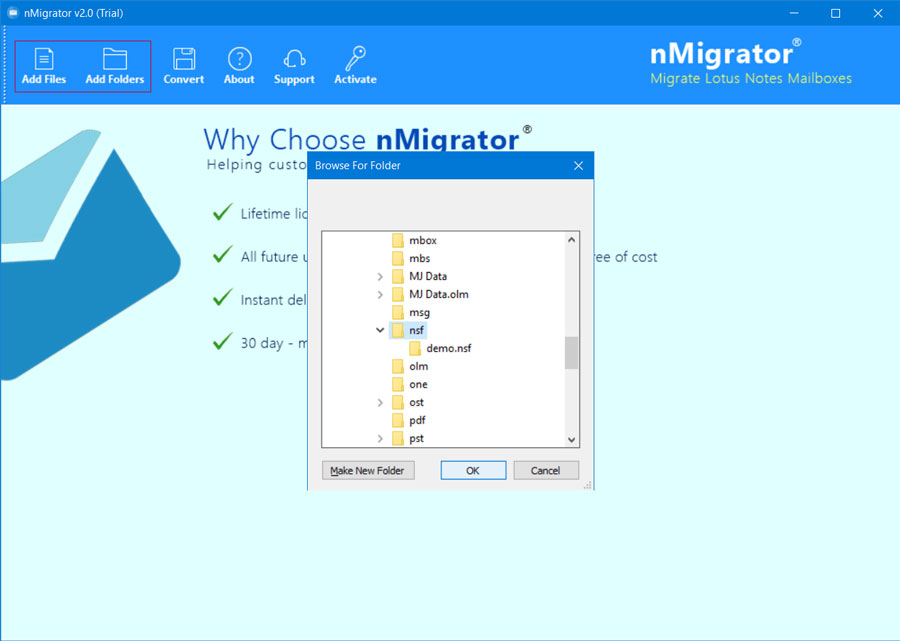 Have a Look Upon Data to Be Exported: Now take the preview of data, which is to be exported into EML format. Select EML file format from the list of 30+ options to export the data.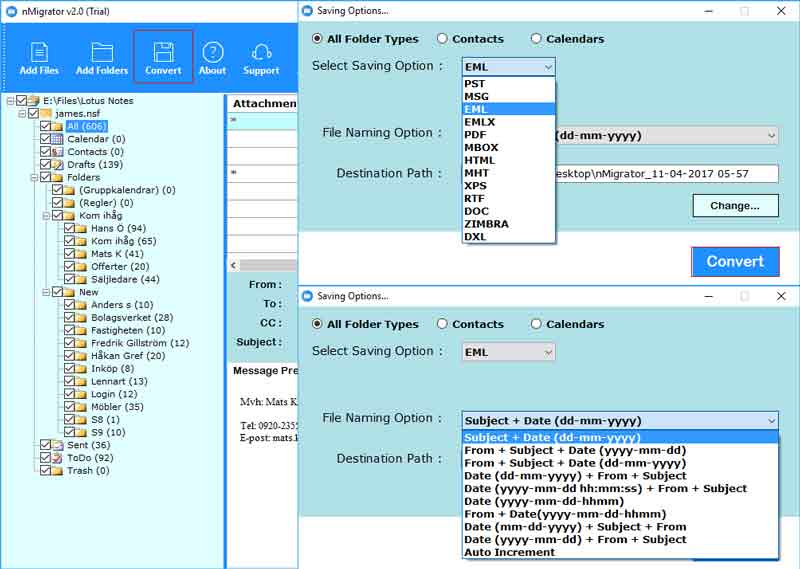 Choose the needed data that you want to export and enter the destination path. You can also choose the file naming option to name the resultant file.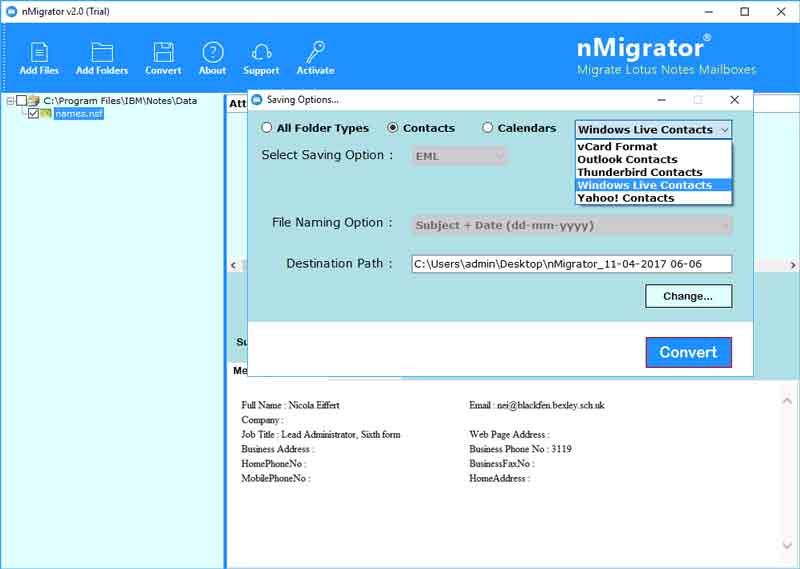 A pop-up dialog message box will occur when the export process is completed. Click on OK to proceed.

That's all about the automated Solution to export Lotus Notes to EML format. Let's check out some of the prime features offered by the computerized toolkit.
Features of Lotus Notes to EML Export Tool
Export bulk Lotus Notes messages in just a single attempt without imposing any size limitations.
Dual options to load Lotus Notes NSF files directly on the panel wither by Choosing files or folders.
Create separate universally supported EML files for each Lotus Notes email with attachments.
Maintains the consistency of the data throughout the process and there will not be any impact on the data.
Ability to export only the selective number of emails and messages to EML format according to the user's convenience.
Possible for users to choose the needed location where they want to store the data.
10+ file naming options to name the resultant file such as Subject+Date, File Name+ Subject+Date, and others in different contexts.
Work on all the versions of Windows OS and can run on Windows 7, 8, 8.1, 10, 11, and all other 32-bit and 64-bit Windows OS versions.
How to Export Lotus Notes Email to EML messages?
Run the Lotus Notes to EML Export Tool. 
Upload the NSF files or folders.
Select the required data from there.
Choose EML as the saving option.
Enter location and setup options.
Get the resultant EML files.
Concluding Words
Hence, the users face multiple errors when they export Lotus Notes to EML format. If you are performing this task manually, you might get stuck at some point and lose your data. After reading the above post, users may know how effortlessly they can export emails to EML messages. To eliminate the chance of data loss, go with an automated approach that delivers a 100% precise solution.
Similar Read: