How to Import Google Takeout to Another Google Account ?
We know that Google Takeout downloads all the data in a file that the user can download at any time. But what if someone wants to import Google Takeout to another Google account? How to do this at once? All of these questions will be addressed in today's user guide. By reading this blog, you can upload Google Takeout to another Google account using the best possible method. So, here we go.
To learn about Google archive to another Google account import process, we must first understand the common reasons behind this everyday question.
The Google Takeout process is the fastest way to extract Google data from Google accounts. But Google does not offer to restore data to back to Google accounts. Therefore, due to this many times users end up landing in a situation where they have to import Google Takeout files to another Google mailbox. Let's understand this through some user queries received by our technical support team.
Why upload Google Takeout Data to Another Google Account ? – Usual Scenarios 

Please help! I want to import Google Takeout to another Google account for some official work. Now, I'm looking for a solution that easily imports Google Takeout to another Google account without any compromise. Can anybody help me ? –  Charles Mitroff 
Please get me a solution to directly import Google archives files into other Google account. I want to do this without any compromise or loss of information. Mention the detailed process. –  Adam Smith 
The Most Possible Solution – Users can download this tool called MBOX migrator that simply uploads Google archive to another Google account. It is capable to import multiple Google Takeout Archive files such as Inbox.mbox, Sent.mbox, Draft.mbox, Spam.mbox, Trash.mbox, and label.mbox files to another account directly. It is the most reliable and powerful solution to move Google Takeout data with total precision.
Here, we are dividing the step-by-step process into two different sections-
How to Import Google Takeout to Another Google Account ?
Run the application on the Windows system.
Upload Google Takeout files choosing the dual options.
Pick the email folder you want to move into a new account.
Select Gmail/ G Suite as the saving option from the list.
Click on next to start Google Takeout to other Gmail account import process.
Learn How You Can Upload Google Archive to Another Google Account – Complete Overview
There is great news for all who wants to import Google Takeout data into Another Google account that they can try the software without any charges. This means a demo version of the tool is available. It let you move 25 Google Takeout emails to another Google account with attachments. Later, you can switch to Pro edition to upload a complete Google archive to new email account.

Now, take the help of the screenshots to get a better understanding of the software working.
Start by launching the Google Takeout backup tool on your Windows computer.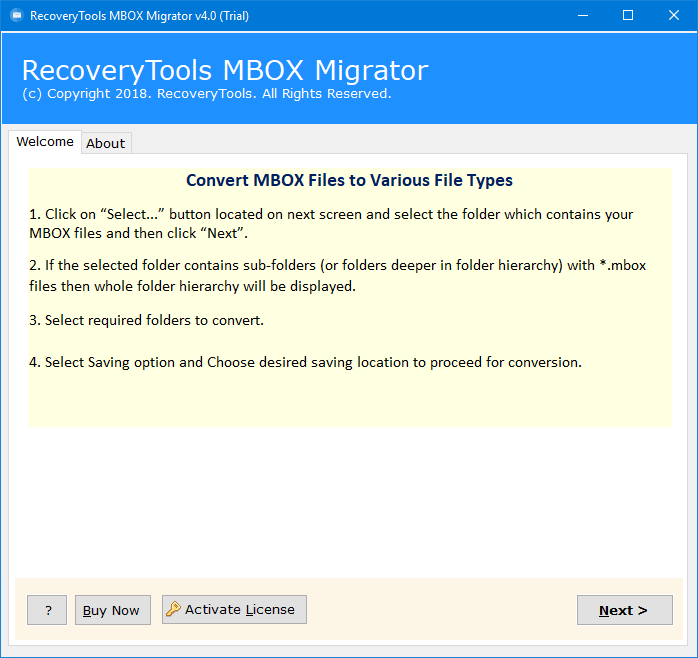 Now, click on the two buttons – Select File or Select Folder to upload Google archive in the software interface. Then, hit next.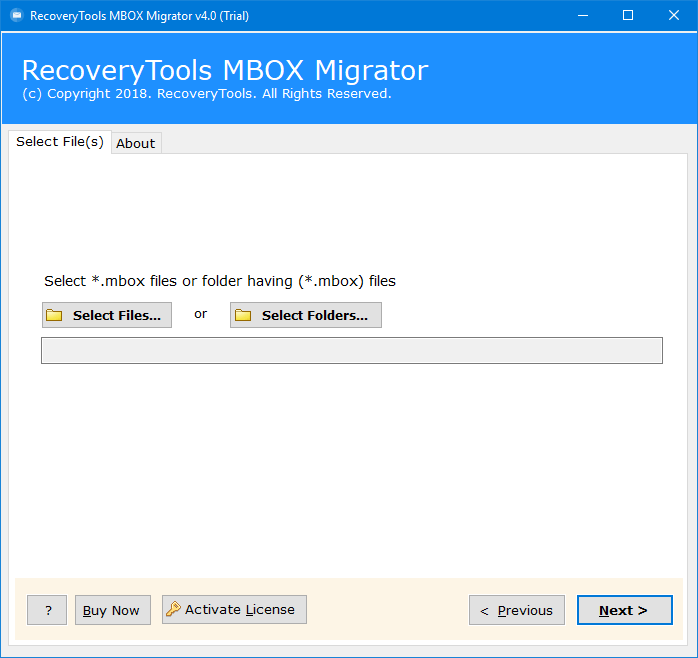 Here, choose only the required folder that you will important from Google Takeout to new account and tap next.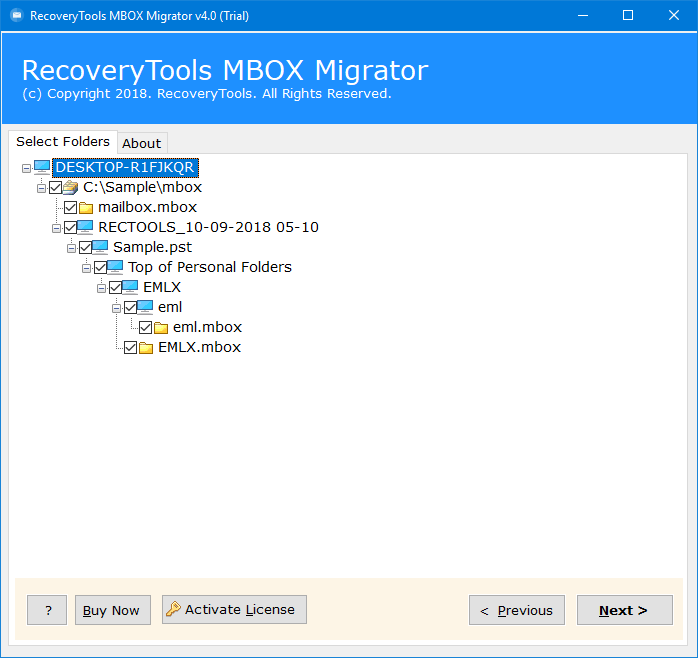 It's time to choose Gmail in the saving list as your new account. Provide the credentials to continue the process.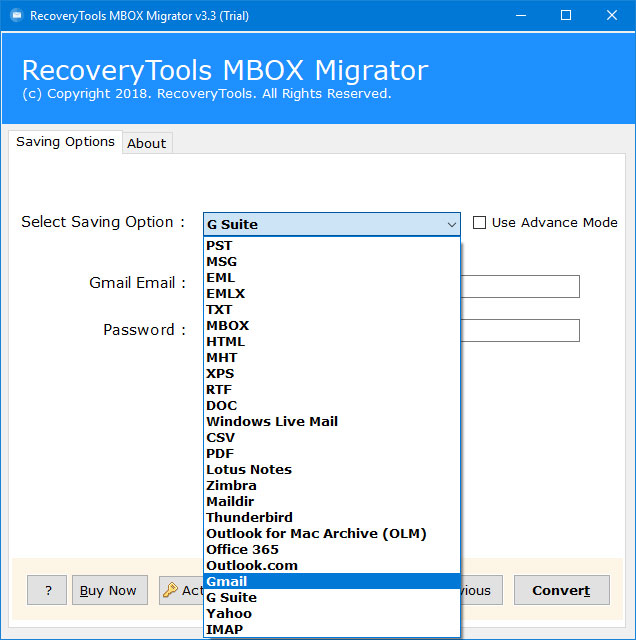 Finally, click on the Convert and analyze the live conversion in the software interface.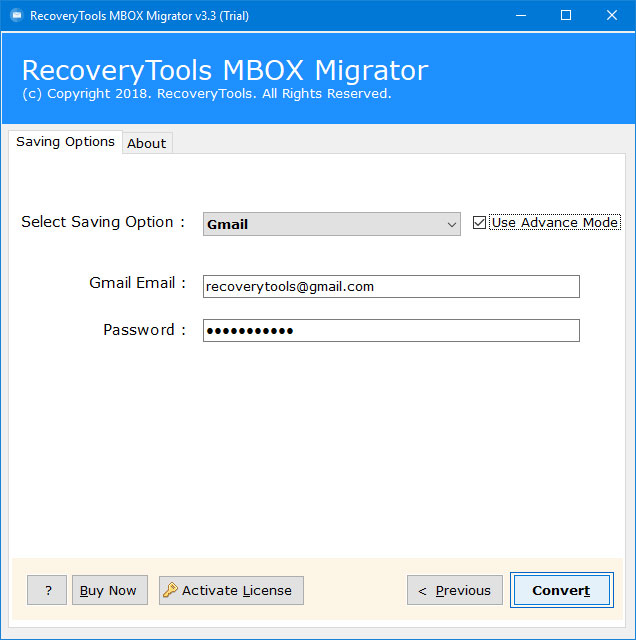 Please wait as the process is running. After the log report, login to another account to get the final results. That's all.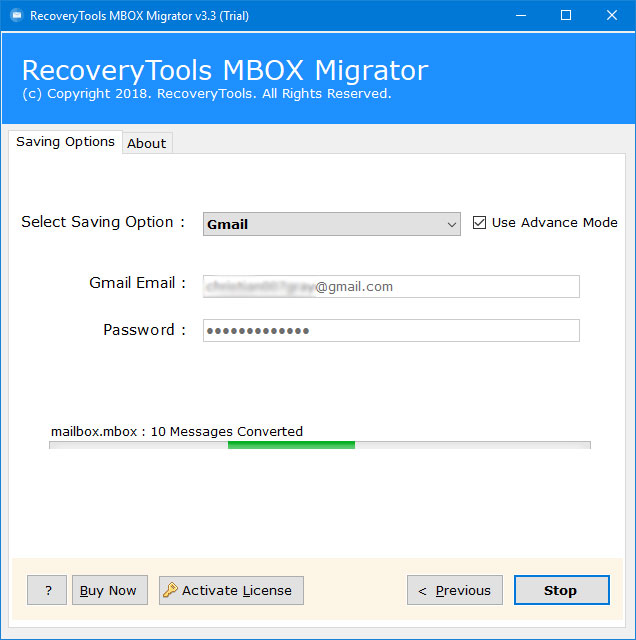 Easily Download Google Account Data using Google Takeout Service – Steps with Images
Open Google Takeout and click on download your data option.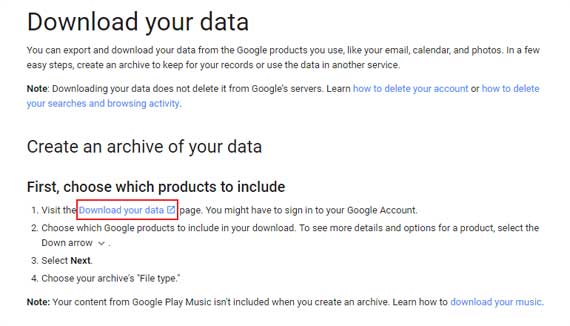 Now, select what type of information you want to download from Google server such as Mail, YouTube, and more. Then, click on Next.
Here, select Google Archive download format, size, and delivery location as shown in the image.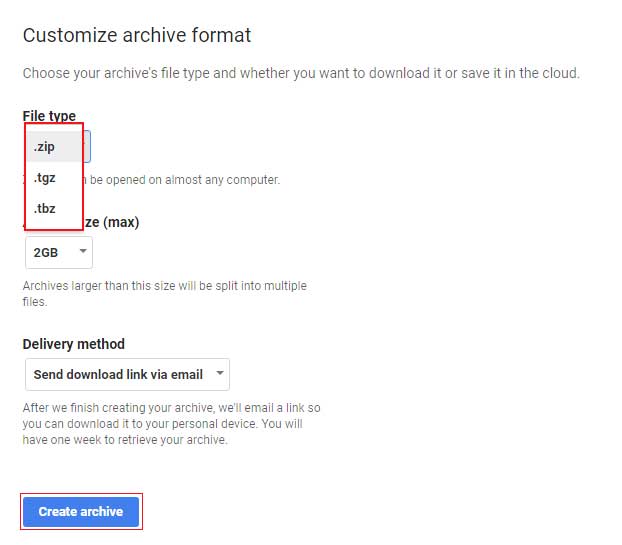 Now, Google is downloading Google Takeout files. Please wait.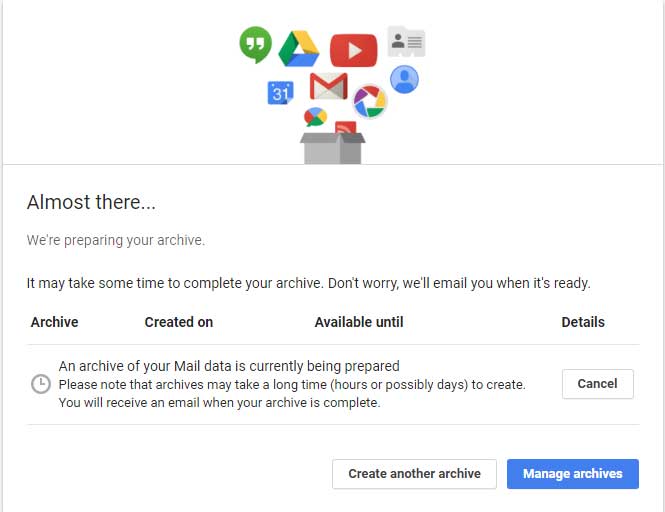 Google notifies you by email when your Google Takeout files are ready to download. Open the email link and download the files from Google Archive.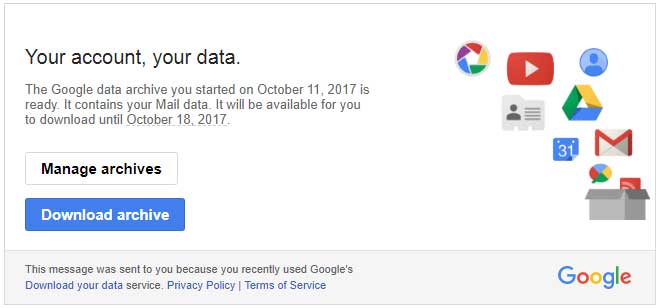 You are good to go.
Some great advantages of using Google Takeout Backup Tool
100% Accuracy – The application maintains the original Google Takeout email folder hierarchy. It also keeps the internal folder structure & elements during the process.
Simplified GUI: – The software interface is intuitive and completely secure. Anyone can use it without knowing any technical skills.
Easily Import Google Archive to another Account: – With this program, you can move Gmail Archive to new account in a direct way. Moreover, all your personal information is protected by the solution.
Upload Bulk Google Takeout Files: – Using the Select Folder option, the user can easily perform the bulk conversion of Google Takeout to another Google account without any compromise.
Provide Exact Results in the least time – As you can see the saving option list, the tool provides many other options to move Google Takeout to another Google mail. If you want you can choose any other option than Gmail or G Suite.
Windows OS Compatibility – This tool works with all the editions of Microsoft Windows including the latest and earlier such as and Windows Server 2012 and more.
What People Ask For
Does this application allow me to import old files from Google Takeout to another Google account ?
Ans. Yes, the solution is capable of uploading old Google Takeout files to another Google account.
Can I upload my mails along with the attachments when importing Google Archive to another account?
Ans. Yes, the program allows you to import Google archive to new account with all information.
The Closing Thought
The blog above shows one of the easiest ways to import Google Takeout to another Google account. We have used a professional solution to complete the Google Archive upload process to another Google account. This also helps you download data from Google using the Google Takeout service. So, read this helpful guide and do your job easily. If you have further queries, please contact us on live chat support.