DBX to Thunderbird Converter Tool to Migrate Outlook Express to Thunderbird
Karen Chard
~ Modified: 26-03-2019 ~ Outlook Express ~ 5 Minutes Reading
In today's era, a number of users are looking for the solution to export DBX to Thunderbird. If you are from one of them, then you are absolutely at right place. In this blog, we are going to explain the easiest and reliable solution for transferring multiple outlook Express DBX files to Thunderbird.
Microsoft Outlook is a widely used email application among Windows users, but now Outlook Express (.dbx) does not meet the user's requirements, so it was discontinued and replaced by the windows live mail. This is one of the reason behind a various people plan to change the Outlook Express Email client to Mozilla Thunderbird. On other hand, Mozilla Thunderbird is an open source cross platform email client application. It is a lightweight, responsive piece of software that works well.
Converting DBX files into thunderbird is not an easy task but neither it is impossible. You can use the Third-party DBX to Thunderbird Converter toolkit that enable users to convert Outlook Express dbx files to Thunderbird in just few clicks.
How to Convert .dbx Files to Thunderbird?
In this above video tutorial, we will describe you the complete step-by-step processor to import Outlook Express .dbx files to Thunderbird with the help of our most professional RecoveryTools DBX Migrator toolkit which has the ability to transfer multiple Outlook Express DBX files to thunderbird. There are various users who are willing to export mailbox data of Outlook Express to Thunderbird. We daily receive such queries from several forums and other platform, as shown below:
Hi Team,

I was looking for an efficient software which can convert DBX to Thunderbird Format. I discussed about it with my friends, they tried to do it with some manual techniques, but they could not get the precise results. Kindly suggest me a professional toolkit to Import batch Outlook Express DBX files to Thunderbird Account instantly & quick.
I want to migrate outlook express mailbox data into thunderbird. There are several tools available in the market to do the same. Can anyone suggest me the best application to convert DBX files to thunderbird without losing any information?
Michael Laurentius, Canada
From the above queries we can analyze that there are large number of users are willing to transfer their mailbox data from dbx to Thunderbird. To fulfill our user's requirements, we have coded the DBX files to Thunderbird converter toolkit which has the direct option to save all mailbox data from DBX into Thunderbird.
DBX to Thunderbird Converter free Download Software:
Evaluate the free Demo Edition of DBX to Mozilla Thunderbird Converter toolkit which will allow users to migrate first 25 email messages from Outlook Express DBX to Thunderbird email client application. If user want to export the complete mailbox data from Outlook Express DBX to Thunderbird, then it is necessary to activate the tool by purchasing the appropriate license of the software. And the tool will provide you the direct option to move Outlook Express mailbox data to Thunderbird.
Steps to convert Outlook Express dbx files to Thunderbird are as follows:
Step 1: Download, Run and Install the DBX to Thunderbird Converter Utility.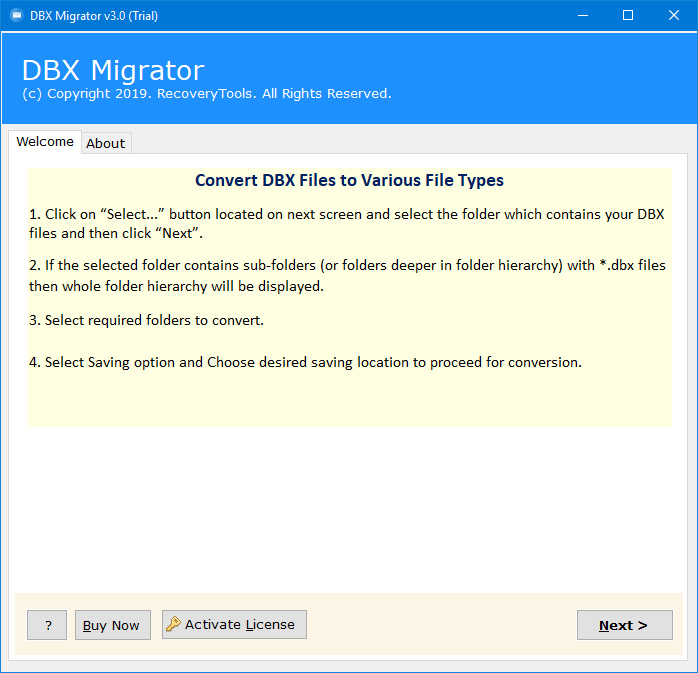 Step 2: The software allow a user to load DBX files by dual ways: Select Files or Select Folders.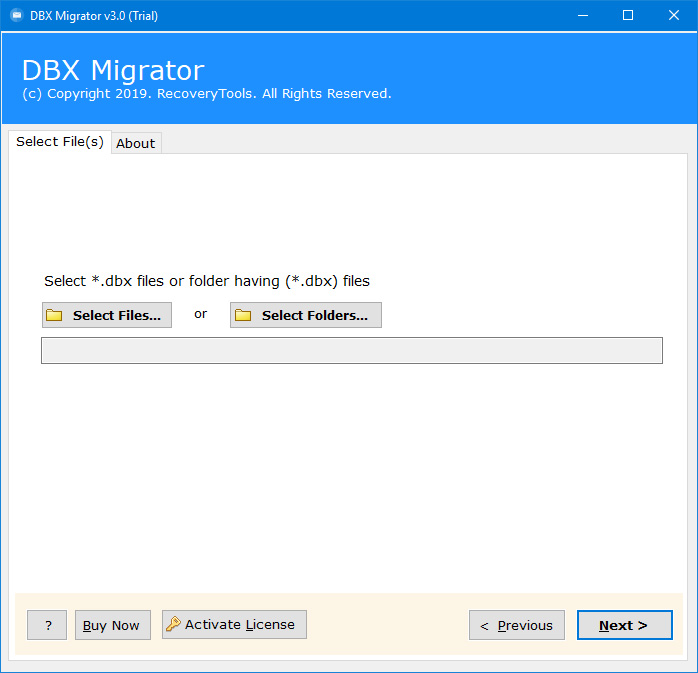 Step 3: Choose the source DBX files to load the mailbox data in software panel.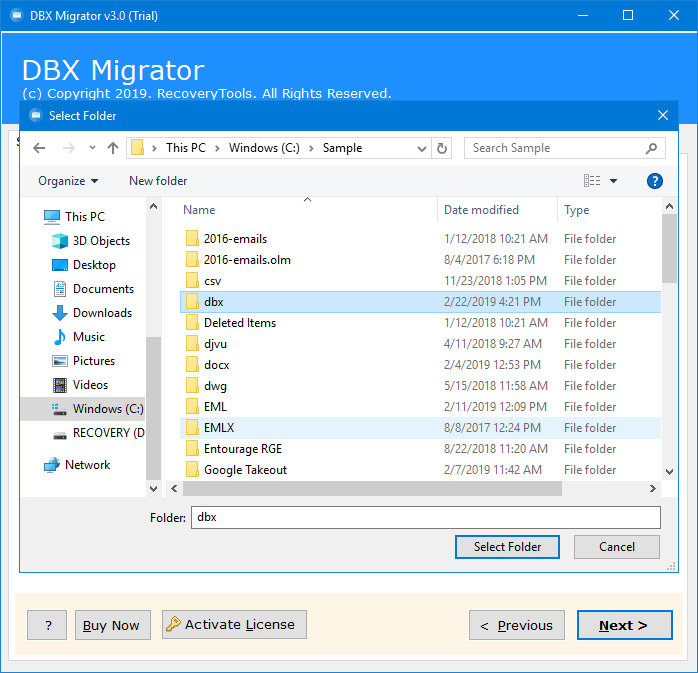 Step 4: Choose all required mailbox items and click on NEXT tab to continue.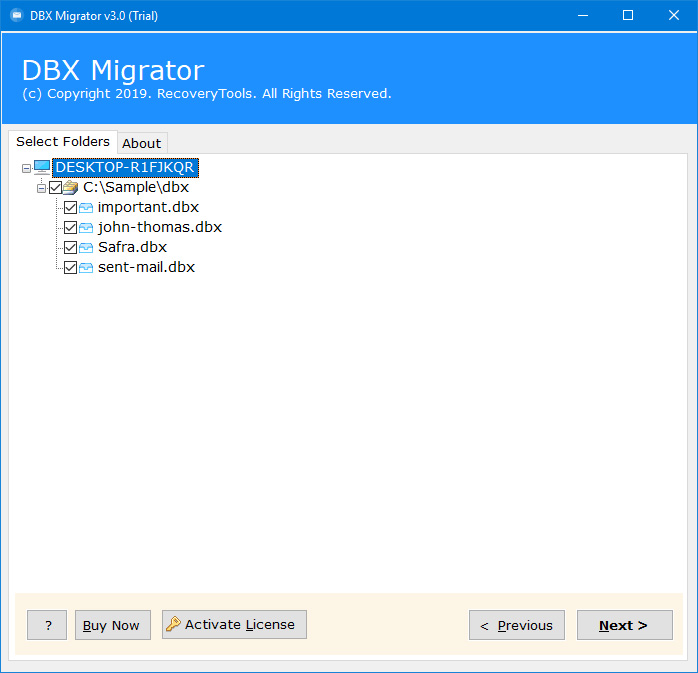 Step 5: Choose Thunderbird option as saving format.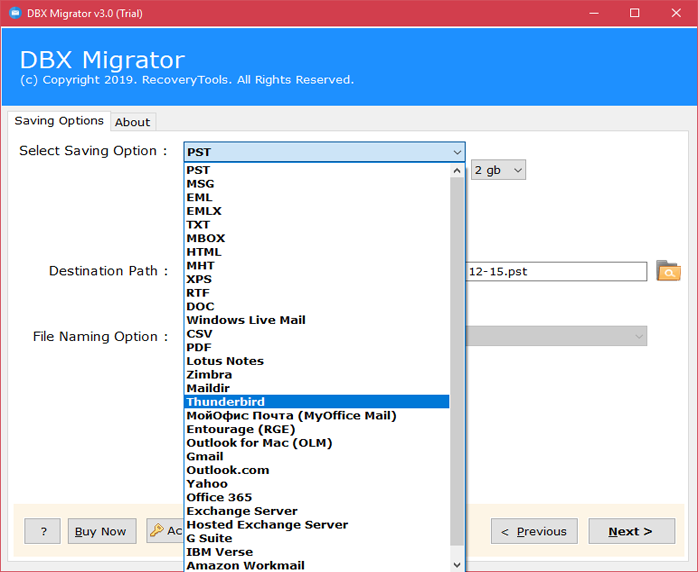 Step 6: Click on NEXT Button to proceed the Conversion.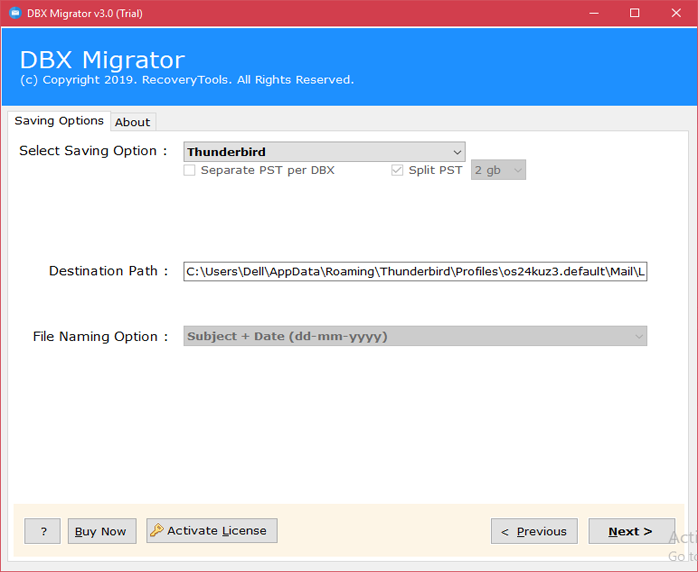 Step 7: Analyze the live conversion process.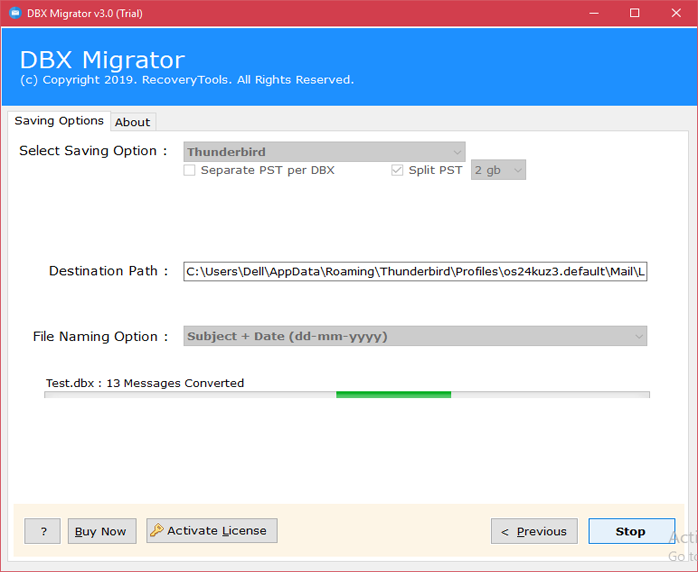 Step 8: After the successful conversion, the software will display the confirmation box. Click on OK tab to exit from here.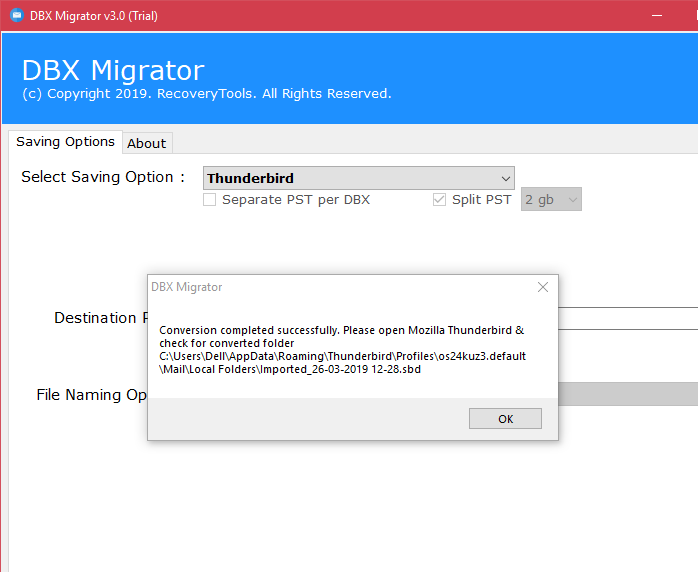 DBX to Mozilla Thunderbird Migration Toolkit- Feature & Advantage:
The software allow users to export multiple mailbox items from outlook Express DBX to Thunderbird including all inserted attachments.
The trial version of the utility will enable the users to import only 25 items from each folder of Outlook Express .dbx to Thunderbird.
The Toolkit able to perform the unlimited migration from Outlook Express to Thunderbird without any number of emails or size of source Outlook Express directories.
The utility will allow the users to change the default language to some of the most popular languages, such as Dutch, French, German, Spanish or Swedish.
The tool has dual option to load Outlook Express .dbx mailbox data in the software panel i.e., Select File or Select folder option.
The software allow the users to Migrate numerous DBX files at once to save precious time and efforts of the users.
DBX to Thunderbird converter toolkit is a standalone utility, because it does not need any other application to perform the conversion.
The software can work with the all latest version of the Microsoft Windows OS i.e., Windows 10, Win 8.1, Win 8, Win 7, Win XP, Win Vista for both 32-bit & 64-bit OS editions.
The tool has the ability to export Outlook Express mailbox data without losing any information.
The Verge: Using the above described Method, user can easily convert multiple Outlook express mailbox items to thunderbird. The tool has separate option to import DBX to Thunderbird inclusive of email attachments, attributes, components, and other important information.