How to Batch Convert EML to PDF with Attachment Files? – Solved
Karen Chard
~ Modified: 07-06-2023 ~ EML ~ 6 Minutes Reading
Learn how to batch convert EML to PDF with Attachments. In this write-up, we will explain the complete solution for the converting multiple EML files to PDF format without facing any limitations and restrictions.
EML  is a electronic mail file used by multiple email clients (Windows Live Mail, Thunderbird, MS Outlook, tec.) to store email messages. Each single EML files contains complete information of email message like: Email address of Sender and Receiver, Message Header, Date and Time, Email Body, etc.
On the other hand, if we talk about PDF file, then we can say that it is one of the portable file formats that can be easily opened anywhere and anytime. And, for legal purposes, it is possible to protect PDF files via password.
Let's now discuss the possibility of converting EML files to PDF format. Its quite easy to change the file format of EML to PDF format. For this, you have two different methods, either use print feature form email client dashboard or use professional third party software. Both the solutions are discussed in this post.
It is the need of the hour for the users to know how they can print the emails stored as EML files. The best way to do it is to convert EML to PDF with attachments. The reason is quite obvious, the PDF files are the most protective file format. Let's first understand the reasons of exporting EML files to PDF format.
Reasons to Convert EML Files to PDF:
There are many reasons for users to familiarize themselves with the better conversion approach. There are times when the user needs to open a previously saved email immediately and open their email client for this purpose.
Because applications can crash or when you open your email client at regular intervals to read an email or message. This is practically not so good and the reason is simple, any email client can take a long time to open and retrieve data from the source file. There are also some practical reasons which are discussed below:
If you receive EML files from your senior, colleague, or friends, you will probably need to install an email client to open them if you have changed those emails from EML to PDF file format.
EML files are easily accessible from unauthorized access as it is a simple text formatting files. Though PDF is the best and safe file format, i.e. if anyone can access the PDF files, they will inform you about the edited version.
EML files are not transferable between different sources or operating systems as compared to PDF files. Though PDF is cross-platform and can be opened on any system such as any OS, iPhone, and mobile device. This force a user to convert EML to PDF format.
Offline Access and Printing: If you need to print emails, you must first convert EML to PDF format because PDF is the best file format for printing.
Let's move to the solution part!
Method-1: Convert EML to PDF Manually for Free
Note: This method will applicable only for Outlook users. In this first add your EML files into your configured Outlook and then follow the instructions.
Here, we are going to discuss the simple and cost-effective solution for converting EML to PDF format. Follow the below-mentioned steps:
Open Outlook and Create a New Folder 
Drag all Your EML Files and Drop it into newly created folder.
Now Go to Outlook >> Choose EML file. 
Then, click on Save As and save the file as an HTML file.
Open MS Office and go to the HTML file.
From there, go to File Menu >> Save As >> Select PDF. 
After that, save the file as a PDF in a specific location.
Hence, by performing these steps, you can easily convert the EML file to PDF. But you can only convert one single file at once and for converting the bulk number of files, you need to perform the steps continuously. So, it is not better to use this solution for the conversion of the bulk number of files. That's the main reason, we recommend you to use the second-mentioned solution.
Method-2: Convert EML to PDF Without Email Application
RecoveryTools developed an advanced EMLX Migrator Software, which allows you to export both .emlx and .eml files to PDF format. The tool offers a very advanced approach and has been developed with a special integrated algorithm that allows users to carry out the conversion easily.
It also does not impose any kind of file size restrictions and while converting  EML files to PDF format, the original format and hierarchy of the complete files and folders are maintained throughout the process.
This mentioned utility also supports exporting the data into multiple formats such as importing EML to Outlook, importing EML to Office 365, importing EML files to Gmail, converting EML to MSG, converting EML to HTML, and multiple others.
Free Download the Setup of this EML to PDF Converter:
Download for Windows Download for Mac
Trial Limitation: The free trial demo of this application will allow the users to convert only the first 25 EML files to PDF format. But don't worry, you can export unlimited emails by activating full version.
Steps to Convert EML Files to PDF with Attachments
Install & run the EML to PDF converter in your system to start the process.
Load EML files in the software panel in dual ways i.e., Select Files or Select Folders option.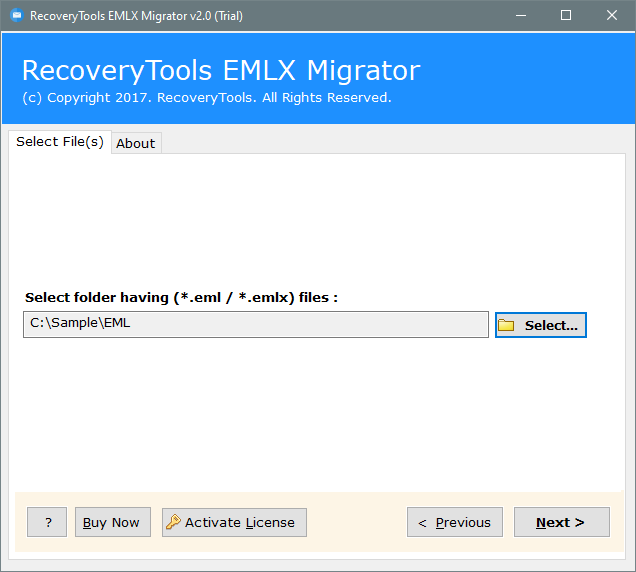 Choose only the required EML files from the application panel.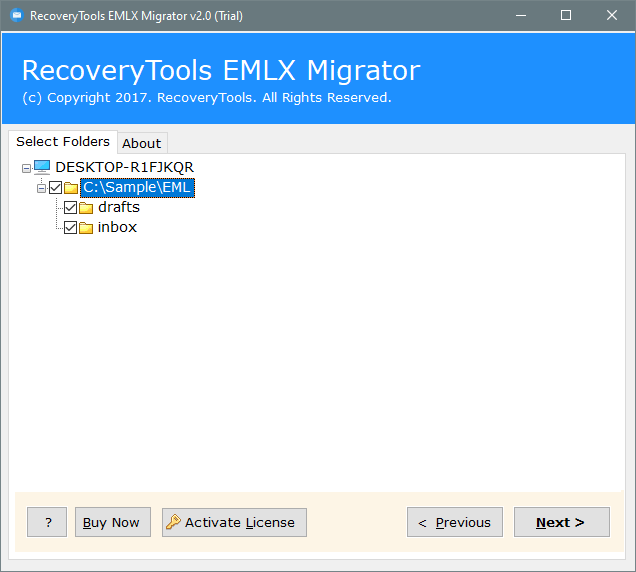 Select the PDF option from the list of saving options.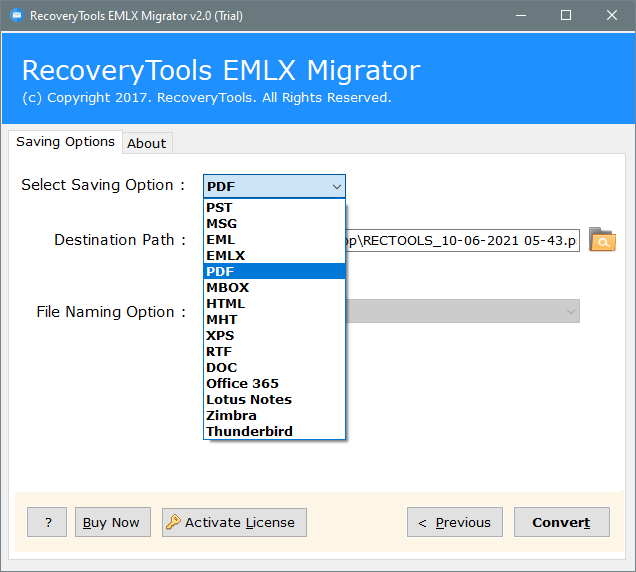 Setup conversion options like change destination path, apply file naming conventions, etc.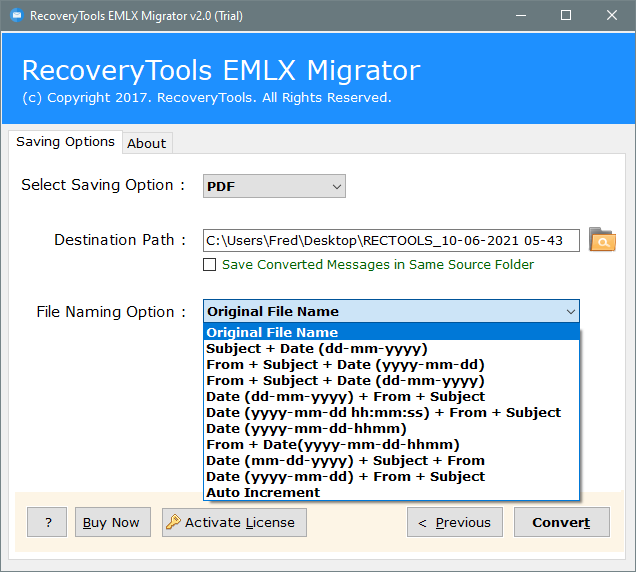 Click on the Next button to start the EML to PDF conversion process. The software will provide users a live preview of the complete process with all details.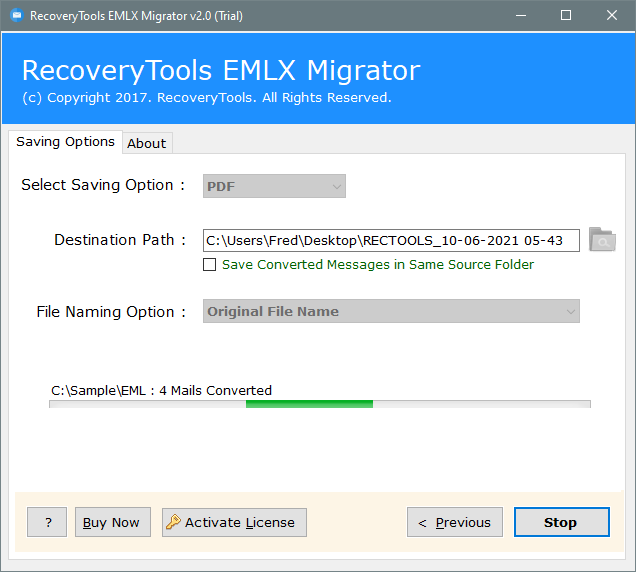 A confirmation message box will pop up from its panel after completing the conversion process of EML to PDF format. Click on the OK button.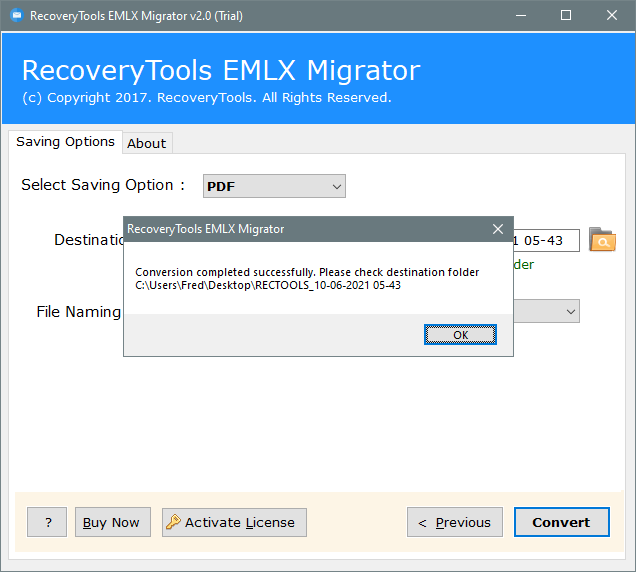 Get the resultant PDF files directly from the destination location.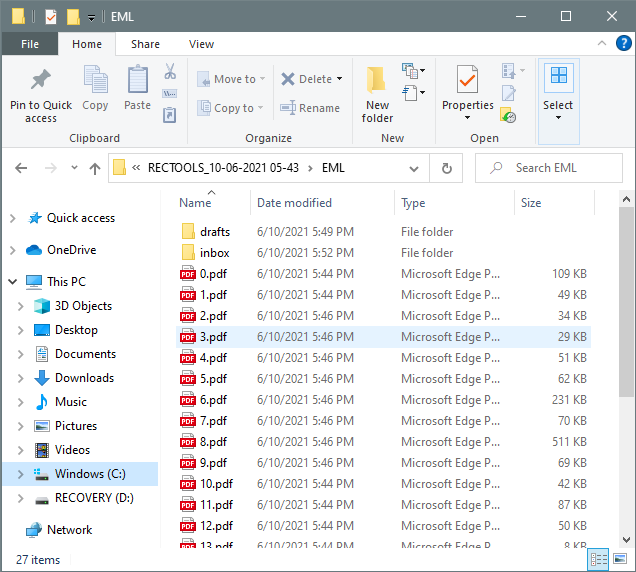 Client Testimonials:
It was a big problem for me to share my emails with the seniors. I'm in the accounting department and it was very confidential information stored in emails. Sharing my emails in EML format is not a good and practical approach for security reasons. So my favorite choice is to change the EML to PDF format and secure them by password. In short, I would like to thank the developers of this application for providing such an advanced solution. – Jennifer
In Conclusion
This article provides you with a detailed solution for converting EML files to PDF with attachments. Even though we had mentioned the manual way that too provides the desired results with 100% accuracy but it imposes certain limitations.
So, we recommend you to use the automated EML to PDF converter tool that will be more better and convenient for use and works according to consumer needs and requirements. For more detailed information and if you face any issues, then connect with our technical experts.