How to Import EML Files into Thunderbird Profile Directly ?
Karen Chard
~ Modified: 23-01-2022 ~ How To ~ 5 Minutes Reading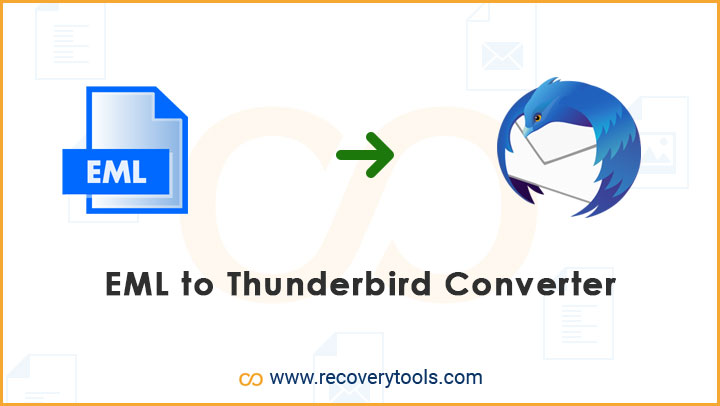 Overview: Are you looking for a method to import EML files into Thunderbird client ? Or want to know the complete process to transfer EML messages to Thunderbird (Mac & Windows) ? If yes, then here you will get a simple and easier way. Just read this article and before end, you will get an automatic and manual way to import EML to Thunderbird. So, keep reading the post.
As we all know EML files are the default file format for saving emails in local storage. EML files are widely accepted by a large number of applications including Windows Live Mail, Thunderbird, eM Client, Lotus Notes, Microsoft Outlook Express, Novell GroupWise, and Postbox.
Thunderbird is an overall famous work area-based email application. It assists with sending and getting messages with attachments, overseeing contact, and schedule of the client-made profile. This free open-source email customer application stores reinforcement of your messages locally in the envelope with .sdb record expansion.
Why do We Need to Import EML to Thunderbird
A large number of users are looking for a way to import EML files into the Mozilla Thunderbird email client.
"I have multiple .eml files in a directory, some months ago I was saved them from Thunderbird, and after I deleted them from the Thunderbird folder. I would like to import them. How can I do this? Thunderbird can import mails only from Outlook or similar programs but it is unable to import .eml files, or I unable to find the option that does it for me."
Source: https://groups.google.com/forum/#!topic/mozilla.support.thunderbird/GHta2sWjq5k
"I want to transfer my EML files of Windows Live Mail to Thunderbird In addition, I just want to import EML folders to Mozilla Thunderbird on Mac in an eased manner. Can someone recommend me any efficient technique for the same? Thank you in advance"
Will Cringer, Armenia
A Simple Method – EML to Thunderbird Converter
A user can import EML files into the Mozilla Thunderbird email client directly with the help of third-party RecoveryTools EMLX Migrator. This utility supports all types of EML files created with any application to directly import EML files into the Thunderbird Mail client. The working of the utility is very easy and simplified Follow these simple steps to accomplish this. You can also use this application to import Apple EMLX files into the Thunderbird email client application. Also, the application supports all Mac or Windows machines.
Just Download the Solution:
Download for Windows Download for Mac
Steps to Import EML to Thunderbird Program

First, you need to get this application.
Choose EML or EMLX files in a dual way.
Select the Thunderbird option in the saving option.
Set location path to save the converted data.
Start the process to import EML to Thunderbird client.
How to Convert EML to Thunderbird Format ?
Free Download EML to Thunderbird converter tool. Run this application and then read all the instructions from the home screen.
Browse to the source location to load EML files by dual methods.
Check/uncheck the folders or subfolders having EML files from source path.
Choose the Thunderbird option from the list of 15+ file Saving options.
Thereafter, the software will automatically detect the default Thunderbird profile Path.
Click on the Convert button & the utility will instantly start the Live conversion process.
After that, the conversion process is finished successfully the utility will confirm on OK
The software will instantly open the output Thunderbird Profile folder where users can access resultant files.
As we can see EML files are created by a large number of applications. The working of the utility is very fast and easy so that users can instantly start EML to Thunderbird Migration.
EML to Thunderbird Converter – Features and Its Benefits
The software allows various useful advantages to the users. Users can batch convert multiple EML files to Thunderbird Mail client. Some of them are listed below:
The software will Bulk Convert EML Files to Thunderbird GroupWise.
The software automatically detects the default Thunderbird Profile location to save EML files.
This utility enables the users to import EML files with all inserted attachments and details.
This EML to Thunderbird Migration tool maintains file formatting like text formatting, file structure, etc.
This application supports importing EML files created with all applications such as Windows Live Mail, Thunderbird, Lotus Notes, Outlook Express, etc.
The software allows exporting non-English contents from EML files to Thunderbird-supported Mail format.
This software makes sure to maintain the original folder structure to export EML folders into Thunderbird.
Users can also convert EML to MBOX file format using the same application.
One can only import EML files into Thunderbird for Windows as the utility is compatible with Windows OS.
This software allows importing EML files from Inbox, Outbox, Sent Items, Drafts, and all deleted items.
The Verge
In this article, we go through various queries of a large number of users like How to convert or import EML files to Thunderbird. We try to resolve and find out the solution to this problem by providing a third-party tool to import EML files into the Thunderbird email client. The software is available for free to download and one can convert the first 25 emails to Thunderbird during the trial. For more information, you can also contact the technical team for more product details.